Marketing on social networks is an ideal tool for communicating with the target audience and promoting your own products and services. Interesting content attracts attention and builds consumer loyalty. How can we ensure that publications are not just visually appealing, but also yield effective results? How do we distinguish ourselves from competitors and attain the desired outcomes in advertising channels? One of the best ways is to sign up with BannerBoo. With its help, you will be able to quickly and effortlessly create bright, original banners that will not go unnoticed. Learn more about the rules for using the tool and creating memorable layouts for users – further in the blog.
Social networks have become an important part of life for society. Billions of people use Facebook, Instagram, LinkedIn, Twitter to communicate, share information and have fun. These channels – great potential for business development. With their help, you can communicate with different target audiences, attract new customers and increase conversion. Thoughtful marketing allows you to quickly attract the attention of users to your platform and build strong, loyal relationships with the brand. The use of social networks is necessary for the successful development of enterprises because they perform a number of important functions, including:
Communication with potential customers. Social networks are a simple and convenient method of communication with users. Here you can convey all the necessary information and receive feedback with the help of a banner and text. Managers have the opportunity to answer questions, help with choices, provide more extensive information about products and services, thus creating loyalty to a brand or company.

Promotion of goods or services. Thoughtful content strategy helps to attract the attention of consumers and demonstrate the available goods or services from the best side. Engaging posts capture attention, leave a lasting impression, and boost conversion rates.

Increasing brand awareness. Social media posts help consumers remember information faster and form brand attitudes. Regular publication of content forms a style and allows the company to stand out from the competition.

Advertising. Social networks provide the opportunity to customize advertising campaigns, use detailed targeting and collaborate with influencers. This is a simple and effective way to expand the target audience and attract new customers.
The effectiveness of your social media presence and achieving desired outcomes hinges on various factors. From the choice of the platform for promotion to your communication style and brand voice, every element plays a crucial role. Additionally, the banners you employ to connect with customers significantly impact attention-grabbing.
Most social networks are a combination of images and text, and the appearance of the layout depends on whether the post will be read and whether customers will pay attention to the information you wanted to convey.
Visual content is of great importance to the target audience. 3-5 seconds are enough for the consumer to evaluate the image in the publication and form his own impression about the information and the brand as a whole. Scrolling through the feed of social networks, users pay attention to high-quality, stylish and bright banners. Interesting layouts stand out from the competition and evoke emotions.
To create an interesting blog or brand account, it is necessary to devote a lot of time to the marketing strategy, study the needs and desires of the target audience, and carefully consider the content plan. Focus on visual design as well, because the success of social platforms depends on the interest and attractiveness of images.
If the company has a corporate style, use these elements in publications. Logo, patterns and colors help to identify the brand and create a unique manner that is better remembered.
By creating content, social media marketers often use additional tools that simplify work and increase efficiency. Among them is the BannerBoo online banner builder service. The platform provides an opportunity to quickly and efficiently develop various layouts that will attract the attention of consumers, increase conversion and save your time.
We offer a detailed understanding of how to improve your marketing on social networks with the help of a banner editor.
Social networks are essential for the development of modern marketing and communication with customers. However, to thrive in this realm, capturing consumer interest, showcasing your products and services, and fostering a positive brand perception requires the creation of compelling and informative content, including banners.
Banners are the first thing a user sees when entering social platforms, or watching an ad. They attract attention, evoke emotion, and can lead users to the next step in the funnel – a purchase. Visually appealing images highlight the product or service in the best light, pique interest, and leave a lasting impression.
Of course, you notice the variety of content, including advertising, but not all the images and information that were placed there are remembered. This suggests that there are effective and ineffective banners, and only the first ones help the business to get the desired result. According to statistics, consumers are more receptive to branded content using brand logos, colors and graphics. Also, a single formed style and its repetition in all advertising channels contributes to quick identification of the brand among competitors.
The simplicity and clarity of a banner play a crucial role in its effectiveness. Avoid overloading with images and refrain from using too many fonts, as it may confuse the client and create a negative impression. Additionally, when creating layouts, prioritize high-quality images, as they capture the attention of consumers and spark their curiosity to delve deeper into your product or service.
When creating banners for social media advertising, it's crucial to select the appropriate sizes and formats, as performance is significantly influenced by these factors. Utilizing effective banners in social network posts enhances conversion rates. Maintaining a consistent style contributes to a positive brand image and fosters consumer loyalty. Let's analyze several examples.
Examples of effective banners
Let's begin with Recess—a CBD-infused sparkling water with adaptogens designed for balance and clarity. Described as an "antidote for modern times," the company asserts to have captured a particular "feeling" in a can. Recess stands out as one of the most unconventional brands on Instagram, crafting a truly distinctive personality and brand narrative. It employs a rich pastel color palette that appears to mirror the "bliss" the beverage promises to provide.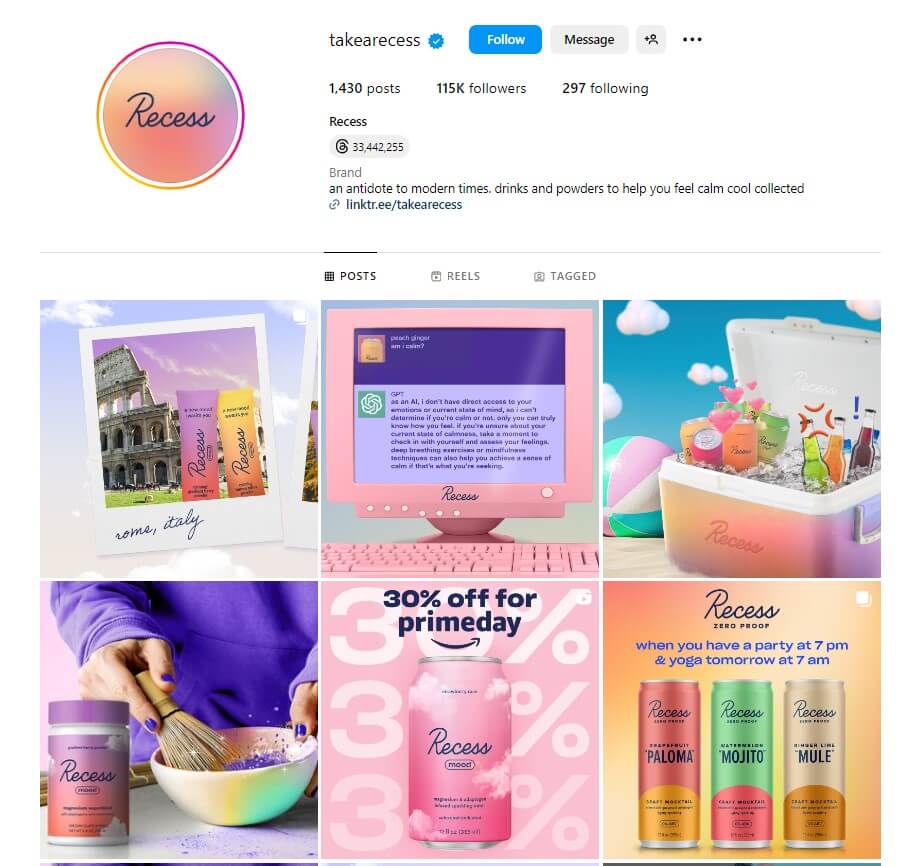 Recess' Instagram feed is a captivating visual journey, but their true brilliance shines through in the bold and humorous persona crafted for each distinct flavor introduction. The content predominantly showcases personified cans immersed in diverse cultural references, memes, and a range of backgrounds or scenes.

The effectiveness of social media presence is evident in the consistent use of a unified corporate style in advertisements. Ad layouts maintain a minimalist approach, featuring only essential information. Images are thoughtfully curated, avoiding overload, and distinct fonts are applied. This cohesive strategy aids consumers in easily identifying the brand amidst others, establishing the company's impactful presence on social networks.
Let's transition to our next example, Starface, a skincare brand that truly masters the art of leveraging social media. They've crafted a cohesive visual theme where each post unfolds as a playful, humorous, and vibrant story. The company features the iconic Big Yellow "Smile," serving as a charismatic brand character that plays a pivotal role in their marketing and social media narrative.
The company meticulously designed a unified corporate style, employing vivid colors, distinctive fonts, and engaging, high-quality images. This thoughtful approach not only captures attention but also sets the post apart from competitors, contributing to a distinct and memorable brand presence.
Behold the Instagram feed of Starface account.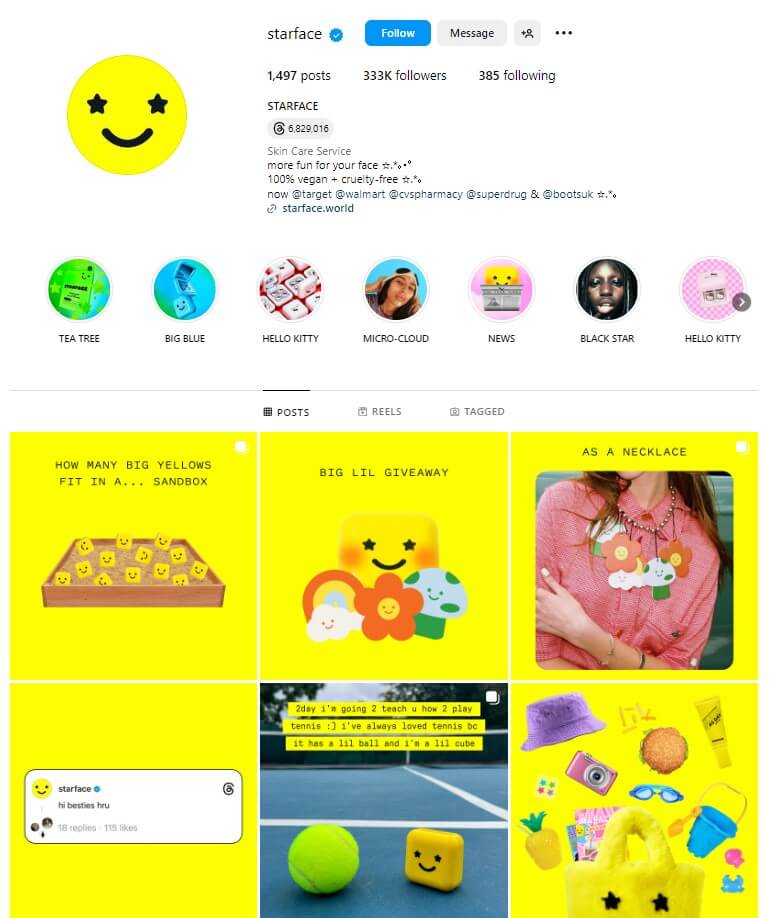 And here is the advertising banner.

As you can see, the corporate style of Starface – bright and easily attracts attention. The blend of minimalism, along with concise and witty text, effectively highlights the product and sets the mood.
The showcased social network banners can be deemed effective, especially given the substantial number of followers. It indicates that people are willing to receive information, engage with news, and stay updated on brand developments. It reflects the highest level of user trust and loyalty, achieved in part through the use of appealing banners.
By the way, BannerBoo online service will help you design a page in a uniform style and develop interesting banners. Here you can use branded elements or create it from scratch based on ready-made templates. We will talk about this in more detail later in the blog.
Why banners might be ineffective?
We've established that only effective banners yield the desired results—capturing consumer attention, fostering a positive brand impression, and driving purchases. However, social media content often falls short of customer expectations, despite the substantial efforts made by marketers and other team members.
Although SMM specialists seem to be doing everything necessary – developing content plans, creating layouts, and publishing images and text – the results may not be as impressive as expected. While some profiles gain popularity, others remain unnoticed by users. This situation could be attributed to mistakes made by specialists. We recommend examining these mistakes in detail to prevent them from recurring in the future.
The most common mistakes that marketers face when designing banners for social networks
Graphics of social networks – an important marketing tool. Only attractive and interesting banners can provide the desired result. Therefore, when developing layouts for a tape or an advertising campaign, it is necessary to take into account the most common problems that marketers often face.
Unclear message
In 3-5 seconds of interaction with the banner, the consumer should understand the essence of the message and what is offered to him. Before designing the layout, think about the importance of the information you want to convey to users. Keep in mind that the image should not be overloaded. Aim to convey your idea in a single sentence, ensuring clarity.
*example of a Black Friday template by BannerBoo
Poor image quality
Employing low-quality images in layouts may raise the chances of your content going unnoticed. Display your product or service in the best light by utilizing professional photos that captivate consumers' curiosity and entice them to explore more about your brand.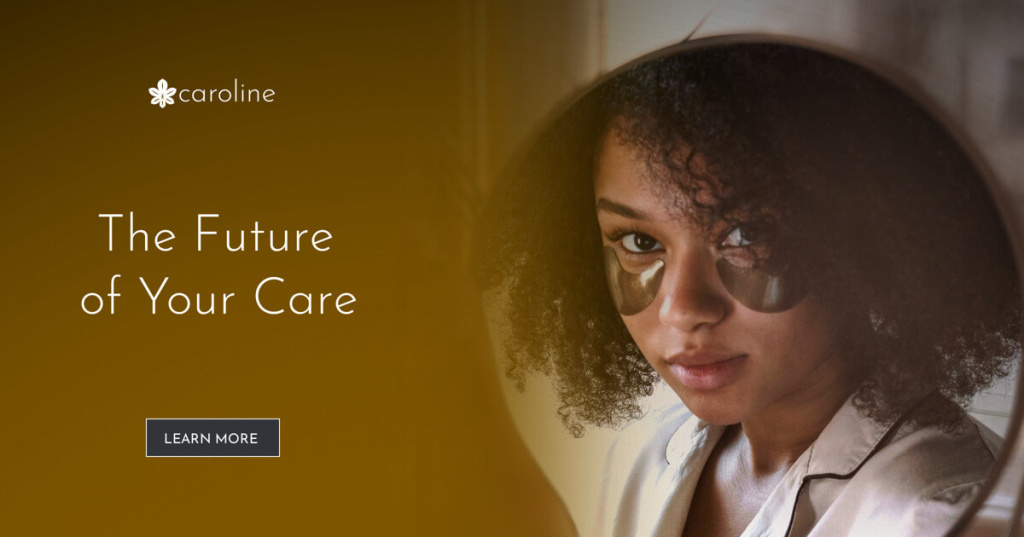 *example of a Cosmetics template by BannerBoo
Failure to comply with branding
The corporate style of the company forms loyalty to the brand and distinguishes it from competitors. Consistent use of colors, patterns, and elements not only accelerates consumer identification but also builds trust in the brand.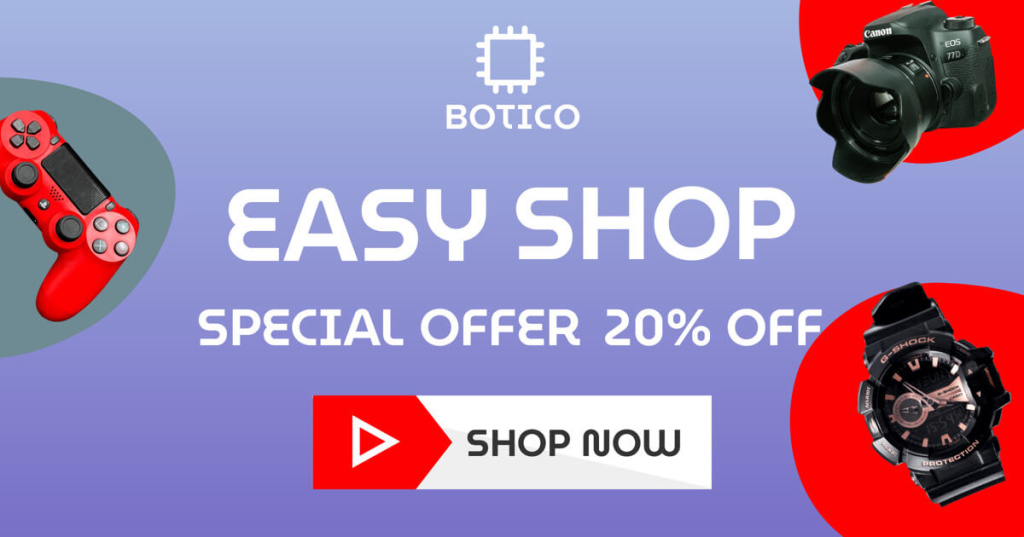 *example of a Business template by BannerBoo
Incorrect color combination
To ensure the banner is visually appealing, it's essential to have a basic understanding of color combinations before creating it. This factor significantly influences consumer perception and emotions.
Color psychology – an important tool because each shade is perceived differently by users. So, for example, the red color should be used to attract attention or to announce a promotion. When do you want to talk about the environmental friendliness of the product – you should choose the green color.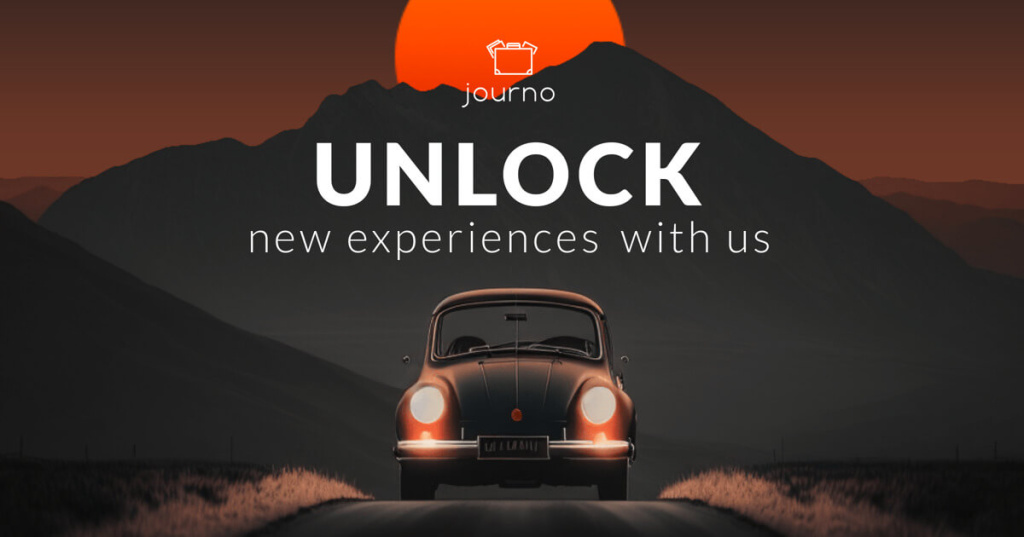 *example of a Travel template by BannerBoo
Font overload
Consumers are more receptive to banners where no more than 2 fonts are used. In this way, the message is easier to understand and notice. If you want to highlight important information, do it with the help of the font size or its formatting. Additional graphic elements, dies or the use of other colors to attract attention can also come in handy.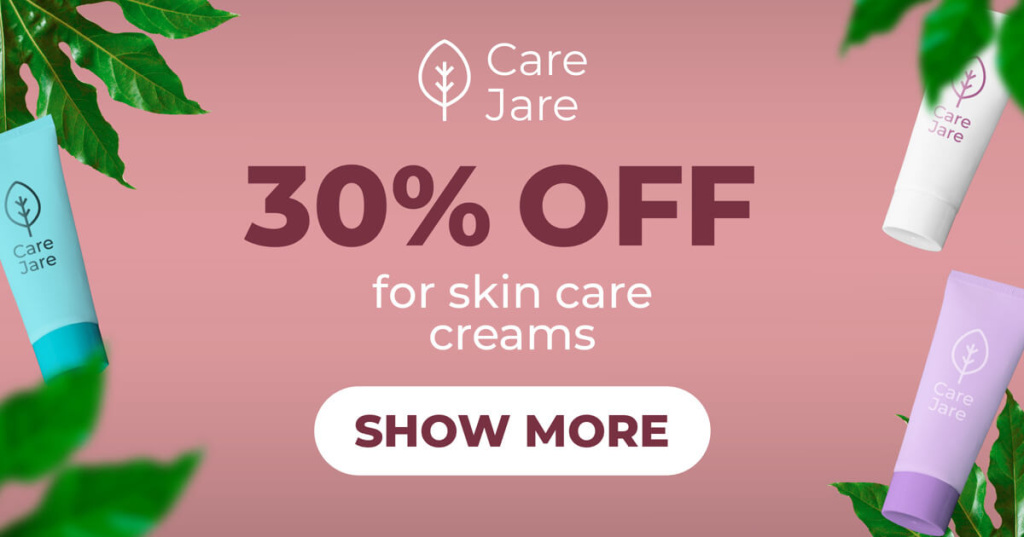 *example of a Retail template by BannerBoo
Not adapted content
Marketers often make a common mistake by publishing the same banner across different social media platforms. Failing to adapt the layout for each platform can result in crucial information being cut off, shifted, or overlooked entirely.
For better visual perception, create different versions of banners for different social networks. This will help maintain the quality and readability of the layout.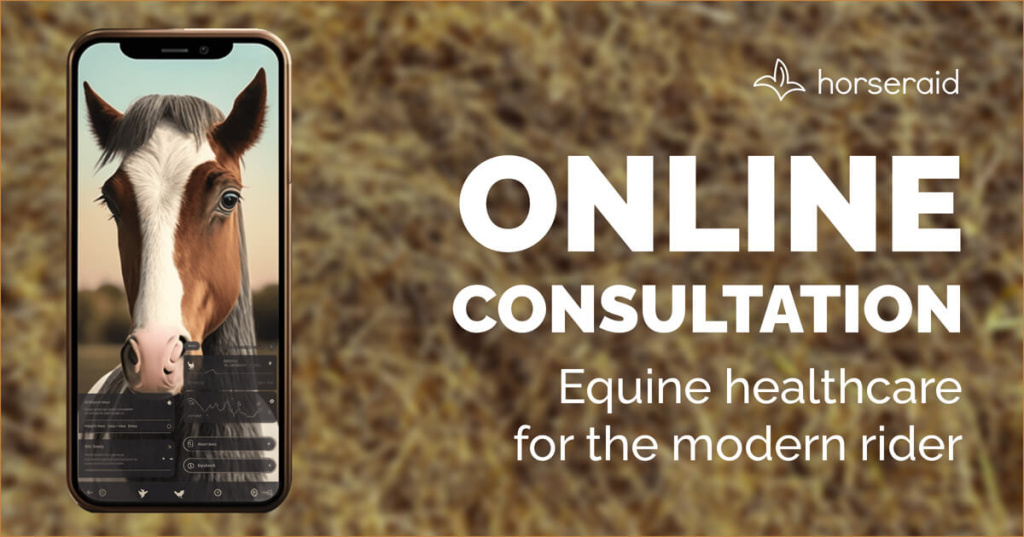 *example of a Pets template by BannerBoo
By avoiding the aforementioned mistakes, you can create attractive banners that are sure to leave a lasting impression on consumers and effectively showcase your product or service.
Maintaining social networks requires a lot of time and effort. It is necessary to think through not only interesting content, but also to create attractive banners that will appeal to consumers and interest them. Marketers and SMM specialists spend a lot of time on this.
BannerBoo is your go-to online service for crafting effective layouts. It's a user-friendly graphic design tool that empowers anyone, regardless of their skill level, to effortlessly create compelling images for any format.
Advantages of BannerBoo
The online editor is a breeze to use and perfect for crafting diverse visual content. Upon registration, easily done through a Google or Facebook account, you gain access to a professional panel with intuitively simple settings.
Creating layouts from scratch
You can set the required size, upload an image, place the appropriate text and choose the background color. Banner development service provides numerous graphic objects, images and fonts for use.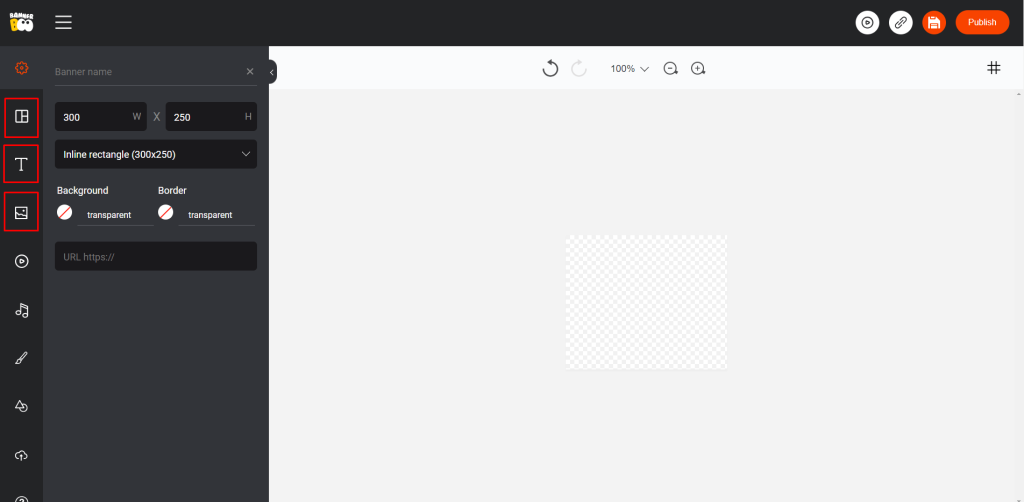 Using templates
BannerBoo provides 12,000 templates for different industries. You can choose from the list of images the one you like the most and replace the corresponding elements. When creating a banner using the proposed options, you can leave the appearance as it is, or add something of your own – for example, change the background color, add a corporate pattern, change fonts, and more.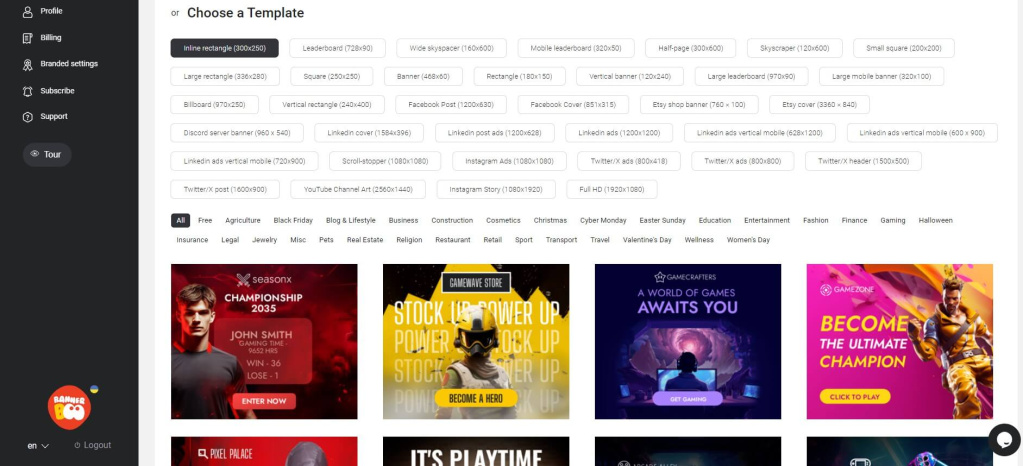 Team work
The BannerBoo constructor provides an opportunity to create a "workspace" where it is convenient and comfortable to work on a project in a team. Here, everyone can comment on layouts, make adjustments, set tasks for each other and use working time efficiently.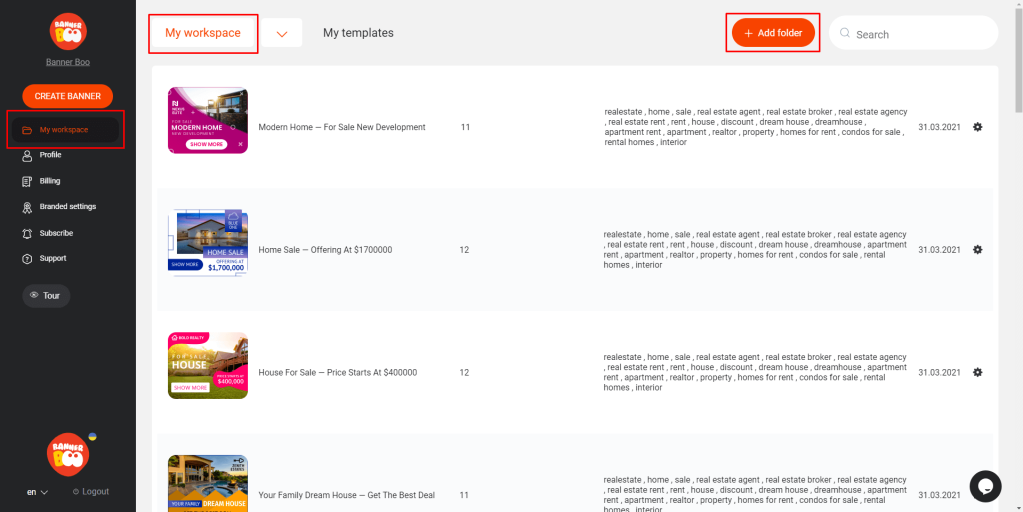 Quick change of banner sizes and formats
BannerBoo's online service has streamlined every aspect for swift and efficient work. It allows you to effortlessly tailor the pre-made layout to various formats. Simply specify the desired size, and the editor will seamlessly adjust the banner while preserving the balance, proportions, texts, and objects.
Exporting ready-made layouts to the required resources
The built-in integration allows you to quickly place the designed layouts in a social network or advertising channel. To complete this, you need to enter a link to the appropriate resource and click the "Share" button. This feature saves marketers' time as much as possible and guarantees more productive work.
BannerBoo's online editor for creating banners has a convenient interface and numerous functions used by professional designers, presented in a user-friendly format accessible to everyone. Here, you can quickly and effortlessly create attractive layouts without additional skills. These layouts can help form a positive brand impression, advertise services, and promote blogs or other advertising resources.
BannerBoo templates – quick content creation for publications
To capture the interest of consumers for your blog or brand, it's essential to distinguish yourself from the competition, deliver high-quality and engaging information, and craft visually appealing content. These endeavors demand a considerable amount of time, and marketers must invest substantial effort to achieve the desired results, such as increased sales.
To streamline operations and boost efficiency, consider utilizing additional social media marketing tools such as BannerBoo's online banner maker. This service offers an extensive gallery of templates, allowing you to effortlessly craft your unique content.
BannerBoo has collected over 12,000 different templates that include animated graphics and images. All layouts are divided into groups by subject. You can choose the required industry or direction, choose a layout and use it for your needs.
Working with templates involves the flexibility to edit or add various elements. Throughout the process, you can substitute the image, change the font, adjust colors, modify the background, and incorporate your branded elements such as the logo or patterns.
Ready-made layouts from BannerBoo are developed by professional designers, taking into account all factors that affect the effectiveness of visual content.
It is also important that the templates immediately adapt to the format you need. You can add originality to the banner by adding music or animation. BannerBoo also provides video development, which greatly simplifies the creation of publications in such formats as Video Reels.
With the help of a gallery of ready-made mockups, you can create a single recognizable style for your brand and promote your own products or services.
With BannerBoo's templates, your social network channels will exude attractiveness, captivation, and aesthetics. This ensures that your brand stands out from competitors, securing the loyalty and affection of consumers.
See for yourself – create your first banner with BannerBoo's online banner builder.
Graphics and image collection for social media posts
Creating attractive banners is not possible without high-quality, interesting images and original elements used in the design. With their help, the layout acquires a special style, which can then be used for other publications.
Working with BannerBoo's online editor alleviates concerns about finding high-quality photos or elements, as the service provides access to an extensive library of graphics and assets. All images and elements are grouped by topic, so the search is quick and does not require additional effort.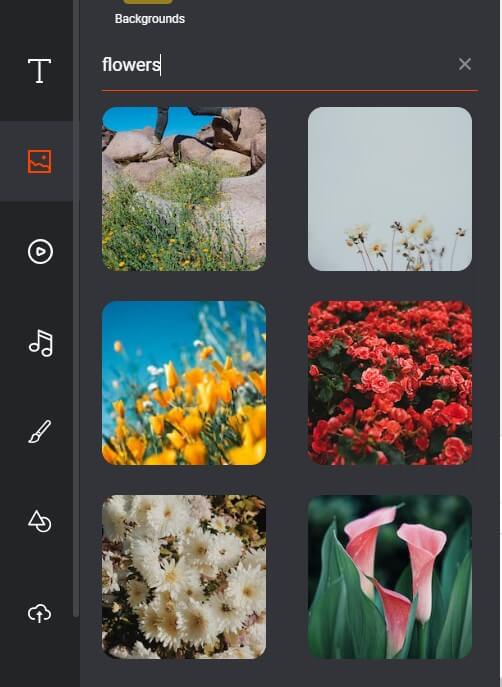 If you didn't find the necessary elements, don't be discouraged. The service allows users to upload their own images or graphic elements to achieve their goals. BannerBoo's online editor offers the best solutions that save your time and increase your productivity.
How to export banners?
Designing banners and writing content takes a lot of time, but publishing on various social networks is also not an easy task. For convenience, you need to save the image in the appropriate format or quickly export the layout to the appropriate channel.
The BannerBoo service also offers this opportunity because it understands the importance of fast and productive work. While creating a banner, the editor allows you to provide a link to the channel where your content will be posted, and with the help of the "Publish" button, you can quickly place it on the necessary resource.
This is a very convenient and easy-to-use function that saves time and effort. If you do not want to export the finished layout, then BannerBoo offers to save banners in the necessary formats. As you can see, all the functions of the service are adjusted to the user and simplify the process of creating banners and placing them as much as possible.
Marketing in social networks is a powerful tool for company development and promotion of services or products. Constant presence in various channels provides an opportunity to communicate with the target audience, convey the value of goods and form a positive impression of the brand. But this process is impossible without attractive and effective banners because it is the images that establish the first contact with users.
We have already talked about the fact that some marketers, creating layouts, achieve the desired results, whereas some don't. The secret may be in the correct use of additional resources that simplify the work of creating visual content. Among them can be the BannerBoo online service, which offers ready-made templates for use and creation of various types of publications and videos.
We offer to consider the options for managing social networks with the use of templates and without it.
Let's start with the global coffeehouse chain, Starbucks.
The company has created a cozy and welcoming atmosphere in its cafes, making them ideal places for people to gather, work, or socialize. Starbucks has been quite successful in managing its Instagram presence, leveraging the platform to connect with its audience, showcase its products, and reinforce its brand image. Starbucks maintains a consistent aesthetic in its Instagram feed. The use of warm colors, especially the iconic green, is consistent across posts. This helps in creating a visually cohesive and instantly recognizable brand identity.
This is what the brand's social networks look like now.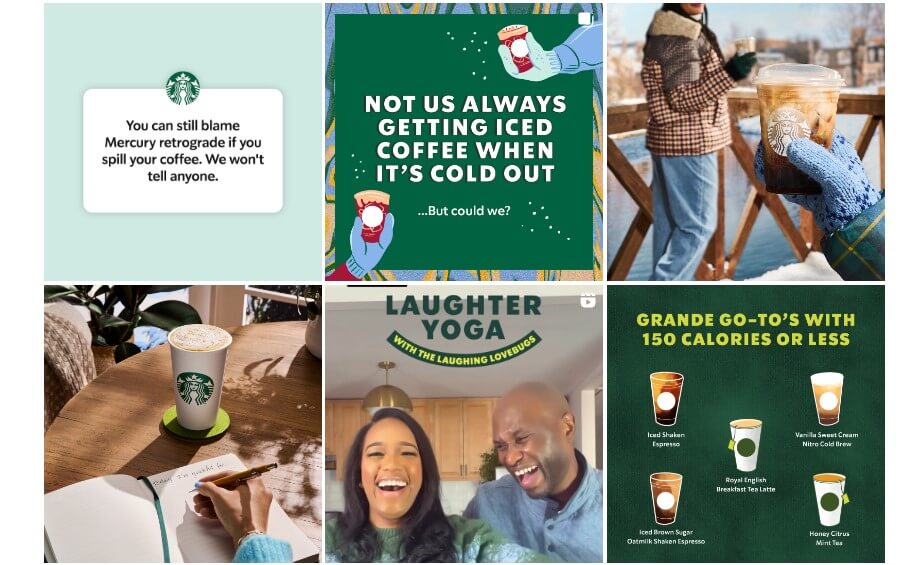 Starbucks has elevated its Instagram profile by seamlessly integrating visually captivating graphic posts in its iconic brand colors, complemented by engaging text. This not only amplifies informativeness but also captivates the audience's attention, making the blog stand out.
And here is an example of maintaining social networks before using templates.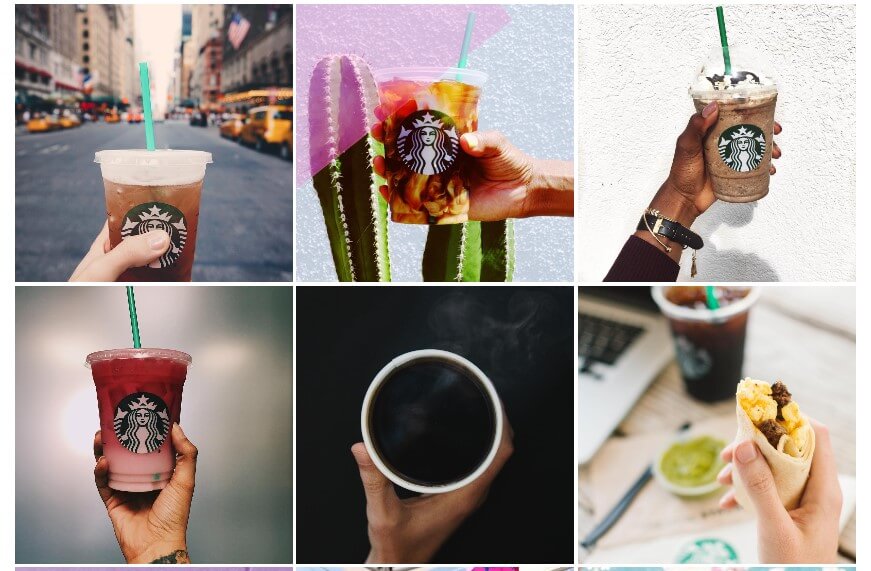 As you can observe, the photos on Starbucks' feed maintain a consistent and beautiful aesthetic. However, there's a notable similarity among them, making it challenging for the user to find elements that truly capture attention. The images, while visually appealing, could benefit from introducing more diversity or unique visual elements to create a more dynamic and engaging Instagram experience.
Running in this format of social networks could confuse consumers and reduce the desire to learn more about the brand and the services they offer.
By shifting its Instagram management strategy, Starbucks not only heightened people's interest, but also significantly boosted user interaction with the brand.
Let's consider another example. Ban.do is a lifestyle brand that specializes in accessories, gifts, and apparel. Known for its vibrant and quirky designs, Ban.do aims to bring joy and positivity to everyday life.
The company leverage a fun and playful tone, connecting with followers through relatable content and encouraging user interaction. Ban.do uses Instagram as a platform to express its brand personality, fostering a sense of community and spreading positivity among its audience. This is what an Instagram profile looks like now.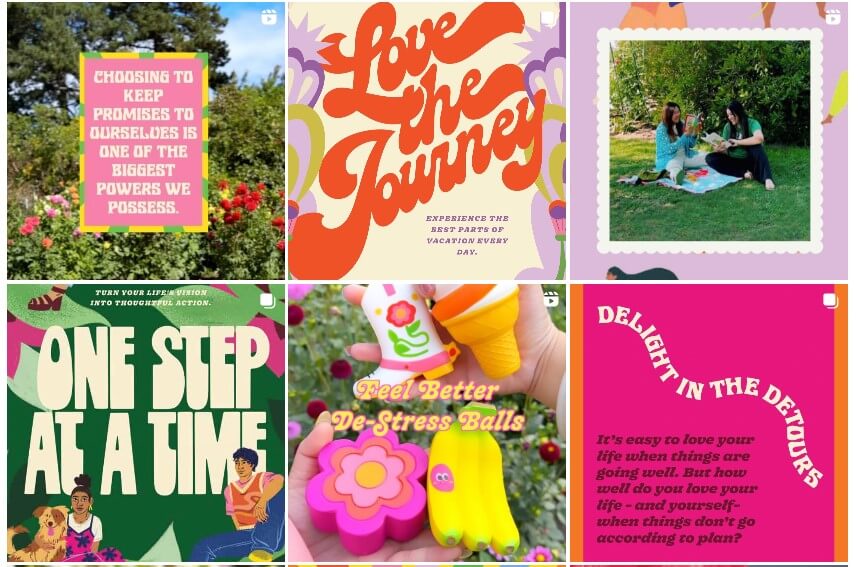 Ban.do cleverly incorporates a retro aesthetic in its posts, channeling the vibrant and stylish mood of a bygone era through carefully chosen colors and distinctive fonts. Every detail is meticulously thought out to convey a specific mood, and the consistent style of their posts ensures that users remember the brand. And this is what the company's feed looked like before.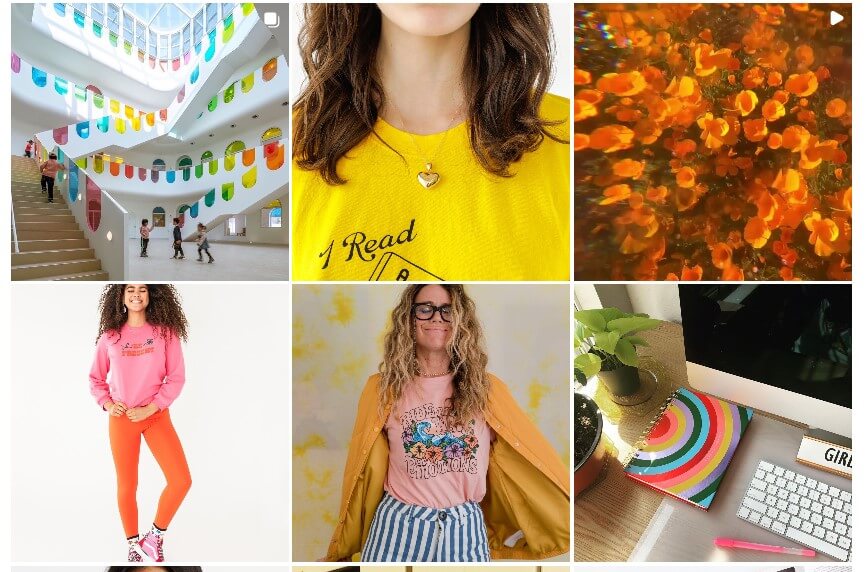 Just like in the previous example, the photos are refreshing, but the feed could benefit from a mix of graphic elements and impactful, concise text. This addition would immerse the audience in the brand's atmosphere, providing more information about its values and creating a more engaging experience.
The revamped Instagram management approach has had a positive impact on user engagement for the brand. It has heightened the desire among users to become a part of this vibrant community and explore the products offered, potentially leading to increased purchases.
Using templates from BannerBoo is not only an opportunity to save time and increase work productivity, but also to create really exciting visual content without excessive effort and professional skills of specialized programs such as Adobe.
Just a gentle reminder that all templates in the gallery were meticulously crafted by skilled graphic designers, ensuring optimal efficiency. Take a leap and craft your inaugural banner in BannerBoo; experience firsthand the convenience and comfort that the service offers.
Conclusion
Social networks are an important marketing tool for promoting your own services or products. With their help, you can communicate with consumers, increase the target audience with the help of interesting content, use special settings for advertising and create a positive impression of the brand.
One of the main elements of proper promotion is the visual content, i.e. the banners that we show in the feeds or advertisements. The overall outcome hinges on its effectiveness. Attractive, interesting content attracts attention, engages consumers and makes them want to learn more about the service or product offered by the producer, brand, company.
Marketers, content creators and SMM specialists spend enough time and resources to develop a content plan and create original layouts to stand out from the competition and attract consumers. In this process, it is important to think through everything to the smallest detail and avoid the most common mistakes when designing banners:
create an unclear message for consumers;

use low-quality images;

ignore the corporate style and branding of the company;

do not correctly combine colors and oversaturate the layout with fonts;

do not adapt the banner to different formats.
Online banner design tools such as BannerBoo will help you save resources and improve work efficiency. We provide 12,000+ templates created by professional designers for you to use. The ready-made layouts take into account all the nuances and features of design for various industries, so their use guarantees a positive result. With the help of the editor, you will be able to quickly and without additional efforts create the necessary image of the appropriate format and size.
In addition to templates, BannerBoo offers a large library of quality images, fonts and graphics. Using them for social networks provides an opportunity to create a unique style and be remembered by consumers.
With the help of the online service, you can animate your banners or create videos for Reels and easily export them to the required social network. If you spend a lot of time designing banners for social networks – sign up for BannerBoo and create your first layout. We are sure that from the first seconds you will appreciate the comfortable and convenient interface and all the functions of the service, as well as save time and effort.
Frequently asked questions
How to make a good banner for social networks?
To create an attractive and effective banner for social networks that will interest consumers, it is necessary to:
first understand the purpose of this layout and for whom it is being developed;

analyze the target audience;

formulate a clear message that will touch;

choose high-quality photos;

choose a style and color to attract attention in the news feed.
And don't forget about the call to action and adapting the layouts for different social media formats!
Which tool will help create a banner?
If you do not have graphic design skills, BannerBoo online banner design service is the best helper in this matter. The editor provides more than 12,000 ready-made templates that you can use for your needs. Among the tool's features, you'll find a large library of quality images, fonts, and graphics. With BannerBoo, your layouts will be interesting, original and attractive.
What dimensions are suitable for social media banners?
Remember that there are different banner formats and sizes for each social channel. Below are the layout requirements for the most common social networks.
Instagram:
post – 1080x1080 px

history – 1080x1920 px

Reels – 1080x1920 px
Facebook:
post – 1200x630 px

stories – 1080x1920 px

ring gallery – 1080x1080 px

profile cover – 851x315 px
LinkedIn:
posts – 1200x628 px

cover – 1584x396 px
YouTube:
How do I make my banner stand out?
To distinguish the banner from competitors and attract the attention of consumers, it is necessary to choose bright colors for the background, use readable fonts and high-quality images that show the product or service in the best light. With the help of the layout, it is necessary to evoke positive emotions – therefore, before creating, study the psychology of color and apply it in your work.
do not overdo the layout with fonts;

highlight the main information with the help of additional graphic elements;

use the features of corporate style to develop banners.
This will make it easier for consumers to distinguish your brand from others.
How to make my banner responsive
For every advertising platform, blog, or channel, specific size and format requirements exist. Initially, identify the social network for which you're creating a banner, acquaint yourself with the placement rules, and commence development based on the relevant criteria. In cases where the advertising channel incorporates multiple formats, either create several images or utilize BannerBoo's online editor. With just a few clicks, this tool makes it easy to adapt layouts to various formats!