Every day, as you surf the Internet, you encounter display ads on Google's network of partner sites. Undoubtedly, animated GIF banners stand out as the most vibrant and original. They capture immediate attention, and with just a click, they take you directly to the company's official page. With over 2 million partner sites available, you can connect with any target audience. In fact, according to www.titangrowth.com, Google's media network reaches over 90% of Internet users worldwide.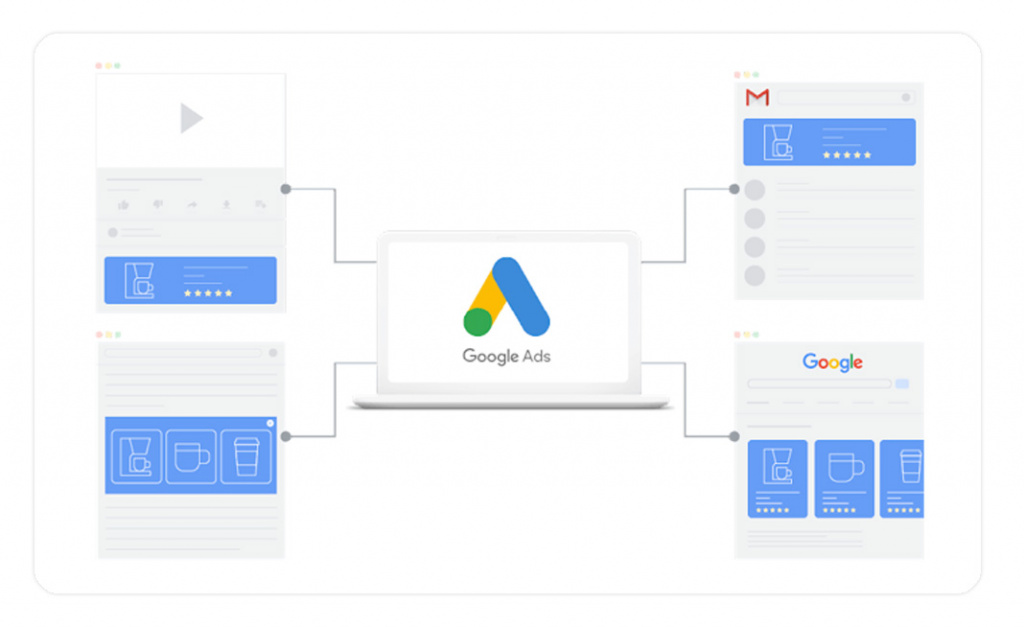 So, if you are a marketer or designer whose task is development and consistently high sales, then you have probably asked yourself the question "How to create effective GIFs for Google display advertising?". More on that.
Can I use GIFs for Google Display Ads?
Yes, Google allows you to place banner ads on the display network.
But before you dive into the design of banners, read the tips for their creation. In order for advertising to be effective, it is necessary to develop such a banner that will favorably distinguish the company from competitors, will meet all the specifications of the advertising system and increase the level of interaction of potential customers with the business.
How to create an effective GIF banner?
keep it simple and concise

It is not necessary to force the audience to guess what the advertisement is about. The banner should show the main offer, for whom it is intended, what kind of product or service it is.

use a call to action (CTA)

Be sure to specify what exactly the client should do after contacting the ad: go to the site, fill out the form, call.

follow a brand strategy

The landing page should have a design that is similar to the banners. Then a logical correspondence will be formed in the minds of consumers. Everything is important – from fonts, to colors and images.

use quality images

This item is about any element: static images, photos, text, logos, or videos.

use smooth and professional animations

Avoid any sharp or too flashing elements – they distract from the essence and reduce the effectiveness of advertising.
Google GIF Ad Specifications
GIF files aren't technically a video, but rather a series of static images played in a sequence that simulates motion. It's about the GIF files you're used to seeing on social media.
GIF ads work and look a bit different. The Google Ads platform limits GIF animation to 5 frames per second, the maximum size of a banner ad is 150 Kb. That is why classic video clips cannot be used in advertising.
Why Use GIFs in Google Display Ads
Of course, to stand out from your peers in the market and get the most out of your ads!
Animated banner ads are more than just advertisements that potential customers see on a website. They tell a compelling story about you, your company, and the benefits of your product or service, working for you 24 hours a day, 7 days a week. The value of such an advertising contact is significantly higher than that of a static image or a simple text ad.
Pros and cons of GIF advertising
As always, there are two sides to a coin, and GIF advertising has its pros and cons, although the cons are relatively minor.
Advantages of GIFs:
animation has a wider choice for creative potential (you can implement all the most creative ideas, show a product or service in action);

has a higher rate of user interaction (compared to static graphic ads);

brings more clicks (CTR (click rate) of interactive ads is higher).
The disadvantages include:
file size (the more animations – the "heavier" the file, primarily for downloading and playback);

Resources for creation: It may take more time to implement animation compared to a static banner, but if you are a subscriber of the BannerBoo service, you can always argue that;

Financial costs for making banners: It's true that the budget for creating animations is usually higher than that for static layouts. However, with BannerBoo, you'll be pleasantly surprised by its cost-effective options.
There is no doubt about one point – GIF banners are a great tool to convey your message to the audience. Thanks to modern technologies, advertising can be integrated with video, audio and other interactive elements, and all this looks optimal on different devices and screen sizes. But, the limit is only up to 150 Kb!
How to make a GIF banner?
With the BannerBoo service, an online banner creator for any business, GIF creation turns into a simple and step-by-step algorithm.
To get started, simply log in to the website and click on the "Create banner" button to access the creative advertising space.
Then it's even easier:
1. Select the template and size of the required banner
Browse pre-made templates, choose a static or animated GIF banner, or create one from scratch by choosing a predefined size from our library.

2. Make the necessary banner settings
Edit any banner to suit your needs, or turn a static ad into an animated one with just a few clicks. Change any element and create interactive display ads in GIF format.
3. Export banners
Download animated ads as high-quality GIFs and use them on popular advertising and social networks.
We have compiled a comprehensive Knowledge Base containing helpful articles and instructions for creating various advertising banners. We highly recommend acquainting yourself with it before diving into the service.
How to animate a GIF banner?
In order for an ordinary GIF banner to turn into an animated advertisement, the following actions must be performed :
We find the panel for animation (look for it at the bottom of the workspace);

Select the necessary layer (for convenience, all elements are placed in separate layers, they can be scrolled up and down);

Choose the duration of the animation in seconds (for Google Ads – up to 15 seconds);

We choose the main element that will attract attention to advertising, and turn on the necessary animation style to it;

Choose an animation for each necessary element;

To check how the banner will look – use the "Preview" button;

Save the banner in the required format for uploading to Google Ads.
If you are more of a visual person, we recommend watching the video instruction from the Knowledge Base.
How to upload GIFs to Google ads?
Everything is elementary.
In addition, Google has a detailed help service, where answers to the most frequent questions are described.
Step-by-step instructions:
!! You can download all banners in one .zip file. The maximum number is 40 files, each of which has a limit of up to 150Kb.
Enter your Google Ads account.

In the navigation bar on the left, select "Display campaigns ".

Then click on "Ads" and "Extensions" in the page menu on the left.

Press +.

Click "Download Display Ads ".

Select the desired ad group.

Select a file to download:

graphic ads in GIF, JPG and PNG format.

HTML5 or AMP HTML banner ads in ZIP format.

Add the final URL (the page where customers will go to get more information about the product or service or to buy it).

Click "Save".
Google's general requirements for animated GIFs:
duration: 15 seconds or less;

looping: possible (but the animation must be stopped after 15 seconds);

speed: slower than 5 frames per second.
How to make a 150 Kb GIF?
BannerBoo 's GIF optimization feature will solve this problem in just a few clicks.
You will be able to optimize the size of the banner advertisement so that it meets all the specifications of Google Ads. This functionality is available in the "Pro Plan" tariff plan.
Where to find GIF banners and templates?
We remind you that it makes no rational sense to create a new individual banner every time.
We are in the GIF banner maker BannerBoo has accumulated the experience of thousands of customers to create a bank of templates where you can choose the style and design of a banner in just a couple of clicks. Search for the necessary topics by tags, choose a banner and create effective advertising for your business based on it. We have more than 12 000 templates on various topics.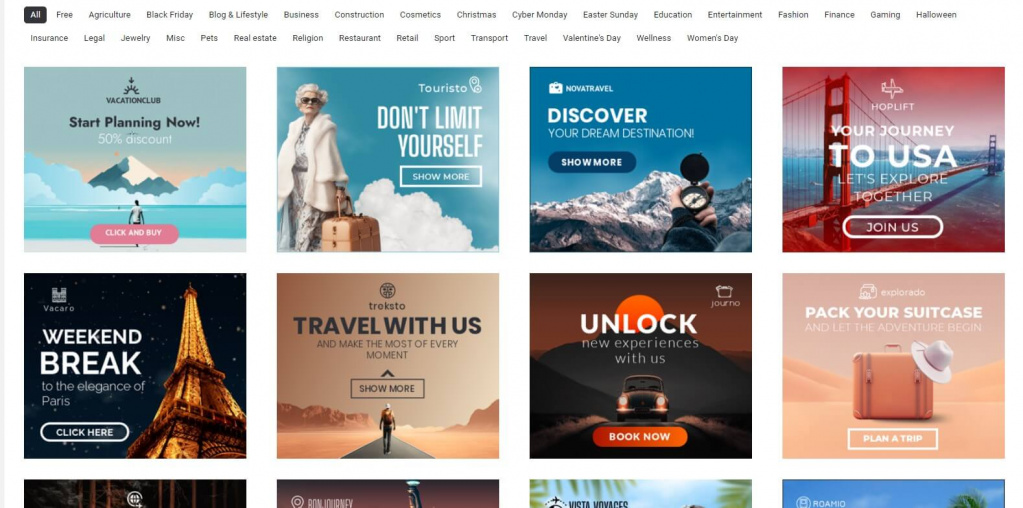 Summary
Now that you're equipped with knowledge about animated banners for Google Ads and practical tips on creating them, it's time to take action. Choose the template that suits your needs, craft a captivating ad that will leave a lasting impression on potential buyers, and upload it to the Google media network. The stage is set for your banner to shine and make a remarkable impact.
To get high sales, work on the creativity of banners and choose non-trivial solutions.
What is the difference between an effective banner and an ordinary static image?
brevity and simplicity;

light interactive elements and the absence of flickering animations;

have an active call to action (CTA);

fully corresponds to the brand strategy of the company and is made in corporate styles;

has high-quality and clear graphic images;

uses gentle and smooth animations to attract the attention of the target audience.
Choose the path of effective advertising!
Create graphic and animated banners so that your company is always heard and confidently moves ahead of its competitors.
Frequently Asked Questions
Can I use GIFs to advertise Discovery?
Google Discovery Ads – a new format of advertising in Google Ads appeared in 2020. It is native in-feed banner ads that appear in different feeds.
Currently, GIF ads for this format are available.
Are animated ads effective?
When it comes to grabbing the consumer's attention, animation has a significant advantage over a simple static image. In those brief 1–2 seconds that a user spends while browsing the Internet, animation has a higher likelihood of capturing their attention and leaving a lasting impression. Its dynamic nature and visual appeal make it a powerful tool for engaging the audience and conveying your message effectively.
HTML5 better than GIF?
Both formats are effective for advertising in Google Ads. But GIF banner ads have a few drawbacks:
duller colors and blurry images;

no active interactive elements;

files are quite "heavy", so they need to be optimized.
How can I make a GIF for free?
Take advantage of the free plan of online banner builder for business – BannerBoo. Of course, the basic functions have limits and restrictions, but they are quite enough to comfortably work with many layouts for advertising.
How to make GIF work in Google Slides?
The easiest way to add a GIF is to simply drag and drop the GIF file onto your presentation. Select a file from your computer and upload it to the desired location. Alternatively, you can insert a GIF from a URL. Just go to the "Insert" tab in the "Slides" ribbon, choose "Image", and select "By URL". Then, paste the URL and click "Insert" in the dialog box.
!! Important: Make sure the GIF is licensed for third-party use.
How to make a GIF up to 150 KB in size?
Select the "Pro Plan" tariff plan in the GIF banner editor
BannerBoo and use the banner optimization functionality.
How to convert GIF to HTML5?
Use online converters, or import GIFs into BannerBoo and save the banner in the desired format.