The main task of any business is to stand out from competitors, captivate the audience, and be an active and safe brand. For this: you need not only to follow the trends, but also to integrate them into your marketing campaign.
Over the years, the popularity of GIF banners and illustrations is only growing. They are used by everyone, both small local businesses and large corporations. Indeed: sometimes words are not needed — a GIF is enough, which fully conveys the entire range of emotions.
What are GIF ads, how and when are they used?
The acronym GIF stands for Graphics Interchange Format, and it refers to a sequence of several images that are displayed in rapid succession, creating an animated effect. The first GIF files were created by Steve Wilhite way back in 1987, making them even older than the Internet itself!
GIF animations quickly gained popularity, and have remained so ever since. Their appeal lies in their interesting format, compatibility with various operating systems and browsers, high level of consumer engagement, and versatility. With thousands of successful examples of their use, GIFs have become an effective tool in the arsenal of modern marketers.

An example of a GIF advertisement created in the BannerBoo editor

GIFs are much more attractive than static images or text, and they add movement and lightness to your posts. They are perfect for adding accents to emails, advertisements, social media posts, tweets, or blog articles. So, without further ado, you should add this format to your company's content strategy right away.
What's even better is that users love this format! According to GIPHY, there are over 700 million users who share more than 10 billion GIFs on their platform and elsewhere every day.
What makes GIFs so popular?

GIFs have several advantages over traditional videos and images. They are:
friendly for mobile devices (instead of adding "heavy" videos to the site and reducing the speed of the site, it is better to use GIFs);

quick and effective in explaining the features of a product or service (the brain processes images better than words, so a GIF can become an ideal how-to instruction);

interesting and interactive, increasing the level of audience involvement in the content.
Marketers have quickly adopted the use of animated GIFs in advertising campaigns on platforms such as Facebook, Google, Instagram, and LinkedIn, and have achieved high results. Furthermore, GIFs are often incorporated into a company's corporate culture, or Customer Care strategies.
Why is GIF animation so effective?

it is easy to create and use (GIFs can be incorporated into any brand, any audience, and any content).

they easily engage users in content and dialogue (the audience's emotions are a top priority, as the brain processes images 60,000 times faster than text).

they are more understandable and interesting than text or images (people remember only 20% of text, while a GIF banner has strong visual content).

They are better than images and cheaper than videos (when creating, promoting and posting a video on social networks, the rate will be lower);

they are part of Internet culture (and should be used in your activities).

they can be integrated into any social network (Facebook, Twitter, and Tumblr are the most active ones);

They are suitable for a Storytelling strategy (a great chance to build a long-term relationship with the audience interactively).

they stand out among competitors (consumers are less receptive to traditional advertising, and everyone has to fight for their attention);

they serve as a new form of communication in the Internet community.

they can be individual or templated.
According to Giphy, there are about 150 million original GIFs in the world, with:
23 million GIFs are posted on Tumblr every day;

5 million GIFs are sent to each other on Facebook Messenger every day;

more than 2 million GIF interactions happen on Slack every month.
How to use GIFs to strengthen your brand?
There are many possibilities! If you need to design a brief message, then a visually interesting and attractive banner with looping animation is the best solution. You don't need sound and additional elements for thousands of users to understand you without words.

Example of a GIF banner from BannerBoo

Of course, success is only guaranteed when you are 100% sure that your audience will understand and appreciate the GIF. If your buyers are Gen X, Millennials or Gen Z, then animation in your communication is essential.
Where can GIFs be used?
to demonstrate the individuality of your brand (show your creativity, emphasize your strengths, rules, brand mission, etc.);

to create instructions for using a product or service (animation can easily cope with this task);

to create template answers to customer questions (expressing gratitude for a purchase or providing delivery notifications, etc. — it is an effective way to leave a lasting impression on your audience);

to demonstrate mini-presentations (show to new clients what your business does, how it solves consumer problems, what your team and structure are);

to improve advertising companies on Facebook, Google, Instagram, Twitter and LinkedIn;

for data animation (boring numbers and text are transformed into a bright and "living" image);

for the presentation of new products and special offers (for example, sales and promotions);

to demonstrate the company's culture (an interactive way to win the favor of consumers);

to manage the community in social networks (add GIF files to the communication strategy — emphasize your individuality);

for the interactivity of your blog (among the standard blocks of text, animation will look bright and non-trivial);

to improve e-mail marketing (will allow people not to download "heavy" e-mails, especially on the phone);

to get attention (a GIF is just the perfect call-to-action (CTA)).
It is clear that there are many options for using GIF animation. Which one is right for your company? Test and choose the most effective one.
How to post a GIF in a Facebook ad?

Follow the step-by-step instructions:
Download Facebook Ads Manager and choose any ad target that supports video (all except Lead Generation, Conversions and Catalog Sales).

When choosing an ad format, select "One video".

Next, there are a few options:

download GIF as a normal video file from the computer;
insert a GIF from the site, click on "Account video" and select the URL of the video, insert a link to the banner and click on the "Import" button. After that, the video will appear in the "Account Videos" section and can be used from the file library.

Add your text and call to action and click the "Publish" button.
To make an animation looking good, we recommend checking how the GIF will look in different placements using the "Preview" function.
Why are GIFs in Facebook ads the best solution?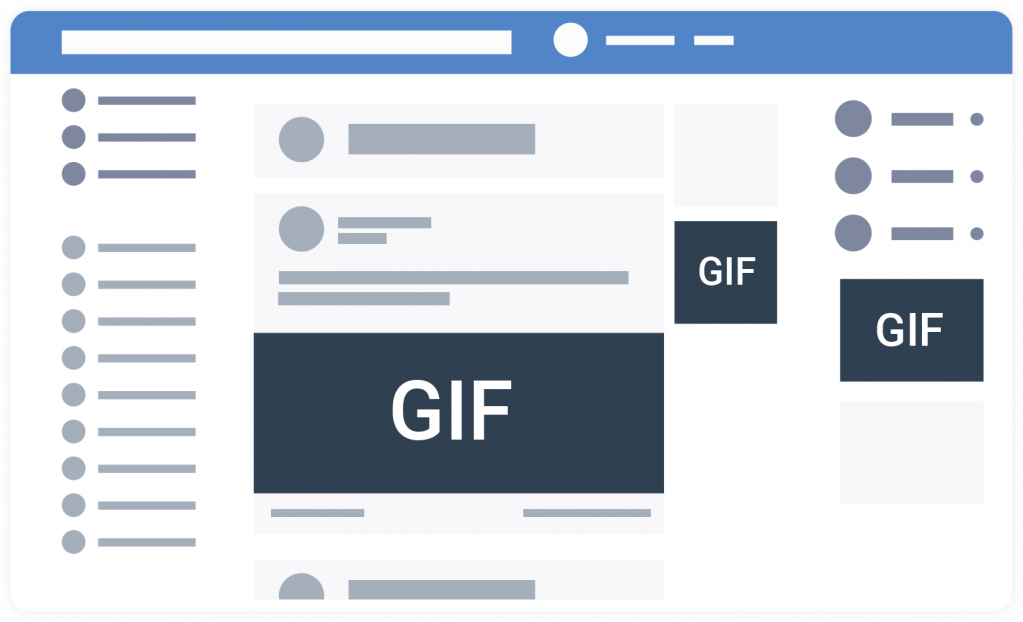 According to www.wordstream.com, the CTR of banners in various industries looks like this: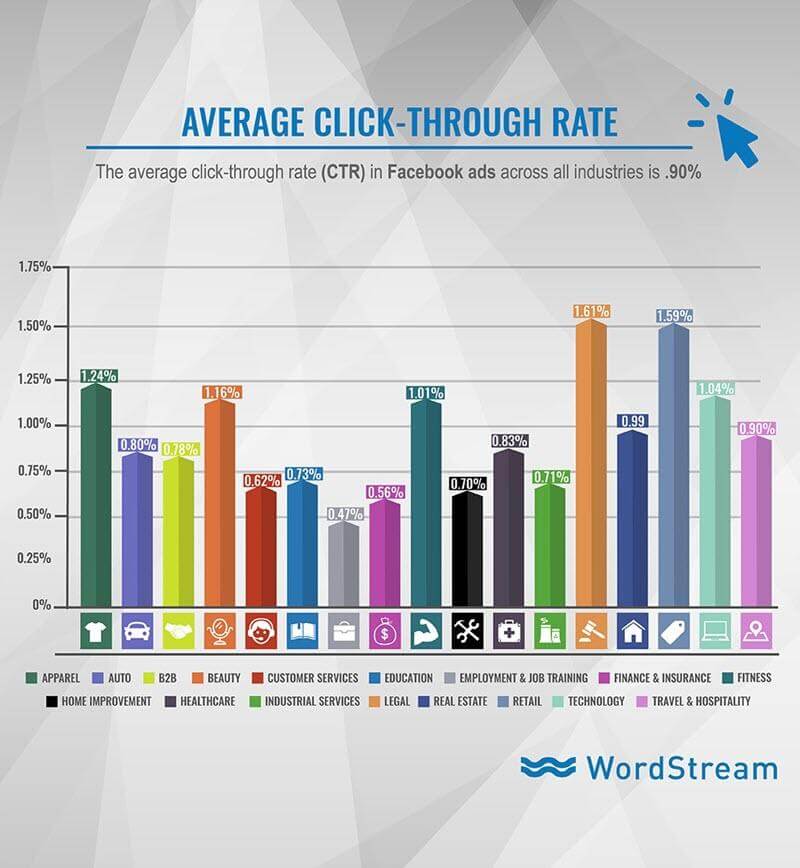 As can be seen from the infographic, the average CTR of Facebook ads in all branches is 0.90%. But with creative layouts and GIFs, you can get a much higher result.
The reason is to hit two targets at once: the possibilities of detailed targeting on Facebook and the creativity of submitting advertisements in GIF format. Use animation to make your ad stand out against a news feed. The original GIF banner is ideal for this.
Even Facebook itself states in its guidelines that "shorter video ads get more complete views." This is where the key advantage of GIF files comes in, as they offer a creative way to present advertising in a minimal duration, and are easy to download — especially for users with unstable mobile Internet."
Does Instagram support GIF format?

Instagram doesn't yet allow you to post GIFs other than adding stickers to your Instagram Stories.
However, you can post videos. And BannerBoo has a great feature that will help turn any GIF animation into a perfect looping 15-second video ad in MP4 format. And it will be easy to publish it on Instagram.
How to make a GIF for marketing and advertising?
You don't have to go far! BannerBoo is an online creator of animated banners, as well as graphics for social networks and blogs. You can easily and simply create an individual GIF or choose from more than 12,000 advertising templates.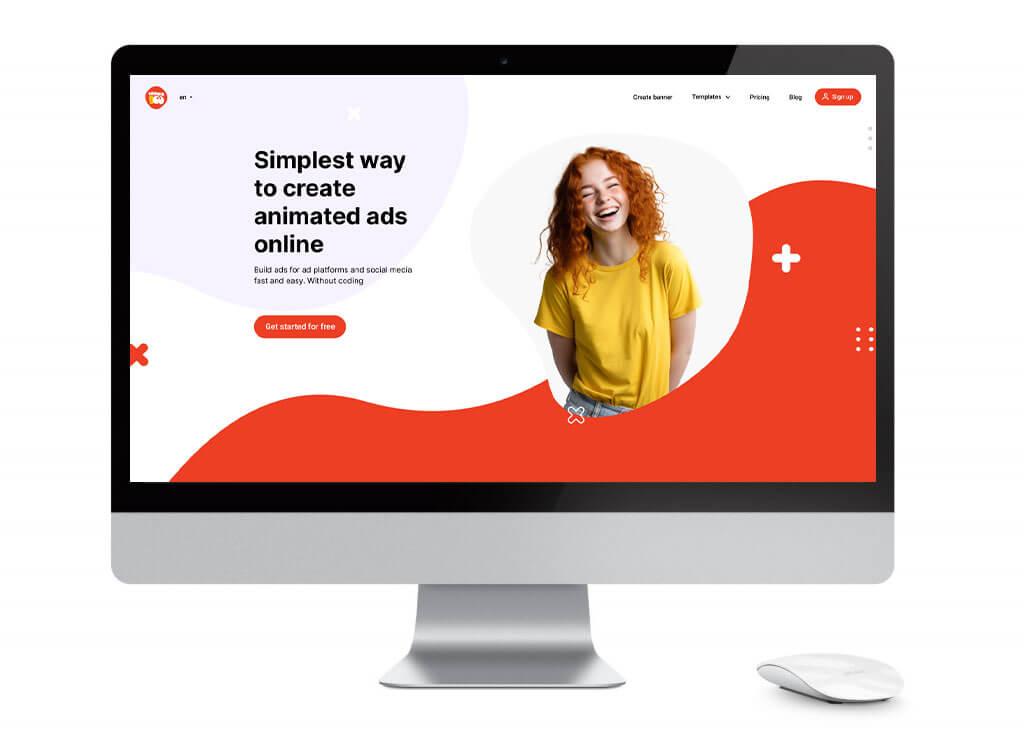 Working in this editor is a pleasure:
Log in to the website and access your personal account.
Select the necessary banner size for advertising:

Instagram and Facebook : 1080x1080px (news feed) and 1080x1920px (story);
Google: There are many formats available for Google Ads, and their specific characteristics are provided in Google Help documentation;
LinkedIn: 360x360 px and 360x640 px (details here);
Twitter: 1200x675px.

Create a Facebook GIF ideas by yourself or choose from 80+ thousand ready-made templates (for entirely different areas of business).
Choose a photo, effects, duration of GIF animation.
Write all the necessary text, the title, using the right font (a lot of text is not necessary, write succinctly).
Add logo, buttons, overlays, and interactive elements.
Save the layout in the desired format.
Download the finished animated banner in Smooth GIF format.
Creating your own banners is incredibly simple, and you don't even need Photoshop!
Detailed instructions for using the service are available at the link.
Tips for creating effective banner ads:
focus on image quality (use bright and clear images with smooth transitions)

keep it simple (don't try to use all possible effects in the banner, you only have up to 15 seconds to make an impact)

use .gif or GTFO format (the correct file extension is up to 8 MB)

keep text to a minimum (use a call to action and the brand name)

optimize for smartphones (remember that GIFs will mostly be viewed on small screens)
How to convert GIF files to video?

At BannerBoo in addition to a GIF banner, you can easily and simply turn your animation into a video clip for Instagram feed or Stories.
What should be done?
Log in to the website and access your personal account to select the necessary GIF banner. Note that all advertising templates on the BannerBoo site can be saved as GIFs.

Review the animation, text, chat, and transition style to ensure everything is satisfactory, and make adjustments if necessary.

Save the file as MP4.

Upload the video to any social network.
How to create any advertising material using BannerBoo — read the detailed instructions by the link.
What is the optimal length of a GIF ad?
There is only one answer: the power of a GIF lies in its duration! They are specially created to be as short as possible to optimize page loading time, ideally up to 10 seconds. However, advertising networks typically allow a duration of 15 seconds, so it's important to focus on this limit from the start.
Most importantly, every business needs fast traffic, not just a video. So, it's important to check the length limits of GIF files on different platforms. For example, Facebook has set a file size limit of 8 MB.
Where to download the best GIF ad templates?
It is not always necessary to create a unique animated image. Sometimes, it is sufficient to use ready-made templates to save time and employ an effective design. The web is replete with GIF libraries, containing thousands of downloadable GIFs for marketing purposes.
Here are some popular libraries to explore:
GIPHY: a well-established service with thousands of satisfied users worldwide and ready-made template solutions.
Google Image Search: simply search for a keyword that reflects the desired material, and many options will appear.
Tumblr: offers a wide selection of unique and lesser-known GIFs for those seeking special animations.
BannerBoo: a service that provides two options, enabling users to create individual GIF files for any business or use thousands of ready-made templates that have been created and implemented for customers.
Choose for yourself whether to take a ready-made template or come up with your own unique one. GIF animation has become a must-have tool for companies and businesses looking to maximize the impact of their marketing campaigns.
Marketers and designers from all over the world have long and successfully used this tool for creating advertising layouts in marketing campaigns. Maximize your advertising potential.