A business must be present where there is a target audience.
When the world went online, this challenge became even more pressing. It's no longer enough to just make a cool product, you need to constantly generate engaging content, be in touch on social networks and improve loyalty to the company.
If you are new to Instagram marketing for your business or just thinking about the need for Instagram Ads, be sure to check out this article.
What are Instagram ads?
Instagram's ad placement functionality allows advertisers to target a rapidly growing social network with almost 800 million active users (according to statista.com). The business can communicate with the users, offer its products and services, and make money.
Your business can introduce its products and services to a wider audience through Instagram-sponsored posts. A user can select demographic or geographic characteristics, as well as interests in order to more effectively target advertising. Depending on the type of services or products you offer, you can target your advertisements at specific categories of people.
There are many reasons why companies use Instagram ads. Among them:
increasing brand awareness;
introducing a product or service to a wide audience;
increasing the number of visitors to web pages;
creating a stream of potential customers;
working with warm and interested customers in a sales funnel;
increasing the number of conversions;
upselling to existing customers and increasing the level of loyalty to the company.
Since the concept of Instagram is a visual platform, advertising requires an image, a set of images, a video (which may contain text inserts – captions), GIF banners, or animated banners. This way, you will be able to grab the audience's attention and fully utilize the functionality of Instagram.
What is the effectiveness of advertising?
According to Instagram, in 2017, more than 120 million users performed a conversion action. They visited a website, called, emailed, or sent direct messages to inquire about an Instagram ad-based business. 60% of people indicated that they received knowledge about new products or services on Instagram, of which 75% of users indicated that the company's advertising post influenced the decision on the need for a product or service.
Instagram Ads work similarly to Facebook's ad system: you invest the budget to serve ads to the right audience, which in turn leads to more visibility of your brand, likely conversions, and other ad goals.
Instagram Ads are a great way to focus your ad activity on the right people, at the right time, with the right message and images.
Why advertise on Instagram?
If you still don't use the Instagram ad system, then mastering it is the number one task. Judge for yourself (data for 2018):
6 out of 10 adult online users have Instagram accounts;
32% of teens consider Instagram to be the most important social network;
26% of Instagram users earn over $75,000 per year;
500 million users are active every day;
51% of Instagram users visit the platform daily, and 35% – several times a day;
60% of top brands use Instagram to communicate with their audience;
More than 80% of Instagram accounts are subscribed to business accounts, and more than 200 million Instagram bloggers maintain a business profile every day;
50% of Instagram users follow at least one business;
60% of users say they found out about a product or service on the platform.
More statistics at wordstream.com
Advertising on Instagram will become even more effective for businesses if it is enhanced by high-quality and systematic SMM work on social networks.
Are Instagram ads right for your business?
The obvious question is: is Instagram an effective platform for your business? Or is it a playground for teens and models who post selfies daily?
Indeed, the Instagram audience is quite young, but the platform has all demographic groups in its structure:
18-29 years old – 55%
30-49 years old – 28%
50-64 years – 11%
over 65 years old – only 4%
It is obvious that a young Instagram user will use the platform more frequently. According to the Ipsos survey, the breakdown by age of active users looks like this:
18-24 years old: 67%
25-34 years old: 60%
35-44 years: 49%
45-54 years old: 43%
55+ years: 31%
According to Hootsuite, 32% of Instagram users are urban residents, 28% are suburbanites, and 18% are rural. The gender balance has recently leveled off: there are slightly more women than men. Instagram's advertising functionality gives you full control over the gender, age ranges, location, interests, and online behaviors of the users you need. In addition, you can configure ads even for users of some devices, smartphones, or apps to go online.
Advertisers can create custom audiences based on visitor activity on certain sites, interaction with advertising campaigns and publications, customer lists, and created events. A lookalike tool allows you to scale audience size by searching for users who share the same characteristics as the original audience and have a similarity percentage between 1 and 10%.
If you analyze all the information above, absolutely any type of business can find its customers. It makes sense that the bigger your product audience – the more diverse advertising strategy you will need. If the audience is narrow – you should focus on diverse advertising creatives (Instagram Story, IGTV videos, GIF banners) and unique texts.
Are Instagram Ads Really Working in 2022?
2021 was a turning point, the business massively moved its advertising activities completely online. Instagram continues to grow and gain momentum in development, and the advertising functionality has become even more extensive.
The Instagram advertiser market is not yet fully saturated, so it's safe to assume that more effective ad integrations will emerge in 2022. Algorithms improve the quality of ad delivery, advertisers optimize ad budgets – all of this to increase the effectiveness of brand campaigns. Instagram ads can be an important part of your campaign funnel and, by increasing brand awareness and engagement, a source of conversions.
How much Instagram ads cost in 2022?
The biggest advantage of Instagram Аds is the ability to customize advertisements to suit any budget. Every advertiser can set a daily limit of at least $1, so Instagram ads are available to everyone. The cost level depends on many factors, and most of them are unknown to anyone except the creators of the algorithms. The model is based on CPC (cost per click) and CPM (cost per impression) and prices are determined according to Instagram guidelines.
Advertisers can control the distribution of their budgets: choose a daily budget for the day or the number of costs for the entire period of displaying advertisements. In addition, you can:
set up a schedule for displaying ads (for example, certain hours when your users are most active);
choose the ad display method: link clicks, impressions, and daily unique reach;
set the parameters for setting the size of the bet (manually or automatically).
A bit about numbers. Based on the experience of conducting advertising campaigns (according to business2community.com), indicative budgets can be as follows:
users pay an average of $0.50 to $0.95 per click on the URL
per click on an ad – from $0.40 to $0.70
Instagram ad CPM – $2.50 to $3.50
the price for interaction with an advertising publication is $0.01–0.05
Based on this data, you can predict the minimum budget for your Instagram ad campaign.
How to make the most of your budget?
It is essential to optimally and efficiently use your advertising budget, even if it is minimal. The key to success is a correctly chosen goal for an advertising campaign. The thing is that you not only choose the conversion action (go to the site, click on a link, send a message, etc.) but also the algorithm for how the algorithms work. Therefore, having chosen the "Engagement" goal, you should not expect that users will make a purchase. The reason for this is that algorithms select users who are active contributors, reposts, and commenters, rather than those who make the most purchases.
It is important to understand that a purchase does not always take place on the first click – it can take several interactions with the company for the buyer to decide if a product or service is necessary for him. Instagram ads help build trust, perhaps compare offers from different brands and get back to you. If you have an inexpensive, high-quality product, successful impulse purchases can be right from the first click.
Another way to lower your Instagram spending is to use auto-postings at the ad group level and serve them on both Facebook and Instagram. The algorithms will select where the ad is best served, thereby providing more interactions with the ad, lowering competition, and lowering costs.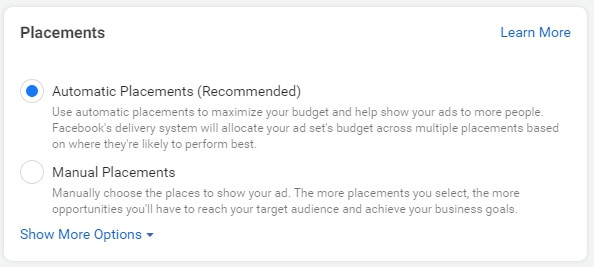 You should definitely test various options for creatives and texts, static layouts and videos, slideshows, and GIF banners to understand which images resonate with your audience. By using only effective ad formats, you will increase engagement, improve advertising quality, and reduce spending on advertising.
How long do you need to run Instagram ads?
When starting an Instagram ad, it's important to understand that this is an ongoing process.
Companies need to connect with audiences in the places where they spend the most time. We recommend developing an advertising strategy for constant communication with the target audience, strengthening it during the period of promotions, special offers, and sales season.
How to advertise on Instagram: a 5-Step guide to using Instagram Ads
It's easy to start advertising on Instagram.
Instagram advertising is controlled by the Facebook advertising panel.
What should be done?
Step 1. Combine your Facebook page with your Instagram business account.
This is done only once, then the data will be automatically saved. Go to Facebook page settings and click "Instagram Ads". Click "Login" and enter your username and password to enter Instagram. If you don't have an Instagram page yet, you can create one right now.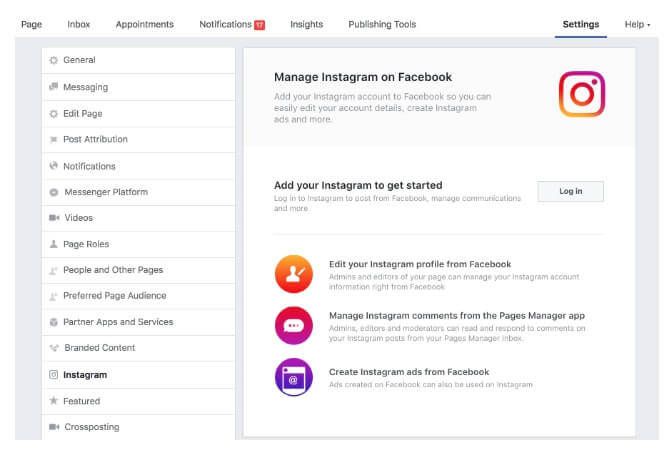 Step 2. Choose the purpose of the advertisement.
This is an important stage because the effectiveness of campaigns depends on the correct choice. Remember, not all goals are compatible with Instagram Stories Ads.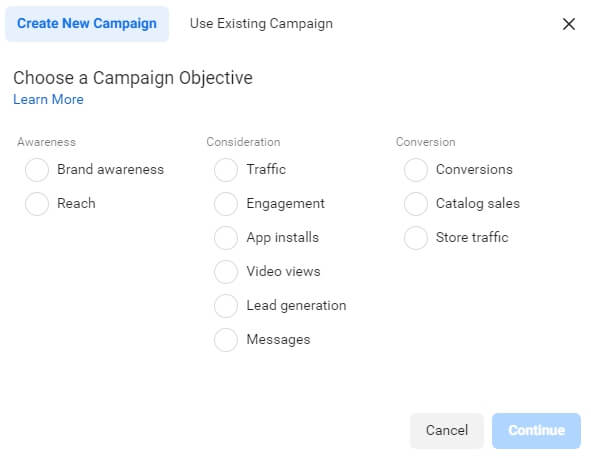 You can only choose one target and this will affect how the ad is displayed. More about strategies:
Brand awareness (suitable for raising awareness of a business, product, or service, supports image ads, video ads, carousel ads, slideshows, and Instagram story ads);
Coverage (covers the widest audience that your product may be interested in, supports all types of advertising on Instagram);
Traffic (attracts visitors to your site, supports all types of advertising, and is great for online stores);
App installation (aimed at increasing the number of app downloads, supports any type of Instagram ads);
Engagement (increases the number of likes, comments, and reposts of the page content. You can create a new post or use an existing one);
Video views (invites users to watch the video and engages them in the content);
Lead generation (suitable for collecting information from users, for example, their email addresses so that you can offer them your terms, supports all types of advertising);
Messages (increases the percentage of interaction with the company. The user can contact you with a question directly or even purchase through Direct Message);
Conversions (great for e-commerce and boosts sales);
Catalog sales (showing customers your product catalog to encourage them to buy);
Point visits (suitable for those who are promoting multiple offices to increase the number of offline visits).
Analyze all possible goals and choose the most suitable one for your business.
Step 3. Select audience and ad placements
Determine who you want to show your ad to. The same targeting options are available for Instagram ads as for Facebook. If you already have any personal audiences, you can select them.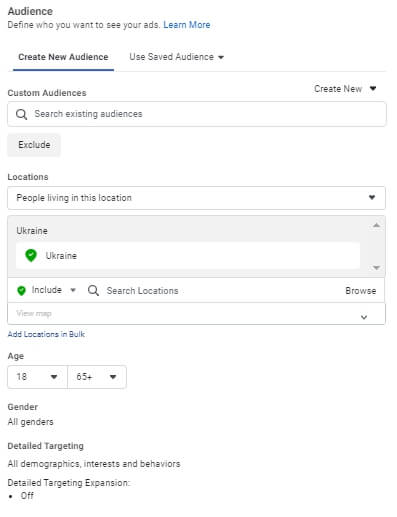 Then select your ad placements. You can run ads only on Instagram, or you can add Facebook and/or Messenger.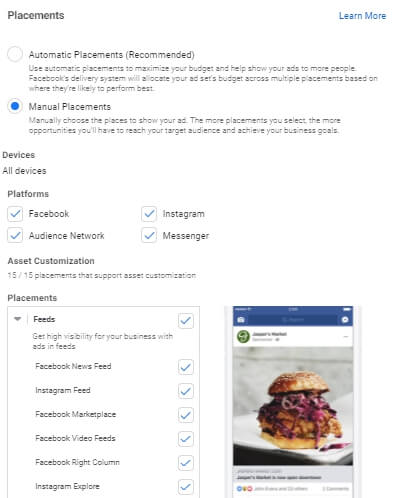 If you're just getting started with Instagram Ads, start with minimal budgets. They can always be scaled up when the ad is performing well.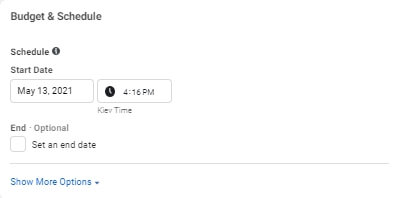 Now that we know who to target and how much it will cost, click "Continue".
Step 4. Prepare texts and creatives
Choose an Instagram ad format. There will be an option to download or create a graphic image, or video, right away. Animated banners can be used to grab the audience's attention. You can easily make them with BannerBoo in just a few minutes (below there will be more information on the work of the animated banner editor).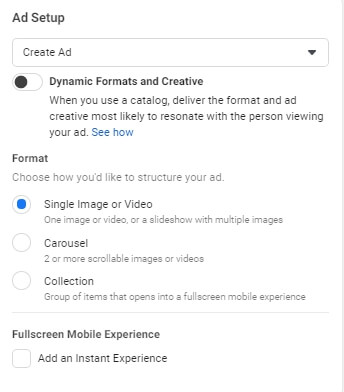 Thereafter, you can add texts that reflect the essence of your proposal and are beneficial for the target audience. Add a call to action so the user understands what actions are expected of him.
By the way, there is a preview block to the right of the text editor. You can see how your ad will look on any site there. If necessary, make changes.
Step 5. Advertise and analyze the results
The work is not completed by clicking on the "Publish" button. As soon as the ads bring results, they need to be analyzed to select the most effective creatives, texts, and audiences. You can modify the targeting parameters and remove the "inoperative" characteristics based on the data obtained.
How to choose the best type of Instagram Ads
Every advertiser has a choice of 5 types of ads:
image (the most common format);
video ad (video up to 60 seconds or GIF format);
carousel (from two to ten images and/or videos that users can view by flipping through them);
slide show (images that are played as video);
Instagram Stories Ads (photo or video content in vertical format).
The only way to find out what type of advertising is most effective for your business is to test them all on your audience. Be creative, use more than just images, pay attention to animated banners to stand out from your competitors, and grab the attention of your target audience.
How to create Instagram ads?
First, think about the structure of your advertising campaign.
It can include several different types of audiences: cold (based on interests and geographic parameters), and custom (which includes people who have already interacted with your page, ad, or site). For each audience, consider your copy and layout options. The more personalized your advertisements are, the more engagement (and sales) they will generate.
In order for the reader to find the text interesting, they must recognize their own goals, objectives, and "pains" in it. Try to write in simple, understandable language to make it fun to read. It doesn't matter whether it's a promotional copy or a blog post – the user should benefit from every point of contact with your company.
Advertising creatives are a separate art form. Users remember more vivid, dynamic stories than static images or long text. An interesting way to interact with the audience is through animated banners.
For example, BannerBoo is a simple and convenient animated GIF and video banner maker for any purpose. It is easy and simple to create animation with it, and the program is absolutely clear. In addition, there is a complete knowledge base, with a detailed description of all functions. Inside the system, there are many ready-made banner templates and stories for Instagram that have shown excellent results with clients, and you just have to change the text so that the banner describes the benefits of your business.
Outcome
It would be almost criminal not to use the massive capabilities of Instagram Ads if you're aiming to increase the presence of the medium in social networks. Be sure to include Instagram ads in your company's strategic roadmap.
More than 1 billion people visit Instagram every month and spend at least 53 minutes every day on the platform. You should surely advertise where your target audience is definitely going to see your advertisement!