Instagram is considered to be one of the best and most constantly evolving advertising social platforms. According to Statista, the network will reach its first billion users by 2023.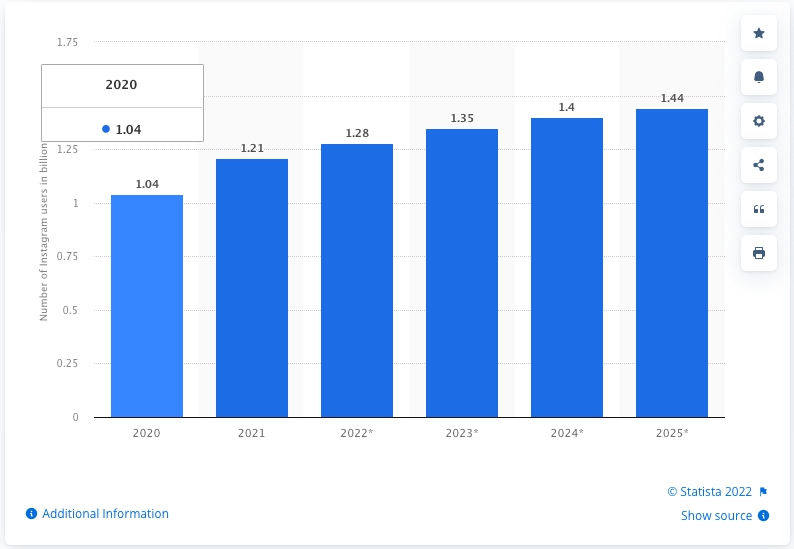 * source statista.com
It's hard to believe that just 5-6 years ago, Instagram was just a place to share photos. Today, it is a creative space for personal pages and business accounts, where everyone can share photos and videos, record conversational stories on Instagram, attract customers, and introduce their idea. Should you run an ad here? Of course! Be where your potential customers are.
In order for advertising to be effective, it is necessary:
know your audience and choose communication formats with it;
generate useful and viral content;
wisely choose the type of ads and content;
create images and videos to attract potential consumers.
Of course, just running an ad is not a guarantee of results. But, with the right strategy, any business can get sales and engaged customers. More on all this later.
What are Instagram ads?
Advertisements on Instagram are posts or stories paid for by a company to reach a certain audience. They look exactly like regular posts, but are labeled "Advertisement".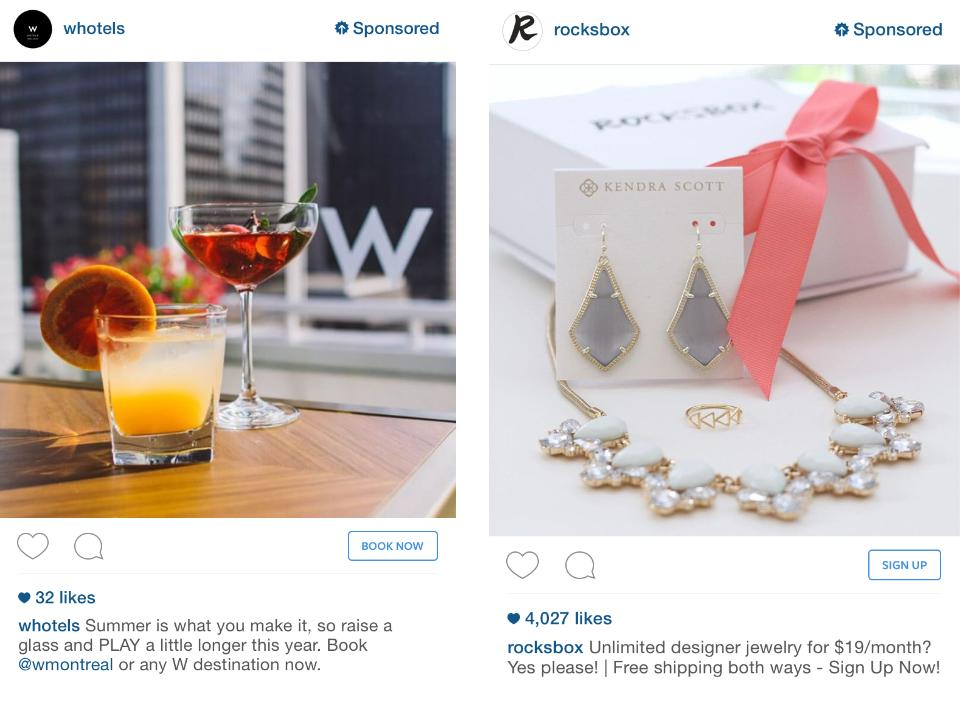 * source neilpatel.com
Companies can achieve different goals:
increase brand recognition;
increase website and social network traffic;
form a flow of new potential customers;
move potential buyers to another stage of deciding to purchase a product or service;
increase the number of conversions and sales through the site's shopping cart.
Remember, Instagram is a visual platform, so simple text will not work there. It is necessary to create a visual strategy and high-quality images or videos.
Understanding Instagram ad formats
The different types of Instagram ads are not interchangeable. Each has its own advantages and features, which must be considered when forming an advertising strategy.
Available Instagram ad formats:
Graphic ads (photos and advertising layouts) will always be popular because they can show the whole essence of the offer with one visual element to promote a specific product or service;
Video advertising, which gives a more in-depth insight into the product and brand, when much more needs to be said than just a photo;
Advertising in Stories – full-screen advertising for mobile devices that improves interaction;
The ad carousel looks like a series of images or videos that you can scroll through, click, and choose the most relevant option;
Explore ads (ads appear on the Explore tab) show new and relevant content to potential customers;
Collection ads allow you to buy goods and services directly from an advertisement;
Shopping ads also allow you to buy products in one click, but the user gets to the mobile version of the site, not the Instagram storefront;
Reels are the perfect format when sound matters (unlike most ads, Reels are watched with the sound on).
Which format to choose is up to you (or the marketers you work with), but we recommend testing different options to choose the best for your audience.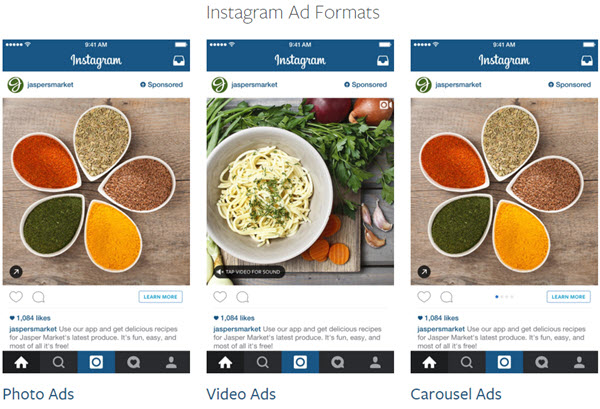 * source neilpatel.com
Who should use Instagram advertising?
Instagram is growing very dynamically, and at the same time, it brings high revenues to businesses. The advertising opportunities of the social network attract both large brands and micro-businesses.
Why should a business consider Instagram as a way to promote their brand, services, or products? There are several reasons:
anyone can advertise on the platform;
advertisers can interact with any audience based on demographics or interests;
the interaction rate is very high – people like and share photos, videos, GIFs, and texts;
advertising looks like regular publications, so it has a native feel;
there are many options for advertising formats on Instagram: stories, videos, IGTV, and commercial ads.
You can achieve any goal: increase brand awareness, get more clicks on the site, increase sales, or the number of app downloads. Instagram is responsive and allows you to reach a massive audience.
Why is Instagram advertising important?
Marketers have identified several reasons why businesses should use Instagram advertising. More details about them:
Reason #1. Instagram's users spend a lot of time on the platform
On average, a person spends about 50 minutes a day on social networks. That is why a brand or company can communicate this time with potential customers every day. Instagram makes it possible to get more attention and trust from the audience.
Reason #2. Detailed targeting on Instagram
The platform has options that can be set optionally to better reach the desired audience. These can be geography, demographics, interests, online behavior, etc. You can create ads specifically for those people who have already bought something from you. Instagram (in cooperation with Facebook) provides the opportunity for businesses to get full access to data about the target audience, which makes advertising as effective as possible.
Reason #3. High performance
According to Instagram, which analyzed more than 400 advertising campaigns around the world, the effectiveness of advertising with Instagram was 2.8 times higher than the general norms for the digital sphere. This means that advertising remains in the minds of consumers, and it is easier for them to identify the company among competitors later.
Reason #4. Dynamic growth of Instagram
This trend has been taking place for the past few years. The number of users is growing, which means that the potential coverage of advertising campaigns is also growing. This encourages Facebook and Instagram to create more and more features and automate communication with the right audience.
How to create and run Instagram ads?
Remember, the average user of social networks sees an ad on Instagram every minute. That is why it is important to create high-quality and useful content to stand out among colleagues on the market.
We recommend creating personalized advertising for the audience, emphasizing the advantages and features of the company, goods, or services. Using the BannerBoo ad builder, it is easy and simple to create a cool advertisement, video, or GIF banner.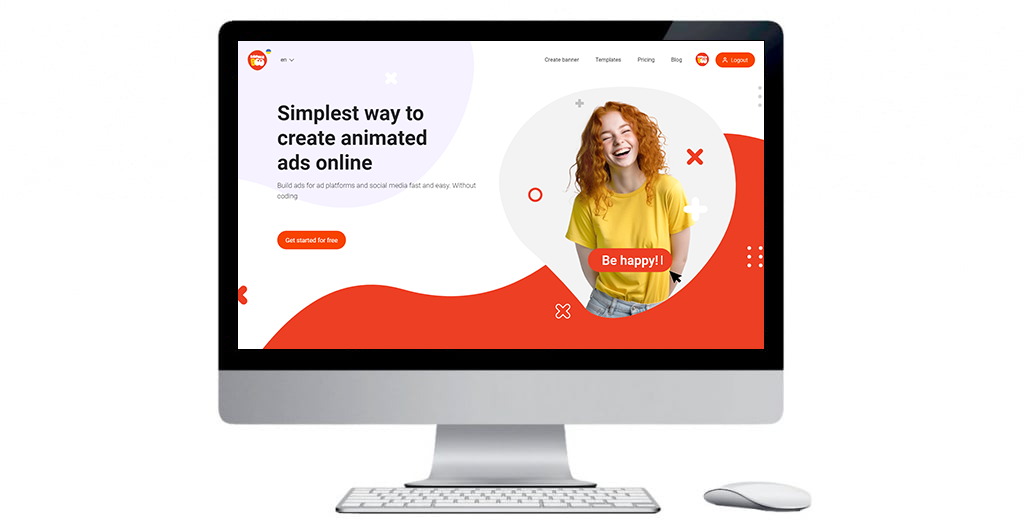 How to create an advertisement for Instagram?
Log in to the BannerBoo service, enter the dashboard and click the "Create banner" button.
Select the required Instagram advertising format (1080×1080 px for news feed or 1920×1080 px for wide-format stories).
Think over the idea and content: choose from templates or build creatives from "scratch".
Choose effects, animations, place text blocks, stickers, and badges.
Write all the necessary text, select the font and style.
Add a logo, buttons and interactive elements (so the finished layout will be more interesting).
Save your animation, or static banner in JPEG, PNG, or Smooth GIF format and get a nice engaging advertisement.
In addition to static layouts and GIF banners, you can create a video clip for the feed or Stories in the service. It's the same algorithm, just that you need to save the MP4 file. Visit the BannerBoo YouTube channel for detailed instructions on how to create video ads.
How to run an ad on Instagram?
At first glance, launching an ad is something very complicated. In fact, the secret of success is practice and experience. The more ad campaigns you run, the easier the process will be each time.
You can set up your Instagram ads directly with the Facebook Ads Manager. If you don't use Facebook, you can advertise directly on Instagram. The instruction is as follows:
Log in to the Instagram app and go to your business profile.
Select the "Promotions" option, then "Create Promotions".
Select the post you want to promote. And click "Promote" under the post image.
Enter the necessary data for the ad: target demographic, ad spend, and duration of the ad campaign.
Click "Create Promotion".
Instagram will moderate the post and run an ad if it meets the rules of the ad policy.
What about Instagram targeting?
The functionality of Instagram is similar to that of Facebook, but somewhat limited. Each company can choose a target audience based on:
interests;
gender;
age group.
By the way, to get the most out of your campaign, consider connecting your Facebook and Instagram accounts.
How much does Instagram advertising cost?
In fact, there is no clear answer to the question of how much advertising on Instagram costs. The formation of value is influenced by numerous factors, which differ depending on the field of business, the target audience, the level of competition, the season, the duration of the advertising campaign, etc.
According to AdEspresso, the average CPA for most businesses is around $1.20. This figure can be used as a starting point when forming the marketing budget. But remember, the minimum budget can be set at the level of one dollar per day, more – of course, better.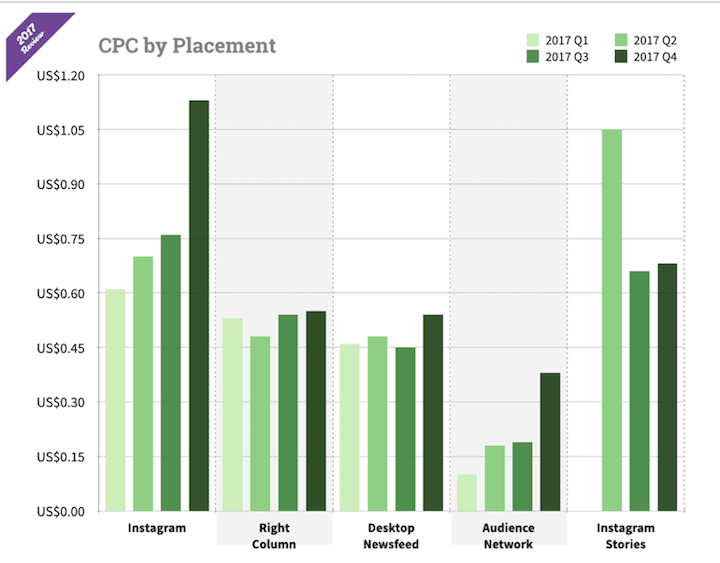 * according to Аdespresso.com
The full article regarding Instagram advertising costs
can be found on our blog.
Basic tips for advertising on Instagram
The key to effective advertising is following a step-by-step algorithm for achieving high results.
What should be done?
1. Set a specific goal
The more clearly you understand the purpose of advertising, the more personalized it can be. The goal is to guide the creation of the look and content of each advertisement. It can consist of:

increasing website traffic;
increasing user interest in content and publications;
increasing brand recognition in social networks;
increasing sales of goods or services, or installing applications.
2. Create custom audiences
It is important to use the possibilities of the advertising system to the maximum. Many people create audiences only based on interests, but you can additionally collect a special Instagram audience based on users who have already interacted with social networks or with the site.
3. Understand audience behavior
Users who effectively interact with your Instagram account also interact with other similar businesses. The better you understand your audience, the easier it will be to create content that engages them.
4. Collaborate with bloggers that your target audience follows
Engaging with an influencer to spread the word about your product or service has a synergistic effect. Yes, finding a responsible and targeted blogger is not an easy task, but there are special services that will help with this issue.
5. Have a clear value proposition
Ensure that your ad adds value to your audience and that this value is obvious from the start.
6. Give a specific call to action
As soon as the advertisement received the attention of the audience, show users what to do: write, fill out a form, call or go to the site.
7. Build your community
Don't ignore the audience that responded to your ad. Build relationships between your brand and followers on Instagram. If you position yourself as a brand you can trust, long-term success is guaranteed.
8. Use social media analytics tools
The main ones are Facebook Ads Manager and Instagram Insights. The analysis of this data will be enough to optimize advertising campaigns.
9. Use A/B testing
It's a powerful tool for identifying specific elements that a specific audience responds to. During A/B testing, two versions are shown to the same audience, then the effectiveness of advertising is monitored.
10. Create landing pages that match your ads
Effective advertising leads to a well-thought-out landing page. It contains a clear message, a value proposition, and a call to action (CTA). Try to use the same visuals and tone of text for both ads and landing pages.
Should you run Instagram ads?
Yes, advertising on Instagram gives consistently high results for various business topics. What is the secret of efficiency?
Incredible reach of potential buyers on Instagram

Advertising network Instagram notes that 60% of buyers find new products and services on the platform. Moreover, posts on Instagram inspire about 75% of users to make a purchase. According to Statista, 71% of monthly Instagram users are under the age of 35. And Yotpo reports that people are 58 times more likely to interact with branded content on Instagram than on Facebook, and 120 times more often than on Twitter. All these data show that the business has a great opportunity to reach through Instagram.

Instagram as a company's marketing strategy

According to Bloomberg, Instagram generated $20 billion in revenue in 2019. This amount was more than 25% of the total revenue of the parent company (Facebook) for the entire year. It even surpassed the revenue of Google's YouTube video platform! This means that the platform is developing and has the functionality to create effective advertising for businesses.
In addition, Instagram has an active and engaged audience that a brand can interact with. All these advantages emphasize that the Instagram social platform is an effective advertising network.
Conclusion
Advertising on Instagram is guaranteed to improve the marketing strategy of the company. After all, interaction with potential consumers in social networks is simply necessary for any business. Users spend at least 50 minutes a day in the application, and to neglect the possibility of communication with them, and even for budgets from $1 per day, is simply a crime.
The Instagram advertising network has a wide marketing functionality and various formats. Among photos and videos, each brand can choose the one that best suits the advertising content and priorities of a particular target audience. Hence, sharing a your company or product story is the next step.
If you know for sure that your customers spend time on Instagram (and this is 100% the case), you simply need to place advertising activity there to bring information about your business and company to get even more potential buyers.
Frequently asked questions
Does Instagram advertising work to get followers?
Yes, of course. Choose an ad goal that increases social network traffic. In addition to advertising, it is necessary to actively develop a content strategy – efforts to keep a new subscriber in the community will be much more important than attracting him to the page.
How much should I spend on Instagram advertising?
The cost of advertising on Instagram depends on many factors. On average, it is from $0.20 to $2 per ad click or $4 to $6 per 1000 impressions.
The full article regarding Instagram advertising costs can be found on BannerBoo blog.
Is it better to advertise on Instagram or Facebook?
Choosing to advertise on Facebook or Instagram depends on your target audience and which platform they use most. You can also work on both platforms at the same time.
Choosing to advertise on Facebook or Instagram depends on your target audience and which platform they use most. You can also work on both platforms at the same time.
According to Statista, 71% of Instagram's monthly users are under the age of 35. So, if your customers are between the ages of 18 and 35, Instagram advertising is perfect.
How to target a rich audience on Instagram?
Choose interests that directly or indirectly indicate the level of income:
average household income;
interests in luxury items, jewelry, travel, cars, resorts;
position: business owners, top management, company managers.
Do Instagram Ads for Influencers Work?
Influencers and personal blogs are the same company and the same business. Advertising rules are the same. Choose a potentially interesting audience, generate relevant content for them (so that there is a reason to subscribe to the page) and launch advertising.