More than a billion users worldwide visit Instagram's social platform each day. Each of them found their own reason to lead an active social life: someone publishes their photos and videos, someone develops as an influencer, and brands and companies interact with their audience and attract new customers.
There is no question that demand creates supply - the platform is very flexible and dynamic. Lately, Instagram has integrated many formats to be even more relevant to its users. At first, there were only images, then videos were added, stories, and when 15 seconds was not enough for users to watch videos, the platform added the ability to download almost full-fledged videos – Instagram TV. Each of the listed formats has advertising promotion capabilities.
Learn more about how to create a video ad in this article.

Can videos be used in Instagram ads?
Yes, and this is not only possible but also necessary – going beyond mere photos or images. According to research by quintly.com, videos get more attention – an engagement rate of 21.2% higher than static images, and video ads typically generate 7.5 times more clicks than static ads.
It's important to understand that just posting a video and waiting for sales is a failure. It should be an integrated approach to creating ads: video content should be original, stylish, trendy, and constant - which is important.
Why use video ads?
The biggest reason to use video in a business's advertising is engagement. Users respond positively and actively to videos, and from this, advertising performance indicators also grow. This is also a positive factor for organic subscriber growth. Your task is to constantly generate and create awesome content that will show a lot of interesting things about your company and shape public opinion.
A good video will work for you 24/7, and present your product or service, in the same way, every time. Yet, video marketing on Instagram does not require an entire film crew. A simple creative will work on the platform in the same way as a professional video. If you post videos on Instagram in SMM activities (Social Media Marketing), be sure to use hashtags and geolocation. You can tag relevant people, products, and your other pages in the video.
Main video ad formats and their features
To enable advertisers to present their products or services in a more diverse way, Instagram offers multiple formats:
1. Video in the feed (In-feed video ads)
Advertisements will appear in the user's news feed - this is where they spend most of their time when they open the app.
To get the most out of your ads, it's important to remember that users don't expect to see videos in their newsfeed at all. They just flip through the screens, looking for interesting posts from friends, and your video must be extremely good in order to hook potential buyers. Ensure your content is valuable, appealing, and entertaining.
Dimensions and characteristics of video creatives:
The minimum resolution for landscape video is 600x315.
The minimum resolution for square video is 600x600.
The minimum resolution for vertical video is 600x750.
The aspect ratio of the landscape is 16:9.
The square aspect ratio is 1:1.
The vertical aspect ratio is 4:5.
The maximum filesize for all formats is 4 GB.
Recommended video formats: .MP4 and .MOV.
The maximum video length is 60 seconds.
Video – max 30 frames per second.
2. Instagram Stories
The format of the "story" is very popular. Accordingly, the result of such advertising activities is quite high. Business account stories appear between other user stories, look very native, and can reach up to 400 million potential buyers (this is how many people watch stories every day, according to bettermarketing.pub).
The Stories ads have one of the highest rates of CTR and lower CPCs. The duration is 15 seconds, and the user needs to swipe up to get to the product or service page (by the way, we recommend choosing the default call to action (CTA).
Size and Specifications
Recommended Resolution - 1080 x 1920
Minimum resolution - 600 x 1067
Aspect ratio: 9:16
Maximum size and length: 4 GB / 15 seconds
3. Carousel ads
This is the most informative format. Imagine having up to 10 videos in a single advertisement, which is an excellent opportunity to present your campaign, product, or service in a dynamic style. You can create stories, product catalogs, or any other creative idea.
Dimensions and characteristics of each video:
Resolution: 600 x 600 or 1080 x 1080
Aspect ratio: 1: 1
Maximum size and length: 4 GB / 60 seconds
4. Instagram TV (IGTV)
The format allows you to upload videos over an hour in length to Instagram. You need to be very careful here, because not every user is ready to spend an hour watching your video. Testing is essential here. An IGTV commercial should last no longer than 10 minutes and include content that shows life behind the scenes, useful information, tutorials, or inspiring stories.
Dimensions and characteristics:
Aspect ratio: 4: 5 to 9:16
Maximum size and length: 650 MB up to 10 minutes or 3.6 GB up to 60 minutes.
Maximum size and duration: 15 seconds to 10 minutes.
How to create video ads for Instagram?
Yes, indeed, you don't need to hire an entire video production team to create video ads for Instagram.
Everything is much simpler and the video sequence can be created directly in the Facebook Ads Manager:
1. When creating an ad, select the "Create video" option.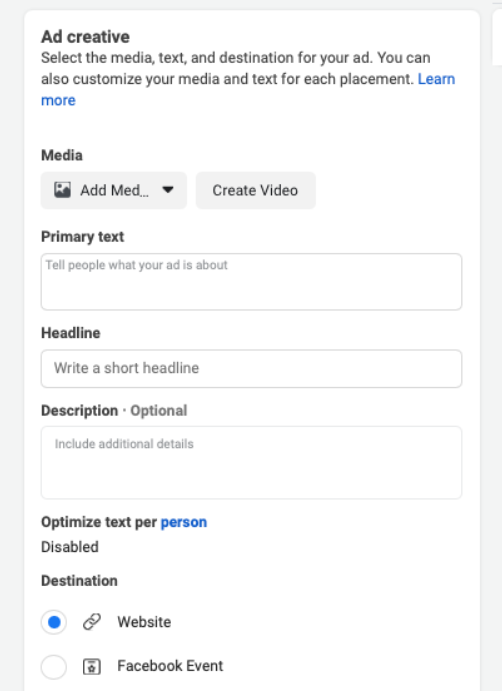 2. Download the required layouts or pictures (up to 6 pieces).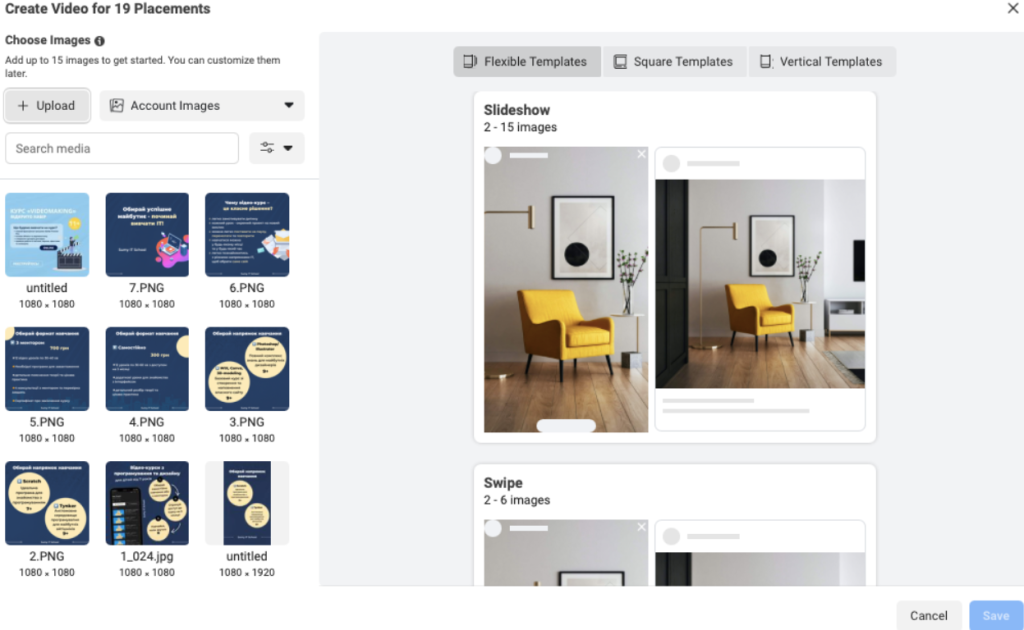 3. Select the animation style (on the right you will be able to see how the finished video will look) and click the "Customize" button.
4. Customize video display, select or replace photos, add captions or stickers.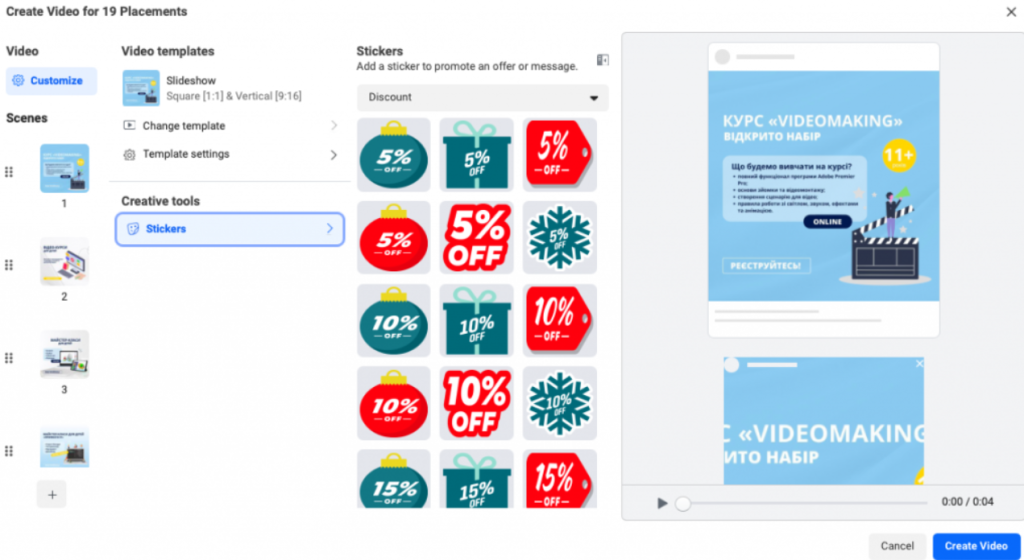 5. The finished video file can be adapted for vertical placement.
That's it, the video is ready for use.
Of course, the functionality of Ads Manager is rather limited, but it can help you turn a static image into a video sequence that will be more interesting to your target audience. The only downside is that there are not many opportunities for creativity, and all finished videos will be very similar to each other.
And if you want to create a vivid, dynamic and original video, use the BannerBoo service:
1. The first step is to log in to your account so that the entire history of your work is stored in one place (it will be convenient to make changes, edit or redesign finished materials).
2. Choose the required layout size (for Instagram videos, these are: 1080 * 1080px ( square videos for the feed) and 1080 * 1920px (vertical ones for stories).
3. If you are ready to create a video of your idea, start working in a convenient and simple constructor. But you can always use ready-made animated templates for different topics, of which there are more than 1000 in BannerBoo. Templates are very versatile and easily adaptable to various marketing tasks of businesses. We have created convenient filters to find the required category.
4. Take care of the visual component of the future video: choose effects, animation duration, and additional elements. Make your footage bright and eye-catching, but don't overdo it.
5. Write the necessary texts, choose the appropriate fonts (remember, brevity is the sister of talent).
6. Add a logo, buttons, interactive elements, and any visual effects (everything to catch the user's attention from the first second). 6. Save video and upload to any cloud services, or to your Desktop.
For the finished video to be used in advertising, you can upload it in the Smooth GIF format, or even better, in the MP4 video format (in this case, the animation will play even more smoothly).
How to create any advertising material using BannerBoo - read the detailed instructions available here. Well! Your video is ready. Now all that remains is to launch it into advertising.
How to run video ads?
Launching a video ad is no different from launching a standard video ad.
The algorithm is simple:
1. Go to Facebook Ads Manager and click the "+ Create" button.
2. Select the actual goal of the advertising campaign (be sure to check if it supports video promotion).
3. Select the targeting audience and specify the required parameters.
4. Specify the placement of advertising (tape Instagram or stories, or a combination of both)
5. Select the budget, the duration of the campaign, and click the "Continue" button.
6. Fill in the details of the ad: title, text, upload media files, and select a call to action (CTA).
When everything is ready, you need a "Confirm" button. After clicking, the ad will go to moderation, and soon it will start showing on the Instagram platform.
How to improve your Instagram video ads
Here are some tips on how to make video ads even more effective for your business :
Tip №1. Make short, simple videos
The Instagram ad system itself recommends creating video sequences that are 6 to 15 seconds long. After all, people go to Instagram not to watch 10-minute ads, but to see photos and videos of friends. You will have 1-3 seconds to get interested in watching from the first frame.
Tip №2: Use subtitles
83% of people watch videos without sound, and on mobile devices, this number rises to 92% (according to business.instagram.com ). Moreover, ad views often occur while traveling in transport, when noise can drown out the sound, and with it all important information.
Tip №3. Ads should be relevant and visually similar.
There must be a visual connection between the ad and the landing page. If the site design matches the ad design, this synergy works well - people think your page is familiar, and therefore a simple visit is more likely to show a better conversion to a lead or sale.
Tip №4. Make eye-catching thumbnails (previews)
On Instagram, you can enable the feature not to play videos when using mobile data. Consequently, to convince a user to watch a video, a static image must not be less attractive and noticeable in the stream than a video.
Tip №5: Post the most useful content first.
Concentrate immediately on the tasks your product or service is going to solve. Begin with something that will appeal to your audience.
Tip №6. Focus on one goal
One commercial = one goal. This applies not only to sponsored posts but also to simple posts and stories. It often happens that a company asks to immediately rate a video, like a post, and comment on it. This is too much, and the likelihood that the user will not do any action of the above - is extremely high.
A good advertisement to increase sales has a call to action "Buy Now". Its purpose is to allow consumers to go to the website and purchase the product. Nothing extra.

Let's summarize
Instagram video advertisements are a great way to showcase a company, product or service to your target audience. In addition, with the help of a video, you can easily relate all the advantages, rules of use, or show how it works. Use video in their promotional activities and increase the level of loyalty.
Create quality content, create added value, and ensure you follow the video format that resonates with your target audience.
By the way, if you don't know where to start, check out what your competitors are doing (a great way is Facebook's " Ads Library "). This is excellent to help you understand what works well and where to concentrate your efforts first.