It's no secret that advertising on Instagram is the perfect combination of large-scale audience reach and low cost of communication with one potential client. Marketers of the world are competing to create original advertisements, posts, and blog posts, competing for consumer attention. Thereby forming new rules of effectiveness and success of creatives. How to create really engaging content for Instagram? Get inspired by examples of famous brands and companies.
The Instagram platform is the second network in terms of availability and number of active users (after Facebook). Its specialty is the visual component, where everything is important: photos, filters, image processing, style and music. According to www.statista.com, content generated by thousands of brands on business profiles is viewed by more than a billion active users. About 500 million daily views are on Instagram stories, which is what you can count on when you launch a creative campaign.
The number of brands represented on the platform is constantly growing. Oberlo, estimates that 71% of US businesses use Instagram. And this is not surprising, because in 2022, if the company is not on social networks, it does not exist at all.
Why should you have a business profile on Instagram?
It is already clear that Instagram is no longer about personal profiles. It is now a global platform that works with brands and business owners to generate and publish different types of content, engage new audiences, showcase products and inspire user aesthetics.
What's more, Instagram users aren't just active—they're engaged in content. About 59% of users visit the site every day and at least 7 hours a week, viewing different types of content and communicating with friends and brands (according to Statista).
Why is Instagram advertising important?
The main advantage is the visual component of advertising. It is here that you can implement any bold creative ideas: bright videos and original layouts, high-quality images, various videos, incredible filters or stickers, universal catalogs of goods and services. If a business can stand out through design, then Instagram is the perfect place to do it.
Videos, mockups and illustrations are promotional products that will need to be created every day to be interesting to a potential audience. First, you need to create a marketing strategy that describes the main data:
brand goals and values;
ideal target audience and key segments;
the form and presentation of communication with the audience;
describe product benefits and social proof to customers;
content strategy of publications and advertising in social networks.
By creating a strategy before you become active on social platforms, you can avoid the mistakes of hundreds of competing companies and focus on your own goals and audience.
Advertising formats on Instagram
Choose among various advertising formats, the one that will be simple and understandable for the audience:
a single image — Image ads (advertising layout that must fully convey through a visual series the features and advantages of a product or service);
video advertising — Video ads (a video sequence that lasts up to a minute and perfectly presents information in an interactive format);
carousel — Carousel ads (standard ad with one image, and one ad can contain up to 10 layouts, each with a separate URL);
stories — Story ads (a full-screen format that is shown among user stories marked "Advertisement");
a collection of ads — Collection ads (the "Purchasing" function is used, where the user can buy a product directly in an advertisement);
Explore ads (displayed in the Explore tab after the user clicks on a post on the Instagram Explore page).
A variety of formats are created so that every business can find the ideal form for communication with the target audience. After all, research by Statista that 72% of buyers look to Instagram for ideas for their next purchase.
It is important to remember: you are unlikely to get high results if the created advertising materials are not visually attractive, and the ad texts are not convincing enough.
30 examples of advertising on Instagram of famous brands
In order for advertising to bring the maximum result, it is necessary to approach the task of creating original creative very carefully. Work on making the ad both simple and clear, and at the same time stand out among competitors or colleagues in the market.
We have collected examples of Instagram posts created by well-known brands and recommend being inspired by them to create advertising masterpieces.
Instagram video ad ideas
Instagram recently conducted a surveyand found that 91% of users watch video content every week. Perfectly! Use this format to convey to potential consumers all the benefits and features of the product or service. A video can tell about a brand much more than a static image.
Here are some examples of Instagram video ads that can inspire your next Instagram marketing campaign.
1. Yoga #1 Global Yoga Community
An instructional video ad from a well-known yogi community showing exercises you can do at home.
What is the emphasis on:
accessibility (the video shows the exercise process better than the text);
flexibility (reflects the adaptability of the course and the ability to study anywhere);
inclusiveness (yoga for "everyone", choose a convenient format and develop at an individual pace).
2. Starbucks
The world coffee brand Starbucks presents a novelty — chocolate cold coffee.
What is the emphasis on:
simplicity (the most simple video sequence, light music and clear text);
interactivity (the looping of the video attracts attention);
"Real content" — it can be easily repeated and published on your page (motivation of consumers to generate user-generated content).
3. Apple
A world-renowned technology corporation offers advice on shooting experimental portraits using colored gels and simple lighting settings.
What is the emphasis on:
dynamism of the video sequence (maximum stylish animation, dynamic transitions, emotional sound);
relevance of information (useful content and information for the selected audience to show a competitive advantage — a professional camera in an ordinary smartphone);
bright and bold colors (incredible combinations, bold style and elements — all for a youth audience).
4. HubSpot
In this ad, HubSpot offers to subscribe to the "Marketing Against the Grain" podcast for marketers.
What is the emphasis on:
unique visual elements (creative illustrations that match the content);
useful information (has important content that ensures relevance for the target audience);
a guarantee of receiving an additional benefit (a description of what will happen when a potential customer joins the community).
5. Рrada
Presentation of the new men's collection from the Prada fashion house.
What is the emphasis on:
details (the video shows a close-up of textured fabrics for the new collection);
warm and not bright colors (combined with contrasting colors and active textures reproduces the style and emotions of the new collection);
visual comfort (you want to watch the video to learn more about the models and the entire new collection).
Promotional posts in the Instagram feed
When Instagram advertising first took off, it was focused on the news feed. The relevance of this format does not leave the leading positions until now, so brands form a content and advertising strategy based on the need to place square images and videos. The reason for such popularity is the versatility and adaptability of the tape to the needs of any business.
1. Ikea
Atmospheric publication about interior design from the international brand Ikea.
What is the emphasis on:
details (the video shows a close-up of the product);
uniform style and atmosphere (all publications of the brand are made in the same style, which emphasizes the aesthetic component, homely textures and modern design of the space around you);
atmosphere (the layout is made in a lamp home style, about comfort and visual pleasure).
2. Elementor
Software company Elementor is promoting a new service in social networks.
What is the emphasis on:
visual component (the single style of the page and the ad makes them actually a continuation of each other)
warm calm contrasting colors (to attract the attention of potential customers and a higher percentage of involvement in the content);
social guarantee (the graph shows the effectiveness of the product for potential users).
3. Lego
The Lego company presents a new video for fans of "Star Wars" that the constructor is a great gift for anyone.
What is the emphasis on:
targeting a narrow key segment by interests (those who love the movie will be delighted);
visual component (a high-quality video series makes the publication look like a real cartoon, you want to watch such ads to find out what will happen next);
gamification (a game environment is created inside the ad that easily and natively engages the content).
4. Uber
Uber continues to communicate in a light and informal way and in advertising activities.
What is the emphasis on:
attracting attention (the joke is familiar and understandable to anyone from the target audience);
USC content (such a post you want to share with friends or in your story, which leads to increased reach).
5. Disney
The Disney company presents a new Pinocchio poster for fans of the cartoon.
What is the emphasis on:
targeting a narrow key segment by interests (those who are interested in this particular cartoon, and reminders to other audiences);
visual component (a bright and stylish poster that is easy to keep and share with friends).
Examples of Instagram Carousel ads
The carousel format allows you to display multiple images or videos in one ad. For the user, this functionality is similar to a gallery, where you can scroll through files forward or backward. The format is suitable for demonstrating products or services, creating step-by-step instructions or guides. Carousel ads can be placed in the feed or in stories. You can add a unique URL to each layout.
1. Blue Apron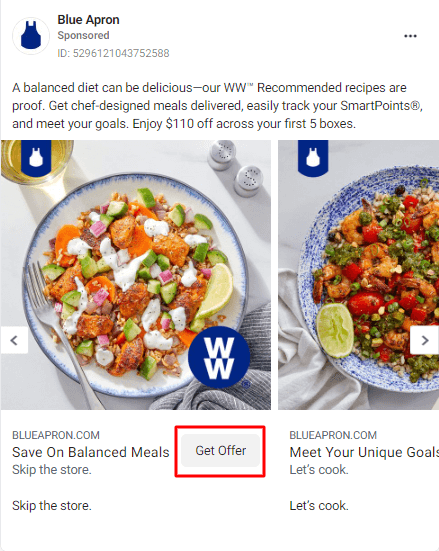 * material from the profile of Blue Apron
Food delivery service Blue Apron offers to add chef-driven dishes to its menu.
What is the emphasis on:
visually attractive content (juicy photos of prepared dishes immediately attract the attention of consumers);
financial motivation (users are offered an additional bonus);
simple and clear text (emphasizes that it is necessary to convey information to potential customers briefly and confidently).
2. Cider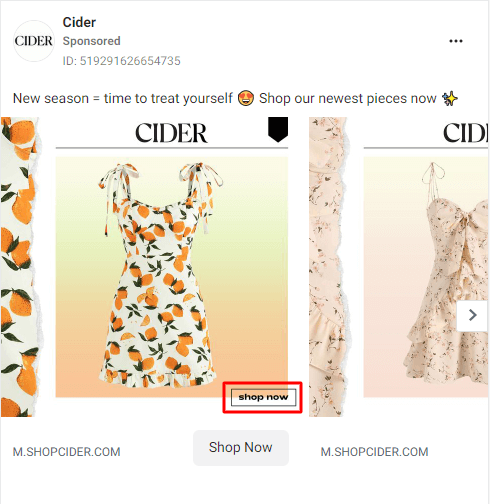 * material from the profile of Cider
Online store Cider is promoting its new collection of summer women's clothing.
What is the emphasis on:
details (shown is a close-up of the fabric of each model, as well as a full image on the model)
warm and comfortable colors (no aggressive design and accents, all attention to textures and tenderness of the new collection);
the carousel format perfectly shows all the versatility of the collection.
3. Nike
Nike tells the story of the waffle outsole that pioneered a new type of athletic shoe comfort.
What is the emphasis on:
technical details (close-up shows the structure and features of the shoe sole);
video and image integration (for even greater reach);
3D technologies that show the product at 360 degrees (for "full" immersion in the product, creating visual effects).
4. Booking
Booking prepared an itinerary for the weekend (in this case New York, but there is a whole series of such publications) to get the maximum pleasure from the visit.
What is the emphasis on:
technical details (routes, photos of places potentially interesting for users);
targeting the segment of people who are interested in seeing different places and planning independent trips;
visual component (bright elements, thoughtful images, atmospheric inscriptions and texts).
5. Wizz Air
A well-known low-cost company publishes information about the possibilities of flights from different cities. In this case, football fans are invited to watch the match at the stadium.
What is the emphasis on:
architecture and atmosphere (a large, high-quality image should immediately attract the attention of residents);
targeting the segment of people who are football fans;
visual component (bright elements and infographics, clear text).
Inspirational posts on Instagram Story
Instagram Stories are expected to generate a quarter of the platform's ad revenue in 2022. And no wonder: a convenient format, a variety of content (these are video ads, and static images, and photo stories, and carousel ads). Stories are great for building a brand image in the minds of consumers, creating awareness, or even influencing direct sales.
1. Zurella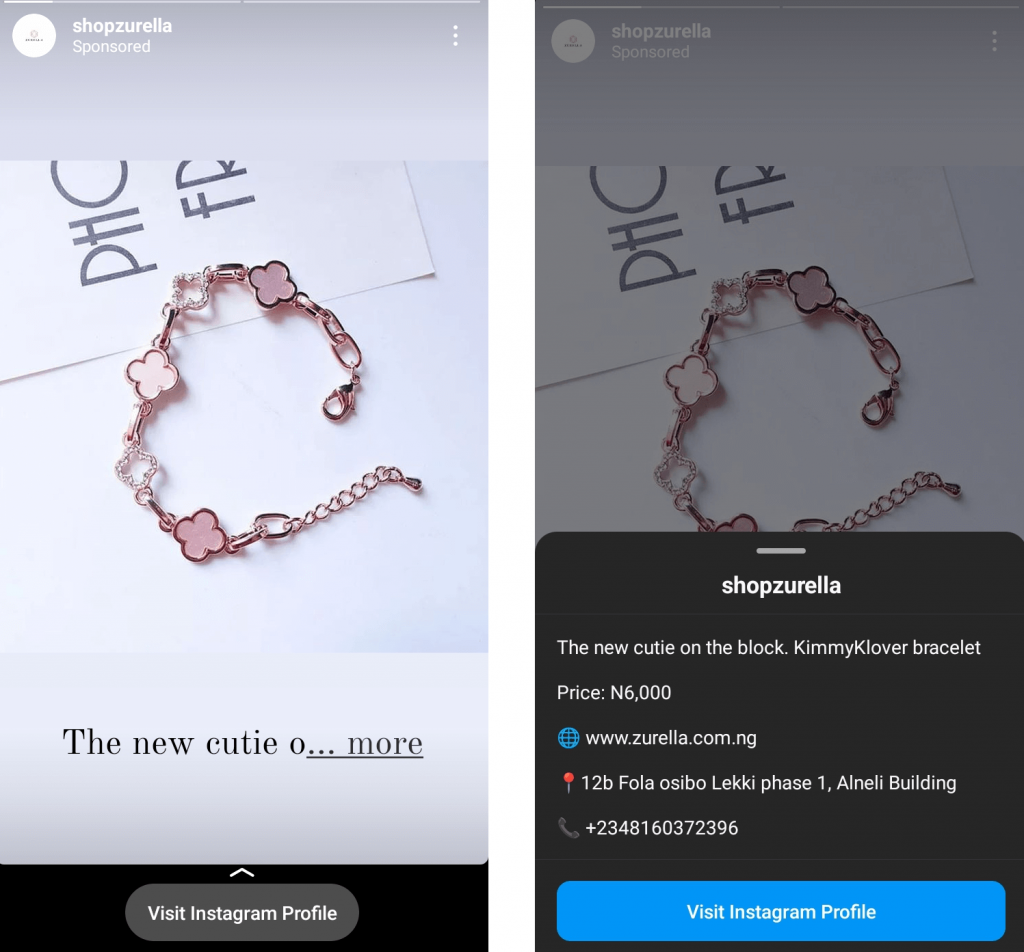 * material taken from https://adespresso.com/
In this Story ad, Zurella is promoting her new gorgeous bracelet called KimmyKlover.
What is the emphasis on:
orientation to the product (there is nothing in the photo that could distract attention from the bracelet on a neutral background);
short text (sometimes a photo of the product or service is enough, just add contacts — and the ideal publication is ready).
2. Gymshark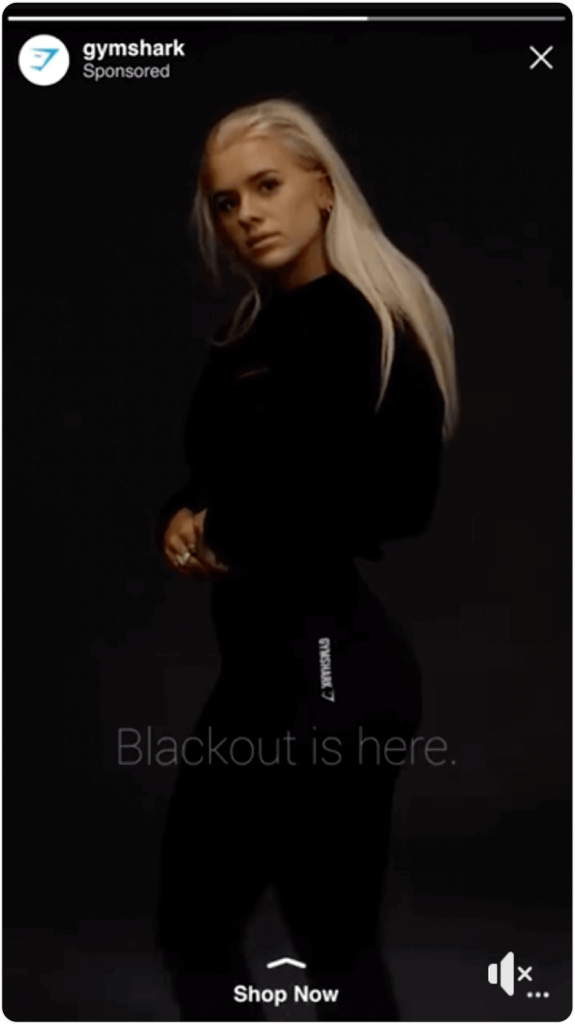 * material taken from www.tribegroup.co
A great and original ad from Gymshark for Black Friday. It is a full screen format with a dark background and only one word, "BLACKOUT".
What is the emphasis on:
simplicity and brevity (special style, lack of any elements and accents — can also be a highlight of an advertising campaign)
UGC and call-to-action images (buy now or miss the sale).
3. Oh So Little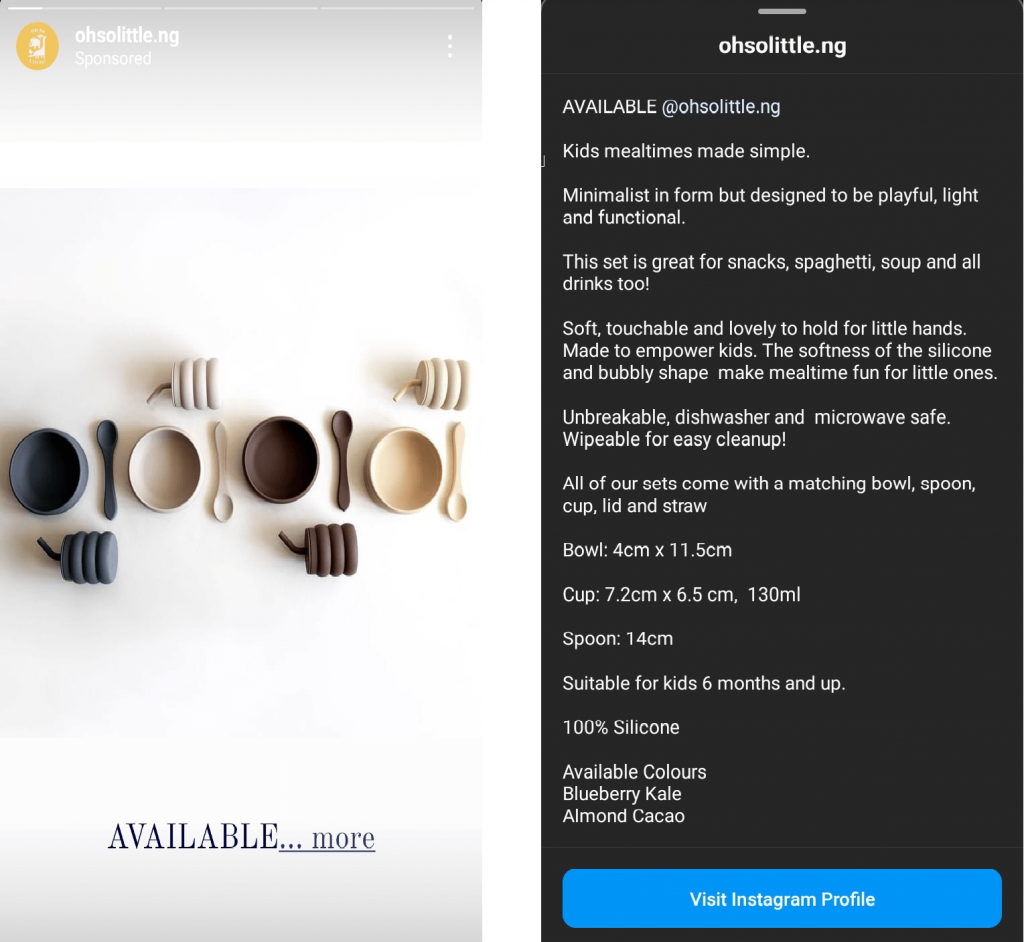 * material taken from https://adespresso.com/
Oh So Little, an online store for children, advertises feeding plates in different colors.
What is the emphasis on:
the product (a close-up of the ad shows the product itself, in different color variations, without any additional elements);
neutral colors — they also work (pastel tones in advertising only emphasize the product, not distracting attention to itself);
product description (tell about the purpose of the plates, their texture, advantages, characteristics, target audience and available colors).
4. Jysk
Atmospheric video in Jysk stories. About beauty and aesthetics in the interior of every family.
What is the emphasis on:
product orientation (close-up of showy products from the store, integrated into the design);
atmosphere (the video series allows you to immerse yourself in the atmosphere of the Scandinavian style, which can be easily created at home).
5. Ford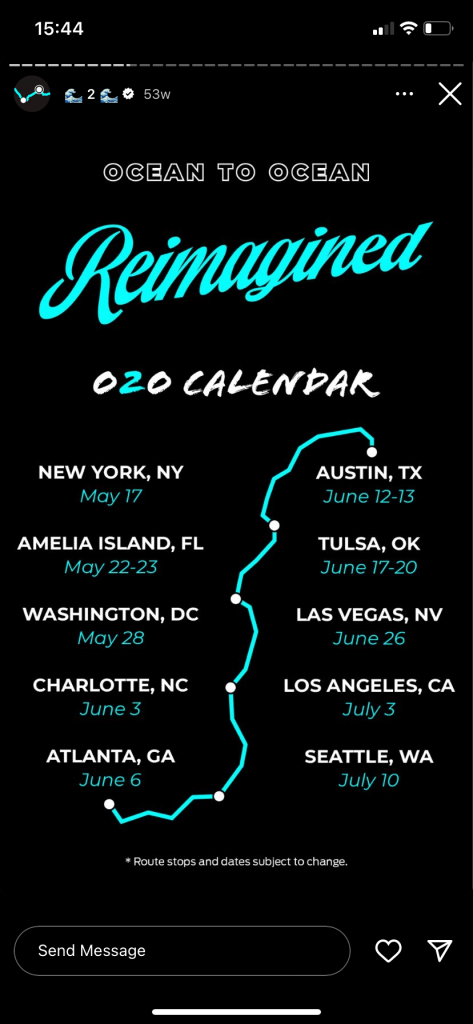 * material from the profile of Ford
Calendar of motorcycle adventures from Ford in a stylish dark format (which corresponds to the brand concept).
What is the emphasis on:
contrast (a perfect combination of black and white colors, with additional elements in turquoise color);
test and basic information (presented in a clear and simple format — as a map).
Shopping ads on Instagram
Instagram Store is a feature that allows sellers to sell goods or services directly on the platform. Very similar to Facebook Marketplace, Instagram Shop has a catalog where you list your products and then run ads on them. Regular posts can also link to items from the store.
1. Jysk
A post about towels in the feed of the Jysk company, which you can immediately buy directly through Instagram.
What is the emphasis on:
product orientation (close-up of showy products from the store, integrated into the interior);
atmosphere (the image has no distracting elements, so it focuses attention on emotions and atmosphere).
2. Puma
A bright and creative publication of Puma sports shoes, which shows a variety of colors.
What is the emphasis on:
orientation of the assortment of shoes (a close-up shows the variety of products that can be bought immediately through the store);
bright colors (contrast and atmosphere — the image reflects the style of the brand — bold and daring).
shoes for everyone (among this range, you can find a model for every taste and budget).
3. Mango
A selection of clothes from the Mango brand, where you can choose the best model, buy it immediately or order it through the website using a special code.
What is the emphasis on:
product (nothing extra, just a selection of clothing models);
versatile style (so that anyone can choose clothes to suit their taste and budget);
text (provides comprehensive information and takes into account both options: purchase through the site (special search code) or through the Instagram application (Instagram Shop).
4. Zara
A selection of clothes from the Zara brand in an atmospheric sea walk.
What is the emphasis on:
atmosphere (sea, yacht and friends — what every woman who chooses Zara wants);
brand values (freedom, style, sophistication);
the product in "reality" (how the clothes look in real life, not just on the shelves in the store, and how exactly they are suitable for summer vacation).
5. Tommy Hilfiger
We can say that the publication has a double effectiveness, because the Tommy Hilfiger brand chose not only to sell through the Instagram Shop, but also to use the image carousel format.
What is the emphasis on:
atmosphere (photo in a minimalist style, in a stylish image — supplemented with a handbag from a favorite brand);
product (close-up photos of bags, with all the elements that are easy to look at and choose the best option for yourself);
assortment (you can view various models, accessories, color solutions, etc.).
Instagram Explore: examples of ads
Explore — recommendations that people follow to find new content for themselves and understand what is happening outside their standard circle of communication or subscriptions. This section is where people find new brands and businesses on Instagram. Advertisers place ads to increase brand awareness, recall, and engagement.
1. Kenzo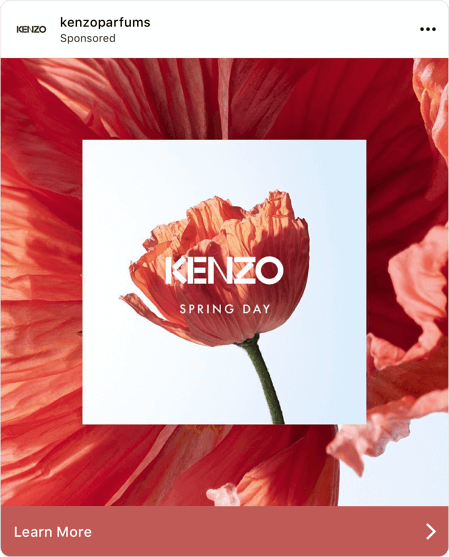 * material taken from www.tribegroup.co
The designer and perfume brand Kenzo complemented the spring company with exquisite images and slow-motion videos showing the "growing" of their legendary floral fragrance.
What is the emphasis on:
atmosphere (the video immerses you in a special atmosphere filled with aroma);
the product (close-up of the brand logo and their recognizable name);
brevity (nothing superfluous and that diverts the attention of a potential consumer, only strong visual images of the brand).
2. Uber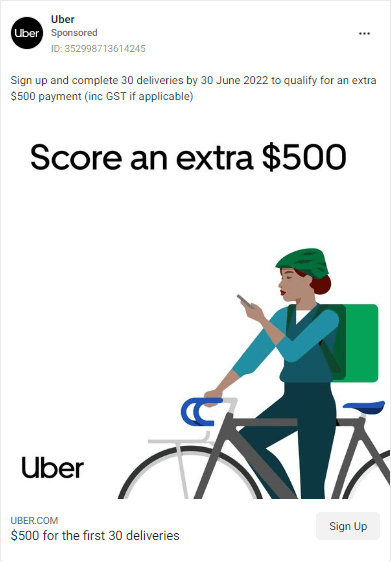 * material taken from https://adespresso.com/
Uber has announced that it will give an additional bonus to anyone who makes 30 deliveries.
What is the emphasis on:
bonus (money reward, discount or bonus is a strong incentive for buying a product or service, its size should also be significant (you won't surprise anyone with a 1-5% discount);
light and simple background (concise design, all attention is on the text);
the duration of the special offer (the deadline for fulfilling the conditions of the promotion is set).
3. Wix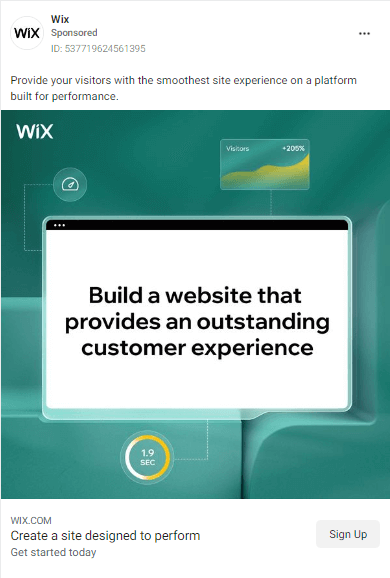 * material taken from https://adespresso.com/
Wix advertises a user-friendly online platform for building websites.
What is the emphasis on:
a clear offer (what the client receives upon registration and what needs to be done for this);
product advantages (the text indicates the strengths of the product and describes the problems that the product solves).
4. Heatherly bedhead design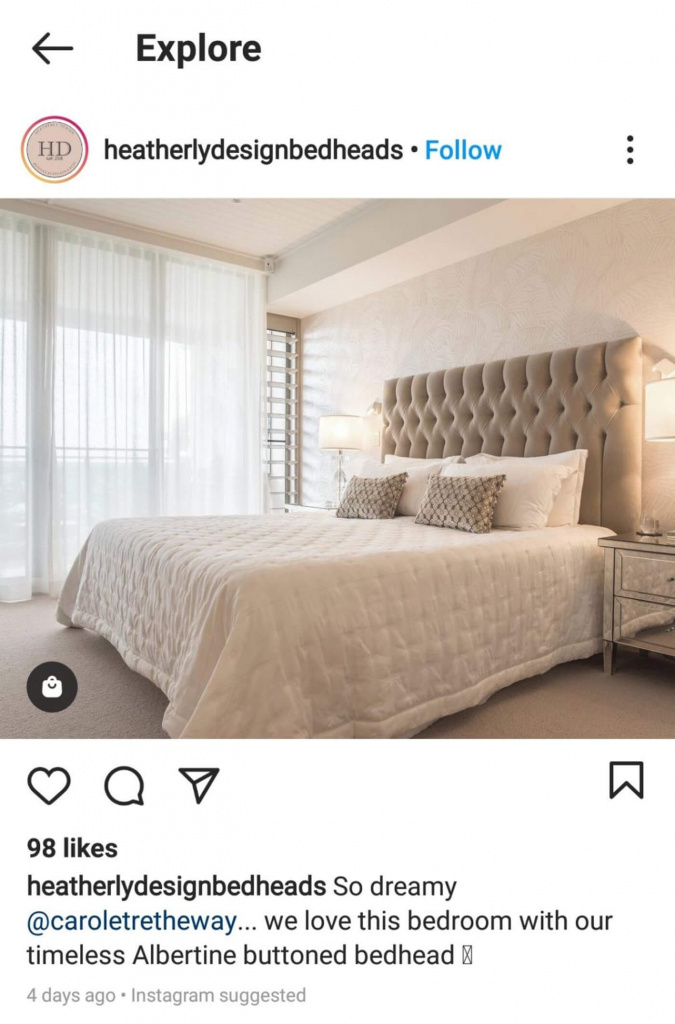 * material taken from https://invideo.io/
The company Heatherly bedhead design shows how their products look in a real bedroom.
What is the emphasis on:
a clear offer (a close-up of the product offered by the company);
aesthetics and visual component (style and thoughtful details give an opportunity to see how the bedroom will look before it is bought).
5. Glossier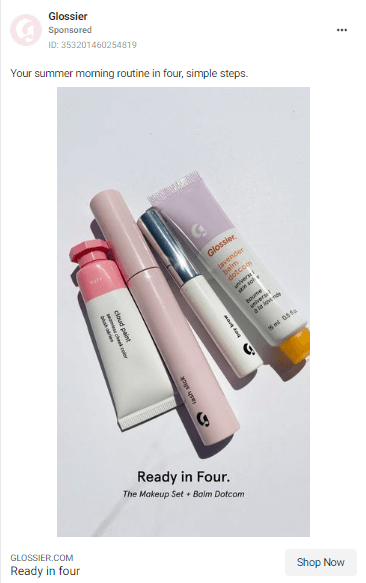 * material taken from https://adespresso.com/
In this ad, Glossier promotes beauty products — lip balm, eyebrow, eyelash and blush.
What is the emphasis on:
simplicity (the company uses simple words to convince potential consumers that preparing for the summer is easy — it is enough to have these four products, and nothing more)
brevity (the text of the advertisement is short, but fully conveys the value and unique selling proposition of the brand).
The easiest way to create an ad on Instagram
When you look at the ads of brands that are created by a whole team of specialists, it seems that ordinary business cannot do it. Especially those atmospheric videos with beautiful effects, text and music on Instagram. In fact, it's not like that! Everyone can create layouts for stories or feeds or a stylish video in the BannerBoo online designer.
How to create creatives for Instagram?
Log in to the BannerBoo service, enter your personal profile and click the "Create banner" button.
Select the required advertising format (1080*1080rx — tape, 1920*1080rx — for wide-format stories, "Full HD" tag).
Think over the visual component of the banner: choose from templates or create creatives from "scratch".
Choose from a wide range of effects, animations, text blocks, stickers and stickers. Write all the necessary text, choose the font and style.
Add a logo, buttons and interactive elements (this will make the story even more interesting).
Save your video, mockup, or banner as a .jpeg, .png, or Smooth GIF.
You can also create a video clip for Stories: the algorithm is the same, you just need to save the file in MP4.
We have prepared detailed instructions, which are easy to find at the link in the BannerBoo knowledge base.
Secrets of creating ads on Instagram
1. Don't be afraid to use bright colors
They are able to create energy, create a special mood and attract attention. Depending on what the company does, the style can be bold, gentle or romantic.
2. Text and font matter
Show brand seriousness with a bold, sans serif font, emphasize elegance with italics or dreaminess with handwriting. When choosing styles, choose two: one for the title, the other for the regular text.
3.Follow the visual hierarchy of content
An advertising banner should attract attention and be read quickly. Submit texts in order of importance: a large headline and main information, which is grouped into logical parts.
4. More — less: choose brevity
A single word or dramatic image can convey much more than a multitude of visuals, complex photographs or shimmering illustrations.
5. Check your balance
Symmetry, centering and repetition create balance. This does not mean that the layout has to be perfectly centered. It is important that the content has the same "weight" on each half.
Conclusion
If you've ever wondered where to find inspiration for advertising creatives — you're not alone!
Content marketing is one of the most difficult topics of a company's advertising strategy, which means attracting the attention of potential consumers with texts and creatives is not so easy. But it is very effective (as we can see from the number of advertisers on the platform), which is why companies spend marketing budgets on creating a huge amount of content on a wide variety of topics.
While each ad has its own unique charm, effective Instagram ads share common traits that you can incorporate into your next ad integration:
use bright and bold colors to attract attention;
emphasize the emphasis of the product due to neutral background colors;
write briefly and to the point (emphasize the unique sales offer and conditions of purchase or order);
focus on the product (if visual effects make the product invisible, advertising will not work);
show in the video advertisement how simple and easy to use your product is;
use content created by users (publish all reviews and photos with use — this is an excellent social guarantee of product quality).
This list will not become a "magic pill", but it can suggest ideas for the future successful advertising campaign that will attract potential customers and increase the sales of your company. Forward to creativity!