The Instagram platform offers a wide range of advertising opportunities to interact with its target audience for companies of all sizes. The more brands integrate Instagram into their communication strategy, the higher the level of competition and creativity, which means it becomes harder to distinguish and remember.
Instagram targeting provides a unique opportunity - communication with potential buyers, whom you choose by age, country of residence, online activity, and many other factors.
Back in 2015, users of the Facebook ad system were able to reach any specific audience segment of the 600+ million Instagram users. According to The WordStream Blog, over 400 million people open the app every day here, which means launching an ad campaign here is a great solution for any business.
How to start advertising on Instagram?
This article will cover everything you need to know to create your ad campaign and get the first results.


Getting Started:
Step 1. Go to Facebook Ad Manager

Since Instagram and Facebook are interconnected, the most complete and functional launch of advertising will be through the Facebook Ads Manager.
To access Facebook Ads Manager, you need an account and access to a Facebook business page, which needs to be linked to an Instagram business account.
Open Ads Manager and click + Create on the Campaigns tab.

Next, you follow the step-by-step setup to launch an advertisement.
Step 2. Select an advertising goal

Separate algorithms work for each advertising goal in the advertising network, so if you selected " Traffic to the site", then you should not expect likes, comments, and reposts. Choose your target carefully based on the results you expect from the ad.
Facebook Ads Manager offers a whole list of goals: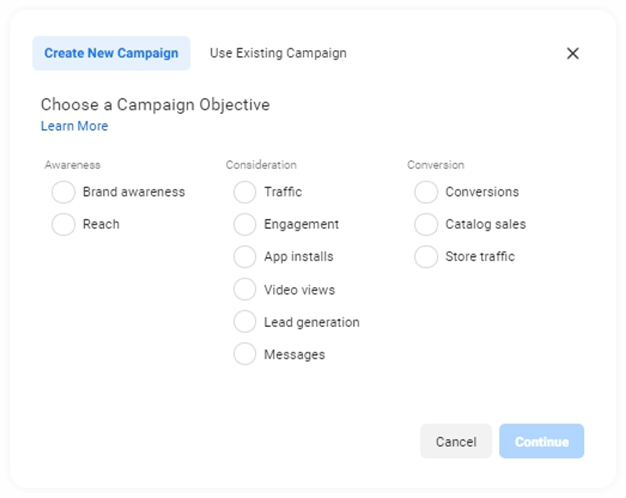 A brief description of each advertising goal that can be used in an advertising campaign:
brand awareness (helps to increase the awareness of a business or product among users who have not heard about it);

reach (shows ads to as many people from the target audience as possible);

traffic (to a website, to an application, or any other URL of your choice);

engagement (increase in the number of likes, comments, and reposts for communication with users);

app installs (ads will be shown to users who are more likely to install the app);

video views (share the video with those who watch them at all);

lead generation (advertising that collects data about users who are interested in your product );

messages (prompts users to send a message to the brand's account);

conversions (aimed at increasing sales on the website or in the application);

catalog sales (advertising products from the store on Instagram and Facebook);

visiting points (direct users to your physical address).

Once a target is selected, you will be prompted to name your company. We recommend that you immediately name the advertisement clearly and concisely so that, within a few months, you do not have 10 pieces with the same name. The ideal combination is the target name and launch date (period). For example, "Traffic to site_June 2022". But you can add more data so that it is clear to you what kind of advertising campaign we are talking about from one name. This block is visible only to you, users will not know the name of your advertising campaign.
Step 3. Customize your target audience
Choose the right audience for targeting - 50% of a successful advertising campaign.
Instagram ads target a very specific group of people. Many factors can be taken into account:
location (city, state, region, street, or even a specific address);

age (from 13 to 65+);

gender (men, women, or persons of either sex);

language (user device interface);

demographic data (education, employment, household, events, or lifestyle);

interests (interests, their actions on the network, liked pages (only on general popular topics) and related information);

behavior (e.g. buying intent, use of certain devices, travel behavior, occupation);

links (targeting people who are associated with your page, app, or event).
As you select the targeting options you want, potential reach increases or decreases in the Audience Definition section to the right of your targeting options.
It is very important that you can both show ads to selected audiences, and limit the display of ads to specific segments. To do this, there is a function "Include" or "Exclude" the audience from the display of advertising.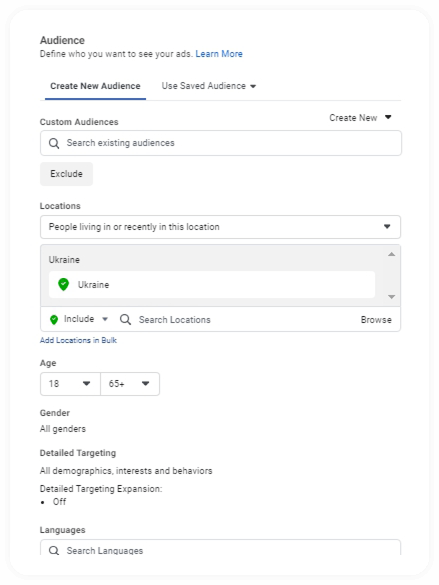 Since Instagram is owned by Facebook, the audience data is very reliable. Information is collected over a long period and is far beyond the scope of typical demographic information. This allows you to create advertisements, texts, and creatives that are as close to your target audience as possible.
There is also a custom audience. These are groups of people who have already visited your website, or business Instagram account, or have shared their contact information with you. These interactions are very effective because it is much easier to work with people who show interest. When choosing a custom audience, you no longer need to add interests, age, gender, or other built-in Facebook targeting options.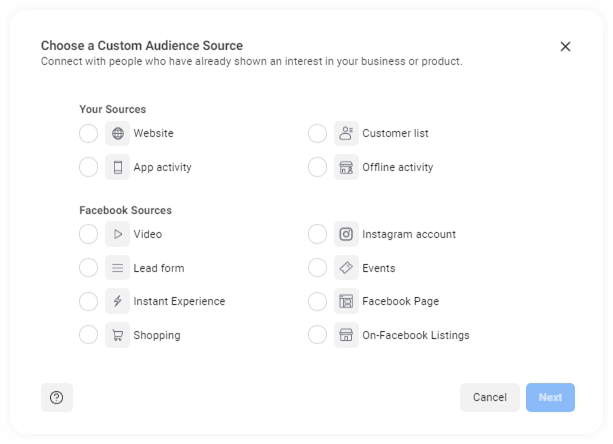 Similar audiences are an audience type that is created based on people who have already bought or performed a conversion action from you. Similar Audiences allow you to select your custom audience and then serve ads to people who are similar to that audience.
For example, you can create a Lookalike Audience based on people who like your Instagram account. The result can be maximized, as the advertising will be targeted at people who already know your business and have shown an interest in what you offer.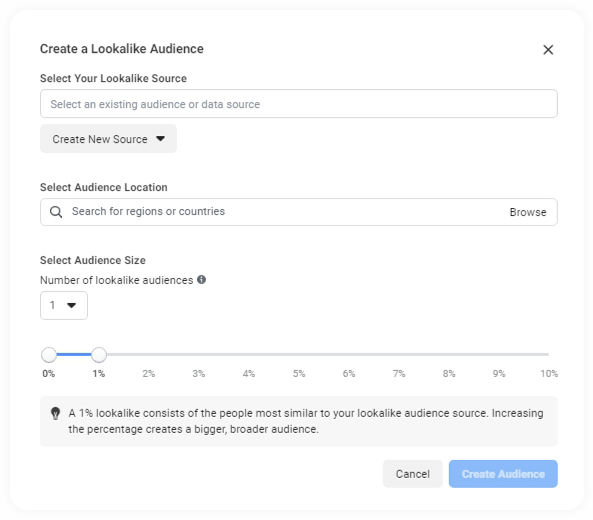 Step 4. Select placements
In the "Placements" section, select the required platforms where you want to place your ad.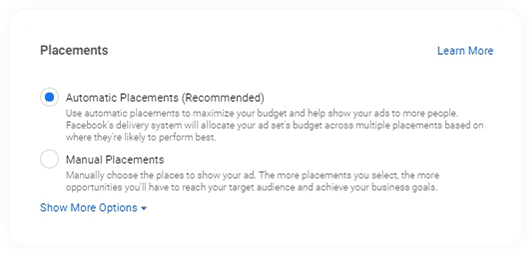 There are two options:

automatic placements (ads will be shown everywhere);

manually (you choose where to show your advertisements).
Everything is simple - there is a checkmark, which means that the advertisement in this place will be shown.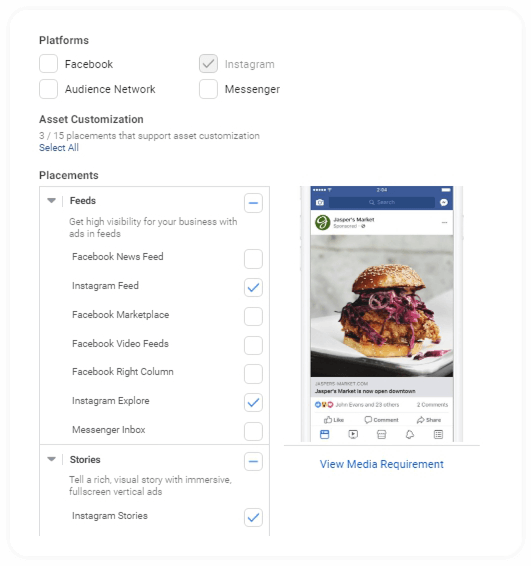 Step 5. Set your budget and schedule for displaying ads
In this block, you determine how much you want to spend on promotion and the size of the daily budget.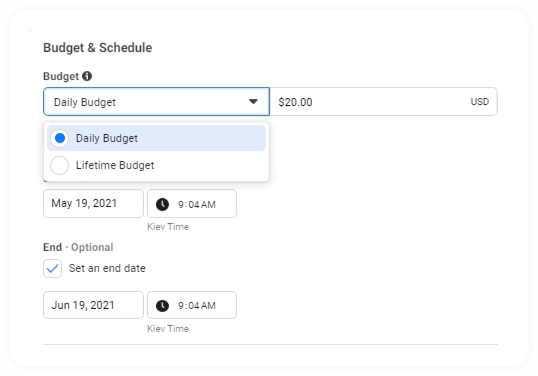 There are two control options:

daily budget;

budget for the entire advertising period.
The daily budget provides continuous ad delivery throughout the day, which means that the algorithm automatically calculates your daily spending and activates ads during popular times when the audience is active.
With a budget for the entire duration, ads will run evenly over the desired time. Advertising performance is influenced by the level of competition in the industry, ad quality metrics, and auction statistics.
Facebook Ads Manager also includes optimization options and bidding strategies that clarify how your budget will be spent. They can be customized depending on the goal of the campaign. As you tweak these settings, the scale of the estimated daily reach in the right column changes to reflect the number of people that will be reached by the ad and the quantitative result.
Tip: if you do not know the minimum or maximum price to pay for the result, it is better not to specify anything. By default, algorithms are tuned to work for you and suggest minimum values. After you get statistics on advertising, you can display the average prices and already train the advertising network to work within these limits.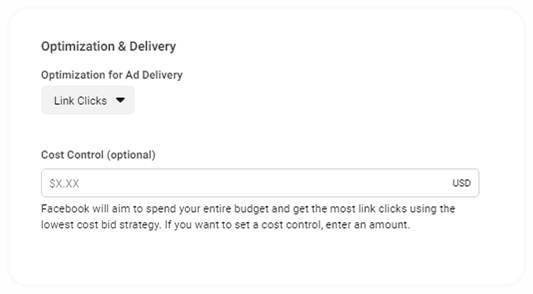 If you're just getting started with Instagram ads, it's best to start with small budgets. You can always increase your bids later if your ad works well.
Step 6. Create your ad on Instagram (BannerBoo)
Now the next step is to create an ad. How do I create an effective ad? We have prepared a whole article - you can read it here.
To put it simply, first choose a format: picture, video, animated banner, or carousel. We recommend choosing interactive formats to attract users' attention to your ads and stand out from competitors.
Create your advertising on Instagram using the BannerBoo service :
First, log in to the site and log into your account (this way all history will be stored in one place, and you can make changes, edit or redesign materials).

Choose the required layout size (for Instagram, these are: 1080 * 1080px (feed) and 1080 * 1920px (stories).

If you have an idea, start creating it in a very simple and convenient service, where each block is intuitive. If you don't have any ideas - take a ready-made template, we have 1000's ideas of effective advertising templates for various businesses. We add only useful and original layouts that can be easily "rebuilt" for any task.

Choose effects and animation duration (remember that for a news feed it can be 60 seconds, but for a story use only 15 for harmonious effects).

Write all the necessary text, and choose the appropriate font (remember to keep it short, sweet, and simple).

Add a logo, buttons, interactive elements, and any visual effects (bright and original layouts always get the best response).

Save layouts and upload them to any cloud services or the Desktop.
By the way, you can upload a ready-made advertising banner in Smooth GIF format, which can be easily uploaded to Instagram, or even better - in MP4 video format, then the animation will play even smoother. Of course, you can create both animated and static banners.
Everything is extremely simple. If you still have questions, you can find more detailed instructions on how to create any animated advertising materials using BannerBoo.
Further, it is even easier:

Upload media files;

Create ad copy and headline;

Select a CTA (from the proposed list that corresponds to the advertising purpose);

Select a Payment Method;

Re-check the display of advertising through the "Preview";

Click the "Confirm" button.
Scroll down to the Tracking section if you want to track conversions through the Facebook pixel on your website or in-app event. These parameters will help you get information about how your audience interacts with the company after clicking on your ad.
Publish at Optimal Hours
It's important to publish your ads at the most relevant time when your audience is most active.
How to find out? On the Instagram platform, go to the "Statistics" section, then " Audience ". The data will be presented in the form of diagrams. You can now analyze peak activity hours for any day of the week.
Remember that it takes 3 to 12 hours to moderate your ads. Therefore, it is better to plan the launch in advance.
By the way, Facebook Ads Manager allows you to run ads during limited hours of audience activity.
How to do it?
In the "Budget and Schedule" section, you must select a budget for the entire duration instead of the daily budget.

Select the option "Scheduling advertising".
A schedule will appear, a grid of days of the week and hours in a day. With the help of clicks, you can specify a specific time for displaying ads, for example, on Tuesdays or all weekdays from 9:00 to 18:00. If such a breakdown is needed.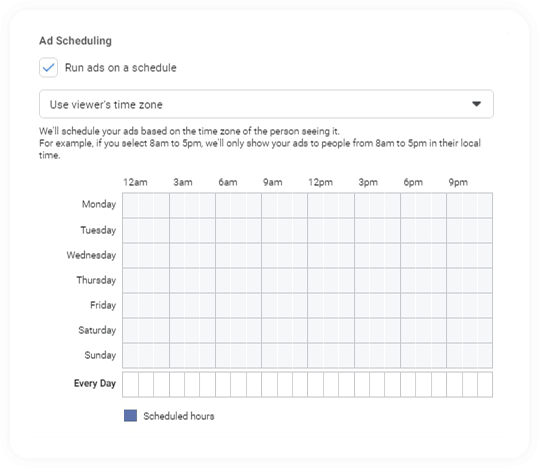 When is the best time to launch ads?
According to Hootsuite best time to post product ads on Instagram is 11 AM on Wednesdays. During this time, most users are active.
It is best to schedule "sales" content publications on Wednesdays and avoid commercial offers on Sundays. That being said, the Instagram platform is considered suitable for the sale of goods and services of any type. Advertisers can increase reach during peak times or schedule posts for stable periods of activity, from Tuesday to Friday from 11:00 to 15:00.
How to run ads on your personal Instagram account?
In short, no way.
A prerequisite for the ability to launch advertising on Instagram is the presence of a business account.
How to run Instagram ads?
1. Connect a business profile.
You need to move the account from a personal to a commercial account linked to the company's Facebook page. It has more features, for example, you can:
view statistics and detailed information about subscribers (geography, demography, engagement for the last 7 and 30 days);

add contact information about the company;

make it possible to contact the company using a button (write to the mail or call).
To connect a business profile:
Go through the mobile application to the profile (right icon in the bottom row).

Click on the menu (stripes) in the upper right corner.

Choose "Settings", then "Account".

We click on the item "Switch to a professional account".
If a business profile is connected, you can launch ads directly from the Instagram feed, right on your smartphone. It's easy and simple, but still not as functional and professional as launching ads through Facebook Ads Manager.
How do I set up ads directly from my account?
To begin with, through the application, you can advertise only those publications or stories that have already been posted (IGTV is not possible).
Step 1. Select the required publication
When you click on any posts or stories, the "Promote" option will appear at the bottom. Here you need to click on it.
Step 2. Choose a place where users will go from advertising
Possible options:
to the site (to increase the traffic of the resource);

in the profile (to increase the number of subscribers);

in Direct (to engage the audience in a dialogue).
Remember, if you have chosen a site, then the link will automatically pull up the address specified in the profile settings.
Step 3. Selecting the audience for the advertisement
From the pros - the option "Automatic" is available here: advertising algorithms will search for users who are similar to the current subscribers of the account. This option is just perfect when you have organic and active followers.
If you were engaged in recruiting subscribers, participated in contests and giveaways, or your subscribers are inactively buying a product, it is better to select the audience for advertising manually. To do this, there is an option "Create your audience", where you can set the parameters of geography, interests, and demographic characteristics.
Step 4. Advertising campaign budget and duration
Specify the daily campaign budget and duration in days. The application will predict the possible reach and tell you if the targeting audience is too narrow. Or you have chosen a very low budget or short term.
Stories are promoted according to the same principle as publications: choose one of the published ones, choose a site, indicate an audience, set budget parameters and send for moderation.
Remember, you can run a story in an ad that was published in the last 24 hours or saved in Instagram Highlights (or archived). Just find the post you want, click on the three dots in the lower right corner and select the "Promote" function.
There are limitations in advertising stories:
you cannot promote stories with elements that you can click on: hashtags, polls, user marks;

it is forbidden to advertise gifs or masks from the Instagram collection (they may violate other people's copyrights);

it is impossible to launch a story in an advertisement that was published more than two years ago.
As you can see, it is not at all difficult to run ads on Instagram directly or use Facebook Ads Manager. It is important to know the rules and follow them. If you suddenly do something wrong, the ad network will mark the problems with a red flag and will not allow you to click the "Publish" button. It is very comfortable.
Also, there is a large library of hints inside the system (business.instagram.com). Each element has an "i" (information) icon, by clicking on it you can get a quick hint or a link to an article with a detailed description of the rules for setting up advertisements.
Conclusion
The Instagram audience is growing every month.
According to business.instagram.com, 84% of people on the platform are more likely to shop at small businesses. Therefore, many businesses have the opportunity to interact with active users who shop online, book tables in establishments online, choose a gym, order food, and lead an active lifestyle.
For a long time, creating ads on Instagram was a long and tedious process, and it was also launched only with the help of a smartphone. Now, marketers have a powerful Facebook Ads Manager tool in their hands. It has a convenient and simple interface that explains each step of the settings in an easy and accessible way.
Every business should at least try to sell products or services on Instagram to understand how diverse and active targeting audience is. Don't miss the chance to communicate with your potential buyers!
People also often ask:
● How much does it cost to advertise on Instagram?
Instagram ads work the same way as Facebook. It is an auction system where the cost depends on several factors: your budget, bidding strategy, level of competition, predicted audience activity, and quality of advertisements. However, only you regulate the budget - you will not spend more than the budget indicated by you (1-10-15 and more dollars per day).
● Should you run Instagram ads?
If you do not want to interact with an active audience aged 24-44 who leads an active social lifestyle - of course not. But absolutely any type of business can find its customers on Instagram.
● What's the optimal budget for Instagram ads?
Minimum costs are available for advertisers - you can launch a campaign with a budget of $ 1. Focus on the predicted values of the number of results to find the optimal budget. And also - by the size of the audience, the wider it is - the more funds are needed to reach it.
● How can I promote my business on Instagram for free?
Creating a company page and filling it with relevant content that is interesting and useful for users is a free option of the platform. Followers can grow organically if you invest in quality posts. All advertising opportunities are paid.
● Is it possible to run Instagram ads without an account?
No, you need a business account for advertising activities.
● How to optimize your Instagram ads?
Use ad performance data. Based on them, you can:
increase or decrease the age of the audience (disable those values where the results were minimal);

change the set of interests;

disable ineffective placements (those sites where ads are rarely shown and/or do not receive results: for example, there are impressions, but there are no transitions to the site);

change ad time: show ads only when the audience is most active;

disable ineffective ad formats (if, for example, there were more clicks on the video, but few on the image );

change the advertising goal if the one you have chosen did not bring the necessary results (the advertising network offers many options that work according to different schemes).
Study the results and don't be afraid to experiment.