The implementation of a digital business strategy and the design of banners for advertisements are inseparable parts of the same process. Banners and promotional tools can be used to capture the attention of your audience and engage them in online brand communities. It is important to optimize this process as much as possible in order to quickly and efficiently launch advertising campaigns and generate as much quality and creative content as possible. Let's find out how to do it efficiently and effectively.
Introduction
Many businesses use social media advertising as one of the main tools to promote their business and motivate potential customers to interact. And it's no wonder: multiple formats, visual appeal, speed of interaction, e-commerce capabilities and one-click direct purchase. But is everything as perfect as it seems at first glance?
In addition to the effectiveness of advertising campaigns, brand marketers are increasingly talking about the concept of "banner blindness." They say that attracting the attention of the customer is increasingly difficult, and some users simply ignore banner offers. But most advertisers still overlook a crucial fact: when everything is done correctly, banners work and work very effectively!
Therefore, to create an advertising campaign that will effectively attract the attention of potential buyers, knowledge in marketing and design is required, and only the symbiosis of these areas can bring a synergistic effect. Focus more on the brand and the key message, rather than the nuances of design tricks.
Let's analyze the process of creating an advertising campaign and banners in order to present your brand to the widest possible audience as effectively as possible. Let's break down the process step by step.
Banner design — what is it?
Web banners (banners for the site) are special digital banners that are displayed in different parts of the site page: at the top, bottom, or side. The design of web banners requires finding the perfect balance between technical capabilities and engaging potential customers.
Banner advertising is a powerful tool for companies to present their brand, products and services to their target audience. In fact, Google alone can reach up to 90% of the Internet audience, which means that marketers can advertise brands and businesses in the widest possible reach.
Why is modern design so important in 2023?
Why do we scroll past some ads while others capture our attention and stick in our memory? The key lies in how thoroughly a brand develops the elements of interaction with its audience and promotes its value proposition.
In the year 2023, running ads only is not sufficient. Otherwise, you will not be able to stand out among competitors, emphasize advantages and features of the company. It is necessary to work not only on the visual component, but also on the marketing content. Advertising that responds to the needs and wants of the target audience, rather than simply targeting the general public, shows much higher rates of engagement and effectiveness in general.
Design trends of 2023 include:
video graphics, which increasingly becoming the preferred choice for visual media and set vectors of popularity;

abstract shapes with sharp corners and rounded shapes;

bright colors and shapes of arbitrary shape;

activation of 3D elements market;

inclusivity in graphic design, which helps the audience to see their own reflection in the products and mission of the business;

spectacular multimedia images;

vintage in a modern design;

personalization and uniqueness of the offer for each client;

simplicity, minimalism, and ease of conveying information.
In addition, one of the most important factors that all marketers in the world understand is speed. It is necessary to quickly launch advertising, quickly update banners, quickly respond to changes in the preferences and needs of the target audience, quickly optimize campaigns and adjust strategies.
How to Begin Your Banner Design: Planning and Research
So, you decided to create a banner ad. Whether you want to make a brand statement to the world and create a bold design, consider choosing a minimalistic style and using simple text, utilizing banners is a powerful way to accomplish this.
But, the ideal banner is not the will of chance. Effective design requires strategic design and marketing decisions. More about them later.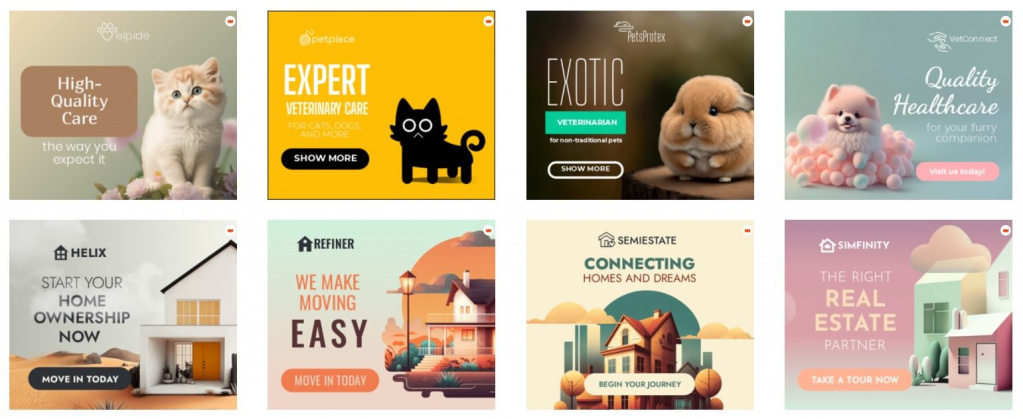 *Templates from ad platform BannerBoo
Defining the audience and goals
First, you should clearly understand the purpose of the advertising campaign: why are you creating it and what goals do you hope to accomplish?
What can be the purpose of advertising?
increase brand recognition;

make rebranding and change the perception of the company in the minds of consumers;

advertise a new product or line of business;

draw an attention to a promotion or special sale;

find an audience for a new event or promote an organized event;

foster a sense of community and strengthen brand identity

increase the audience's awareness of the company's social initiatives.
Some goals are long-term, others are temporary.
Once you have a clear goal in mind, the next step is to consider your target audience. Who is your banner advertising campaign intended for? If you do not have an analysis of the brand's target audience, then immediately start doing this task. You can begin by using the "buyer persona method", which involves creating a questionnaire for your ideal customer and describe him in as much detail as possible: what this person does for a living, what interests, hobbies, field of activity, etc. In this way, you will create a prototype of a specific person who will see your ad on the other side of the screen and want to become a customer. With this information, it will be easier to create a design that is more personalized and relevant to their needs.
Detailed audience analysis will provide maximum audience engagement, because the probability of a response to a relevant advertising message is much higher. Furthermore, it will also help in the creative process as it allows developing detailed concepts and ideas. This will ultimately lead to the creation of an exciting and effective banner.
Competitor research
The initial step before embarking on the creation of an advertising campaign is to analyze the efforts of competitors and colleagues in the market: what they are doing now, what advertising accents they use, which design they prefer, which audience they are targeting. This information can become an effective foundation for building a strong advertisement along with a modern visual brand style.
In order to understand what advertising activities are conducted by competitors, you can:
analyze the company's website and social networks;

see Google search results;

check out Facebook's Ad Library to see what banners are currently in the ad space.
Formation of a key message
The ad text should serve as a teaser for your key value proposition, enticing users to click a button to learn more or make a purchase. And only after that the audience will be able to view the main part of the content on the target page.
Answer the questions:
what message should be conveyed to the target audience?

how short and concise can you say it?

what is the main content emphasis of the proposal?

will the text be easy to read, will it convey an emotional component?
Yes, yes, you need to develop copywriting skills and try to make the message short and bright!
Design elements: what is important to know?
Design is, of course, a creative process, but it also has inherent systematicity. There is a list of rules and features that you should take into account when designing advertising banners.
Color theory
The use of color is crucial in communicating the intended message effectively. According to research, users form an opinion about the relevance of an advertising message in 90 seconds, and some 62-90% of these opinions are based on the colors of the banner design.
While color associations are largely subjective and vary based on personal preferences, there are also common stereotypes and cultural associations tied to different colors. These associations can significantly impact the perception and effectiveness of banners.
red: passion, anger, excitement and love;
orange: playfulness, cheerfulness, energy and activity;
yellow: cheerfulness, sunlight and friendliness;
green: health, freshness, wealth, environment, growth, education and new beginnings;
blue: security, trust, clarity, maturity, calmness, intelligence, formality, refreshment, coolness and courage;
purple: luxury, royalty, extravagance, wisdom, magic, femininity and creativity;
pink: love, sweetness, femininity, youth and children;
black: exclusivity, mystery, modernity, power, prestige, luxury and officialdom;
white: purity, modernity, sterility, simplicity, honesty and innocence;
brown: nature, wood, leather, seriousness, courage, firmness and modesty;
gray: neutrality and practicality.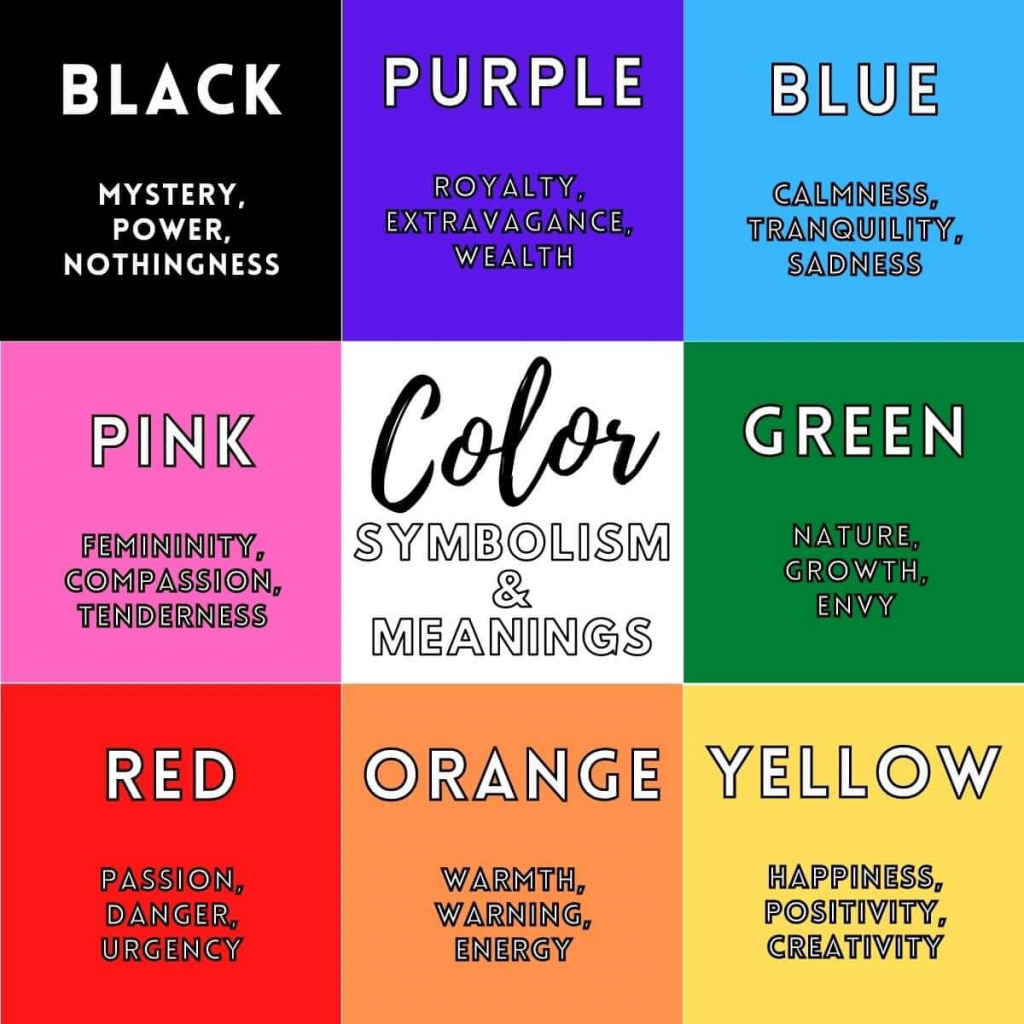 What colors are best for banner ads?
The answer to this question depends on the impression you want to create. Visual images play a significant role in shaping the brand's image during the implementation of the brand strategy. If your goal is to create a banner that will introduce your company to the world and enhance brand recognition, it is crucial that the design fully aligns with your brandbook and features.
Typography
When it comes to fonts and typography, it's crucial to keep in mind that potential clients will only take a few seconds to engage with an ad, so it is important to make the text comfortable and easy to read. It's not just the size of the font that can be a problem, it's also the style — script and italic fonts can be difficult to read, especially at a distance or during animated transitions.
How to make typography correct?
Choose the right font: Choose a font that is easy to read, clear and matches the style and theme of the banner. You can use a larger and more expressive font for headings, and a simple and easy-to-read font for smaller text.

Use adequate font size: The font size should be large enough to be easily read on the screen. Usually, the font size for headings should be at least 36 pt, and for text — at least 16 pt.

Limit the number of fonts: Use no more than two fonts for the banner in order not to overload it and maintain a uniform style.

Consider the color scheme: To ensure legibility, the color of the text should contrast with the background. The color of the text should also match the corporate style of the brand or the theme of the banner.

Follow the principle of simplicity: Use short and simple phrases that are easy to read and understand for the audience. Avoid complex terms and the use of stylistic colors that hinder reading.

Check how the banner looks on different devices: Check how the banner looks on different devices and adhere to the proportions of the size of the text and graphic elements to ensure readability and quality of the visual impression.
Images and graphics
Reinforce the textual component with relevant graphics and photos that are directly related to your product. There are no definitive criteria for selecting images for advertising. But there is a golden rule: avoid using low-quality or blurry photos, even if the start of the advertising campaign depends on it. It is very easy to receive negative reviews, but it is not so easy to revive after a failed advertisement.
Can't afford professional photography? Better buy a stock photo license. By the way, BannerBoo has a whole collection of quality stock free banner images and backgrounds that you can use when developing your design.
By the way, it is not necessary to always use photos in banner advertising. A short, catchy text, perfect typography and a relevant message, even without a photo, can bring high results.
Dynamics and animation
Media networks block aggressive advertising. Well-thought-out and balanced animation can be a highly effective way to capture attention and engage your audience.
Don't let the animation distract the potential buyer from the message, instead make it an additional element that encourages them to look at the ad again.
Important! When you've created an animation, it's important to keep the weight of the saved creative as low as possible. Particularly in the case of GIF banners. It's important to avoid slowing down the loading speed of the landing page. Optimize file formats to prevent them from slowing down user experience.

CTA (call-to-action button)
Banners should have a clear call-to-action, prompting the user to take a specific action. The most popular texts are "Learn more", "Buy", "Find out the price", or phrases aimed at encouraging people to do something here and now.
Tell your audience:
What should be done next?

Do they have to register?

How to learn more information?

How to take advantage of the offer or promotion?
Make it simple and clear in your ad. It will help not only increase clickability, but also the number of conversions.
Creating an advertising banner
Now, when all the preparatory stages have been completed, it's time to move on to active actions. Creating banners for advertising or social networks is a simple and easy process if you work in a convenient and intuitive service for creating advertising creatives — BannerBoo.
Using BannerBoo for design development
Working with the service is as simple as possible:
choose the desired size of the banner for social and advertising networks in the library of templates;

consider either selecting an advertising template that aligns with the marketing goals of your business or creating a banner from scratch.

adapt the design: change images, colors, fonts using convenient editing tools;

optimize the banner for the needs of media networks and in accordance with the rules for placing advertising banners;

download the finished design in one of the available formats. For static banners, JPG and PNG formats are the most commonly used, while for animated ones, formats such as GIF, MP4, and HTML5 are preferred.
So, now more:
Step 1. Choose the relevant banner size

There are many types of banners in the advertising industry, but you don't necessarily need to know all the sizes and features. Take care of the visual component, but entrust all technical characteristics to professionals. Easily select your desired format from a wide variety of ready-made sizes using BannerBoo's user-friendly interface.
As soon as you click the "Create banner" button, you will immediately see a special field with blanks of banner sizes (all popular formats for advertising networks) and a separate "Specify individual size" option .
After choosing the format, start designing right away. And when there are no ideas in your head (which, by the way, is absolutely normal), BannerBoo's collection of advertising templates will be essential for you.
Step 2. Select the appropriate template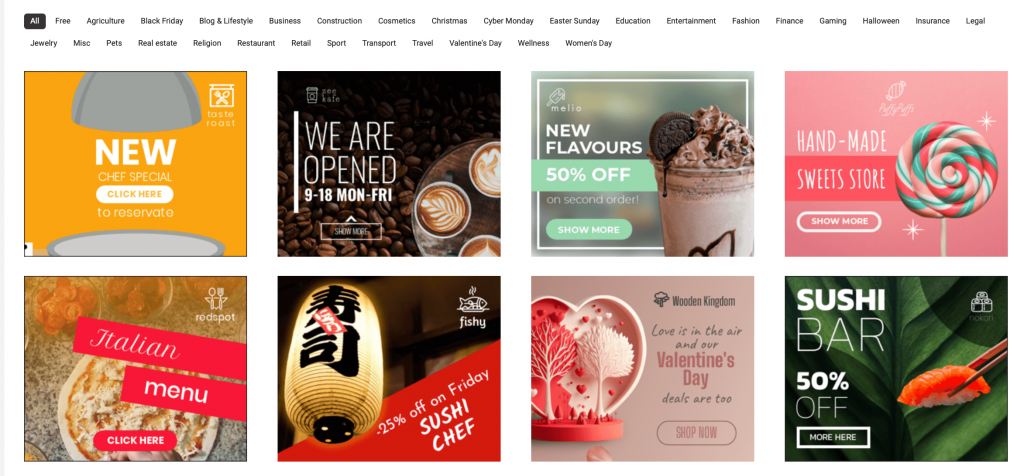 When you are short on creative ideas, lack the time to create personalized unique concepts, or need to launch an advertising campaign as soon as possible, ready-made banner templates can be the perfect solution.
BannerBoo has 12,000+ ready-made static and animated designs that can be used for any business area or selected based on matching criteria. For example, when preparing an advertising campaign for Black Friday, choose this category, because the best options are collected there. We recommend you to pay attention to animated advertising templates, because they have higher rates of audience engagement.
Step 3: Personalize your ad banner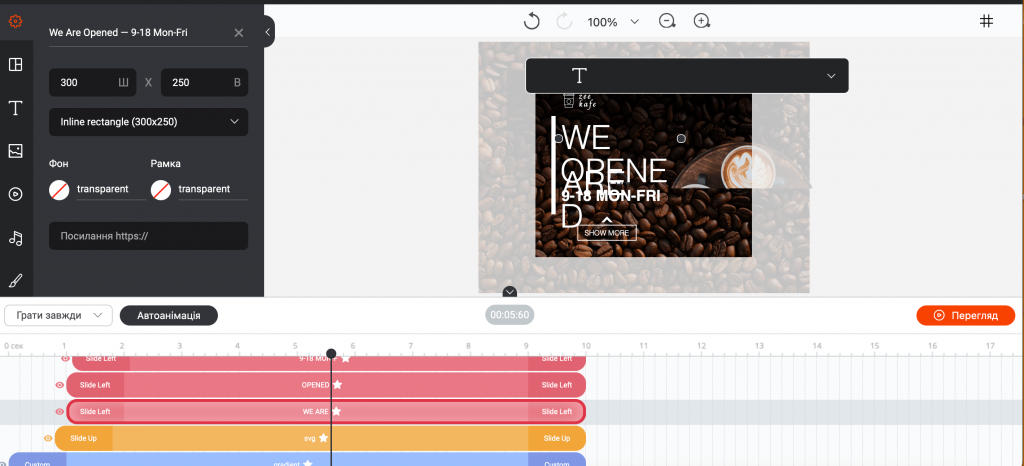 Now it's time to personalize your banner to ensure that it aligns perfectly with your business's brand strategy:
The menu on the left will help you browse a library of free stock images, illustrations, and more. Furthermore, you have the option to upload your own photos or videos and easily incorporate them into your design by dragging and dropping them in the desired location.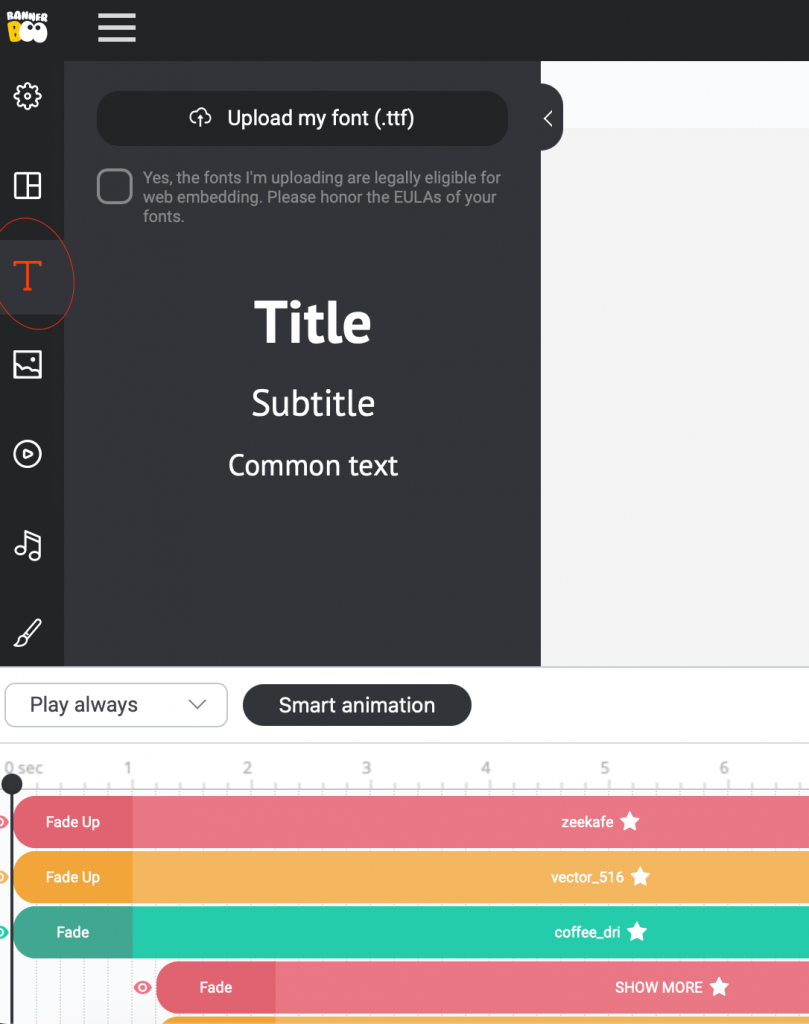 It is necessary to take into account the readability of the text, the styling of your brand, the correspondence between images and text additions. By the way, we do not recommend using more than two fonts at the same time, because it makes reading difficult.
On the left-hand side, the "Text" option allows you to fine-tune the typography style and select the one that suits your needs. You can adjust the font, size, line height, and alignment to create a visually stunning banner ad.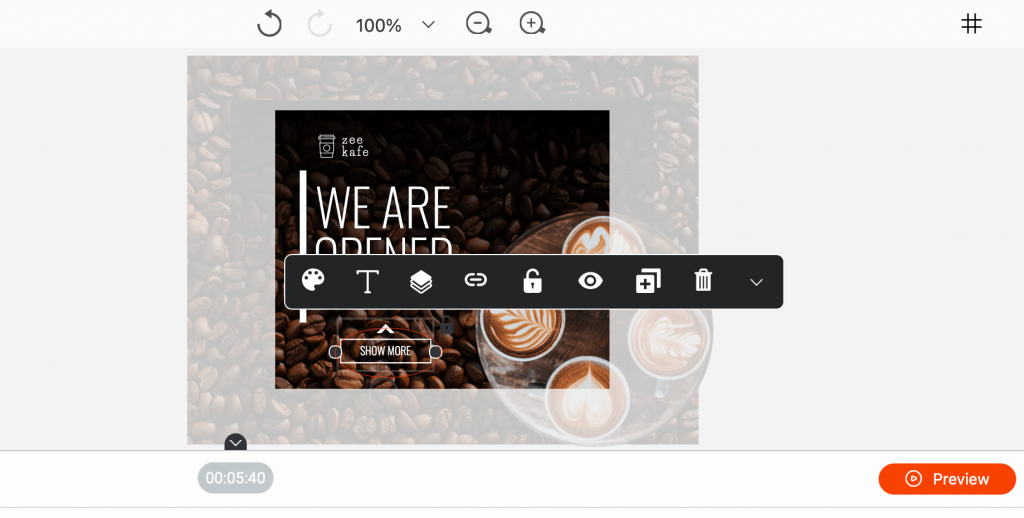 In the same left side menu, there is a whole section of CTA button designs that you can edit: text, color, style, animation to encourage potential buyers to click on your ads.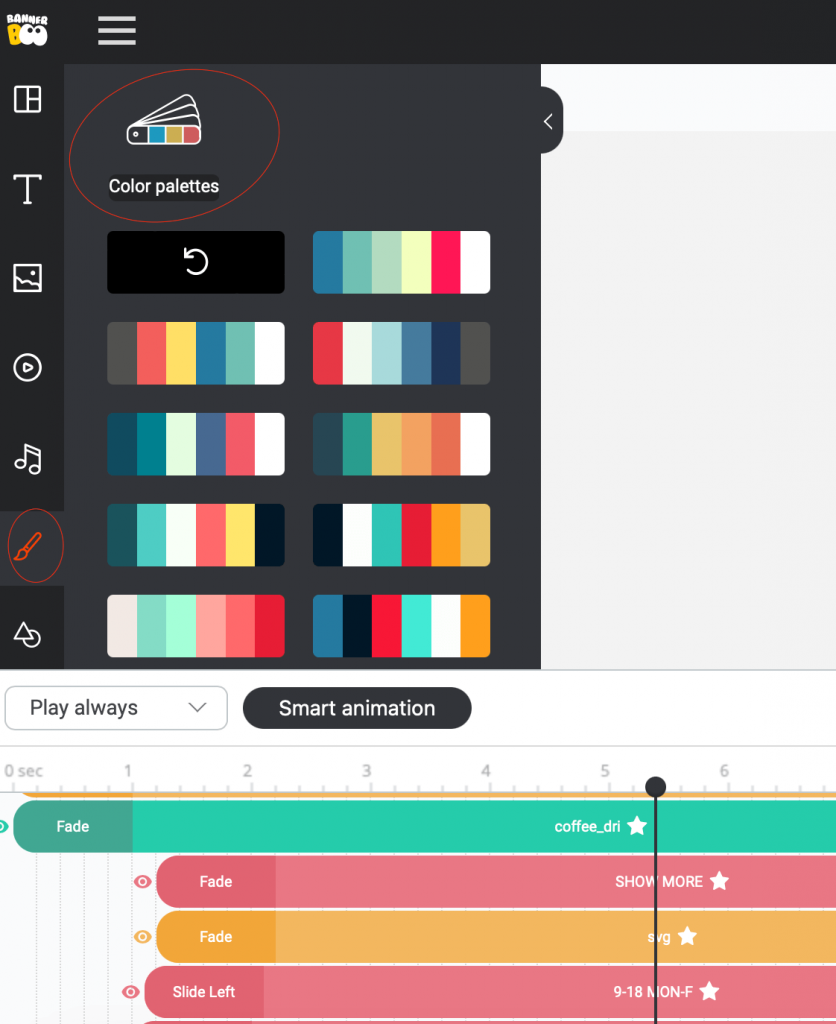 Complementary colors can create nice contrasts (eg orange and blue or yellow and purple) that attract attention. BannerBoo provides you with color scheme sets that you can easily apply to your entire design and customize according to your preferences.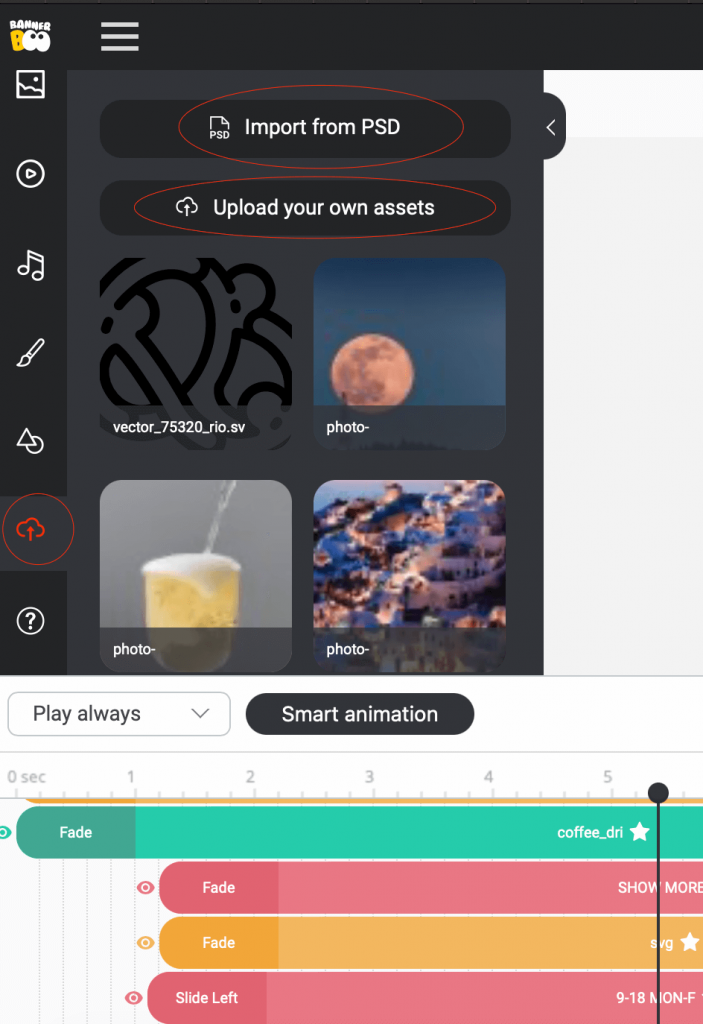 Each banner ad should match the style and character of the brand, and be instantly recognizable to potential customers. You can add color palettes, logos, vectors and typography to the service to quickly use them for any design.
If you work with multiple brands, you can create a unique set of items for each company and easily access the appropriate set whenever needed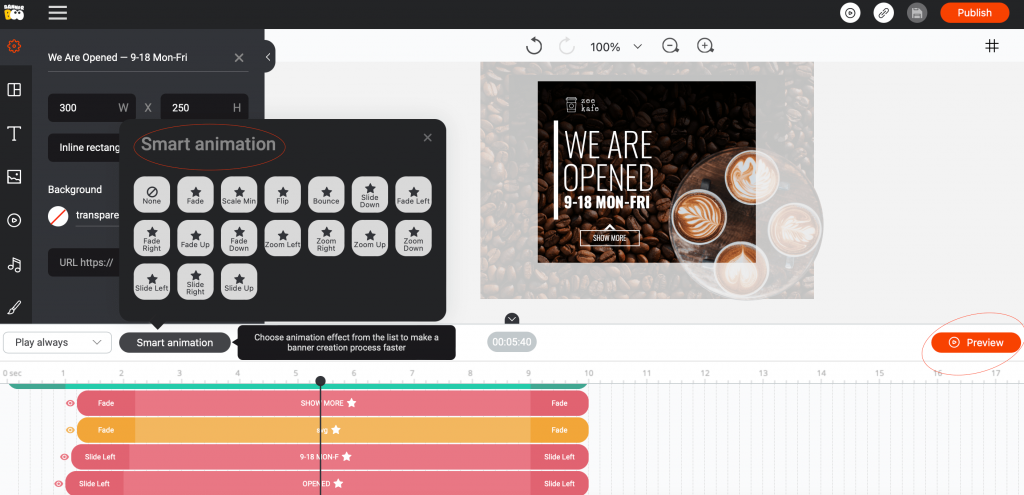 The Animation option will help you add movement to your ads in seconds. You can adjust the delay and duration of transitions in the preview, or use different effects and layer placements on the timeline.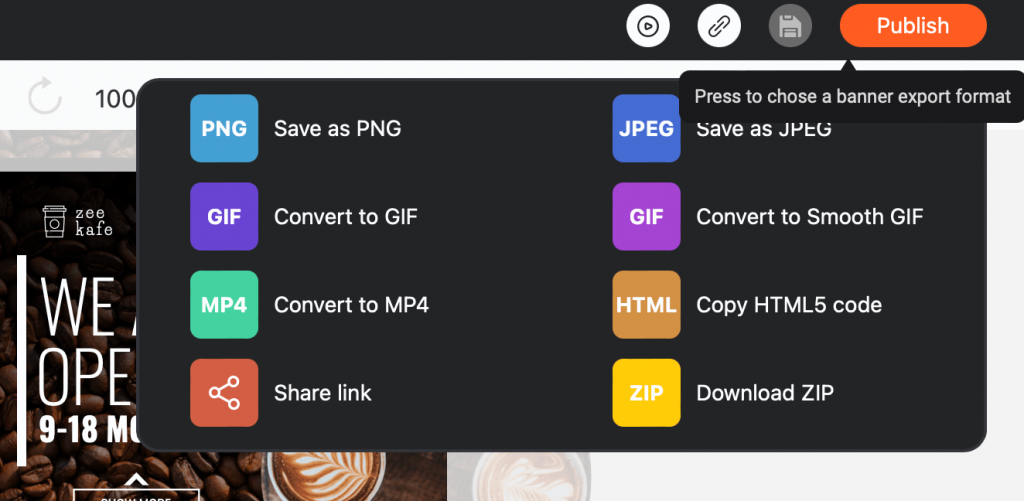 The "Download" button in the upper right corner opens a menu with available export formats. For static layouts, we recommend choosing JPG, PNG or static GIF, for animated banners HTML, AMP, MP4 or animated GIF is better.
Now, your advertising banner is ready!
Implementation of elements at the stage of planning and research
At this stage, it's important to take a step back from the creative process and compare the design with your initial plan. Look at the finished result and answer the following questions:
Does the banner design fit the purpose and format of the ad campaign?

Will the audience understand the style, design, text and emotions conveyed in the finished design?

Are you standing out from the competitors, or is there a visual identity with the layouts that are common in media networks?

Are there branding elements in the finished design, is the logo visible, is the slogan written, are the necessary graphic illustrations used?
As long as you focus your work on the needs and requests of potential customers, your advertising is doomed to success. By the way, you can test different banner designs in order to gain a deeper understanding of which elements the audience reacts to and how.
Testing and review
It's an important stage, but many companies skip it. You probably want your ad to run flawlessly and be placed where the right audience can see it.
So, check every little thing and make the design look exciting, high-quality and informative, because design is your key to success.
Launching an ad in rotation is not so difficult. It is crucial to continually analyze the obtained results and adjust the advertising strategy based on the collected data.
Optimization possibilities for digital platforms
Each media network has its own requirements. The quality and format of the files, the size of the finished image, the available type of animation and much more. Of course, remembering everything is not easy! But you don't need this if you use BannerBoo: all the technical characteristics are thought out here, there are blanks of the most popular formats and sizes and effective advertising templates for any business.
Formats and sizes of advertising banners
There are a large number of banner options, so it can be challenging to decide which ones to prefer. According to Google Ads, the largest advertising network, the following sizes are the most frequently selected by advertisers:
300×250 px (medium rectangle)
336×280 px (large rectangle)
728×90 px (standard horizontal banner)
970×90 px (large horizontal banner)
468×60 px (horizontal banner)
300×600 px (half-page banner ads)
160×600 px (wide skyscraper)
250×250 px (square)
200×200 px (small square)
300×50 px (mobile banner)
It seems that a banner is synonymous with media advertising, but this is not entirely true, because advertising banners can also be placed on social platforms:
1080×1080 px (graphic advertising on Facebook pages)
1080×1080 px (Instagram banner)
480×70 px (YouTube overlay ads)
1584×396 or 1128×191px (LinkedIn profile cover)
1500×500 px (Twitter header)
1080×1920 px (Pinterest — profile cover)
1200×628 or 640×640 or 720×1280 px (TikTok graphic ad)
Resolution and quality
Use the correct high-resolution file format to ensure the finished design looks high-quality and crisp.And in common speak, simply downloading a picture from a Google search will not work.
There are two types of files:
vector formats (graphic files that will retain their quality no matter how you resize them);

bitmap files (made up of tiny dots, pixels that make up an image, but increasing the file size will immediately reflect on their clarity).
Choose vector files to create banners for your advertising campaign. This is a guarantee that the layout will not lose clarity during zooming. If you have to use a photo or any type of raster image (Jpg, .Png, etc.) make sure that the file is not compressed and is at least 1000 pixels in a full size. These simple rules will help you avoid any display problems.
Compression and optimization methods
So, you have prepared the banners you need to launch your advertising campaign. Now, optimize their size and compliance with media networks in just a few clicks.
When uploading banners, you can choose saving options:
Remember, the smaller the file size of the banner, the easier it will be loaded on different websites and mobile applications, ensuring a smoother user experience and quicker attention-grabbing through animations.
Adaptation to different devices and screen sizes
According to eMarketer, mobile advertising makes up 69.9% of digital advertising. Conversions are increasingly performed from mobile devices, so it is absolutely wrong to ignore this format.
When adapting the design for display on mobile devices, pay attention to the CTA button. It should be easily visible on small screens of smartphones.
Once the banner ad design is ready, BannerBoo users can customize the size options and have the entire campaign ready in minutes using the banner optimization tool. Just make a copy of the finished design and select another size of the workspace to resize as quickly as possible.
In addition, we've included a 'Banner Generator' feature where you can edit several banner sizes at once, and the changes will occur in real time. In this mode, you can edit and work with layers comprehensively (for all) or with different formats separately.Once you've completed the designs, simply upload them in a single archive and place the advertisements on the media network of your choice.
Banner design best practices
To create an effective design, you need to think like a creative and informative ad creator. We recommend to be inspired by the works of competitors, colleagues in the market, well-known brands and use these approaches for your creative process.
Keep the design simple
Don't complicate it!
Banners overloaded with information, numerous colors, GIFs, and flashing animations are more likely to distract the viewer's attention at first glance, rather than capturing it.
Focus on a simple design that emphasizes the description of the value proposition, aligns with the brand strategy and has harmonious animations. Leave the details and more content for the landing page.
How to make a simple and effective banner?
write a short and simple text;

use only important information;

harmoniously divide the elements throughout the entire space of the banner;

choose 2-3 colors, and avoid using too many;

avoid fonts that are difficult to read.
Use the space optimally
Media networks are very limited in size, so try to make optimal use of the ad banner space. To do this, it is important to be guided by the rules of spatial placement of elements and to stick to the golden mean — to give enough necessary information to interest the user, and at the same time not to overload the banner.
Ask yourself the following questions:
Where is the call to action?

Did you immediately understand the essence of the ad?

Is the title too big, or does the main text need to be shortened?
Each banner ad should match your business's marketing goals, so make sure you're happy with the results.
Be consistent
When developing an advertising design, it is important to remember the strategy of business promotion. It dictates the rules: what color scheme to use, what fonts are needed, what display formats of goods and services best convey the offer, what format is suitable: static or dynamic, whether it can be a video — and many other strategic issues .
Well, you see, it's very strange to see a flashy advertisement, when before that the brand had a very calm and comfortable tone of voice.
Stay up to date with design trends
Keep an eye on the digital advertising market in general, because that's where trends are born. Choose interesting formats, consider how they can be adapted to the needs and tasks of your business.
It is important not to just blindly follow the trends that are specific to your business area. Each new format should be followed by detailed analysis and optimization to determine whether these changes and new ways of representing your brand are appropriate for your audience. A/B testing formats are ideal for this, where one banner ad is your traditional format and the other is something new and different. Based on the results, you can make a strategic decision about the next advertising campaigns.
Conclusion
We hope that the process of creating banners and its features has become much clearer and simpler for you. These are just a few recommendations that will help develop each advertising campaign effectively and marketing correctly.
If you are not a designer, but have the task of creating banners for various activities, these rules will help you to do everything right at once, not to get negative results, and to turn a creative and incomprehensible process into a logically structured algorithm.
Key points
Let's once again systematize the acquired knowledge. What does the process of creating advertisements consist of:
Step 1. Preparation for the development of banners
It's essential to:
analyze previous advertising activities;

define a clear goal and purpose of the new advertising campaign;

think through audience segmentation, identify key personas, and develop targeted messages for them

research competitors and their activity in the digital sphere;

come up with an effective and valuable proposition.
Step 2. Acquaintance with the rules of banner design
At this stage, it is important:
understand the theory of colors and their features;

learn the rules of typography;

analyze requirements for image formats and graphics;

choose the style and nature of the animation;

think through the CTA and make it visible.
Step 3. Create banners in BannerBoo
We tried to make the process of creating banners as simple and intuitive as possible, so that the development of an advertising campaign was convenient and effective.
Do not forget:
compare the finished design with the planned goals;

test the design and analyze the obtained results;

check whether the design is in line with the brand strategy.
Step 4. Design optimization for digital platforms
Consider all requirements for file formats and sizes and adapt them in your design. Don't forget about mobile devices and their displays.
Additional resources for further study
In the process of creating an advertising banner, creative tasks can be turned into a logical and structured algorithm that is easy to master. At BannerBoo, we've built a knowledge base to help non-designers become pros at creating effective banner ads for any task.
Check out these resources that might be interesting to you:
With BannerBoo you can use the expertise of professional designers to promote your business!
Be on trend in 2023: visually appealing banners and a thoughtful value proposition
While you are reading this article, major brands have already begun to incorporate new styles and formats into their 2023 marketing strategy. So, feel free to start experimenting and implementing graphic design trends in BannerBoo!
New trends and features in design appear constantly, and this is the main advantage. Every business has the opportunity to implement crazy ideas, creativity and show the company's fantasy space. Open advertisements, websites, social networks and catch the vibe of companies that are already half a step ahead!
We wish you effective advertisements and creative designs!
Frequently asked questions
What is a web banner?
Web banners (banners for the site) are special digital banners that are displayed in different parts of the site: above, below or to the side of the main content of the page.
How to create an effective banner?
To ensure that your banner advertising delivers conversions and sales, the final design must incorporate several key components:
be clear to the target audience;

meet the needs and requests of potential customers;

to be modern, creative and exciting;

have a clear key message;

meet the requirements of media networks and satisfy all technical specifications.
What sizes of banners should be created?
According to Google Adsense, the most effective and commonly used banner sizes for advertising campaigns are:
728×90 px — horizontal banner;
300×600 px — half a page;
300×250 px — medium rectangle;
336×280 px — a large rectangle.
When should you use backgrounds for banners?
The background should highlight the company's offer and emphasize the necessary accents. Photo background works well when you need to tell a story with images.
In this case its use is justified.
Should I use subheadings for banners?
Only in the case when the subtitle reveals the title in more detail. If we are talking about an effective banner, then it should have a minimum of text.
Should I use photos in banners?
If the photos or videos are of high quality, then it's definitely worth using them! When there is no time and financial resources for a photo shoot, it is better to use the free stock images available at BannerBoo.
What is a CTA and how to make it effective?
CTA — a call to action. This is exactly the kind of action you expect from potential customers. To make it effective, you should specify exactly what you expect from the client and write it: "More information", "Buy", "Get a price quote", etc.
What is web banner design?
It is the process of creating the most clickable banner ad. That is, a design that motivates the audience to use the brand's offer.
What is the best color for advertising banners?
Each color has different associations and emotional coloring. When choosing a scheme, make sure you researched your target audience and choose the best solution for them.
What 3 colors go best together?
The best combinations:
blue, red and black

beige: with blue, brown, emerald, black, red, white;

gray: with fuchsia color, red, purple, pink, blue;

pink: with brown, white, mint green, olive, gray, turquoise, soft blue.