The volume of the advertising industry market is about half a trillion dollars. Digital activities of companies are constantly developing, improving and changing, and new trends, technologies and strategies are emerging. A simple analysis of data and statistics will help you stay abreast of all changes. This knowledge is necessary for every marketer and business owner to form effective business development strategies.
For hundreds of years, the advertising industry has been constantly developing in order to become one of the driving forces of the modern economy in 2022. Thanks to technology, new opportunities and augmented reality, advertisers have managed to create hundreds of incredible advertising campaigns and bring thousands of businesses to a new level of development.
To create a marketing strategy, you need to have the necessary statistical data. For decades, businesses have already generated hundreds of gigabytes of data about the results of any activities, so not taking them into account is rather imprudent.
Why should a business analyze statistical data?
To improve the digital marketing strategy of a business, it is necessary to determine the starting point. Marketers call it "zero point" - that is, all the results that the company has on the current day and under the current state of affairs. Any activity should be analyzed and affect the progress and implementation of future advertising campaigns. Statistical data will help you evaluate the performance in your industry and discover new opportunities for development.
As the world moves more and more online, social networks and their advertising remain an essential part of the modern Internet user's life. Brands simply need to be where their target audience spends their time. The nature of interaction with social media is changing with the development of applications and platforms.
If a marketer uses up-to-date data, he can easily scale the results of any advertising activity. Agree, a campaign that has at its disposal the research of already carried out activities can guarantee results and save advertising budgets. Therefore, the following are only statistics that will change your perception of the world of advertising activities.
Basic statistical data by advertising categories
2020 marked the beginning of the era of video content and native useful content for Internet users. Two years later, in 2022, we continue to see the active development of these areas, highlighting the changes that have taken place in almost all social networks, including the main ones — Facebook, Instagram and Twitter. Video and content of websites, pages in social networks and advertising integrations have become a powerful tool for brands, which aims not only to sell, but also to build long-term relationships with a loyal audience.
To help marketers be on trend with new trends, we have collected statistics that demonstrate the impact of advertising tools on the dynamics of company development.
Interesting facts about advertising statistics — the choice of the editors of BannerBoo
1. Facebook and Google Search have the highest ROI
According to HubSpot, these ad networks have the highest ROI of any network. Correct use of advertising networks guarantees high performance indicators.
2. 62% of all people on the planet use social networks
The DataReportal resource has published impressive data. In 2021, social networks had 4.62 billion users, which is 4.8% more than in 2020. This means that almost ⅔ of all people on the planet have accounts on social platforms. Social networks have become a powerful market for business development, but we believe that the peak of development is still ahead.
In LinkedIn research, which was conducted among advertisers on the platform, it was proven that companies that use social networks to communicate with their target audience have higher sales. And this is not surprising, because you need to sell where there are potential buyers.
4. Spending on online advertising will double by 2024
According to Marketing Charts the online advertising industry is growing rapidly, and by 2019, mobile spending accounted for nearly ⅔ of all US ad spending. Research by eMarketer notes that the gap between online and traditional tools was more than $58 billion in 2020. The online advertising industry is showing significant growth rates compared to, for example, television advertising.
5. 4.5 billion users will be on social networks
Not a lot and not a little — this is 61% of the world's population (according to DataReportal). This means that the social media audience will increase by 13.1% and brands will be able to reach even more potential customers. At the same time (according to Statista), the CTR will be relatively stable — about 1%.
6. Businesses earn $2 for every $1 spent on Google Ads advertising
Google Ads has great potential for business development. Companies get double the return on investment in advertising (according to Google Economist). If you don't have such results yet, then you need to adjust your marketing strategy and work effectively with different types of content and audiences.
7. 84% of users expect brands to be active in content creation
Havas research reveals the interest of users in the content shared by their favorite brand. It's very easy for people to interact with posts that interest them, offer useful solutions, and create interesting stories. It is known that 47% of consumers can easily unsubscribe from a brand if they receive irrelevant information, so it is important for marketers to create relevant content for the audience.
8. The average engagement rate for Instagram business account posts is around 0.83%
This is the most important indicator of the company's content strategy. It shows how relevant a post is to your target audience, and whether it can help you get more followers, increase your reach, and grow your business (according to Hootsuite).
9. 90% of users follow at least one business profile on Instagram
At the same time (according to Hootsuite), more than 200 million people visit at least one company profile every day. By the way, according to statistics, about ⅔ of visitors are not yet subscribed to the company on social networks. This means that investing in Instagram advertising has a lot of potential to attract new potential buyers.
General advertising facts and statistics
10. Total US advertising budgets have decreased by 8% since 2020
Of course, a year when the whole world was saved from a pandemic cannot be indicative. However, the fact remains that budgets have been reduced. At the same time, according to Search Engine Land, spending on digital tools has a steady growth of 6% every year. The statistics are simple: video and display advertising grew by 18% and 15% respectively, so the relevance of these tools remains high.
11. Retail trade and the automotive sector spend the most on advertising in the US
The retail industry spends more than $17 billion a year on advertising, and the automotive industry spends more than $14 billion. These two sums far exceed the budgets of other major industries. In the structure, this is 21.9% of the total advertising expenses of all businesses and 12.6%, respectively (according to Statista).
12. The US pharmaceutical and healthcare industry spent $11.2 billion on digital advertising
All publications related to the pandemic (on testing, life and health safety, or medical devices) contribute to the increase in the activity of the pharmaceutical industry (according to Statista).
13. $8.5 billion was spent on political advertising during the 2020 US election
The sum was made public as one of the largest (according to Forbes). That's 30% more than the $6.7 billion projected to be spent in early 2020, and a whopping 108% more than 2018's midterm spending.
14. By 2027, 27% of Internet users will use ad blockers
In general, about ¼ of the potential audience will no longer see your ad (according to Statista). What is the reason? There are too many banners on the sites, it is difficult to open them, the mobile Internet loads them with a delay. In addition, users do not want to see irrelevant ads and intrusive messages. And, of course, they are against tracking the behavior of their actions on the network.
15. Fantastic value: $5.6 million for a 30-second Super Bowl commercial
The Super Bowl itself turned into a whole performance. Brands and TV networks always get the highest ad revenue during cup broadcasts. According to Forbes, the highest advertising expenditure of 336 million dollars was in 2019. Such sums are fully justified, because more than 98.3 million Americans watch the game at the same time (this is about 30% of the entire US population).
16. Absolut ran the longest continuous advertising campaign lasting 25 years
Absolut launched its advertising back in 1981. For 25 years, more than 1,500 variants of advertising creatives were developed. Statistics showed high effectiveness of advertising (according to Smart Insights).
Amazing facts about advertising
17. 90% of marketers are concerned that ads may appear next to posts with questionable content
What's more, 41% of advertisers are extremely concerned that ads are not placed close to posts with questionable content. According to Search Engine Land, all such situations can be corrected with settings when creating ads.
18. 9 Colgate toothpaste ads have been blocked in the last 7 years
The British ASA accused the corporation of deception due to the advertising slogan "over 80% of dentists recommend Colgate". And that's why the show was limited. According to Marketing Law by Osborne Clarke, advertising campaigns with claims to cure sensitive teeth in one day, the production of toothbrushes with "sound waves" and images of actresses as nurses are also banned.
19. Reebok had to pay 80 million dollars for using false statistics
According to Better Marketing, in 2008, Reebok launched the EasyTone shoe and advertised it as toning and strengthening muscles while walking or playing sports. This data did not have any scientific support, so the company was fined $25 million after an investigation by the FTC. Later, lawyers estimated that a total of 80 million dollars was spent on the case.
20. 28% of cosmetics ads contain a disclaimer that the images are retouched
According to data from HuffPost, 44% of ads have digital processing and do not have to tell about it in the ad. But, there are companies that are completely honest with their consumers, so they include this information in the advertising message.
21. The most expensive advertising campaign was created by Chanel
HubSpot claims that the most expensive ad belongs to Chanel. The total cost was 33 million dollars, of which 3 million was the fee of Nicole Kidman, who had the main role in the clip.
22. How to double the sales of chewing gum?
That's right, just show in the ad that you have to chew two pads at the same time. A small and ingenious move really doubled the company's sales.
23. All the clocks in the advertisement show the time 10:10 with the hands
In this way, they show a smiley and bring a good mood to potential buyers. Clock hands frame the brand name and create positive emotions. According to HubSpot, this is not a new situation: brands are taking their product and placing it next to other things that consumers perceive positively to create the right emotional component.
24. Before starting the search for goods or services, 90% of users do not yet know which brand they will choose
And although it is often a question of loyalty, most potential customers will still prefer products with the best price/quality ratio. That is why high-quality Internet advertising is necessary for the development of any business (according to Status Labs).
25. Every 39 seconds there is a hacker attack in the world
Cyberattacks can have very negative consequences, so companies need to ensure their information security (according to SmallBizgenius).
Statistics of digital advertising
Internet advertising is a very active industry, in which there are many opportunities for the development of any business. Digital solutions have almost replaced traditional advertising and are developing very progressively.
According to HubSpot, the largest number of companies (83%) have a business page on Instagram, almost as many (80%) on Facebook and slightly less (62%) on Twitter. That is why, when forming a marketing strategy, it is important to take this indicator into account, because the more companies post their profiles on social networks, the more potentially interesting audience there is (but the competition is also higher, so you will have to generate cool content to be heard).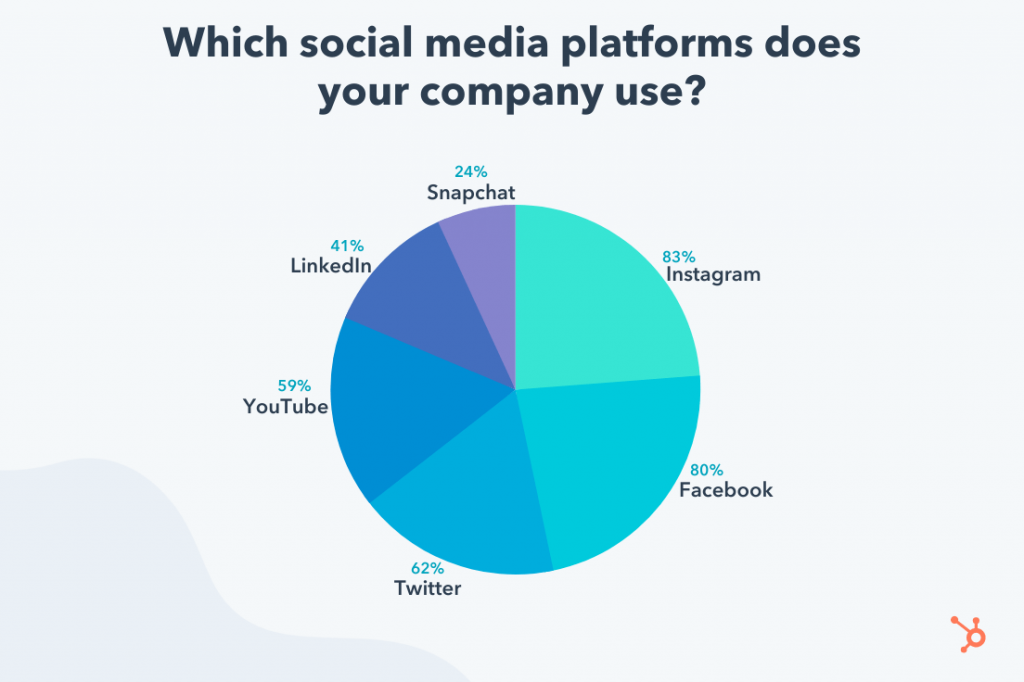 * material from the resource HubSpot
At the same time, 20% of respondents answered that they never make a purchase based on the advertisement they saw (according to Statista). And only 4.5% indicated that advertising has the greatest influence on the purchase decision. That is why digital advertising has great potential, because about 40% of customers still respond to it.
* material from the resource www.truelist.co
28. Mobile ad spending predicted to reach $156.38 billion by 2023
According to Hootsuite, mobile ad spending will grow 17% to $134 billion in 2022. In 2023, even more marketing spending will be directed to online activities, making social media platforms an even more powerful tool for reaching new customers around the world. Research by eMarketer shows that the typical American spends 5.4 hours on mobile surfing, and all this time he can come across advertisements from various brands.
29. About 42% of sites use native advertising
Native advertising is a very effective format. Such announcements are less intrusive and do not cause negative emotions. According to Statista, native paid publishing is now a full-fledged industry, with $35.24 billion spent on it in 2018.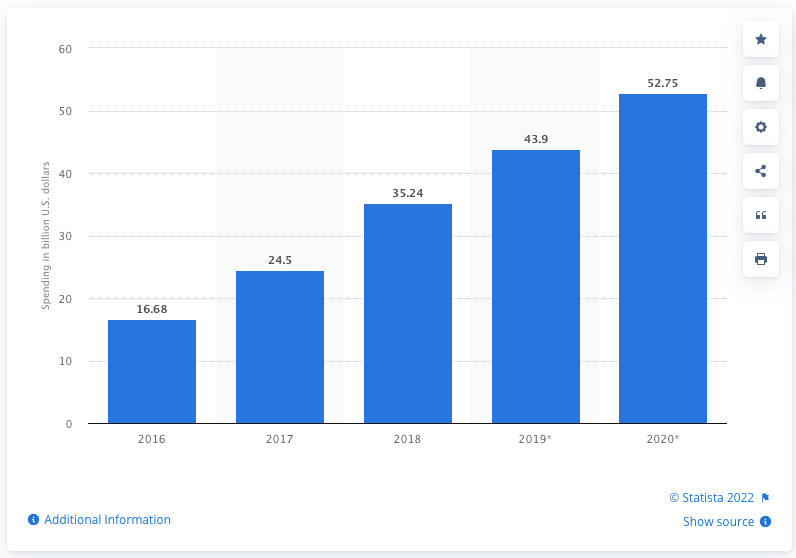 * material from the resource Statista
30. 75% of podcast listeners follow the call to action that is voiced
As the world's need for quality content continues to grow, podcasts will be at their peak. According to WordStream, if in 2006 only 22% of Americans knew about the existence of podcasts, then in 2020 this indicator increased to 75% with 88 million listeners. Quality communication with the target audience is guaranteed!
31. Google accounted for 28.6% of company revenue, and Facebook for 23.8%, thanks to digital advertising in the US
Despite increased competition from Amazon, both Google and Facebook remain the two most significant digital ad networks. According to SmallBizgenius, the two businesses accounted for more than 50% of all US advertising revenue for the companies.
32. 70%-80% of users ignore advertising search results
Of course, organic publishing has its advantages, and advertising only works when you pay for it. According to Search Engine Land, most users do not trust advertising results, so it is necessary to form a convincing, powerful advertising strategy with strong texts and creatives.
According to SaleCycle, it is indeed common for customers to abandon their shopping cart without checkout. Approximately 81% of users never return to the purchase process. Remarketing strategies work actively and effectively with abandoned carts.
34. 90% of consumers read reviews about the company
According to BrightLocal, reviews of existing customers influence 67.3% of purchase decisions. By the way, potential clients trust them no less than the recommendations of acquaintances. It is important for every business to collect testimonials and video reviews from real customers and integrate them into the communication strategy.
35. $645 billion is the expected total digital advertising spending by 2024
Statista reports that advertising spending will increase every year. Experts predict that this amount may increase by 121 billion dollars in the next 2 years.
36. Medium-sized businesses in the US spend $9,000 to $10,000 per month on Google Ads advertising
The WebFX resource notes that the most competitive industries are financial and legal. These types of businesses spend over $1.2 billion a year on PPC advertising on Google.
37. +11.76% — the forecast for the growth of marketing budgets for social networks every year
According to Statista, marketing budgets for social media activity will grow by 11.76% each year until 2026. By 2026, this amount will reach $358 billion. Overall, investment in these platforms will grow by 27.9% over 2021 for mobile devices and 21.7% for desktop.
38. A brand's business page should generate 3-4 posts per week
According to Hootsuite research, the most popular frequency of posts is 3-4 per week. This applies to the news feed, but in the stories business should be present every day.
39. More than 60% of companies are ready to increase their advertising budget
Hootsuite reports that more than half of companies, 60% to be exact, have plans to increase their budget on Instagram, and another 30% plan to do the same for Facebook, YouTube and LinkedIn.
Display advertising makes it possible to show advertisements to customers who are looking for the necessary goods and services online. Most often, this is the Google advertising network.
40. Spending on Google (38.6%) and Facebook (19.9%) account for the largest share of US digital ad spending
If you have been working in the digital marketing market for a long time, it will be no secret to you that the majority of budgets go to these two companies. However, eMarketer predicts that the share of expenses will decrease somewhat due to the development of competitors Amazon and TikTok.
41. Average CTR in Google Ads: 3.17% for search and 0.46% for display ads
Knowing the basic data, such as cost per conversion or click, is necessary for the formation of an effective advertising budget. Wordstream provides more data to analyze: the conversion rate for Google Ads clicks is 3.75% for search and 0.77% for display ads.
42. The average cost per click (CPC) in Google Ads is $2.69 for search and $0.63 for display
Any PPC campaign should include average cost per click (CPC) data. According to Wordstream, the average cost per click for search ads is more than $2 higher than for display ads.
43. Multi-channel strategies give 80% higher efficiency
Strategies of using multiple digital advertising tools and allocating budgets instead of one standard one are more effective. According to Think With Google, they show high results in generating additional visits to stores or websites that companies might otherwise not get.
Using effective advertising campaigns in Google or social networks is the key to a successful advertising campaign. According to HubSpot, nearly ⅔ of marketers rated tools as an "important" or "very important" part of their strategy.
45. 33% of marketers use paid advertising to increase brand awareness
Not by sales alone. Of course, the main goal of advertising is to motivate a potential client to buy a product or service. But companies can interact with buyers at various stages of the purchase decision, where brand awareness is essential. According to HubSpot, ⅓ of marketers successfully increase awareness of their company through paid advertising. This is also confirmed by the data of the platform for creating creatives BannerBoo, in which it is noted that in the last two years, more than 200,000 advertising creatives for Google Ads and other advertising and social networks have been created by service clients.
46. The advertising case shows an increase in the number of interested potential customers by 34.6%
According to information from the HubSpot resource, the Purple company submitted a report that observed a 34.6% increase in the level of brand interest among its customers thanks to the targeting of the Google Ads audience on YouTube. But the Schmidt Naturals brand increased the visibility of its products by 48% with the help of YouTube.
47. The CPC in Google Ads ranges from $2.37 depending on the industry
According to the HubSpot resource, marketers can count on the following indicators:
medical industry: CPC — $2.62, and the most expensive keyword costs $90;
marketing and sales: CPC — $3.33 and the most expensive keyword — $165;
IT technologies: CPC — $3.80, and the most expensive keyword — $95;
real estate: CPC is $2.37 and the most expensive keyword is $95;
renovation and improvement: CPC — $6.4, and the most expensive keyword — $320.
Video advertising statistics
Using videos for advertising is an effective strategy when it is necessary to appeal to the target audience. Thanks to the fact that any video can be played directly from a smartphone, these possibilities have become available to every business.
48. 35% of all advertising spending is video advertising
We live in an age of creative content and stylish visuals. According to Forbes experts, the dominance of this direction is predicted even in the coming decades. HubSpot highlights the main uses of video: to promote products and services, as well as to tell brand stories.
49. 1200% more posts with video than with text and links combined
Content strategy trends according to Forbes show that thoughtful visual video content is one of the most powerful online advertising tools. People remember videos better, share them with friends more easily. This can be the case with your post, so try to generate unique video content.
50. Companies that use video ads get 66% more quality leads
According to Wordstream, consumers are already accustomed to video, so this is the format that companies choose to introduce products, goods and services. A video can easily and simply guide a potential customer through the entire path to making a purchase, answering all the questions that arise.
51. 64% of consumers say Facebook videos motivate them to make a purchase
Of course, videos have the best content engagement rates (according to HubSpot). As a result, they were used for this very purpose. But marketers note the clear potential of video to drive sales and other conversions. The vast majority of people (94%) report watching explainer videos to learn more about a product (according to HubSpot).
52. Companies will spend $22 billion on digital video advertising in 2021
According to Insider Intelligence, the video format quickly gained popularity among advertisers. Therefore, the costs began to grow exponentially, because in 2017 the amount was about 13 billion dollars, and already in 2021 — it increased to $22 billion.
53. 80% of video ad views were received by companies in 2020
According to eMarketer, any business can achieve 80% video views. As marketing evolves at a very fast pace, positive video engagement experiences are created, so more and more creatives can capture the attention of viewers.
54. 88% of marketers reported that video has a high ROI
The HubSpot resource provides information that even with a fairly high cost of creating a video, the percentage of engagement and effectiveness of this advertising tool covers the costs and grows every year.
55. 87% of marketers note an increase in traffic to the site, and 80% — an increase in sales with the help of video advertising
HubSpot's resource provides statistics that 87% of video marketers have high rates of traffic to the site, and 80% — note an increase in sales. These same strategies can easily be adapted to your business.
56. Users watch videos 1.5 times more often on a smartphone than on a computer
What does it mean? Focus on mobile impressions of generated video content (according to HubSpot).
57. The annual cost of video advertising increased by 4.9%
According to HubSpot, spending is expected to grow by 4.9% each year from 2020 to 2024.
Digital Signage Advertising Statistics
Digital graphics at points of sale (in shopping centers, institutions or medical facilities) can attract the attention of 63% of potential buyers.
58. 42% of buyers note that they would be more willing to shop in places with Digital Signage
Shopping months with Digital Signage is much more interesting and effective (according to HubSpot). Almost 42% of potential buyers believe that it is better to shop in stores that have displays.
59. 35% of buyers note that it is easier for them to spend time in the queue
According to HubSpot, Digital Signage creates the illusion of less downtime in line (checkout, fitting room, doctor, etc.). More than a third of people (35%) note the importance of entertainment content broadcast on video displays.
60. The number of sales increases by 31.8% with the right content
Digital Signage increases sales by 31.8%, because the right distribution of content affects the speed of the decision that the buyer makes.
Facebook advertising statistics
2022 is frankly not the best year for Meta. First there were privacy issues, then iOS restrictions, and right after that, mandatory customer taxes. However, the platform does not give up the position of the most popular advertising network with huge targeting capabilities for finding a potential audience.
61. The first quarter of 2021 brought Facebook $25.4 billion in ad revenue
According to Statista, Facebook's statistics show that the platform is still the leader in placing ads. About 61% of marketers use social media to achieve marketing goals. The company closed 2021 with a revenue of almost 95 billion US dollars.
62. Over 90 million business pages have been created by companies
According to Marketing Charts, the vast majority are small and medium-sized businesses. Now, not having your business page is a "luxury" that leads to the loss of a large number of potential customers for the business.
63. 6.09% is the average engagement rate for video posts on Facebook
According to Hootsuite, the average engagement rate for Facebook video posts in 2020 was 6.09%. This shows that videos are the most interesting posts on the platform. Create original and creative content that will be interesting for the audience, and the success of marketing campaigns will not take long.
64. Facebook Messenger plans to reach more than 3 billion users
According to Statista, Facebook Messenger now has about 988 million users, and increasing the number by 3 times is not an easy task. Of course, Facebook will try to create a unique offer for its users in order to profitably stand out among other messengers.
65. 10 million active advertisers work on Facebook
According to Statista, the number of advertisers on the platform has grown steadily since 2016. Now that number is at 10+ million, which is a great number because:
competition for potential consumers is at a high level, which forces to think of effective and creative advertising campaigns;
over time, advertising algorithms have created a powerful base of evaluation indicators, providing consistently high advertising results for small budgets.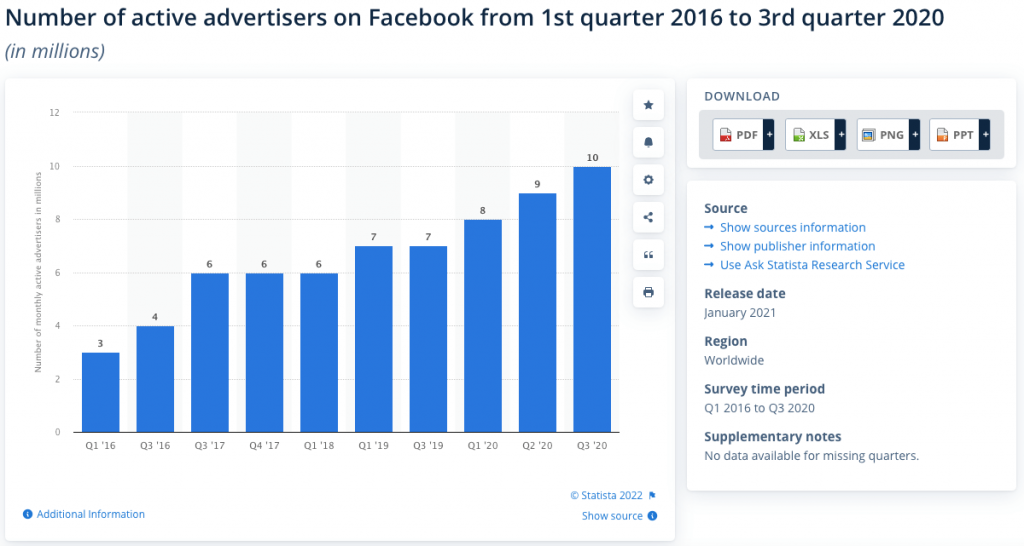 * material from the resource Statista
66. One in three adults regularly browse the news on the platform
The Marketing Charts resource reports that 1 in 3 adults regularly view news from Facebook. This means that the popularity of current content on the platform is quite high.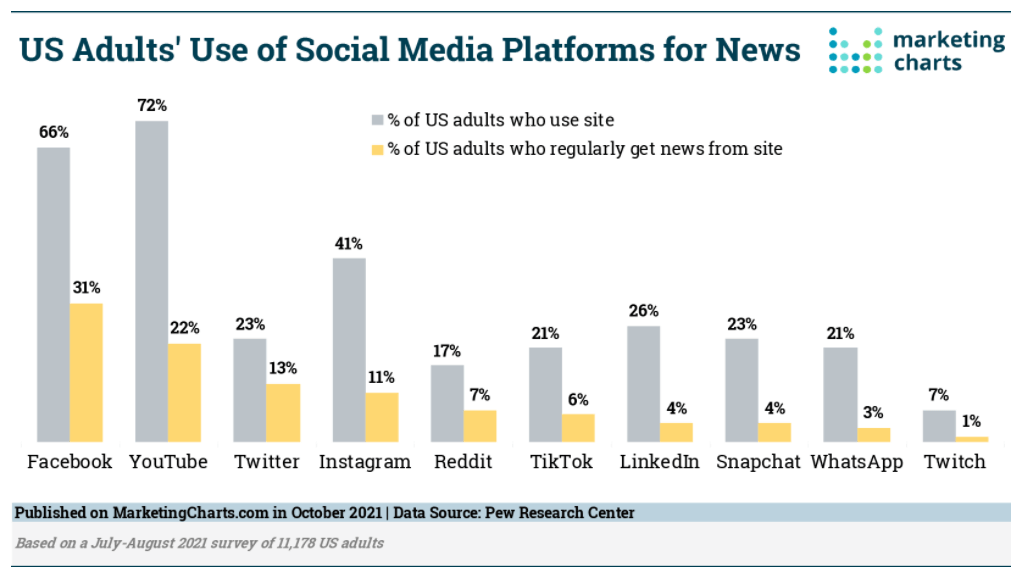 * material from the resource www.marketingcharts.com
Instagram advertising statistics
This year, the platform crossed the mark of 2 billion users (according to www.axios.com). However, millions of advertisers compete for the attention of potential consumers every day. There is also a partial outflow of the young audience, which is slowly moving to TikTok. But strong engagement rates, new e-commerce features and significant ad spend suggest that Instagram has a lot of potential yet to be realized.
67. Instagram ads can reach up to 1.39 billion users
According to DataReportal, Instagram's advertising tools have reached 100 million users, with this number growing by 7.5% in the last quarter alone. More broadly, that's +1.1 million users every 3 months.
68. 34% of Instagram users search for new brands or products on the platform
As the number of consumers grows, so does their purchasing power (according to Business 2 Community). Many formats, creative presentation of content make it possible to present any products and services.
69. 0.83% is the average engagement rate of Instagram business account posts in 2021
The level of engagement is a key indicator for any social network (according to the Hootsuite resource). It shows how popular a post is and how it can influence the number of followers, increase your reach and grow your business.
70. 90% of users are subscribed to at least one company, and 200 million people visit at least one business profile every day
According to Hootsuite, about two-thirds of those visitors are people who haven't signed up yet. That is why investing in advertising on Instagram has a huge potential to attract new customers.
71. From 0.13% to 0.83% is an indicator of the involvement of potential customers in the content
Social Insider indicates that this figure is 6 times higher than that of Facebook. In order to get the most from advertising integrations on Instagram, it is necessary to create effective content that attracts the attention of the consumer from the first seconds.
72. 44% of users buy products on Instagram every week
At the same time, 28% of these purchases are planned in advance (according to information from business.instagram.com). By the way, more than 500 million active daily users visit Instagram every day. All of them can become your potential customers.
73. On average, people spend 10 hours a month on the Instagram app
According to HubSpot, users spend about 30 minutes a day on Instagram. Imagine that part of this time, and maybe all, the user can communicate with your company.
Twitter has become a well-known center for political discussions, memes and, most importantly, a place where you can communicate with brands in real time. The company is trying to develop functionality, for example, Twitter Spaces gave a "second wind" to the platform's capabilities.
According to WebFX, Twitter advertising statistics show quite competitive prices. Basic data:
advertising tweets cost from $0.50 to $2 per action;
ad account subscriptions cost between $2 and $4 each.
75. 77% of Twitter users value brands that engage in communication
According to https://twitter.com, Twitter customers expect a quick response to their tweets. The company manager has about 10 hours to respond to the appeal.
According to Statista, Twitter's ad revenue has grown steadily since 2011. This platform can become a successful place for placing both the company's business profile and advertising integrations for the target audience. Figures confirming the increase in the company's revenues ensure that Twitter is growing and becoming more attractive for investment.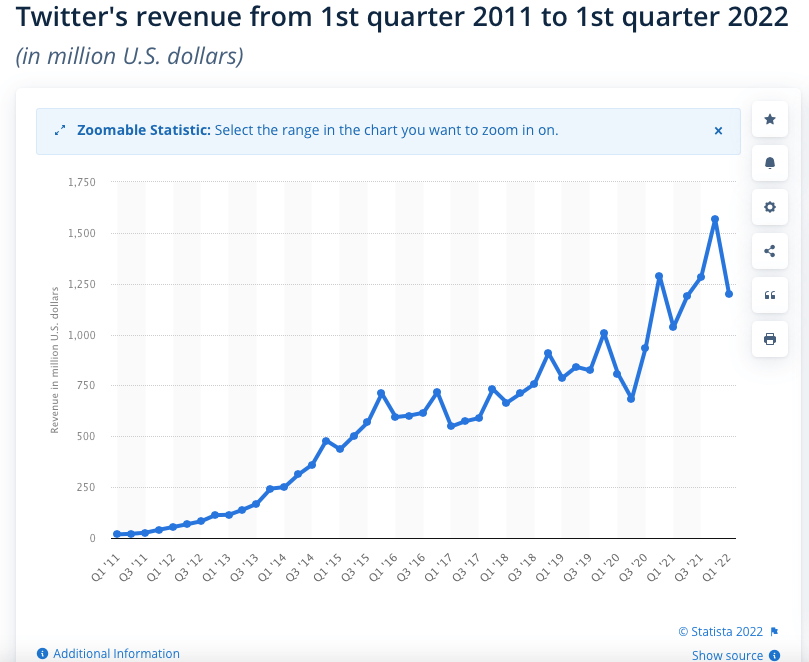 * material from the resource Statista
According to Statista, 52% of users visit the social network daily, 84% visit the app weekly, and 96% visit Twitter once a month. You can attract these potential customers to your business.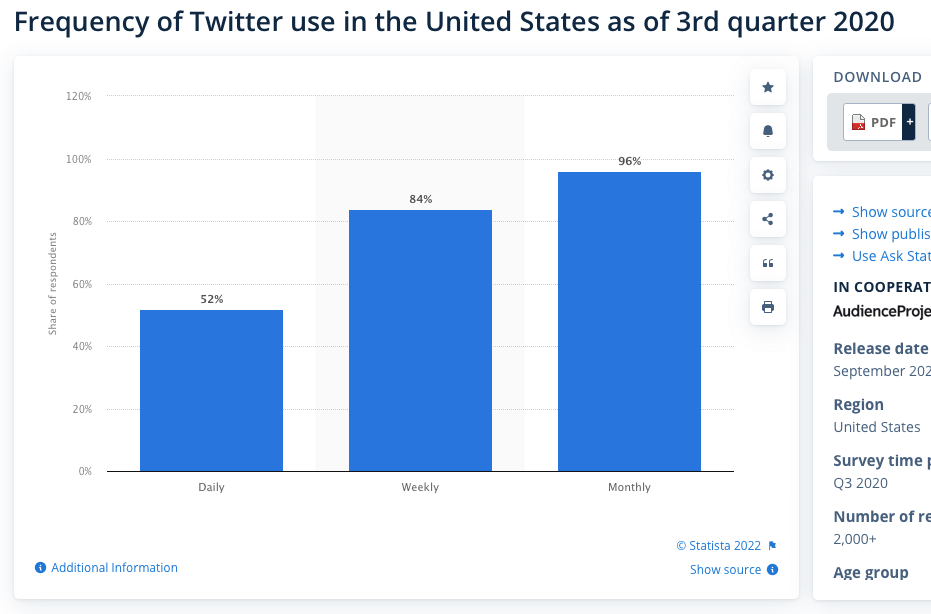 * material from the resource Statista
HubSpot provides some pretty extensive statistics on how to effectively use this marketing tool:
Twitter ranks 12th among the most visited websites in the world;
the most registered accounts are in the USA and Japan;
the Twitter audience is mostly men;
82% of B2B marketers actively use Twitter in their marketing strategies.
Linkedin advertising statistics
LinkedIn has created a truly professional environment that is completely different from standard social networks. The platform has great potential for B2B brands. Therefore, consider the possibility of posting a business profile and creating advertising activities for your business.
79. LinkedIn's advertising audience grew by 3% in 2021
According to research by DataReportal, LinkedIn ads can reach up to 768.2 million users, and the results can be 277% more effective than Facebook and Twitter. In addition, there is a high conversion rate of potential customers (as much as 2.4%). So it makes perfect sense to invest a portion of your marketing budget in LinkedIn marketing.
80. Linkedin advertising revenue grew by 37% in 2021
The fact that the company's advertising revenue is increasing gives a pretty clear signal: the investment attractiveness of the platform for advertisers is increasing (business.linkedin.com).
81. 50% of marketers created a business profile on the platform in 2021
Marketing Charts presents the results of a study that indicates that 49.6% of marketers in US companies with 100 or more employees use LinkedIn for marketing purposes. It is predicted that in 2023 there will be even more of them (approximately 50.3%).
82. 16.2% of LinkedIn users use the platform daily
Statista provides information that 16.2% of users visit the social network every day, and 48.5% of users are active at least once a month. At this time, your company can interact with potential customers with the help of content.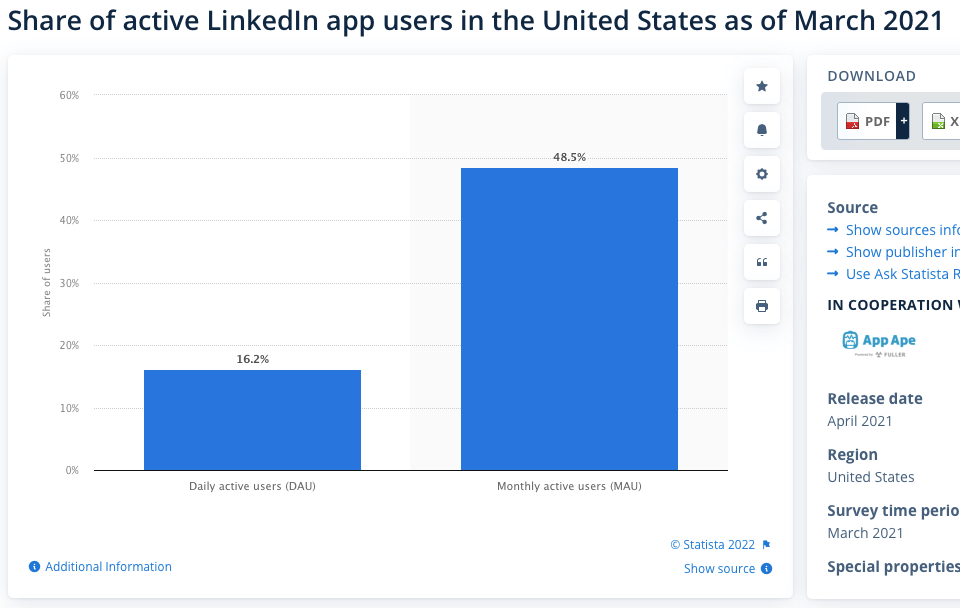 * material from the resource Statista
83. Elevated shares on the platform give 53% more engagement and double the CTR
According to the research, Elevated shares have great potential for placing advertising activities and guarantee high performance results.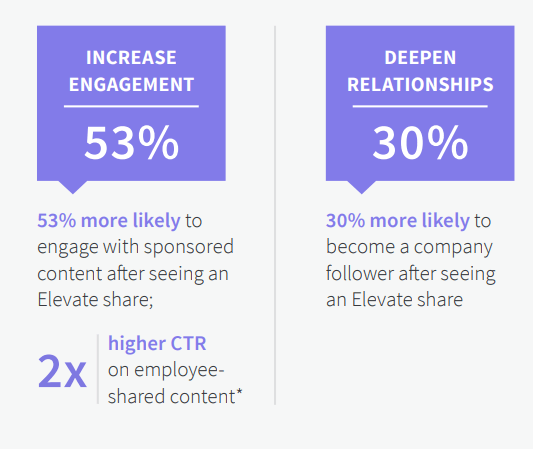 * material from the resource dgtlinc.com
84. The number of LinkedIn live broadcasts increased by 158%
HubSpot highlights that over 90% of B2B marketers use LinkedIn for organic social marketing. Live broadcasts will be an effective tool for demonstrating your company's products and services.
(Source: https://www.hubspot.com/marketing-statistics)
YouTube advertising statistics
According to market research, YouTube has more than 2 billion users every month. This is more than ¼ of the entire population of the planet, who watch more than 500 million hours of video content every day. Advertisers from all over the world have the opportunity to show ads on YouTube in a high-quality and effective way and to talk about their company, product or service.
85. Over 70% of consumers say they learned about new products and brands through YouTube
According to the resource Think with Google, YouTube has incredible rates of engagement of potential customers with content. Statistics show that viewers are twice as likely to buy what they saw on the platform, and 25% more people search for brand information on YouTube (compared to other channels). In addition, YouTube has a wide range of advertising tools, including Director's Mix, which makes the marketer's job much easier by generating 250 versions of 15-second ads by overlaying video elements and creating personalized ads.
86. Users spend 74% more time watching video on a social platform than watching TV
And not surprisingly, the world's second most trafficked site and Google's main social advertising platform, YouTube has consistently high engagement rates. According to Think With Google, since 2015, people between the ages of 18 and 49 spent 4% less time watching TV each year and 74% more time on YouTube in 2020.
87. 80% of people watch a video of a product or service before making a purchase
YouTube has become an important platform for obtaining the necessary information about products or services before purchasing (according to Think With Google). With over 2 billion monthly users viewing and commenting on a huge amount of content, there's always an expert opinion on any product.
88. 60% of users view YouTube from mobile devices
According to Statista data for 2021, smartphones are the main access point to the mobile Internet. Over the past years, almost a quarter of the world's population watched videos on their phones.
89. 83% of potential buyers respond to YouTube ads
According to Ipsos, YouTube ads have amazing performance statistics when compared to traditional tools. If only 45% of potential buyers pay attention to advertising campaigns in television advertising, YouTube has already crossed the mark of 83%.
90. The vast majority of people (89%) trust YouTube ads
The resource Think With Google notes that the audience is increasingly using content to get information before buying a product or service, and analyzing the data received. Users trust video reviews and recommendations from both ordinary people and thought leaders.
91. YouTube's audience spans multiple age groups
According to the YouTube network itself, the reach of the audience of smartphone users aged 18-34 is greater than that of any television network. At the same time, according to HubSpot, 49% of YouTube users in the US are over 65 years old.
TikTok advertising statistics
TikTok has quickly entered the list of popular social platforms for businesses. High interest, progressive growth of subscribers, incredible engagement rates are all about the video content platform. The vast majority of the audience is young people, but the platform is beginning to reach users of all ages.
92. 62% of users believe that posts on TikTok are a great way to post content that users need
According to TikTok, the platform provides a great opportunity to communicate with its audience. At the same time, the users themselves indicate the need for quality content, and, therefore, companies need to generate unique publications on TikTok, and not just post publications.
93. Advertising investment in TikTok increased by 84%
TikTok tends to grow rapidly. The new format quickly became a favorite of many customers, company profiles appeared — and with them advertising activities and investments. TikTok received 84% more investment in 2022, compared to YouTube (66%) and Instagram (64%).
94. Most 13+ youth choose TikTok over Instagram to watch
Emarketer has data that youth 13+ spend more time on TikTok than on Instagram. So, if your audience is teenagers, you need to focus your marketing strategy on developing an account on this social platform.
95. Higher engagement rate (17.9%) for influencers on TikTok than on other social networks
Unbelievable, but a fact. According to Statista, influencers with less than 5,000 followers show the highest engagement rate at 17.9%. For example, among millionaire bloggers on Instagram, this indicator remains at the level of 13.48%.
Pinterest ad statistics
Pinterest often doesn't get the attention it deserves when shaping a company's marketing strategy. In vain, because the platform has a very diverse audience that shows high engagement rates. Plus, Pinterest is the perfect place to discover new products.
96. Pinterest has more than 400 million active users
According to NewsRoom, more than 400 million active users visit the platform every month, work on it, and find the necessary goods and services. At the same time, people store more than 240 billion pins.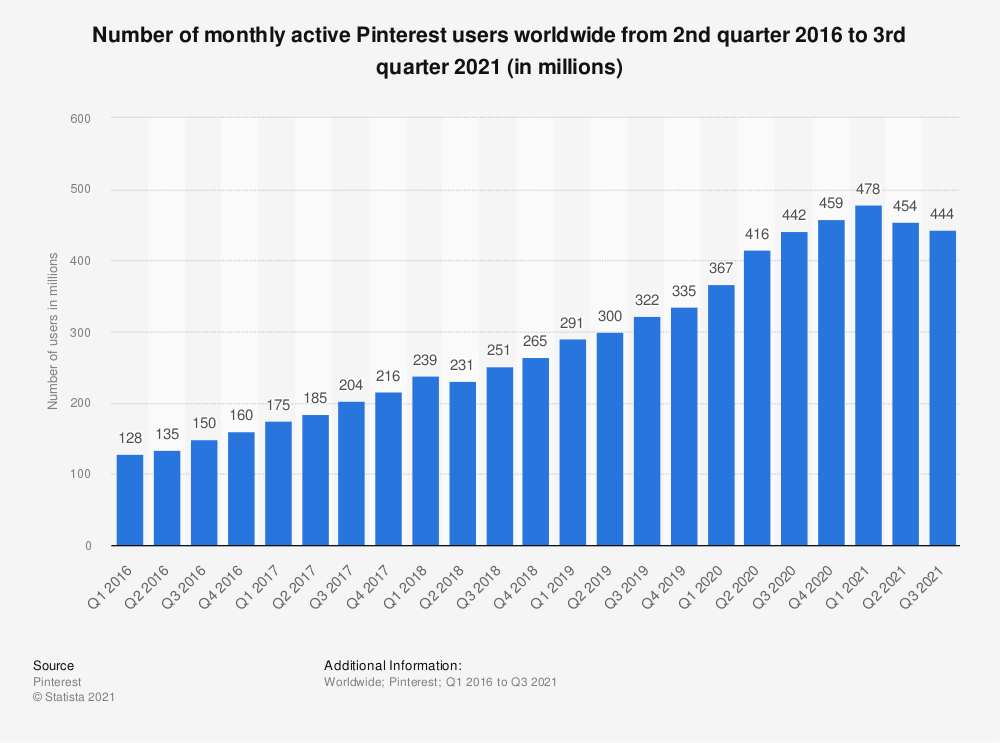 * material from the resource dgtlinc.com
97. 7 out of 10 users say Pinterest is the place they find products or services they can trust
Pinterest's business page notes that 7 out of 10 Pinners say Pinterest is their go-to place to find products or services they can trust and buy without fear.
98. 40% of Pinterest's audience "likes" to shop
Pinterest audiences are 40% more likely to say they "like" shopping (compared to people who don't use the platform), according to research. They are often inspired by content on Pinterest and choose brands to collaborate with.
99. 7x more likely to cite Pinterest as a place that influences a purchase
According to Pinterest, users perceive the platform as a place for "aesthetic content." Creativity and a bright presentation can motivate potential customers to become real.
100. More than 459 million active users visit the platform every month
According to HubSpot research, Pinterest had 459 million monthly active users worldwide in 2021. Now this number is growing every day. What is important to know about the platform?
60% of the audience are women;
97% of queries do not contain information about the brand, only the category of the product or service;
85% of users plan new projects on Pinterest;
the demographics have expanded, the number of male and teenage users of the platform has increased by 40% in a year.
Frequently asked questions about advertising statistics (FAQ)
1) Which of these social media statistics are most relevant to business?
The study of current statistical data is necessary for the formation of a marketing strategy and the selection of advertising goals. Is there potential for your company on individual platforms? Should you change or refine your content strategy? Which posts will bring the maximum engagement rates?
All this can be found in statistical data that companies collect and analyze over the long term.
2) What is Influencer Marketing?
Influencer Marketing is a collaboration between a brand and influencers that brings good results and helps companies grow.
Influencers are people with a certain range of interests for the audience who have a significant number of followers. Followers highly trust their opinion leaders, consider them experts, and listen to their recommendations.
3) What are the factors of influencer effectiveness?
Before you start working with an influencer, answer the following questions:
what is the opinion leader's audience and who are his followers;
does this person broadcast the same values as your company;
can your product and service be of interest to the blogger's existing audience;
what are the reviews of working with this influencer from businesses similar to yours.
If all the answers fit your business, start thinking about creative integration.
4) Which sellers on Amazon are considered average?
According to Amazon, the platform has more than 9.7 million sellers, but only about 200,000 make sales of more than $100,000. They are considered average sellers on the platform.
5) How to increase Amazon CTR?
A low CTR indicates that the ad does not seem attractive to potential buyers and does not motivate them to purchase the product. You need to optimize your keyword targeting, or you have problems with the quality of the listing itself. Or both problems at the same time!
Issues that negatively impact CTR on Amazon:
low basic image quality;
low quality of the title text;
small number of views;
low rating of views;
selected execution method (FBA or FBM);
selected pricing principle.
It is necessary to analyze each of the possible problems in order to change the situation.
6) What is the average cost per click (CPC) on Amazon?
Amazon PPC is an auction system in which your price can exceed the price of the nearest competitor by a fortune. Until 2020, the average price per click on Amazon Ads was $0.71, but already in 2021, this indicator was at the level of $0.89.
7) What is the average conversion rate on Amazon?
Середній CTR на Amazon Advertising – 0,41%.
8) What is Amazon's Average Cost of Sales (ACOS)?
ACOS is a metric that represents total advertising spend divided by total sales. A simple example: if ACOS is 25%, then a company spends $0.25 on advertising to get $1.00 in sales.
On average, ACOS at the level of 20-36% is considered normal.
9) What is ACOS for Beginners in Amazon PPC?
Amazon PPC beginners are advised to stay close to the overall average of 27.17%.
10) How to calculate your target ACOS?
ACOS, Advertising Cost of Sales, is the amount you spend on advertising for every dollar of revenue. Target ACOS is the ratio of advertising spend to target sales.
The calculation is based on the formula:
ACOS = total advertising spend / total sales.
Conclusion
It is important for advertisers to be aware of all the trends and processes in the world of marketing. At first glance, this is a difficult task, because the industry is developing incredibly fast.
However, there is a solution — keep your finger on the pulse of the latest statistics on the industries that interest you the most. Whether you're using SEO or content marketing, social media or video production, driving leads with advertising or improving organic returns, analyze the latest statistics in each category.
This will make it possible to make sure that marketing tactics remain relevant, and advertising will be able to reach even more potential customers and bring maximum conversions.