Did you know that according to Statista, the cost of banner advertising is expected to reach $52.7 million in 2020? At the same time, by 2024, the growth of investment in banner advertising is expected to reach 7.9%, and the total market volume will reach 71.5 million dollars. Yes, banner ads are popular and effective.
However, an overflow of possible formats can not only mislead but also inflict enormous losses of budget due to a lack of efficiency. So, 8 out of 10 marketers lose money due to, among other things, the wrong type of banner advertising. If the largest media advertising platform, Google, provides the opportunity to choose any of the graphic, static, and animated banners for placement on the Display Network, what is there to say about other sites? How does one balance the budget and get a high conversion? The right choice is between GIF, JPG, PNG, or HTML5!

GIF animation: how and where is to use best?
An animated GIF includes multiple images or "frames." Its key advantage is dynamism. If you take a banner and slow down the action, you will see a sequence of static images that change with certain effects.
When to use a GIF animation?
If a message is short, and the meaning is immediately clear
If you want to create dynamic ads quickly
If there are no people, animals, or objects in the images whose movement accuracy is necessary for display
If cross-browser and cross-platform compatibility is a must-have!
If there are no strict requirements for the width of the color palette

An example of GIF animation made with BannerBoo tools
Simplicity, clearness, and comparative dynamics of the advertising image are precisely the characteristics that will provide your animated GIF banner with attention. But there is one specific disadvantage of this format — the file size. If you have chosen an GIF animated banner and you want to deal with a larger file, look at our recommendations for GIF banner optimization — they will definitely help you find everything needed. Our GIF banner maker was created with the optimization of GIF files in mind. When creating an animated GIF banner, you can choose the final desired size and number of frames per second.
JPG banner is an unrivaled classics
JPG banner is a classic, high-quality image with a single advertising message. Its main advantage is 100% display on all platforms and devices. You will need either a unique photo or a designed image in high resolution and an active or even aggressive slogan that will convey meaning in just a couple of words.
When to use a JPG banner?
If file size is a key requirement in a banner ad campaign
If a message or product on the banner is clear and understandable without explanation
If just one image is so creative that it can really attract attention

An example of JPG banner made with BannerBoo tools
The ability to make and place a JPG banner for both the web and mobile networks quickly is the main advantage of this format. However, a compressed message and minimum of advertising information is its main disadvantage, although our designers successfully cope with it as well. Check out over 7000 of our JPG banner design templates and get inspired!
PNG banners — it's an available alternative to heavy GIFs
PNG banner is a graphic format of display advertising without animation support, which is characterized by excellent color, shadow rendering, high image accuracy, and conveying multilevel transparency perfectly.
When to use a PNG banner?
If high compression is required without a loss of quality with text and the image itself
If you want a smooth and clear display, especially if a banner has to contain a logo, badges, and labels in the web environment
If color correction is required when displayed on different screens to compensate color fluctuations

An example of PNG banner made with BannerBoo tools
Elegant color reproduction, and smooth lines are the main advantages of this format. A lack of dynamism and a large weight of images due to the range of colors is its key disadvantage. Looking for juicy, bright, and creative PNG images? Select the Clip-arts panel, where more than 1 million illustrations in high quality and unsurpassed color designs have been already posted.
HTML5 is a modern solution in banner ads
HTML5 is a dynamic banner format that allows you to see messages without distortions or interruptions during playback. It is HTML5 animations that are the most modern today, as they have an adaptability function: apart from the created size, they will look proportionate in both mobile and desktop environments.
When to use an HTML5 banner?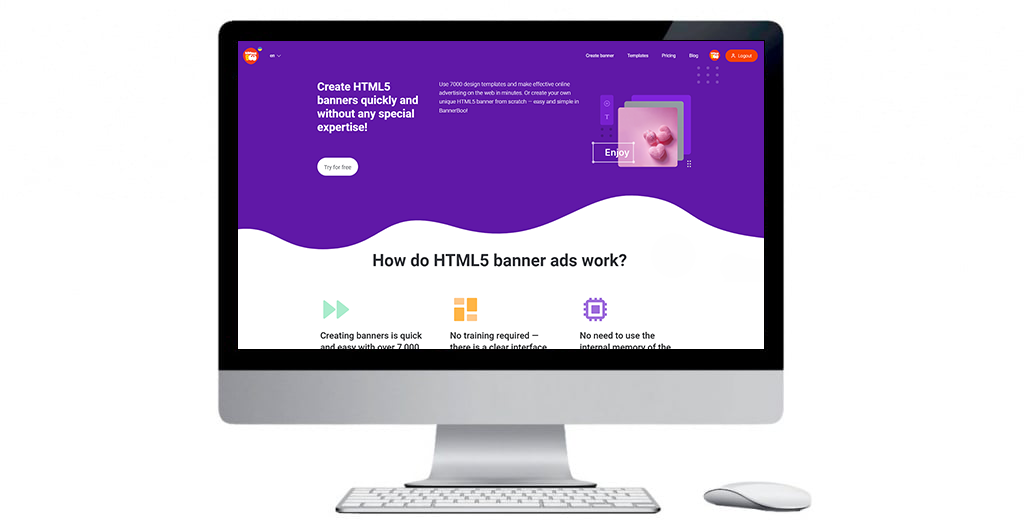 If you want to make a smooth and clear animation, including images of people or animals' movements
If there is a clear scenario
If you need to add interactive elements to advertising: buttons, map, timers, etc
If you want to make HTML5 animations with a smaller file size
The main advantage of animated HTML5 advertising is high quality and accurate display of all features, even the smallest details, on any device, which is especially true for the Google Display Network. The main disadvantage is incorrect display or inability to advertise in general on outdated but popular sites. Additionally, in the BannerBoo banner maker, you can easily make adaptive banners without programming knowledge — just check the box when saving the file.
Each type of banner has its own advantages and disadvantages. But BannerBoo has no drawbacks, because we offer the ability to create display ads of any needed format you want: simple, easy, and without the knowledge of complex software.
Click now and make an advertisement that will show a really high conversion due to creativity and accessibility!