According to Visually, the media (banner) advertising increases the website traffic of the target resource by 300%. What is a GIF animated banner, what is its value for Internet marketing, and how can you make it in minutes without designer skills?
What is a GIF banner?
A GIF banner is a static or animated image with illustrations, text materials, and various graphic elements that, as a result of being displayed in the established order, make a dynamic picture with a certain message.
Nowadays, GIF banners are actively being used in the Google Display Network and are actively being introduced in social networks. Every day we see GIFs in our favorite instant messengers, emails and, of course, on websites.
How does a GIF banner work?
In simple terms, an animated GIF banner is a series of simple images that replace each other in a certain sequence with certain effects. And the more there are such images, the longer a GIF is. At the same time, it is impossible to make it endlessly long like a film. All resources that GIF banners accept have clear restrictions on the weight of such files and the speed of their change and therefore on the number of "built-in" images. GIF animated banners can be either cycled, with circular playback or finite, stopping after one or more playbacks.
Directly for advertising, not entertaining purposes, GIF banners are used for:
Brand promotion and increasing audience recognition. The more often a client sees a logo or an offer, the more likely they will give preference to this particular brand when choosing a service or product of the desired category.
PR promotions. Discounts, new product releases, advertising campaigns, or challenges – all with the help of GIF animations. In just a few seconds, a reader, without realizing it, gets involved in the sales funnel.
Presentations. GIF banners, especially in advertising in social networks, actively introduce such market giants as Chanel, Mitsubishi, Coca-Cola, and many others. It is done in order to demonstrate a new product in all its glory.
Actions stimulation. Stubs on websites in the form of GIF animated banners, interactive buttons, instructions — all these can be implemented quickly and within one file.
And these are only key areas because each company develops its own algorithm for influencing the viewer, in which online animation takes a special place.
Why exactly banner advert?
About 85% of the world's population are people with visual perception and thinking. According to the research of the Massachusetts Institute of Technology, a person can process image information in 13 milliseconds, while text processes 3.23 times slower. At the same time, a person can remember 25% of visual information and 15% of audio information (by ear). That is why display advertising is so effective. Moreover, if you make several images within one information flow, such as online animation, the level of perception can be increased several times.
So, according to PromoDo, banner advertising takes 5th place among all digital tools in the world. And in the Commonwealth of Independent States countries — 3rd place among interactive advertising. This method is used by 68% of marketing experts. So one does not have to doubt the effectiveness of such a visual way of engaging the audience. So, it's worth going into it deeper and applying it in your practice.
How to make a GIF animated banner without programming skills?
If it seems to you that such a universal and useful promotional tool is available only to cool designers and programmers, you are mistaken. The technology has advanced so much that now long effect codes for making effects, playback elements, and millions of clip-arts can easily fit within the usual interface, not more complicated than the Microsoft Paint program we've known since childhood.
In BannerBoo you will find the best quality images, the coolest effects, and recommendations on how to make a GIF online in just a few clicks. At the same time, the designer has already taken into account all the requirements of advertising platforms of Google, Sizmek, YouTube, and social networks, so you do not need to go from site to site in search of a grain of useful information.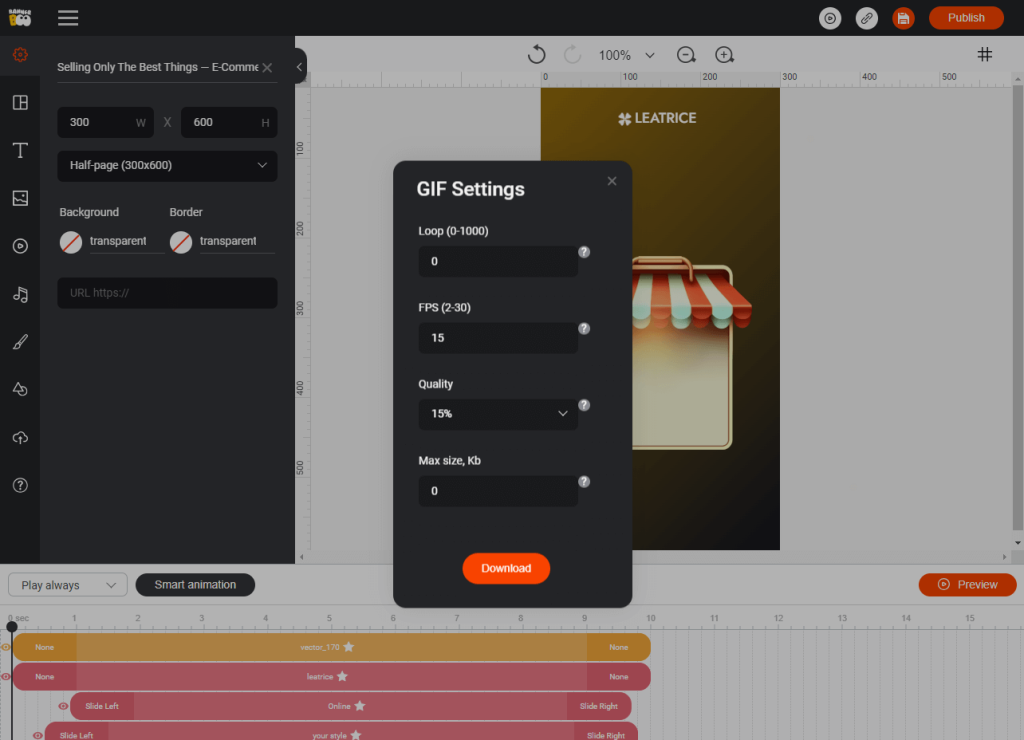 Follow a simple registration process so that all options of the created animations may be stored and available at any time in your user account.
Select the desired banner size according to the website for its placement. All sizes are already in the top panel.
Use drag-and-drop to place images from your computer, or just choose suitable clip-arts in our gallery with 1 million variations.
Add a text, calls to action, effects — everything that will make your animation more dynamic and extraordinary.
View the result, delete or add visual elements, adjust speed and colors — everything is easy and intuitively clear.
Save your personal banners as templates on our cloud and work with them at any convenient time via your personal account.
Everything is simple and available.
If you are just starting to advance with the help of GIF banners, in our catalog there are more than 7000 banner templates for different business areas; all you need to do is change the text or color.
Create and advance online with BannerBoo. Try to make your first animation right away, because it is easy!