Platforms for effective management of creative processes in the company are becoming a must-have for businesses that aim to scale and deeply personalize any communication or brand manifestation. Thanks to automated services, marketers get the right set of tools that allow them to adapt, test and optimize creatives in their advertising and social campaigns
1. Introduction
Contemporary businesses face numerous challenges and tasks demanding efficient solutions. Among them is the continuous creation of design for advertising, social networks, sites and other resources. To ensure this effort yields optimal results, every representation of the brand must align with the specific needs and objectives of distinct segments within the target audience.
The more diverse your customer base, the better they should be segmented. And start creating a design, which will be clear and relevant to each category of potential buyers, or even to an individual person. Now, a new question emerges: how can you effectively manage this process? How can you optimize all these processes quickly, efficiently, and remotely?
CMP is responsible for solving this task – a creative management platform that creates, manages and distributes any visual components. In addition, it has integration with advertising networks, monitors the effectiveness and efficiency of each ad. And all this is in one service, to which the entire creative team has access.
This task is addressed by CMP – a Creative Management Platform that handles the creation, management, and distribution of all visual components. Additionally, it integrates with advertising networks, monitors the effectiveness of each ad, and provides access to the entire creative team, all within a single service.
We will talk in more detail about the importance of a creative management platform, the main functionality and factors that are important to consider when choosing a convenient service.
What is "Creative management platform (CMR)"?
In essence, CMP is a software solution that streamlines the content development and generation process, enabling effortless management with just a few clicks. This convenient service allows for the creation of various designs, whether it's for social media posts, advertising platforms, website sliders, galleries, or numerous other resources. Each layout is easily adaptable for different channels and devices, making the entire process straightforward and user-friendly.
Creative management platform provides a complete set of tools and functions that optimize the workflow creation design and placing it on the necessary resources.
In order for each client could work effectively, usually there are:
tools for creation of layouts from scratch;

libraries of pre-developed special templates;

stock image galleries for work;

graphic elements, stickers, backgrounds for creation designs
All functionality usually works in real time.
One of the standout features of CMP is its multi-functionality. You no longer need to design in one place, upload it to advertising networks or social platforms separately, and then analyze its effectiveness on a third-party resource. Everything can now be accomplished in one place, accessible from any device.
The concept of using a Creative Management Platform revolves around sophisticated software designed to streamline the creative process of developing and placing advertisements.
The importance of creative management platforms in the company's business processes
As advertising platforms continually evolve, advertisers must actively utilize them to engage with their target audience effectively. Marketers are tasked with the swift and efficient creation of extensive graphic content, tailored to the digital advertising requirements, to effectively reach various segments within their target audience.
CMPs solve the problem of content management by allowing the whole team (marketer, designer, SMM specialist, copywriter, project manager, business owner) to participate in the creative process at the right stage. All opportunities of graphic editors, posting services and advertising networks, united for effective work in one environment.
Furthermore, Creative Management Platforms (CMPs) save both time and resources by simplifying the advertising creation process. The user-friendly interface provides the option to use pre-designed templates suitable for various types of businesses, making it accessible even for individuals with no coding or design experience. With BannerBoo's functionality, you can create your first advertising layout in just a few clicks.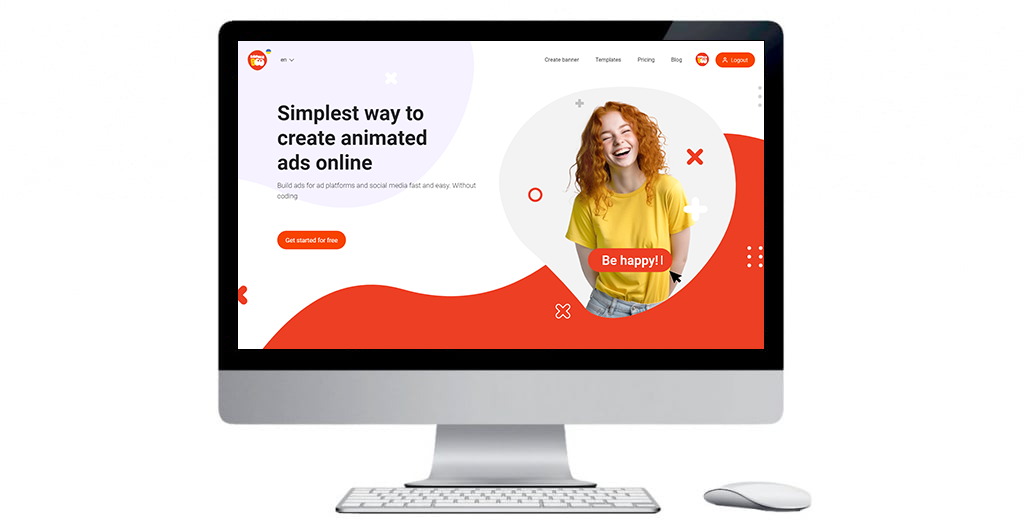 CMP enhances collaboration within the marketing team and between departments. Team members can edit layouts in real-time, offer feedback, and even collaborate on advertising campaign launches simultaneously. This streamlines communication, reduces errors, and ensures that future designs align precisely with developed marketing strategies.
With CMP functionality, businesses can rapidly create, edit, and publish ads, enabling them to promptly respond to design trends and target audience requests in near real-time, providing a significant competitive advantage.
2. Understanding the specifics of using creative management platforms (CMP)
To decide whether your business should utilize a creative management platform, it's essential to understand the definitions and then make a more informed decision about whether the platform is needed at this stage, or if your business has not yet reached a point where management processes should be elevated to a new level.
Defining a creative management platform
A Creative Management Platform (CMP) is a software platform that empowers companies and teams to oversee the creation, design, and publication of content. This comprehensive solution handles tasks like development, production, and the distribution of graphic materials across various channels and devices.
CMP can create different types of advertising formats: banners, videos and ads for advertising. Not only that, the service usually includes a library of templates, which are easy to adapt to your own business needs simply by dragging and dropping elements and editing backgrounds and texts.
CMP is especially beneficial for companies seeking to execute large-scale digital advertising campaigns across multiple platforms. Its primary objective is to ensure effective management of the creative process in campaign execution.
Creative Management Platform (CMP) Components
When it comes to the functionality of creative management platforms (CMP), several key components can be identified. They work in synergy to optimize the process of creating a design and ensure effective management of content generation.
Of course, the functionality of the CMP depends on the specific resource, but it often includes:
tools for design: library of templates, editing with simple drag-and-drop elements, functionality for designing banners from scratch, writing texts, creation of images and other creative elements;

collaboration features: team members can work together in real time on advertising campaigns or leave any feedback on the created layouts;

support for various formats: banners, videos, stories, advertisement in social networks, etc., which can be adapted to specific platforms and devices;




library of special templates: users have the ability to store and manage any assets (images, logos, videos and other graphic elements);

analytics: CMP provides performance tracking and analytics (click rate, conversion rate, interaction data);

integration capabilities: CMP communicates with advertising solutions to streamline the ad management process and facilitate the transfer of designs between different platforms;

posting on social and advertising networks: Google Ads, Facebook Ads or programmatic advertising networks are available in a few clicks, saving time and effort.
All these components collaborate to synergize the processes of creating and editing advertisements, enhancing integration possibilities and facilitating the development of new advertising campaigns.
The importance of having a creative management platform for business
Creative Management Platform (CMP) solves a number of problems in the business processes of the development of advertisements and the design of social networks:
optimizes creation advertising
CMP enables marketers and creative teams to effortlessly create, customize, and publish graphic ads without the need for any coding or design experience.
improves cooperation between departments
CMP allows all team members to work on ads at the same time. This ensures consistency of messaging and branding across any design, improving communication, collaboration and reducing errors. CMPs enable the reuse of digital assets for different campaigns.
optimizes work based on data
Performance tracking and reporting features enable businesses to measure ad effectiveness, make data-driven decisions, and optimize advertising efforts, resulting in improved targeting, higher ad performance, and increased ROI.
provides flexibility and adaptability
Adapting to the evolving market dynamics and customer interests is crucial for businesses. CMP empowers companies to dynamically adjust their advertising in real time to align with the preferences of their target audience.
effectively manages advertising
CMP has integration with advertising solutions, which seamlessly transfer design and other elements between different platforms.
guarantees economic benefit
Investing in CMP provides cost savings in the long run. By simplifying ad creation processes, improving communication, ensuring effective ad management, companies reduce time and resources spent on development.
Therefore, the need for a single business solution is difficult to overestimate, as a simple platform contains the entire list of functionally important elements.
3. Advantages of creative management platforms
A creative management platform (CMP) helps businesses manage and optimize creative processes that involve a large team of people. Each participant will have access to the functionality, will be able to make their own adjustments, or even work in real time on the same advertising layout.
Marketers and business owners highlight the following advantages:
Ease of design development
CMP provides the most simplified toolkit that performs all the same tasks as graphic editors, but in a more understandable format. For example, in BannerBoo every user can create an effective advertising layout from scratch or by editing special templates.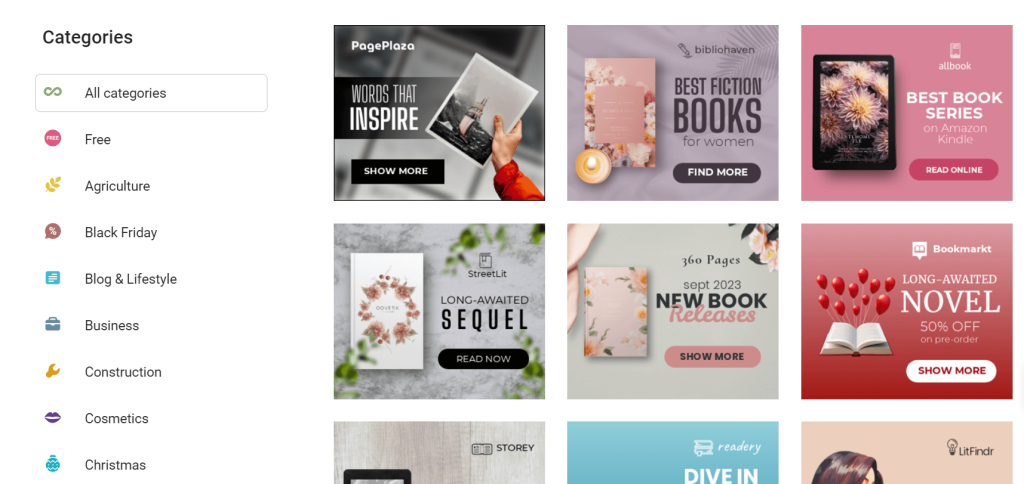 Effective team work
By bringing together teams that are often located in different countries, CMP allows you to work simultaneously on the development of graphic solutions. This ensures active collaboration, quick response and productive communication.
Adaptability of advertising formats
You can create any advertising format in CMP. In addition, the interface of the platform is clear and provides the opportunity to use various templates and tools. Thanks to the coverage of various formats, the business will be able to communicate better with the target audience or its certain segments. And create advertising that will be remembered.
Opportunities of optimization
If you had access to real-time analytics for your ongoing ad campaigns, would it impact your future design choices? Absolutely! This aligns perfectly with marketing principles: analyze the results obtained and make necessary adjustments for upcoming advertising campaigns. CMP enables you to gather essential data, providing insights into ad performance, and empowers you to make informed decisions based on actual metrics.
Management brand assets
For added convenience, you can upload various elements to creative management platforms, including brand photos, videos, logos, graphic elements, characters, animations, and more. This facilitates reusability and streamlines the design coordination with the company's branding.
Workflow integration
CMP integrates with advertising solutions and platforms, ensuring uninterrupted data transfer in both directions. In this way, you save time and reduce efforts to perform one process.
Economic efficiency
CMPs are designed to facilitate workflows. But, next to the standard optimization, the company also gets additional cost savings in the long run. After all, the use of SMP:
reduces time and resources for the development of graphic solutions;

minimizes the number of errors;

increases the profitability of advertising investments.
How do creative management platforms help businesses?
Effective management processes are a priority for every company. As the creative department expands and handles a constant influx of clients, managing it can become increasingly challenging. Creative Management Platforms (CMPs) provide valuable opportunities to enhance workflow efficiency, analyze collaborative features within teams, and streamline content creation.
Let's consider each aspect in more detail:
Optimization of creative processes
Every tool in the BannerBoo service is intuitive and simple, which allows you to quickly create advertising layouts, stories, videos. In addition, the system has a huge library of templates created by professional designers for any business. This functionality makes it possible to generate exciting ads faster and more efficiently, even if the team does not yet have a lot of design experience.
With the help of CMP capabilities, marketers will be able to conduct A/B testing, experiment with various formats and test hypotheses of target audience motivation. Analytics provide insight into the effectiveness of strategies and opportunities for improvement, based on real data.
Improved team collaboration
With CMP, the problems of asynchronous communication in your business will disappear. Each team member can edit, comment or leave feedback directly in real time. Long chains of letters or special chats are no longer needed because you can leave your opinion right on the layout.
A CMP can also incorporate a role structure within the marketing team to grant different levels of access and authority. This fosters improved communication, expedites decision-making, and enhances overall efficiency, ultimately contributing to successful advertising campaigns.
Effective project management
The platform acts as a center of interaction, filters schedules, stages and tasks in order of priority. CMP allows you to save a history of versions, so you can always go back for changes. With such a system, the risk of errors, inaccuracies and failures is almost zero.
Indeed, creative management platforms are designed to harness the full potential of teamwork and transform collaborative efforts into a scalable and efficient engine.
4. Features that you should pay attention to when choosing a CMP platform
Which platform to choose?
This issue is important for every company and depends on the goals and objectives of the project. Pay attention to the functionality that will allow the entire team to work effectively and efficiently.
Here are some key features to look for when choosing a CMP:
The platform should offer comprehensive functionality, akin to popular graphic editors, providing ample opportunities for creating ads, layouts for publications, stories, and videos. Additionally, it's crucial that the workflow remains user-friendly, even for those with no prior experience in designing ad layouts. The presence of templates is a significant advantage (for example, BannerBoo offers more than 12,000 templates to cater to the diverse needs of businesses).
Optimization based on the data
Understanding design effectiveness can only be based on real data. Look for functionality with A/B testing, performance analytics, and reporting. Then you will be able to understand in more detail the variability of ads that actually bring income and potential customers.
Functions of team cooperation
CMP should contain:
editing in real time;
opportunities to comment;
sorting and statuses for projects;
access to versions and history of changes;
project structure, roles and responsibility zoning for different team members.

This is an important feature for effective team coordination.
Wide opportunities for project management
For more effective management of creative processes, you will need:
schedules and deadlines of tasks;
phasing and task management capabilities;
functional planning and tracking of creative projects
Having all these tools on a single platform will greatly streamline the management and supervision of marketing task execution.
Integration with advertising platforms
At a minimum, the CMP should integrate with platforms like Google Ads, Facebook Ads, YouTube, LinkedIn, etc. This enables seamless migration and direct ad campaign management from the platform, saving both time and resources.
Opportunities for branding designs
Your advertisements should align with the brand's style and character. Therefore, it's crucial for the CMP to offer functionality for uploading custom fonts, graphic elements, icons, and the creation of individual color palettes or template forms for ads. This ensures the maintenance of a consistent brand style and visual identity.
Support and training
Focus on technical support communication and team training opportunities. It is better to choose options where there is complex interaction with customers, all necessary documentation, developed instructions and training materials are available. This will help the team quickly adapt to using the new platform.
5. Types of creative project management platforms
Creative management platforms(CMPs), depending on their functionality, are divided into:
CMP for design and production serves as a space for content generation and creation by creative teams.

CMP dynamic creative optimization (quickly create various formats for advertising platforms to modify content and make ads more personalized);

CMP for collaboration (manage the work of creative teams and communication between members);

CMP for analysis of advertising effectiveness (A/B testing, data tracking, information visualization tools);

cross-channel CMP (combines advertising channels and a platform so that the marketer creates, optimizes and launches advertising in the necessary channels from one service);

video and multimedia CMPs (specially created to manage video ads, interactive and multimedia formats).
Overview of different types of creative management platforms
They are divided into:
Cloud platforms
CMPs are accessible through web browsers, offering the convenience of not requiring local software installation and maintenance. Cloud-based CMPs provide remote access, allowing creative teams to work from anywhere in the world. These platforms often feature subscription options, ensuring scalability, flexibility, and easy updates.
Advantages: adaptability and remote accessibility.
Local platforms
They are hosted directly on their own servers or data centers and guarantee control and security. On-premise CMPs require investment in hardware, software and maintenance. Most often, these platforms are used by large enterprises that have the IT infrastructure to support them.
Advantages: high level of data control and security.
Integrated platforms
It is a set of integrated tools for creation design along with marketing capabilities: management of advertising campaigns, analytics and even a CRM system.
Advantages: offer comprehensive decision for the creative department.
It is important for you to realistically assess your requirements, budget and capabilities to choose the right type of CMP.
6. Choosing the appropriate creative management platform
It is important to approach this issue with all responsibility. After all, this service aims to optimize creative processes, and not add additional work to the team if the functionality does not meet your brand's marketing goals.
What should be considered when choosing a CMP?
features and opportunities of the platform (must meet your goals and cover all needs);

ease of use (for example, in BannerBoo, each element is thought out and has its place, which significantly reduces the time for training the team);

scale and prospects for functional expansion (flexibility in branding tasks, updating templates, additional integrations);

possibility of teamwork (comments, notifications and work communication should meet the needs of the team);

integration with advertising networks (will it be easy and simple to connect all social and advertising networks of your brand to the platform);

security and privacy (how the platform processes and protects data about your projects, team and advertising campaigns);

price (analyze all payments, subscriptions, licensing costs and additional fees);

reviews and reputation of the company (real recommendations will help you learn all the pros and cons of cooperation).
To choose the ideal option, it is important to analyze these factors in detail and compare them with the tasks of the marketing strategy and the capabilities of your company.
7. Algorithm for successful implementation of the creative management platform
The success of using the platform depends on how easy and simple it is for the team to collaborate with it. We at BannerBoo recommend the following algorithm for working with the new platform:
Define clear objectives for CMP implementation
You need to understand the specific tasks and needs that you need to solve to make the team's work even more effective. Ideally, you should have measurable goals and benchmarks to track progress.

Involve key players in the team to create strategy
Your creative team possesses the deepest understanding of the creative development process and should actively participate in the platform selection and utilization process. Be open to their ideas, opinions, feedback, and suggestions to fine-tune the platform effectively.

Conduct training
Analyze all documentation, training videos, and instructions to ensure the marketing team acquires the maximum knowledge. Begin with a trial project, test its capabilities, identify any issues or questions, and make necessary adjustments. Subsequently, transition all work projects to the CMP.

Create a workflow template
Implement a standardized project structure, file organization, naming conventions, and role assignments. This will further simplify project management and analysis.

Stimulate communication in CMP
Encourage the use of the platform to work on the project in real time, leave comments, messages and feedback.

Observe and evaluate the convenience of work
Track key performance indicators (KPIs) and metrics to identify and measure the impact of CMP on work processes, team communication and management projects.

Stay in touch with the team
Take into consideration touchpoints with the team, address their preferences, and maintain continuous interaction throughout the project. Regularly share updates on CMP implementation to underscore its value and convenience.
A simple algorithm will help you quickly and efficiently implement a new platform for your business.
8. Conclusion
As the global number of companies continues to grow at a rapid pace, advertising is also evolving. The swift and timely delivery of advertisements featuring relevant content to potential buyers is of paramount importance. Static, unchanging ads are no longer effective; they must be personalized, omnichannel, and adaptable for display across various devices. The demand for generating copious amounts of content necessitates expertise and supplementary services for effectively managing creative processes.
Creative management platforms – an important element for both internal communication and external manifestations of the brand. The use of platforms helps to scale advertising campaigns quickly without delays and problematic situations.
CMPs provide a number of benefits for businesses, including:
a simple process for creating advertisements;
extended possibilities of teamwork and communication;
flexibility in creating various formats of advertisements;
optimization based on analytics and performance data;
effective management of processes, their automation and economic efficiency.
Just one platform will help businesses become more resilient to a dynamic and changing business environment.
Before choosing a specific CMP, consider a number of factors, including:
determining the marketing needs of your business;

choosing a system with an intuitive interface;

checking whether the system has the necessary functionality to create a design;

reviewing the possibilities of integration with the necessary advertising platforms;

confidence in the professionalism and quality of the support service.
Companies can choose a variety of platforms that will be effective in these specific situations to effectively manage their creative processes, optimize teamwork, and make brand promotions effective, personalized, and scalable.
Frequently asked questions
What is a creative management platform(CMP)?
Creative management platform (CMP) is a tool that allows companies to create content (banners, videos, graphic design, etc.) and effectively interact with the team using one centralized service.
What is the role of CMP in a marketing company?
CMP is an important element of marketing companies. It helps to increase the effectiveness of advertising campaigns, reduces time on creation and publication of ads and improves content quality. As a result, you can reach even more potential customers and increase company revenues.
Why management in the creative process?
The creative process, like any other process in the company, should be logical, structured and measurable. It's important to control team actions, plan deadlines, budgets and communication with creative materials.
Name three 3 important factors for creative project management?
There are much more of them than three, but the most important ones can still be singled out:
effective communication between project participants;

relevant and accurate assessment of the process and its terms;

providing an efficient work environment with ideal conditions for creativity and management.
What is the role of CMP in digital marketing?
A Creative Management Platform (CMP) plays a vital role in digital marketing by enabling businesses to create ads across multiple networks. CMPs also facilitate the collection and analysis of data regarding the effectiveness of advertising campaigns and their alignment with the needs of the target audience, thus enabling optimization and personalization of marketing activities.