Creating advertising banners is a creative and multistep process. Save time and resources creating personalized banners with banner templates! Working with ready-made templates is a pleasure because they are created by professional designers who have accumulated experience working with thousands of clients and considered literally every detail. All you have to do is adapt the template to the marketing and advertising goals of your business. It's simple!
How often do you create website banners, social media layouts, or YouTube channel covers? At BannerBoo, we know exactly how to do this in a few simple clicks. By using our platform, business owners, marketers, and SMM specialists can save time and create effective advertisements that meet marketing objectives, target audience characteristics, and performance indicators without having to rely on contractors.
Using templates, you can make advertisements quickly and efficiently or make an individual design from scratch, considering all the needs and specifics of the business.
Banner ad templates — what are they?
The first thing a website or social media visitor sees is a banner that reflects the company's activities and shows the main value proposition. So, it should be informative, visible, exciting and emotionally charged.
Wondering how to create banners and slides for advertisements on your website? If you have a designer on your team, consider yourself lucky as they can take care of the technical aspects. But if you're the one in charge of the design, here are the steps you can follow:
Look for the perfect image or photo that aligns with your brand and message.

Edit the image in Photoshop or any other graphic editor of your choice.

Add relevant text and graphic elements to the banner to make it more appealing.

Export the finished design and upload it to your desired advertising or social media platform.
It's not that easy. The process is complex, time-consuming and related to many factors.
Instead, there is another way: take a ready-made banner or ad idea and adapt it to the marketing objectives of your business. Much easier, isn't it? This ready-made design, which allows you to edit any element and make adjustments, is called a template.
Where to get banner templates?
There are services where you can download templates for further work with them. In addition, you can also find interesting ideas for implementation on the Google network. But we still recommend using banner makers because they allow you to work with ready-made designs adapted to any business industry.
The main feature of online banner makers is functionality. That is, the easier and simpler it is to work with the layout, the faster the tasks will be completed. The BannerBoo banner maker allows even people without design skills to create professional advertising banners in just a few clicks.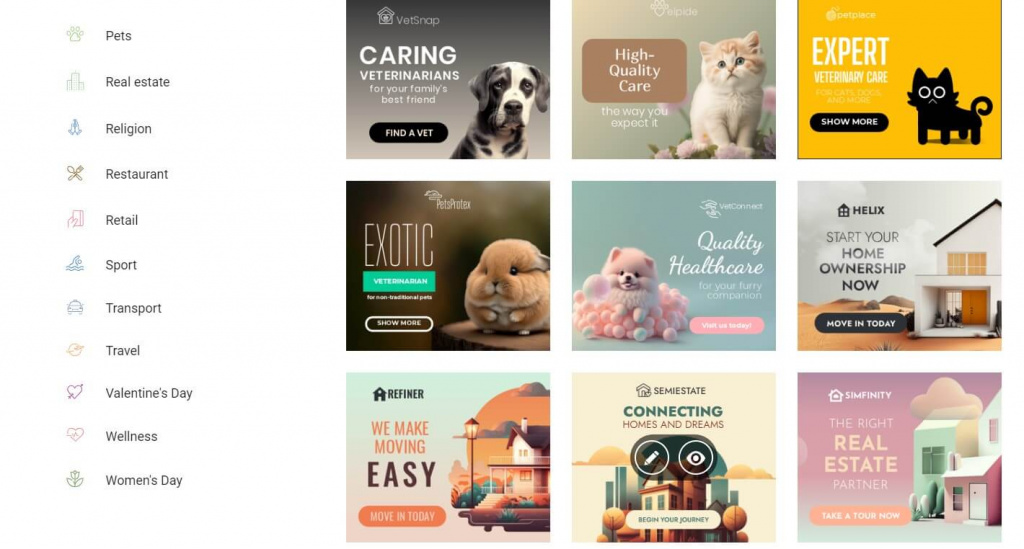 BannerBoo, an online banner builder for business promotion, has over 12,000 ready-made templates available. What makes them valuable? Their practicality and the ability to achieve high-performance indicators. The service's functionality has been refined by a team of professional designers with diverse experience working with companies of various sizes and brand characteristics. Don't waste time testing ads, choose an effective combination of images, texts and animations right away.
Facebook
Need to create a business page cover or post image quickly? No problem!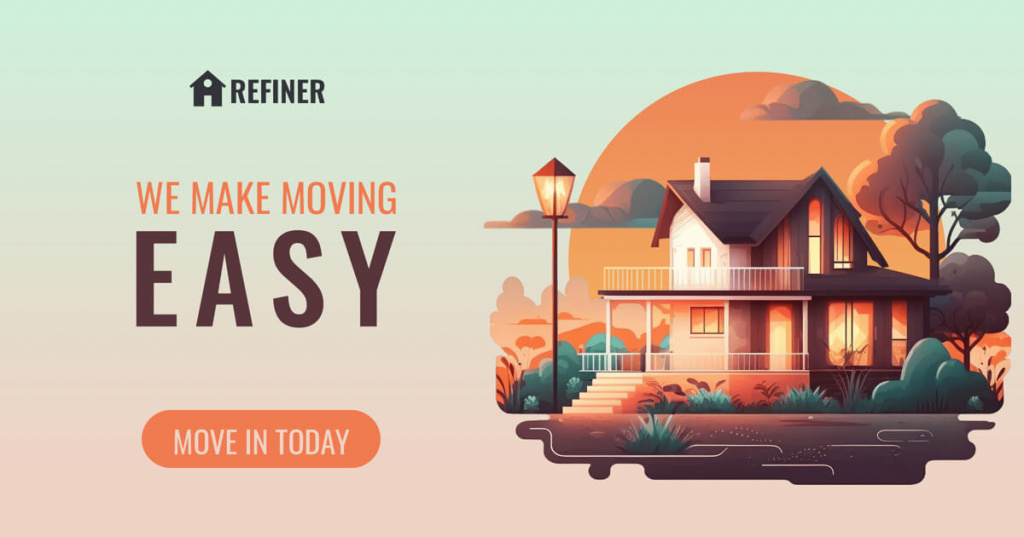 Captivating visuals and high-quality content are two factors that make a brand's presence in social networks high-quality and in demand. However, consistently generating new images and advertising layouts can be a difficult task, as it often requires the involvement of a designer or content creator. Fortunately, the BannerBoo online banner builder offers a quick and efficient solution to all of your graphic content needs.
Our Facebook templates are created by experienced designers who have worked with thousands of clients, taking into account the nuances of color and text combinations to produce captivating ad layouts for any industry.
To create a Facebook cover, ad or post template, select one of the ready-made designs and click edit to open it in the editor. Change the colors, upload your own photos, use original graphics and fonts – anything to adapt the template to your brand's marketing needs.
Instagram
Instagram business page templates for any design style!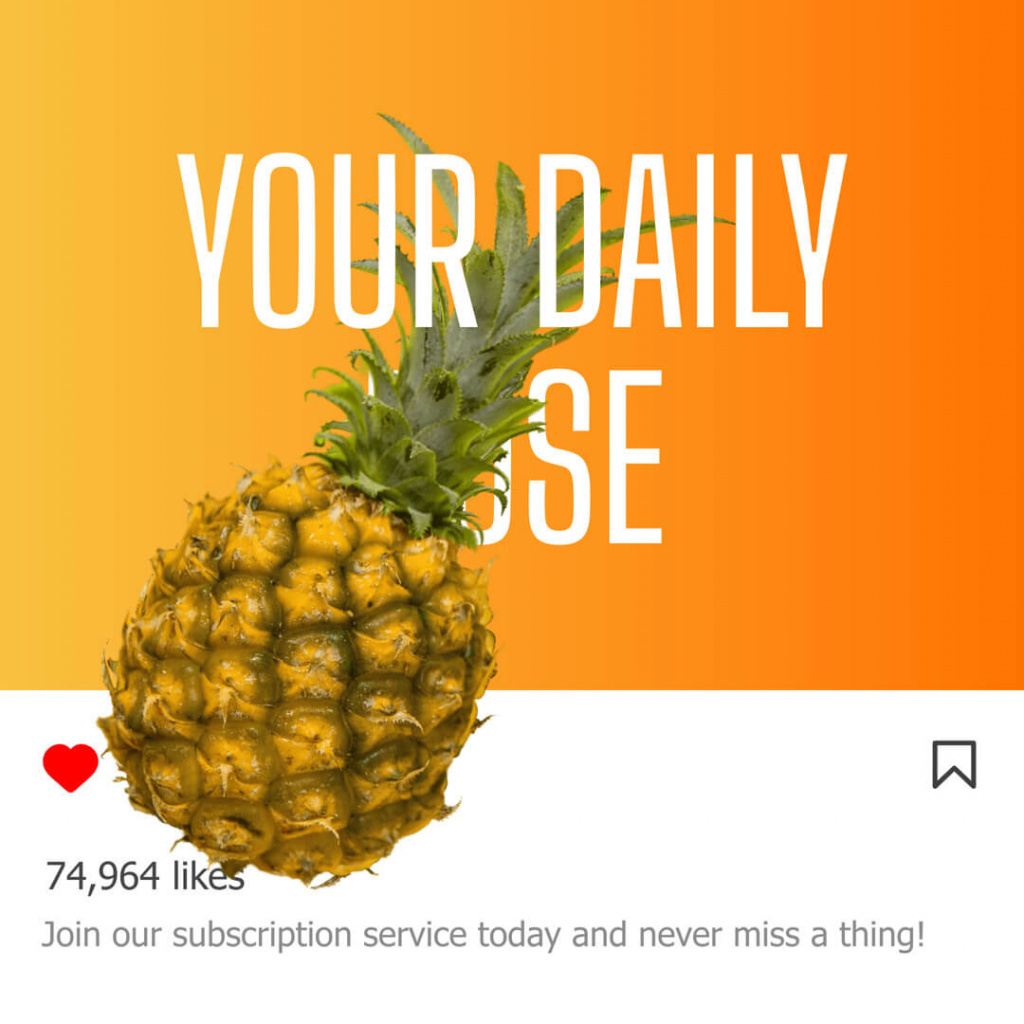 Do you have a social media profile? Create quality and professional publications and attract the attention of potential buyers. Layouts are necessary for various purposes: to tell about the upcoming sale, to show the history of the creation of the brand, to reveal the secrets of product creation, to show the product in action. BannerBoo templates for Instagram will help you do it in a stylish and professional way. We have curated an extensive library, with a thoughtfully selected color scheme and well-crafted texts, to make it effortless for you to find the most fitting template and customize it according to your business requirements.
No magic — just choose the design you want and open it in the editor, where you can make any changes, adjust animations, choose fonts and corporate colors. Anything your brand needs.
Choose templates for Instagram
YouTube
Create a bright and exciting cover for your YouTube channel!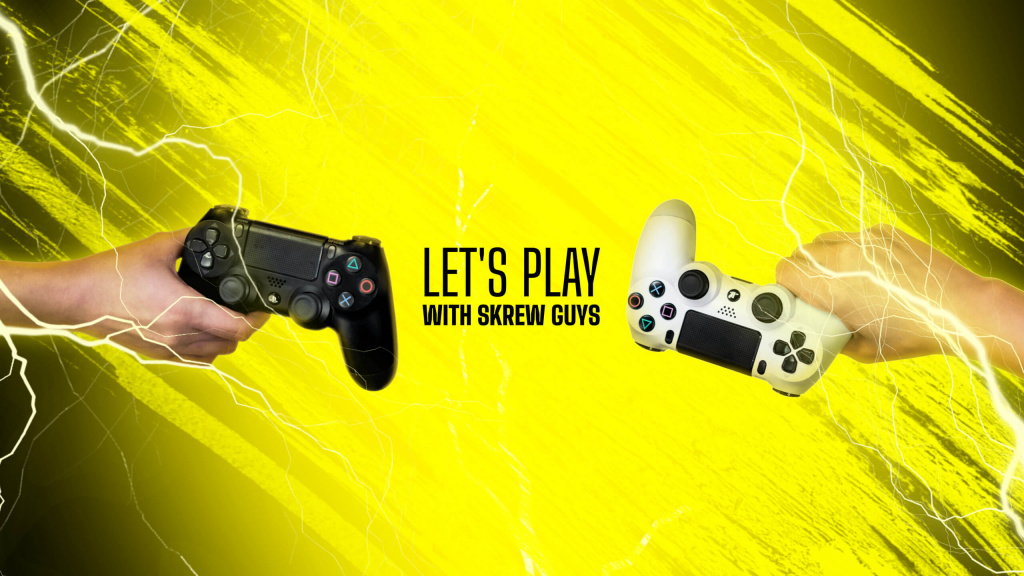 The cover is the first thing a profile visitor sees. Make sure it reflects the style and character of your blog and encourages subscriptions.
Every YouTube channel design templates are created by a team of professional designers and are available to each of you. We have created a whole collection of layouts so that each brand can choose the most suitable option. To make it easier for you to navigate among our 12,000+ template options, we have grouped them by different tags for your convenience.
Have you selected a design? Great! Open it in the editor and change any element: images, colors, fonts or graphics. When you're done, just save your YouTube cover and start working on your next blog video.
Where to get Google Ads banner templates?
If you've ever run a display ad, you know how daunting it can be to prepare the ads. That's because the Google Ads network has a vast array of banners to ensure your ad displays properly on different devices and in most placements on partner sites. But we've solved this problem once and for all. With BannerBoo's templates for media networks, you can optimize banners for different formats in just a couple of clicks.
Google Ads Dimensions
Design is key. But display ad size matters too!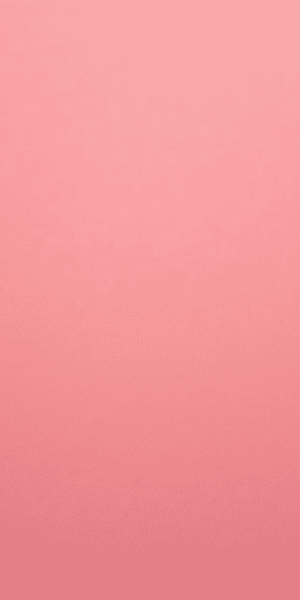 Display ads should be visually appealing, with well-chosen text, the right fonts that are easy to read on a variety of displays, and the right mix of colors, graphics, and animations. This is a great way to build brand awareness, especially in remarketing strategies and dealing with non-purchased visitors to your site.
You no longer need to worry about the amount of work when preparing a new advertising campaign. With BannerBoo, creating an ad is so easy and fast that you can change it at least every week! Simply select the desired size (or set unique parameters) and adapt the banner to your brand's marketing goals.
Choose a template for media advertising
Google Ads HTML5 and AMPHTML templates
Want to create professional responsive banners? HTML5 and AMPHTML format is an ideal option!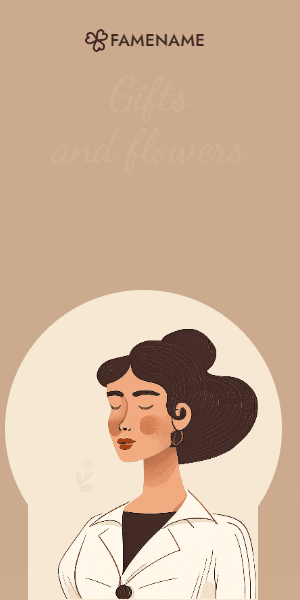 Are you underestimating your ad-making skills? Break free from stereotypes with BannerBoo! Every template you'll find in our collection can be saved in HTML5 and AMPHTML formats, specifically designed for display ad networks. Our specialists have created templates in a suitable HTML environment, which you can easily edit visually. As for the coding, leave it to us. Just choose the design you like, customize it, and place it on Google Ads with a few clicks. Your ads will be lightweight, responsive, correctly cropped, and will fit most device display sizes.
Select HTML5 and AMPHTML format template
Where to get HD video banner ad templates?
In today's world, video content reigns supreme. Don't miss the opportunity to ride the wave of this trending format and create multiple professional publications. To save time and resources, video templates can be used for a variety of purposes. Videos can be uploaded to various platforms:
in social networks (Instagram, Facebook, TikTok and so on);

to own sites and other resources;

on the Landing Page and target pages;

on YouTube.
BannerBoo video templates cover a variety of topics to meet the widest range of customer requests. Everyone will be able to find a video solution that meets the needs and objectives of the brand. After all, it doesn't matter where your potential customers are — video will be more interesting to each of them than a static image or text.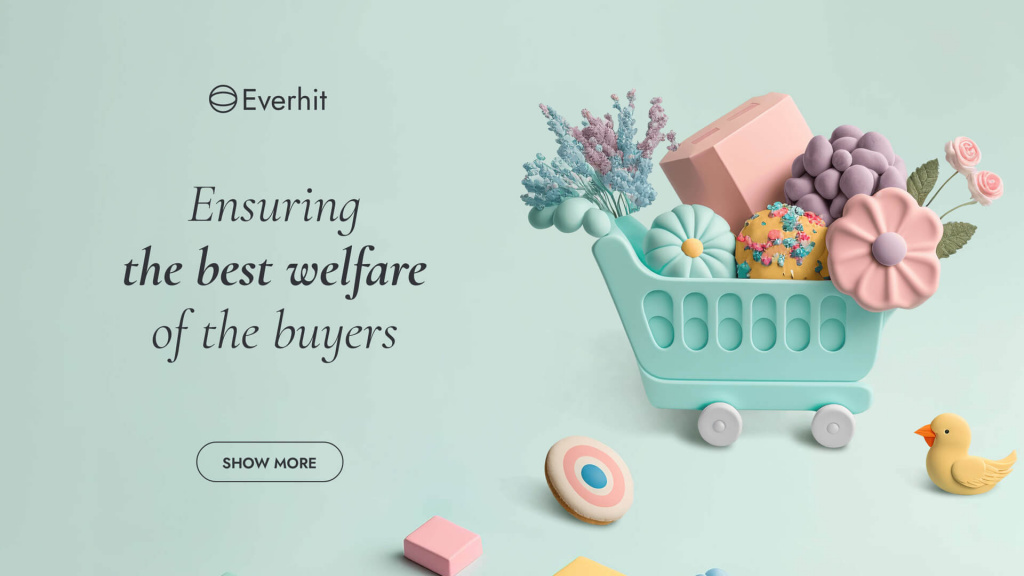 In order not to waste a huge resource for creating personalized videos, choose templates. You no longer need professional software, all functionality is available in the BannerBoo editor. See for yourself how easy the process of creating video content in HD can be.
How to edit banner templates?
It's no secret that our templates are designed to make life easier for business owners, marketers, and SMM professionals without design skills. But if you're still not convinced that creating stunning visuals is a breeze with BannerBoo, our step-by-step algorithm will definitely change your mind.
To create an effective website banner, advertisement, or post layout, simply choose a template that suits your needs and customize it using our intuitive and user-friendly editor. It's that easy!
1. Replace your logo
What is the first step to personalizing a banner? That's right, logo replacement! Moreover, everything is intuitive: choose the tab where the image is placed and upload your own file. If the size of your image is too large, you can simply reduce it by dragging the frames.
Important: Make sure that the logo is not deformed by your resizing manipulations.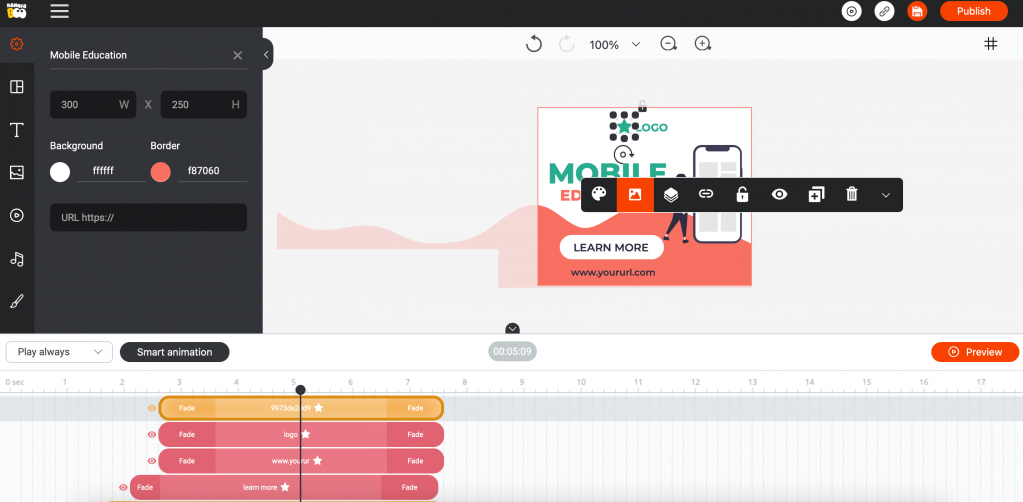 2. Replace the background image
Have a more relevant background image? Replace it easily and simply in a couple of clicks (or just by dragging it to the workspace)! You can choose any stock image from the BannerBoo collection, or upload your own photos or videos.
Remember, it's important to check the quality of your own photo before adding it to your workspace. Images can often lose quality or change during download.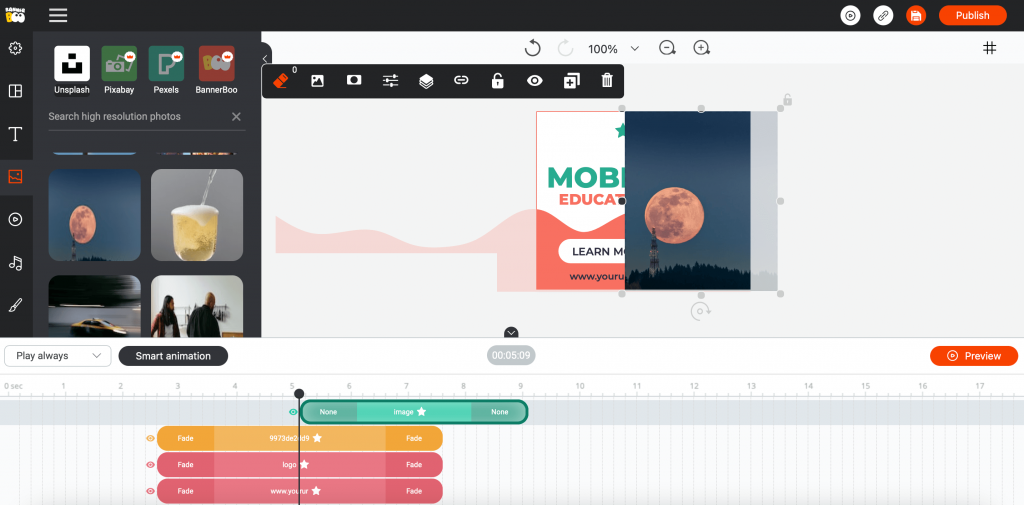 3. Change your SVGs
You can replace each icon or graphic element placed on the layout. Choose from ready-made SVG objects available in the BannerBoo workspace, or upload your own unique one. Change the colors, adjust the transparency of the lines and frames of the SVG file — all this will help your new banner fully reproduce the style and character of your brand.
4. Edit the text
Every BannerBoo template has carefully crafted typography and visual consistency to align with the overall concept. You simply need to replace each word with something that resonates with your value proposition. Additionally, you can change the font, font size, style, and line spacing. Experiment with different changes and observe how effectively the banner communicates your advertising message.
Important: In advertising, brevity is key to success. Focus on the amount of text that's already in the template, as it'll appear as harmonious as possible.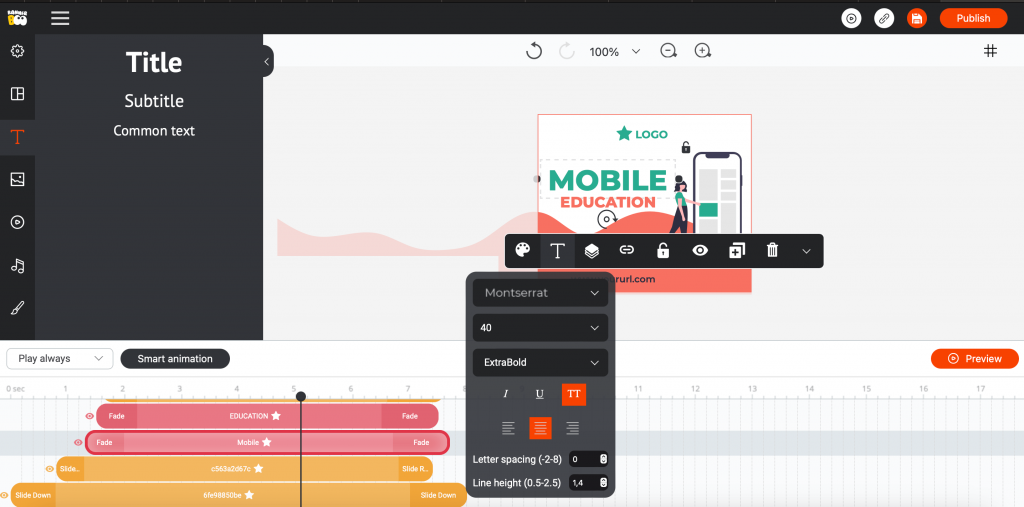 5. Change the CTA
Don't forget to include a clear call-to-action (CTA) in your message that tells potential customers what action to take next. This is the conversion action you want your audience to take.
You can either keep the CTA that's already in the template or customize it to better resonate with your target audience. It's a simple process that's done by editing the text block just like any other element.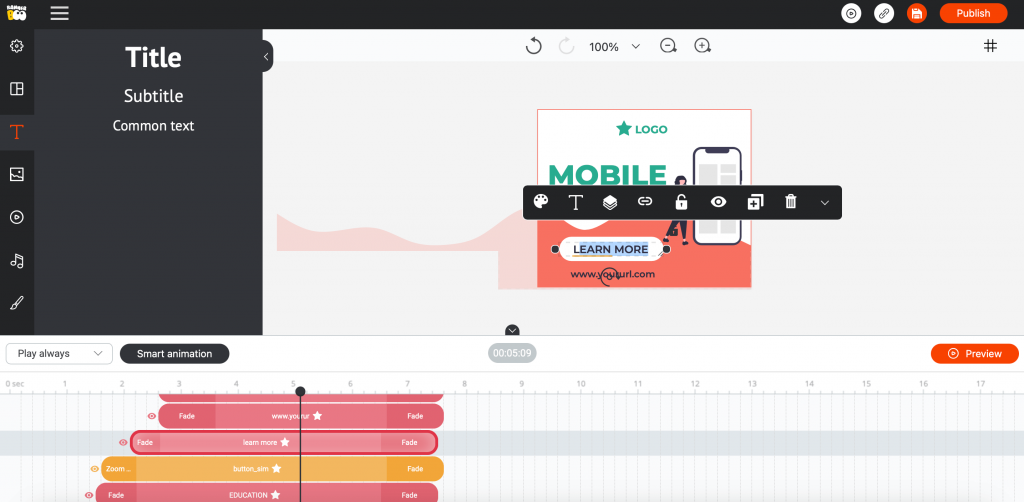 6. Do not forget about color schemes
A successful banner has a cohesive color scheme that reflects the focus of your advertising message. Ensure that the colors align with your brand book and visual identity. We advise against selecting overly aggressive or contrasting colors to maintain a balanced design.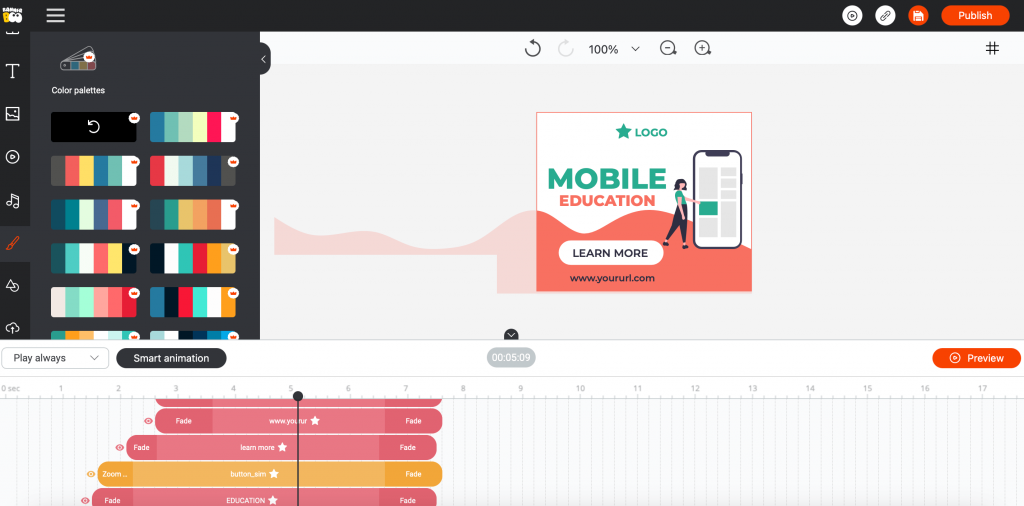 7. Check out the banner animation
Each template has customized and thoughtful animations. You don't have to worry about each item appearing on time and not obscuring important information. But, still, it is necessary to check. For this, there is a "View" button, which was created so that you could view the finished version and not miss an important element.
Important: Also check if the animation is too dynamic or too slow. Keep the balance.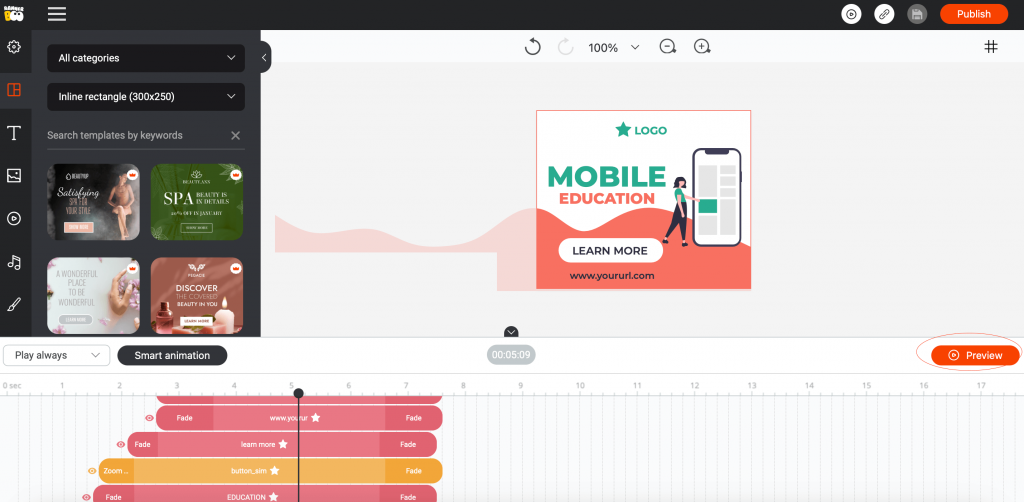 8. Save the finished advertisement
Once all the changes have been made and everything has been checked, including the animation, it's time to save the finished design for uploading to social and advertising networks. Simply choose the desired format and use the banner whenever you want.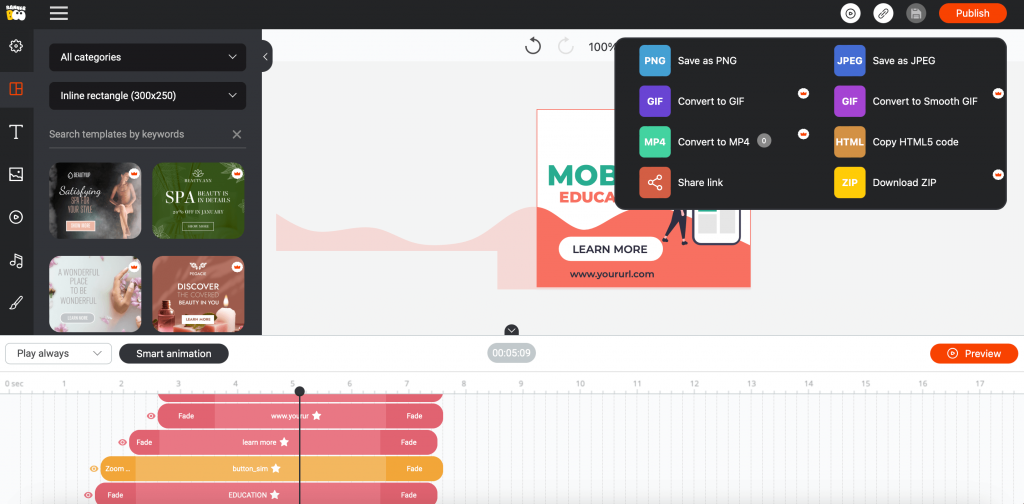 How to create attractive advertising banners?
Now that it's clear that working with BannerBoo templates is easy and simple, let's explore the full functionality of this online banner maker. We'll provide detailed tips and tricks every step of the way to help you create stunning designs effortlessly.
1. Open a banner template or create a "banner from scratch" in BannerBoo
To create your own personalized advertising banner, simply choose a design or specify your preferred size. From there, you can replace the pre-existing images with your own, utilize our collection of stock images, and customize the logo, text, graphic elements, and animations to suit your needs.
What size to choose? Keep the basic sizes for banner ads:
on Twitter (1500 x 500 px);

large format for Etsy shops (3360 x 840 px);

mini Etsy shop banners (1200 x 160 px);

Facebook event covers (1200 x 628 px);

Facebook ads (1080 x 1080 px / 1200 x 628 px);

Facebook page covers (1640 x 924 px);

horizontal banner (728 x 90 px);

large banners for mobile devices (320 x 100 px);

YouTube's banners (2560 x 1440 px).
Test the full functionality of the service by dragging and dropping the required elements to practice.
2. Add graphics or images
Add graphic elements to your banner ad to create a powerful visual impact. Vector graphics will look clear and high-quality, regardless of the final size of the banner. Each BannerBoo user can customize the size, color, aspect ratio, and even erase parts of the graphic or add a drop shadow for a completely personalized look.
Want to add or replace photos? Just click the "Images" tab in the toolbar on the left. Upload your own photos or use a collection of high-quality stock images.
3. Add designer fonts and text to the banner
BannerBoo offers a selection of curated designer fonts, but you can also upload your own if it's required by your brand guidelines. Once you've added your text, you can adjust the animation, color, size, or font to your liking. You can even add an outline, shadow, or text-graphic objects for a truly personalized touch.
Important: To keep in mind that using too many different fonts can overload the banner and detract from the main message. Stick to two main fonts to maintain a cohesive and effective design.
4. Upload and share your brand-new banner
Once you have completed your banner design, the final step is to upload it in the desired format using the "Share" button on the top toolbar. You can also download the design to your computer for safekeeping.
The finished design will always be automatically saved in your personal profile and will be available at any time.
Design tips and tricks for creating your own banner
Are you looking to boost your online traffic with display advertising? Advertising banners can be a powerful tool for businesses in a range of industries, but creating an ad that actually motivates potential customers to click and take action can be a challenge.
The key to success is in the design — by following a systematic approach, analyzing past campaigns, and using expert recommendations, you can create eye-catching banners that drive results.
1. Use the most effective standard banner sizes
If you are just starting out on the path to effective display advertising, you should not immediately cover all possible sizes and formats. Focus on the main formats and that will be more than enough to get you started. According to Google AdSense, the most successful standard banner sizes are:
728 × 90 px – horizontal banner (most sites have these);
300 × 600 px – half the page (the most comfortable format for displaying information);
300 × 250 px – medium rectangle (the most popular ad size for mobile devices);
336 × 280 px – a large rectangle (a convenient and informative format for banner advertising).
2. Your company logo
A logo serves as the face of your brand. To increase brand awareness, ensure that the logo is prominently placed on all advertising materials. The logo should be visually appealing and clear, but not distract from the call to action or offer.
3. An optimally short message is the key to success
To create an effective banner, it's important to use words sparingly. The banner should convey a short and clear message that captures attention and encourages potential buyers to follow the link. When creating printed formats, keep in mind the convenience of reading the text to ensure that the message is easily understood and absorbed.
4. Make your text readable
To create visually appealing text ads, it's important to follow typography guidelines, and use fonts of different sizes to create headings and body text. We recommend limiting the text to four lines or less. Avoid using italic fonts, very thin fonts, or font sizes smaller than 10 points (except for disclaimers or copyright notices).
5. Articulate your value proposition
To effectively promote your service or product, it is crucial to showcase its benefits and attract attention with attractive offers and pricing. Additionally, it's important to tailor your messaging to specific segments of your target audience to ensure that it is relevant, timely, and resonates with them.
6. Use a call to action (CTA)
This is text or a button that invites users to click it and perform a conversion action. Great examples are: "Learn more", "Buy" or "Watch now". The advertising message should have a clear focus.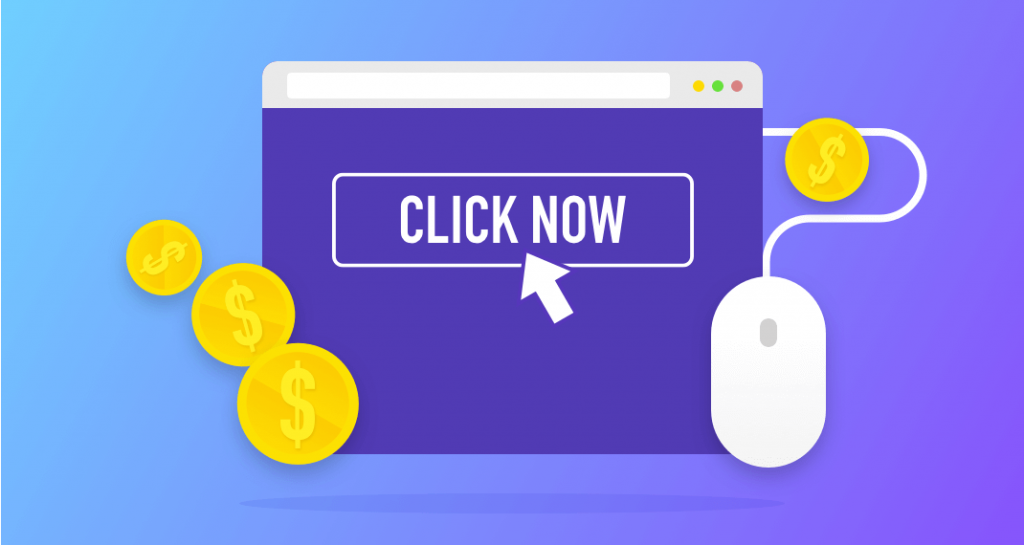 7. Create a visual hierarchy
This refers to the order in which design elements are arranged, guiding the viewer's attention to important parts of the advertisement. Font size, color, contrast, alignment, and other styling options can be used to create the right hierarchy.
8. Understand how colors affect perception
Consider the rules of visual hierarchy when selecting a color scheme.
Think about how the colors can be combined to evoke the desired emotions. Choose colors that match the style of the brand and create exciting combinations:
red: strength, passion, anger, excitement and love;

orange: playfulness, energy, freshness and motivation to act;

yellow: cheerfulness, sunshine and affection;

green: health, freshness, wealth, environment, growth, business and new beginnings;

blue: security, trust, clarity, maturity, calmness, intelligence, officialdom, refreshment, coolness and courage (more than 50% of the logos of companies in the world have it in the palette);

purple: luxury, calm, power, extravagance, wisdom, magic, femininity and creativity;

pink: love, sweetness, femininity, youth and children;

black: exclusivity, mystery, style, power, prestige, luxury and officialdom;

white: purity, modernity, simplicity, honesty, economy and youth;

brown: nature, naturalness, skin, seriousness, courage, firmness and modesty;

gray: neutrality and practicality (as a background — it enhances other colors).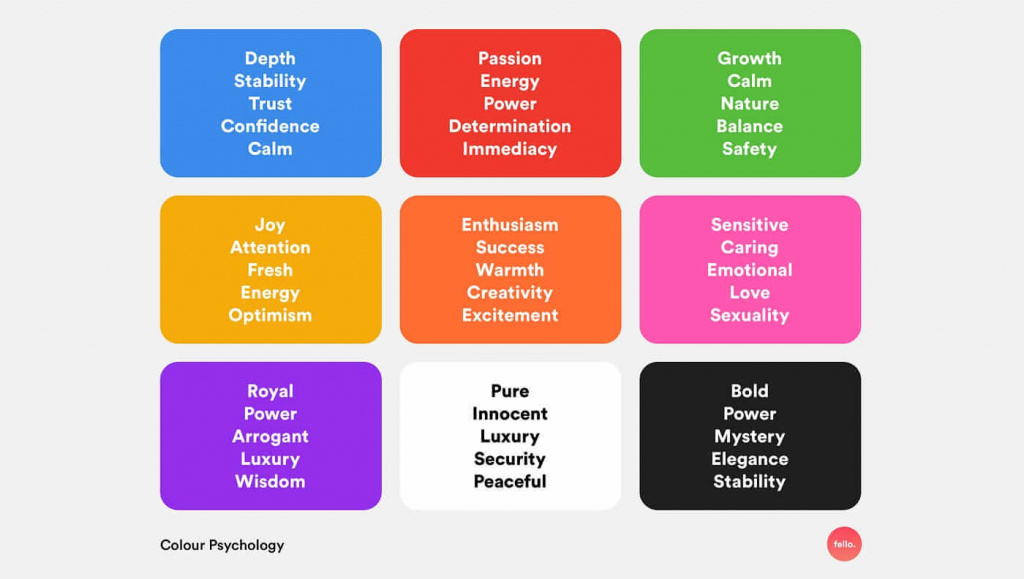 9. Try different looks
Don't be afraid to experiment! Create different design styles and analyze which format appeals to your audience the most. We are certain that no two designs are the same, and even if you use template solutions, they will still reflect the style and character of your company.
10. Resize the banner for different purposes
The Banner Size Optimizer tool makes it effortless to resize pre-made ads. You can easily and simply adapt one design to display on Facebook, Etsy, or YouTube. The main value of the function is that the resulting resizes maintain the quality of the original design, so you can be sure of the finished material.
Conclusion
Immerse yourself in the world of creativity and technology with BannerBoo! Even if you have no design experience, you can create effective ad layouts with ease. Browse our library of 12,000+ ready-made template designs, created by visual industry professionals for any business owner.
With categorized tags and a user-friendly library, finding the perfect design for your needs is a breeze. Whether you need social media covers, website slider banners, campaign announcements, display ads, and more, BannerBoo has got you covered. Access our collection of stock images, fonts, graphics, and other design resources in just a few clicks, and forget about constantly searching for designers and creating edit lists.
Once you've created your banner, easily upload it in high quality JPG or PNG format to Facebook, Twitter, LinkedIn, YouTube, or any other third-party resource. You can even print these banners and use them for your offline advertising campaigns. With BannerBoo's templates, creating a design has never been so simple, fast, and convenient!
Frequently asked questions
How to get banner templates?
With the BannerBoo online banner maker, everything is simple: log into the service (registration takes no more than a minute) and get access to a collection of templates grouped by purpose (media advertising, social networks, video content) and more than 30 business industries.
How to create a banner?
Using templates, the entire process will take no more than 15 minutes:
choose the desired design that best reflects the style and goals of the brand;

edit it: change the logo, add relevant text, graphics and icons and icons;

check the animation and style of its display in the updated banner, make it more dynamic or smooth if necessary;

save the finished design and upload it to the desired advertising or social network.
How to download banners?
Any ready-made banner can be downloaded to a laptop or exported to the desired advertising or social network. Use the "Share" button on the top toolbar.
Where can I get banner templates?
BannerBoo's online service has over 12,000 ready-made templates designed by professional designers for a variety of industries.
Where can I get free banner images?
All BannerBoo templates are completely free to use.
What app to use to create banners?
With BannerBoo, you don't need to download or install anything, the program works easily and simply in the browser. All you need is a laptop or PC and stable Internet access.
What is needed to make an individual banner?
In addition to templates, BannerBoo has functionality for creating banners from scratch by.
For this, you need:
clearly define the target audience and its needs;

to think through an advertisement and form content accents;

find an idea for a banner (by the way, you can be inspired by ready-made templates);

log in to BannerBoo and select the "Create banner" option;

set the dimensions, orientation and choose a color scheme;

create a design, add a logo, texts, CTA and graphic elements;

customize animations and transitions;

save the banner in your personal profile.
That's it, the individual banner is ready for publication!
What software is used to design banners?
You don't need to install any additional software to work with BannerBoo.
Can I create my own banner template?
Each banner you work with becomes your own template, and you can edit it and make changes at any convenient moment.
What is a banner for e-mail distribution?
An e-mail banner is an image that is placed on top of an e-mail. It will help set the style, present your company and place content accents.
What to include in the banner for e-mail distribution?
Advertising banners must contain:
a clear, specific advertising message and call to action;

social network platform icons;

a short message or slogan;

Regardless of the purpose of the banner, use the available space to deliver the most effective advertising message to the target audience.