Media banner advertising accompanies the user at every step: in the middle of listening to an interview with an interesting personality, while searching for plane tickets or reading a scientific article, while choosing products in an online store or generating gift ideas for Christmas. Some announcements we remember, some we scroll through, and some we simply don't notice among the large amount of informational noise. That's why, in banner advertising, size matters. And this size directly affects the efficiency, effectiveness and coverage of the entire advertising campaign.
If you've chosen to promote your brand through media networks, it's important to know the standard sizes of advertising banners. This can significantly impact the effectiveness of your advertising campaign, and choosing the right size can guarantee high marketing results.
In addition, the quality of your advertisement and banner is crucial. Media networks and exchanges follow strict rules set by the Interactive Advertising Bureau (IAB) to ensure high-quality advertising.
How dangerous is choosing the wrong banner size? It can have several negative effects, such as:
slowing down the loading speed of the site where the ad is placed, which can decrease the quality of interaction with it;

degrading the image display due to low resolution, which can harm the brand's reputation;
It is highly recommended to choose the appropriate banner formats from the outset to ensure ease of readability and prevent accidental clicks. The banner should occupy an appropriate amount of the user's screen. Careful consideration of banner sizes not only enhances visual appeal, but also helps to foster brand loyalty.
Banner sizes: What are standard banner ad sizes in 2023
Before launching an advertising campaign, it is important to analyze the rules of banner networks, the activity of competitors and colleagues in the market to find effective combinations that can already be considered standards.
According to Smartyads, in 2023 the most common sizes of advertising banners are:
Square
(250*250px)


A small square
(200*200px)


Banner
(468*60px)


Horizontal banner
(728*90px)


Medium rectangle
(300*250px)


Large rectangle
(336*280px)


Skyscraper
(120*600px)


Wide skyscraper
(160*600px)


Half page banner
(300*600px)


Wide horizontal banner
(970*90px)


General dimensions of web banners
The Interactive Advertising Bureau (IAB) has created standardized rules and guidelines for actual banner sizes that work across all ad networks (especially the Google network).
Standard sizes of banners
Choose the most suitable ad formats that you can use in any advertising campaigns. Remember that the maximum size is 150Kb.
970×250 – billboard (a large enough banner that provides ample space to showcase all relevant information and catches the user's attention with its prominent placement on the screen, making it a great choice for ensuring user engagement);

970×90 – wide horizontal banner (gives more space for communication with potential customers);

728 × 90 — horizontal banner (placed above the navigation bar and/or main content, one of the most popular formats among advertisers);

468 × 60 – an advertising banner used when the placement platform cannot accommodate the size of a horizontal banner (also placed above the navigation bar or between sections of page content);

300×1050 – a special format that can be placed on the left or right sidebar (instead of 300×250 or 160×600 zones);

160 × 600 – is a vertical banner also known as a "skyscraper" and is typically placed on the left or right side panels of a website;

120×600 is a narrower format of a skyscraper, which is in very high demand among advertisers;

160×90 – vertical advertisement used in small advertising areas;

300×600 – half-page advertising that provides ideal presentation of information (and hence the interest of advertisers);

336 × 280 – a large rectangular ad (often placed on the sidebar or between page content);

300×250 – medium rectangular ad (one of the most popular formats, looks harmonious with site blocks);

250 × 250 — a square ad that is often placed on resources that cannot accommodate the previous rectangular format.
Dimensions of mobile banners
Mobile ads are available in the following sizes for iPhone, Android, and other smartphone OSes:
320×480 – portrait banner;

300×250 – medium rectangle;

320×100 – a large mobile banner;

300x 50 – small banner for smartphones;

320×50 – mobile horizontal banner.
What are the most popular ad sizes?
Advertisers have a wide choice of different banner formats. Some ad sizes are more effective than others, including where they are placed on the site. In addition, the cost per ad in each format is also different, so you can easily diversify your advertising budgets to get the most performance for the least amount of money.
To form a plan for creating an effective advertising campaign, we prepared data on the frequency of use of different sizes in various campaigns. Generalized indicators for the most popular sizes of advertising layouts, sorted by the frequency of their use: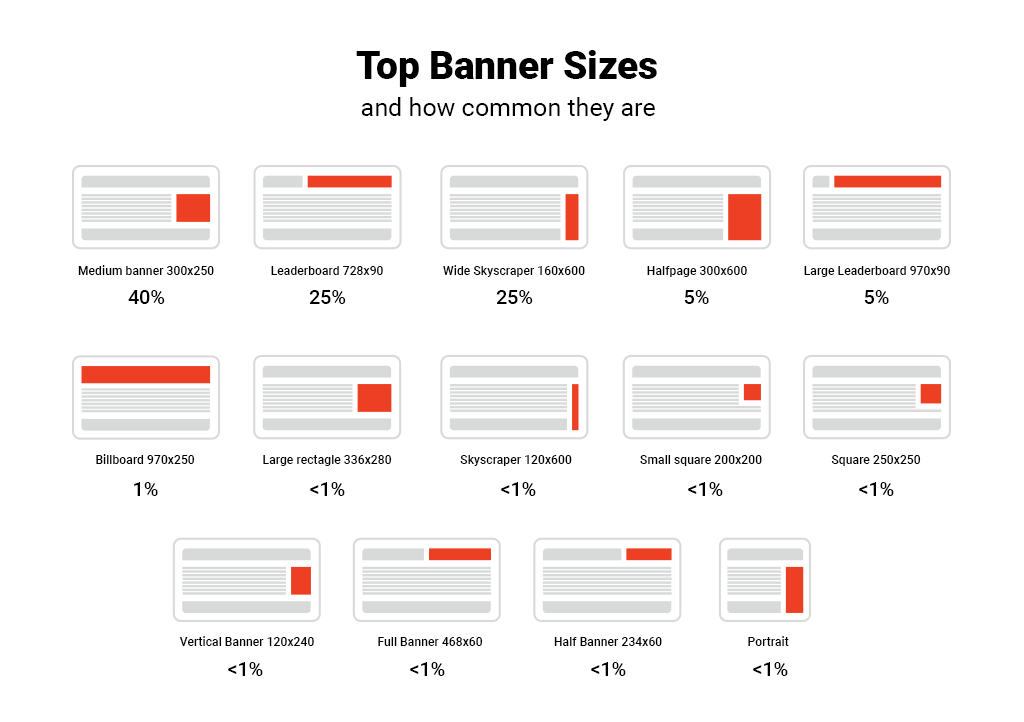 Medium rectangle (ad size 300×250)
The most popular banner format. It is considered convenient, compact (because it does not take up much space on the page) and very informative. Such ads load adequately on unstable mobile internet and are great for many types of media advertising campaigns.
When is it best to use? The medium rectangle format is very common, and advertisers always have many placement options. Such a banner shows high results of coverage. We recommend placing the banner in the article, between paragraphs or at the very end.
Examples of medium rectangle (300*250) banner templates in BannerBoo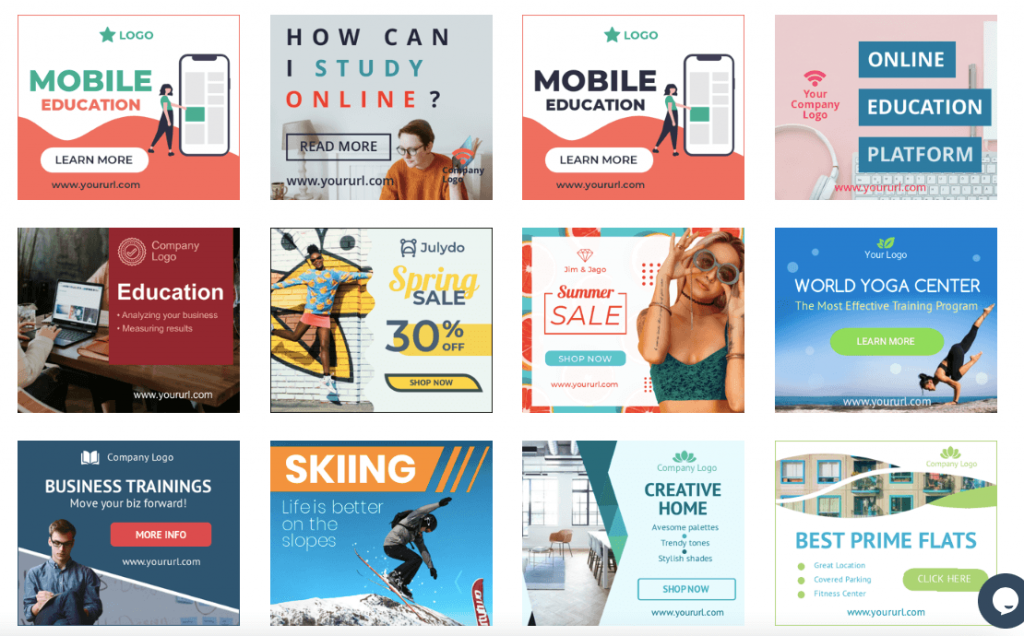 Large rectangle (ad size 336×280)
It is self-explanatory. While it's not the largest size available on media networks, it is slightly bigger than the standard formats we're all familiar with. The banner is typically placed to the right of the content and text articles. One of its key advantages is its ease of development.
When is it best to use? For advertising where it is important to provide a large amount of information. These banners show high levels of engagement and interaction rates. The best CTR is in ads that are integrated into the content of the site and help visually divide the site into parts.
Examples of large rectangle (336*280) banner templates in BannerBoo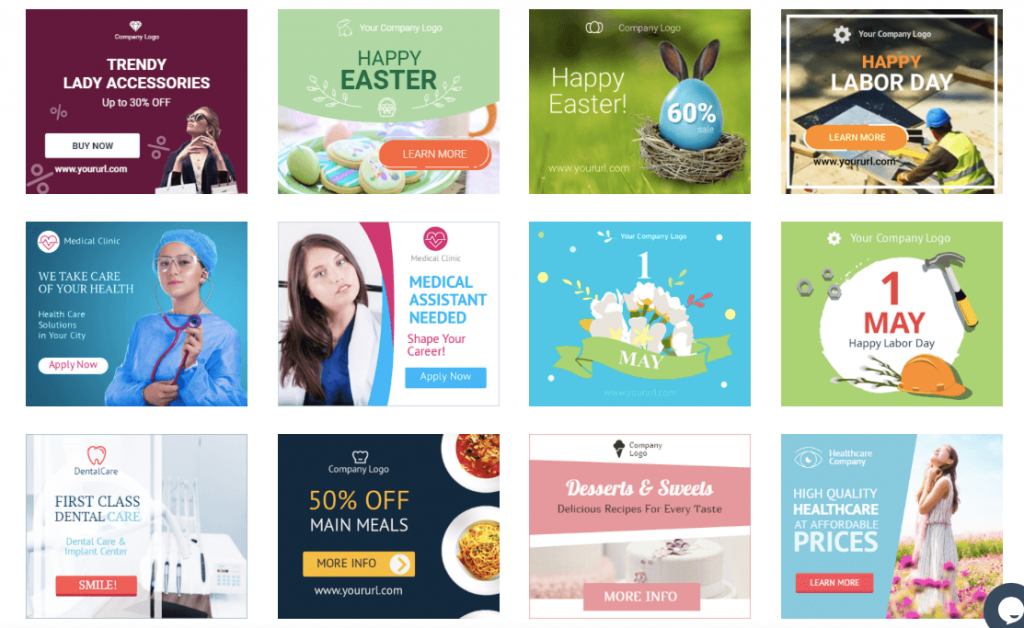 Horizontal banner (ad size 728×90)
This type of advertising banner is commonly found on various informational resources with ads. Due to its horizontal format, it stands out from other ad sizes and remains constantly visible to the user. As a result, advertisers often compete for this position. If maximizing reach is a priority for your campaign, it's worth considering this banner size. In fact, Google even recommends using it for forum advertising.
When is it best to use? For placing text information, with minimal and very readable graphic elements. This format can provide a really significant amount of traffic per ad, but it is important that it is optimized and does not overload the site.
Examples of horizontal banner format templates (728*90) in BannerBoo

Billboard (ad size 970×250)
This is one of the full-size AdSense ad network banners that shows the best engagement results at the top or bottom of the site page. This is a full-format version of the announcement, where you can place not only text and graphic elements, but also a full-fledged image, photo or GIF animation.
When is it best to use? This banner format is ideal for displaying a visual story on the display network rather than just a text ad. It's easy to create and convenient, but it's important to avoid overcrowding the space with too much information. Additionally, consider the position, style, and visual character of the banner to maximize its impact.
Examples of billboard banner templates (970*250) in BannerBoo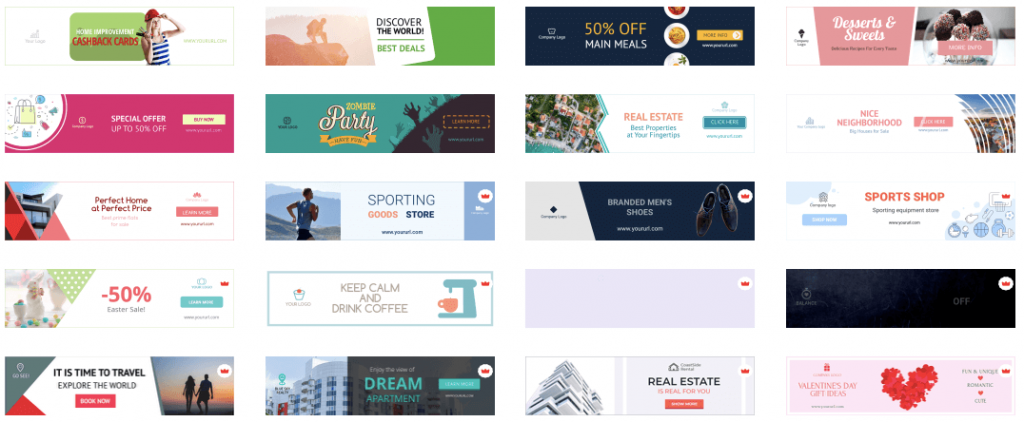 Half a page or a large skyscraper (ad size 300×600)
Of course, the banner does not occupy half of the site page, as the name might suggest. But it is the largest size compared to other banners, offering many opportunities to create a creative and exciting ad that can attract the attention of potential buyers. However, it also requires more development work.
When is it best to use? This banner format is the optimal choice to draw attention to a high-quality and creative advertising message or special offer. It is ideal for local advertising when it is important to display more of the image in a specific location."
Examples of half page ad format banner templates (300*600) in BannerBoo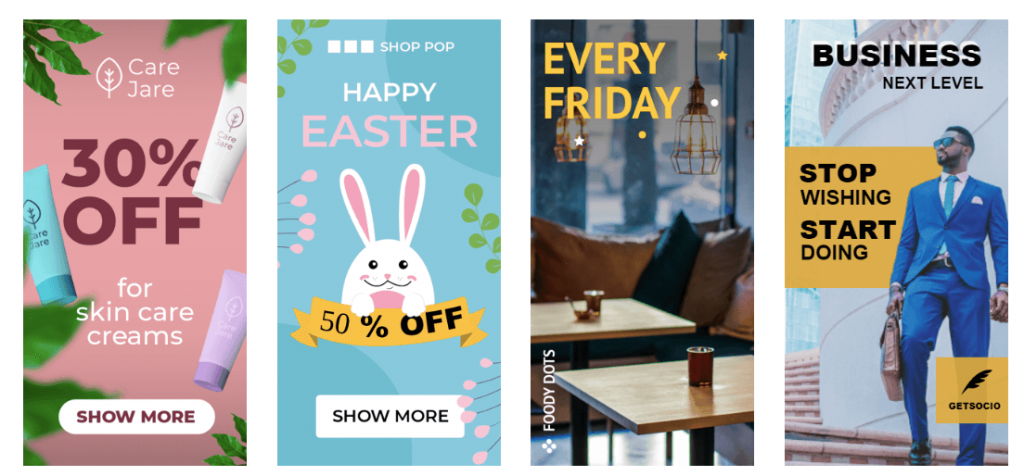 Wide skyscraper (ad size 160×600)
Despite a certain specificity of the format, many sites place this functionality to attract the attention of potential buyers and visually emphasize and highlight the sidebar of the resource. Usually, such an advertising banner is placed on the left part of the site page or in the upper corner. Approximately 12% of banner advertising in the world is in the Wide Skyscraper format.
When is it best to use? Advertisers often choose this format because it is affordable and visually appealing. The ideal format for branding companies and the formation of sustainable visual imageries. A good idea is to combine a wide skyscraper with interesting or useful content (an article). To avoid accidental clicks, do not place this banner too close to the navigation menu.
Examples of banner templates in the wide skyscraper format (160*600) in BannerBoo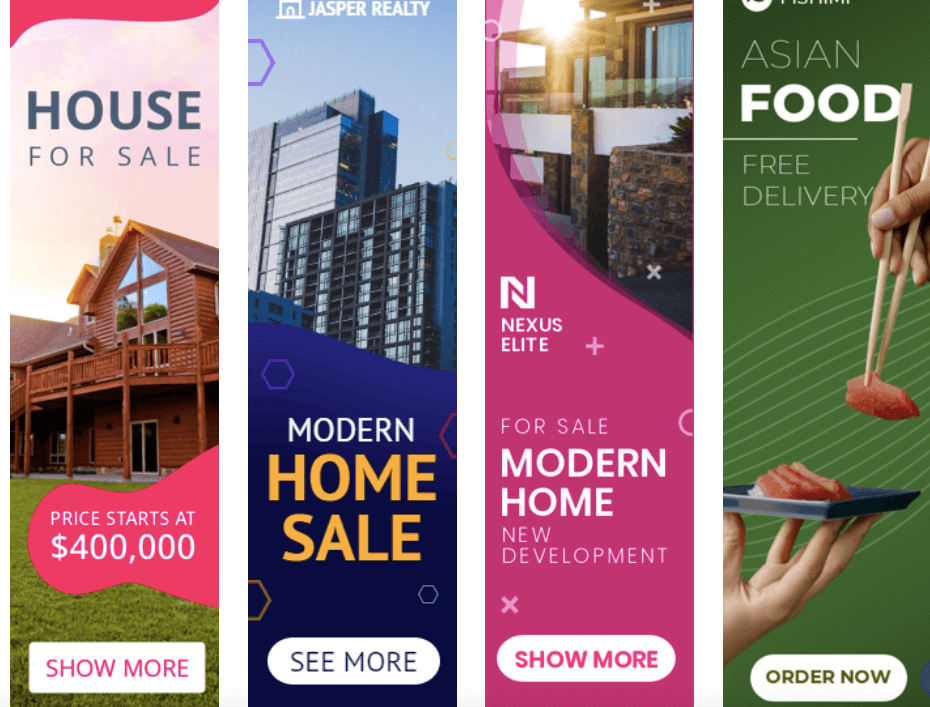 Mobile full banner (ad size 320×50)
This banner format is becoming increasingly popular in media companies, as it's tailored for display on mobile devices and has a visually comfortable presentation without being intrusive to users.
When is it best to use? This format is perfect for displaying Google Ads on mobile devices. It's also the most cost-effective compared to larger formats. However, as the advertising space is limited, it's essential to keep the ad brief and straightforward, conveying the key message directly.
Examples of mobile full banner templates (320*50) in BannerBoo

Large mobile banner (ad size 320x100)
A large banner for mobile devices is displayed on almost 30% of the smartphone space. Works best when displayed at the top of the page, right below the title. Some networks place these banner formats at the bottom of the page and throughout the content. As mobile traffic continues to grow, advertisers are focusing on creating more and more mobile ads for their business.
When is it best to use? If your goal is to generate high-quality traffic from mobile devices, this banner is an effective option. It allows you to convey necessary information, while also incorporating visually appealing graphics.
Examples of large mobile banner templates (320*50) in BannerBoo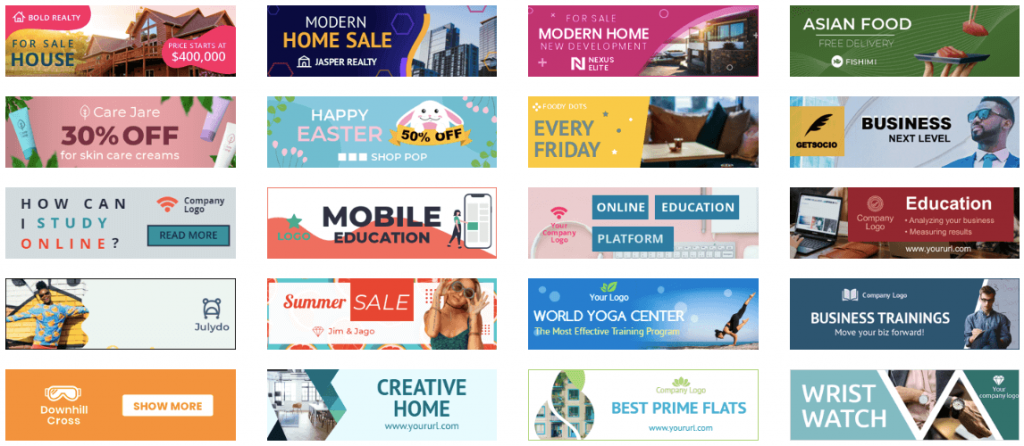 Square (ad size 250×250)
Square is one of the smallest AdSense banner sizes. It has a simple and clear format because square images are visually best perceived. Another advantage is that square ads are more likely to adapt to the design of the site, unlike vertical or rectangular formats.
When is it best to use? If your goal is to distribute your ads as widely as possible, square formats are the ideal solution. They provide adequate framing for the image, and the visual elements become more noticeable. Square banners are also easily integrated into the structure of various sites, making them a versatile choice for advertisers.
Examples of square (250*250) banner templates in BannerBoo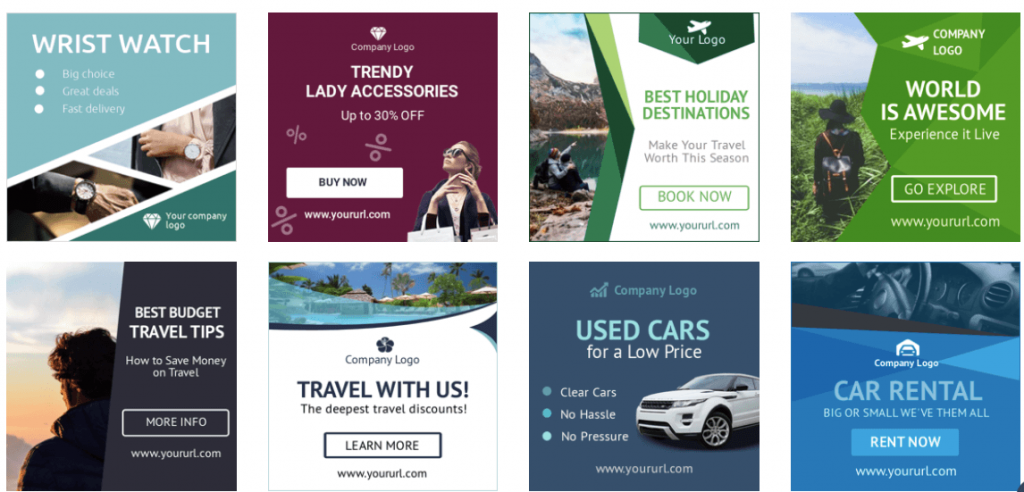 What to choose — standard or non-standard banner sizes?
There is a stereotype that customers respond better to standard banners that they are used to seeing in many advertising campaigns. Let's analyze in more detail: does choosing a non-standard advertisement guarantee less coverage, or maybe a more familiar format will bring higher engagement rates?
Marketers' opinions are divided into two opposing sides: some prefer the standard banner size and agree that the medium rectangle is the gold standard. In the rating of tools familiar to the consumer, the second place is occupied by a large rectangle and a standard horizontal banner. Designers note the convenience of rectangular advertisements (development will take a minimum amount of time), and marketers are delighted with the horizontal banner, where you can place all the necessary information.
On the other hand, it is worth considering banner advertising through the prism of analyzing the needs of the target audience, the results of displaying various formats and evaluating the effectiveness of the campaign and/or platforms. And here, the data very often has different meanings, depending on the specifics of the business and the characteristics of the target audience.
Modern media platforms allow advertisers to choose the desired banner size (even a custom one) and automatically adapt it to the advertising network. This function is called auto-resize of a specific creative, which is adjusted to the needs of the advertising network.
Why are Google Ads settings important?
While the primary objective of Google Ads is to increase visibility, it's equally important to ensure that your target audience clicks on your ad and ultimately converts into customers by engaging with your brand.
When you're paying for Google Ads, it's important to know which banner ad sizes generate the most impressions, clicks, and sales. They can affect engagement rates, and hence the cost of an advertising campaign.
Why Google Ads parameters are important:
affect ad conversion rates;

affect the cost of advertising clicks;

regulate the level of competition;

responsible for adequate display of the advertising banner on any display sites.
So, when planning your ad campaign, it's a good idea to follow the network size specifications to create ads that will work correctly on different screen sizes. If you neglect them, then Google can issue ads, and you will lose the chance to interact with 2 million sites and reach up to 90% of all Internet users (according to match2one.com). We recommend using automatic resizing strategies to optimize your ad performance.
How to automatically maintain the ideal banner size?
To automatically convert your designed ads into standard banner sizes that integrate into your ad space, you'll need an auto-sizing feature. This feature adapts the layout according to the parameters of the advertising space in which it is placed or planned to be placed. The optimized format ensures relevant display, allowing you to get more impressions by filling more available slots on each ad resource. However, it's worth noting that adaptive display ads only work with automatic changes.
Statistics of banner advertising sizes
A banner ad contains an image or other form of illustration, rather than just a text ad. You need to work on creating a creative and original advertising banner that can attract the user's attention and motivate him to learn more about the product or service.
According to Statista, banner ad spending in 2023 will total more than $155.07 billion, with mobile ads accounting for more than $108.60 billion.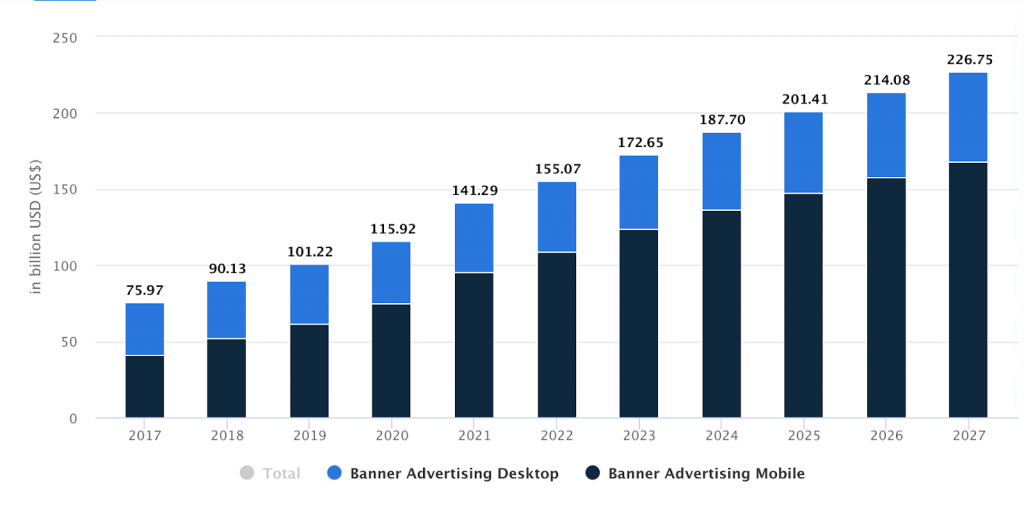 *material from the Statista resource
Banner design tips
At BannerBoo, we believe that you don't need to be a professional graphic designer to create a successful banner for a media campaign. Every advertiser can use stock images and template ads to promote their business.
But, it is worth knowing the basic principles of creating a design so that the layouts really attract attention:
do not complicate (your task is to create a banner that will be easy to read in a few seconds, so choose concise formats: for example, images are more effective than collages, as they preserve the clarity of the ad);

write relevant and active texts (this is a great way to create trust in a potential buyer and motivate him to click on an ad);

choose interactive formats (HTML5 wins over static ones);

use active and correct animation (if it starts before the user scrolls the page, then you need to fix it);

choose relevant colors (the scheme must correspond to the brand book);

choose active CTAs (create an idea of what your user will get when he clicks on the advertising banner);

adapt the ad to the needs of mobile devices (you may need to spend more time adjusting the aspect ratio so that the ad is displayed correctly);

choose readable fonts (don't force a potential buyer to decipher small text).
Banner advertising is an active tool of digital advertising, it helps attract users to your site, potential customers of the brand and increases the effectiveness of the media campaign.
Recommended banner ad networks
There are three main forms of banner networks:
Special banner exchange services (Banner Exchange Services)

ensure the display of advertisements instead of publications on the pages of the advertised resource of other banners. You can configure:

show advertising to a separate group of potential buyers;

choose the intensity of display or advertise in selected time intervals;

don't show ads to the same user again throughout the day.

We recommend collaborating with webmasters of pages that have a similar theme and agreeing to place banners on each other's websites.

Advertising on the Google network (a large media system that shows the desired ads for relevant queries).
We recommend testing all possible options to choose the most relevant for your business.
Conclusion
Banner ads are a crucial component of any online advertising campaign, as they have been shown to be highly effective. To ensure that you reach the maximum potential audience and effectively promote your product or service, it's important to create a well-designed banner ad in the appropriate size.
Google, as one of the largest banner networks, has established standard sizes for advertisements that should be followed. The size of the banner ad on both mobile and desktop screens can significantly impact how the user perceives the advertisement. Therefore, it is crucial to comply with the display advertising specifications set by the IAB to ensure the effectiveness of the ad.
In 2023, you can reach the entire laptop and smartphone space of your audience using just four types of the most popular types of advertising banners:
300×250 is a medium rectangle

320×50 – mobile horizontal banner

728×90 – horizontal banner

160×600 – a wide skyscraper
Special ad design rules should be considered when designing banners for ads, especially when working for the Google Display Network.
Frequently asked questions
What is a standard media banner?
A banner is a static or interactive image that appears on computers and mobile devices. Some ad units may contain additional media elements (for example, a video in a banner) and may be contained on the site or in the application in different sizes.
Name the 2 most popular ad sizes.
Even more, the four most popular banner ad sizes are:
medium rectangle (300×250)

horizontal banner (728×90)

mobile banner (320×50)

wide skyscraper (160×600)
What are the optimal sizes for banners?
Choose one of the recommended standard banner sizes, but always focus on your target audience: will your potential buyer click on such a banner, will they see it on the website, will they be able to highlight the main information on the banner? Only testing and constant analysis will help you choose the actual banner size for advertising your brand.
What are the typical sizes of advertising banners?
The following formats are most often used:
medium rectangle (300×250);

horizontal banner (728×90);

wide skyscraper (160×600);

skyscraper (120×600);

vertical banner (120×240);

portrait image (300×1050);

large full banner (970×90);

button (125×125).
What are the standard sizes for banner ads?
The size of the Google Ads banners you display on your site always matters. Choose effective formats:
square (250 x 250);

small square (200 x 200);

horizontal banner (468 x 60);

full horizontal banner (728 x 90).
Could you provide an example of a display ad?
You can download examples of media banners by the link.
What is the basic banner size?
Some banner sizes and formats are more effective than others (depending on where they are placed):
square (250 x 250);

small square (200 x 200);

horizontal banner (468 x 60);

wide banner (728 x 90).
What are the weight limits for an ad?
Each banner must be up to 150 Kb.
What are the common sizes of advertising banners in social networks?
For social networks, the most common formats are square banners (1080*1080) and full-screen stories (1080*1920).
What are the most popular ad sizes?
Advertisers most often choose one of the following formats (or all at once, it all depends on the goals of the campaign):
medium rectangle (300×250);

horizontal banner (728×90);

mobile banner (320×50);

wide skyscraper (160×600).
What does a mobile full 320x50 banner look like?
See examples of mobile ad templates (320*50) at BannerBoo:

What does a medium rectangle 300×250 ad look like?
See examples of medium rectangle (300*250) banner templates at BannerBoo: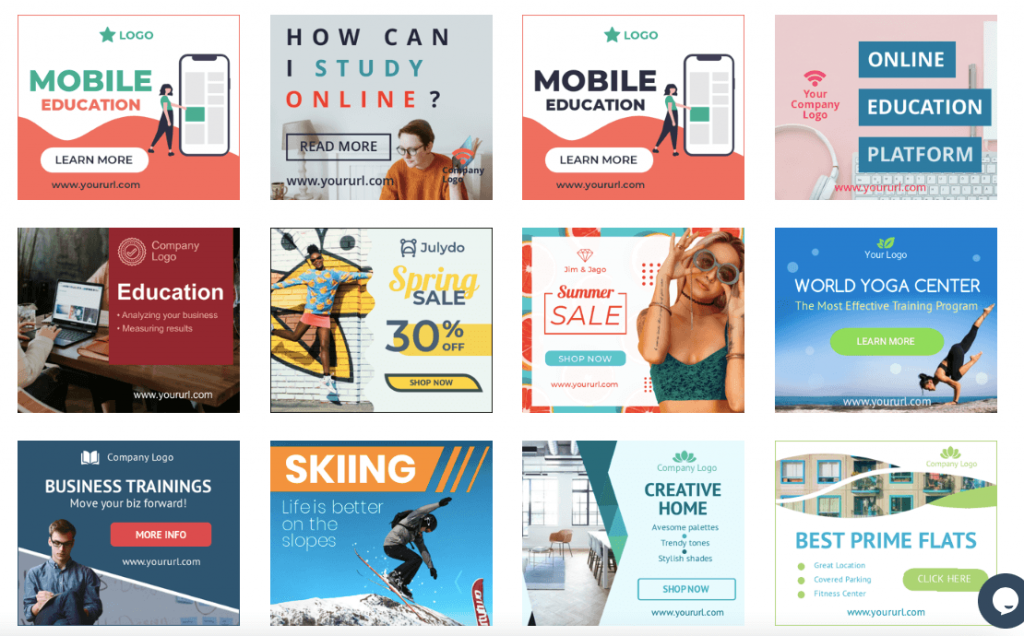 Where is the middle rectangle used?
Banners in the medium rectangle format are very common and often used in planning media activities. We at BanneBoo recommend placing the banner within the article, between paragraphs, or at the very end.
What does a 728×90 banner look like?
See examples of horizontal banner (728*90) format templates in BannerBoo:

Where is a horizontal banner used?
The most desirable format for advertisers because it has enough space for placing the necessary information, is at the top of the page in visibility and also has a horizontal format, which is very rare in the media sphere.
What does a 160x600 banner look like?
See BannerBoo Wide Skyscraper (160*600) Banner Template Examples: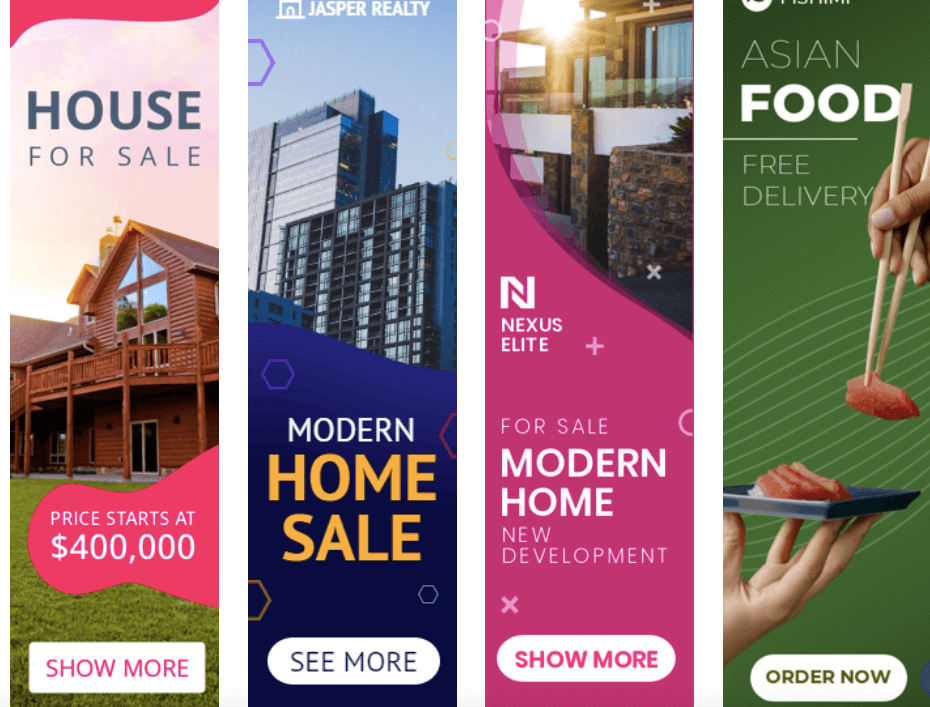 Where is the skyscraper banner used?
The ideal format for promoting branding companies and forming sustainable visual imageries. A wide skyscraper is perfectly combined with interesting or useful content.