Still think that running an Instagram ad is difficult and expensive? We destroy stereotypes, which is why we have prepared a step-by-step algorithm for creating advertisements and recommendations from BannerBoo specialists for increasing the effectiveness of advertising on Instagram! Maximize your interaction with potential customers on social media to enhance your business presence.
Instagram is a popular social network. More than a million users lead an active social life online every day. And although the first thing that comes to mind when you think of Instagram is selfies, bloggers, and food photos, in reality, the possibilities of the platform are much bigger. Companies from all over the world use the social networks as a point of contact with their target audience. It does not matter whether it is a family business, a small showroom or an international company, each of them can achieve high results if they use advertising opportunities correctly and effectively.
What are Instagram Ads?
In essence, this is an opportunity for a company to pay for the display of advertisements to communicate with a target audience. A significant advantage of this advertising network is the possibility of fine-tuning targeting: gender, demographic data, geography, interests, life events, activity on the network and many other factors that Instagram collects in huge databases every minute.
When it comes to efficiency, whether fortunate or unfortunate, no company can thrive without a presence on social networks. And although many of the brands do not have a concrete communication strategy, over 60% of Instagram users said, that learned about new products and services thanks to a certain social network. More than 200 million Instagram users visit business profiles, and a third of the most viewed stories on the network are business activity campaigns.
The indicators of engagement of Instagram users in content are much higher than on Facebook: 2.2% compared to 0.22%. But the more actively users are involved in the content, the more often they expect active actions from the brand.
Users prefer messaging in Direct over making phone calls, and a delayed response to messages is likely to be perceived as neglect. Therefore, the importance of social network management is extremely relevant.
However, the Instagram and Facebook networks are interconnected, so you can easily get a synergistic effect by using them at the same time.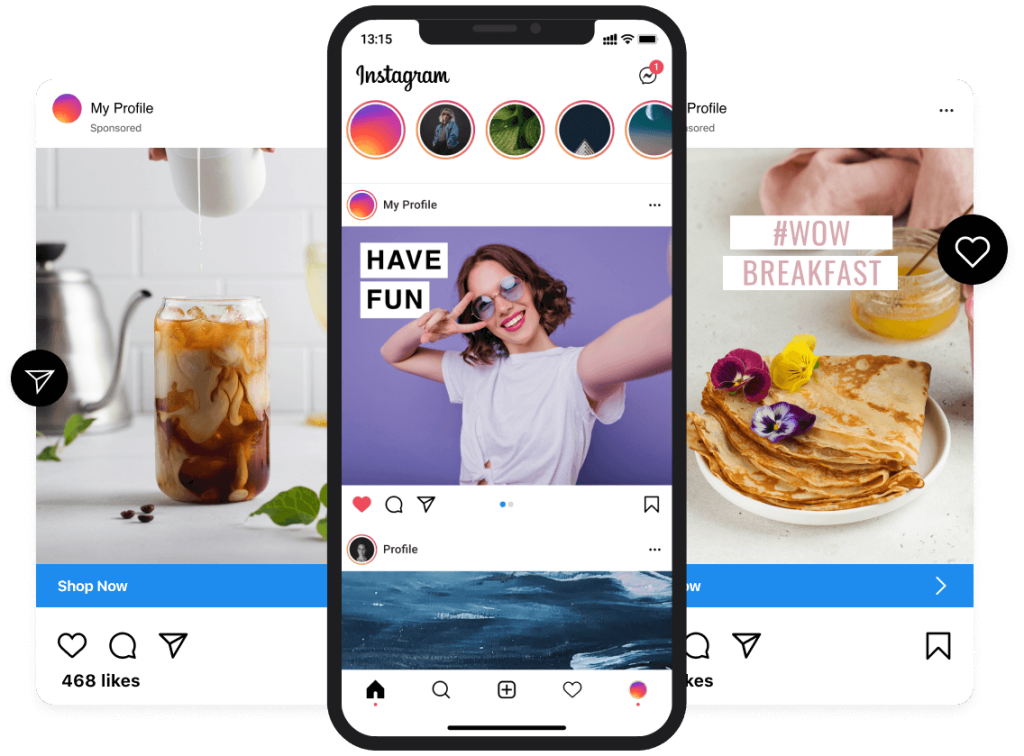 Types of Instagram ads
The Instagram advertising network offers various advertising formats, allowing each business to choose the most relevant option based on its specific needs.
stories Ads (short videos up to 15 seconds that are displayed in the Stories block (full screen), not in the user's feed).

The call to action in Stories Ads appears at the bottom of the story and takes the user to the site or helps to perform a conversion action ("Download", "Subscribe", "Book", etc.). In addition, you can add video effects or stickers to attract the attention of your target audience.

Explore Ads (image ads that include videos or images that will tell a potential buyer about the advantages and benefits of a product or service);

carousel (Collection Ads): several images or videos (up to 10 pieces), which look like separate product cards, each with the possibility of inserting a unique URL (ideal for presenting a catalog, models or brands and links to different pages of the site);

product ads (the type of advertising that allows you to launch a catalog of products in advertising, is generated automatically and carries a full volume of information for a potential buyer from Instagram Shopping);

Users who click on this ad are redirected to a catalog or store page on Instagram. And they can buy it right away. If you already have everything set up, launching such an ad will take a maximum of 5 minutes.

IGTV advertising (long videos, up to 60 seconds long).

The only nuance of this format lies in the question: Is your advertisement captivating enough, and is the product truly essential for the client to watch it until the end? Many marketers craft real masterpieces for IGTV that can rival TV commercials.
Every business can use all types of ads, the key is ensuring that they align with the objectives set for the advertising campaign.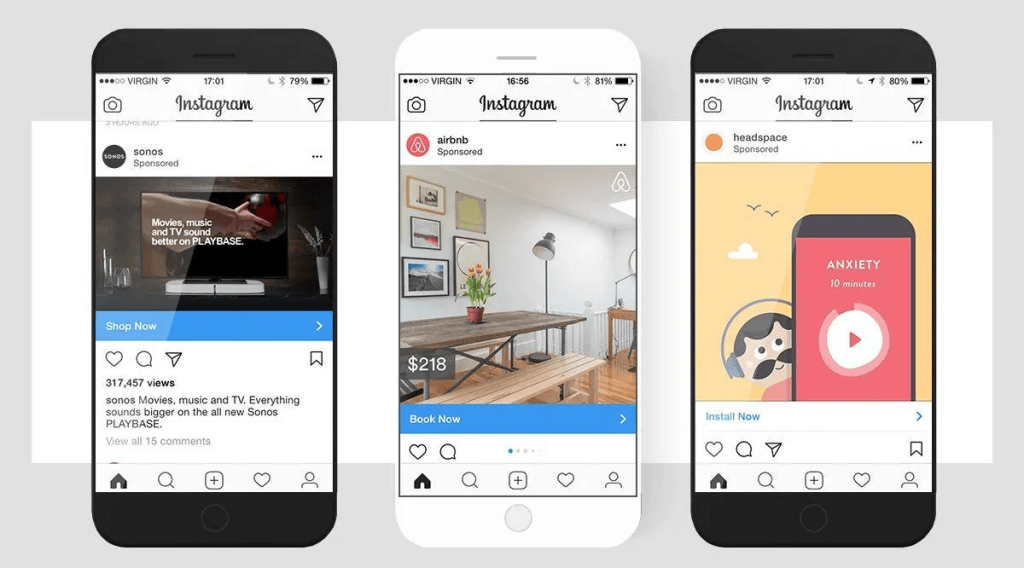 Advantages of advertising on Instagram
Generally speaking, an Instagram advertising campaign is an effective way to introduce your products to a wide audience. This is an opportunity to communicate with active users of social networks who shop online and make decisions about products or services of various companies.
The primary advantage of advertising lies in detailed targeting. Gone are the days when you had to pay for your ad to reach a broad audience that might not align with your target market. Today, you have the power to dictate the parameters of your ad display—choosing how, to whom, and where it appears based on interests, demographics, life events, and hobbies. This precision in targeting ensures that your advertisements hit the mark, increasing the likelihood of converting leads into customers.
In addition, these users are actively engaged with the content, which means that conversions can be high. The main thing is to choose the right audience. Advertising campaigns can generate four times more interactions on the Instagram platform compared to Facebook.
Moreover, according to The Word Stream Blog, almost 80% of active users confirm that they make purchases based on information they received online. And this means that using such an effective way of interacting with the target audience is a great solution for modern business.
In addition, Instagram makes it easy and simple to set up an ad campaign, and get performance reports to optimize and improve your ads. In the middle of the system, various options and formats of advertisements are available, which can be adjusted to the specific needs of any business.
How to choose the best type of advertising on Instagram?
A question that interests all advertisers.
There is no unequivocal answer to this question because different businesses have different goals and different target audiences.
Potential buyers may react differently to advertising; some are more responsive to videos, while others prefer images. There are users who engage more readily with animated banners, and others may only be reached through a video clip in Stories.
To choose an effective ad type, it is important to test the options: try running several ads with different types and formats to analyze the most interactions. It is important to highlight the most popular formats and use them in the development of advertising strategies.
There is a stereotype that creating and recording a video is a time-consuming and resource-intensive process. But if you use BannerBoo, everything will become much easier. With the help of a simple and convenient online editor, you can create a GIF banner or video for the feed and Stories in just a few clicks. And if the target audience interacts better and more actively with animation and video than with a static picture, then it is important to use these formats in advertising. So the engagement will be higher, and you will always be able to create bright, memorable videos.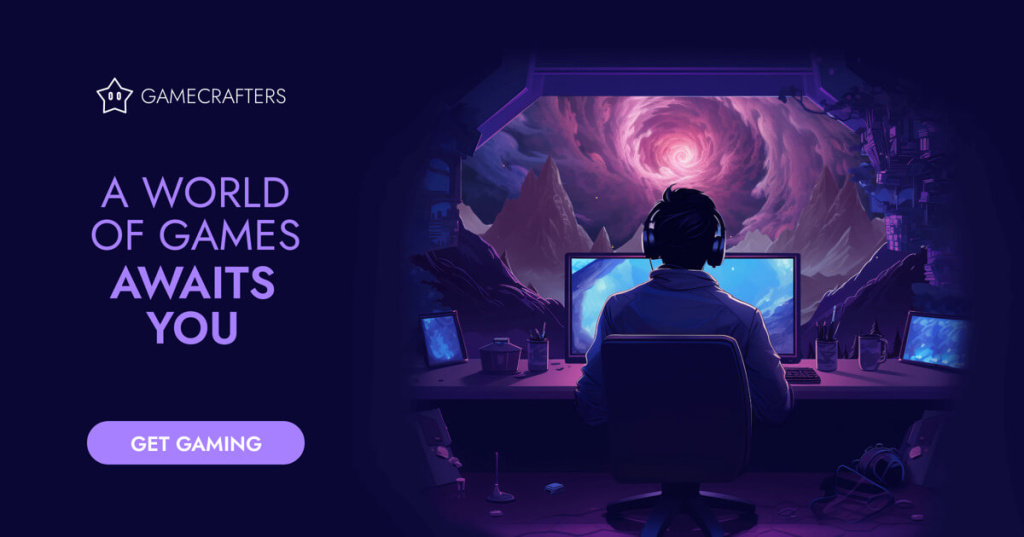 *example of the BannerBoo template from the "Games" category
Algorithm for creating advertisements on Instagram
Creating advertisements becomes elementary once you grasp the mechanics of the ad network. Even if you seek assistance from professionals for Instagram advertising setup, it's crucial for every business owner or marketer to comprehend the underlying logic. By understanding the process, you gain the ability to effectively manage it.
You can launch an ad in two ways:
Step 1. Choose an ad format
What will your ad look like? Instagram offers several options:
graphic image (photo or picture) or video;

carousel of multiple images or videos.
Select formats that evoke the maximum response from the company's target audience and align with the marketing goals. To decide, it's crucial to experiment with running various formats and gradually disable ineffective ones over time.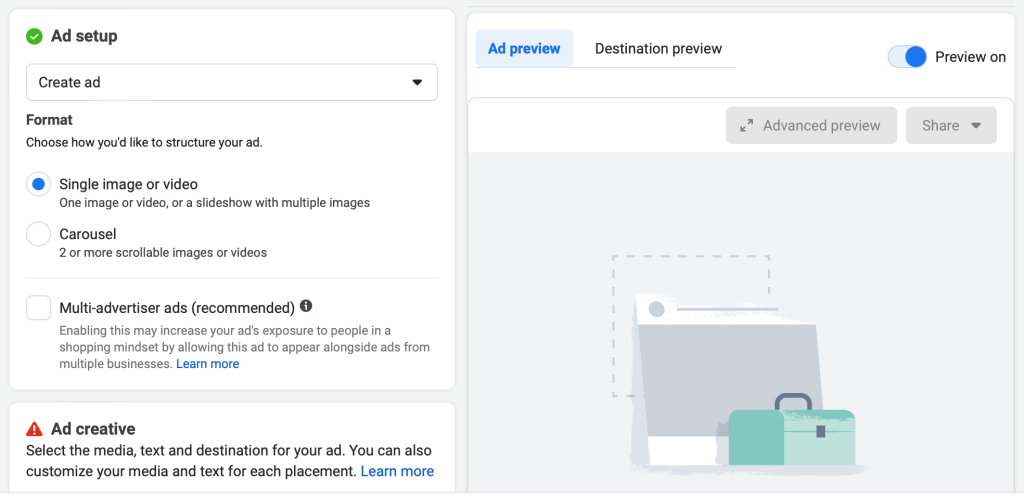 Learn more about each format.
One image
The most popular format and the easiest to implement. The effectiveness of advertising layouts depends on design trends: minimalism, large text, noticeable accents and all the necessary information. In combination with a cool text and a successful call to action (CTA), this is the key to the success of the entire advertising campaign.
Video ad
Video stands out as one of the most immersive and engaging content formats.
Utilizing titles and incorporating text blocks is crucial, considering that the majority of videos are viewed without sound. In the Instagram feed, the video sequence can last up to 60 seconds, and in stories, it's limited to 15 seconds. Including interactive elements is a smart strategy to boost conversion.
Stories
These are selections of images and videos that disappear after 24 hours in the user's feed. Instagram Stories is a very popular format. Data shows that users watch them first and then flip the feed. By advertising here, you can increase engagement and demonstrate the urgency of your offer.
Carousel
An informative ad format that allows you to upload 2 to 10 images, videos or animated banners. They can be flipped, which means that user engagement will be high. Advertising shows excellent effectiveness when working with an audience that is offered a new product or service. In addition, a carousel can tell a story about a product, company or create a special mood. Shows a higher percentage of engagement compared to a static layout.
By the way, you can utilize GIF animation or banners in any format. It's a brilliant idea to make your offer stand out from the competition. Users have become accustomed to videos or carousels, but animation brings something new, modern, and exciting to the table.
After the format is selected, download the required media files.
BannerBoo tip: Use eye-catching visuals! The creatives that you will prepare for advertising should be clear and attractive to the target audience. Use visual effects that will increase engagement and the number of reactions to the ad. It can be stickers, animation, text blocks. Exercise caution; advertisements featuring arrows (as they may be perceived as insistence on clicking) or bright flashing elements will not pass Instagram ad network moderation.
Step 2: Create a headline and body text for your ad
A brief title is essential. While it may not be visible everywhere, having one is better than none. The main rule is a short and concise title that clearly reflects the essence of your offer. The main text provides all the necessary information for the user. Make sure that the text is clear, concise and contains a relevant offer.
Step 3. Choose a CTA (call to action)
Accept as a fact that people are lazy. It is important for them to understand not only WHAT EXACTLY you are offering, but also WHAT YOU NEED TO DO to get this offer. You don't need to come up with a CTA (call to action), you can just choose one of several options: "See more", "Sign up", "Download", "Install app", "Apply" or "Learn more".
Which call to action to choose depends on the ultimate advertising goal. If you want to learn more about the offer, select "Details". If you need to sell immediately – "Buy now". "Get offer" is suitable for complex products that require additional data from the user.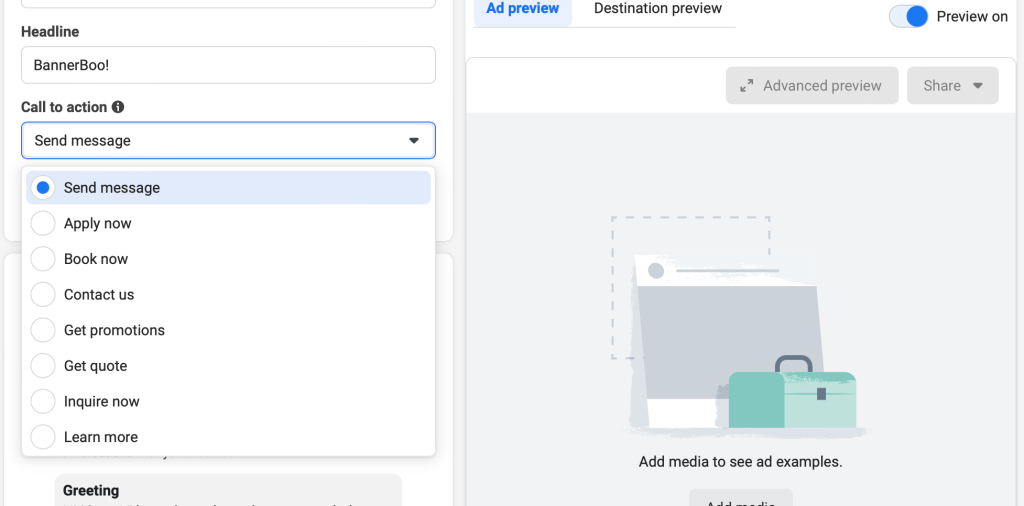 Not having a CTA is a significant oversight. Remember to incorporate it. The right call to action increases conversions by 32%.
Step 4: Check the ads
Instagram has a preview feature that will help you make sure that each ad looks right and effective.
Step 5. Launch an advertising campaign
Just click the "Publish" button and your ads enter the ad auction to start interacting with your target audience.
How to improve the effectiveness of advertising on Instagram?
So, you already know how to create an advertisement, but how to make it immediately as effective as possible? Let's analyze this issue in more detail.
Animate your ad
Much has been said about the effectiveness of animated advertising. A detailed algorithm for creating a GIF banner using the service BannerBoo:
Log in to the website and enter your personal account.
Choose the required banner size (for Instagram it is: 1080*1080px (news feed) and 1080*1920px (story)).
Generate your own concept or choose from our extensive collection of templates designed for various business sectors.
Choose the effects, the duration of the GIF animation (remember that the banner should look as harmonious and interesting as possible).
Write all the necessary text, choose a font (write as briefly and clearly as possible).
Add a logo, buttons and interactive elements (so you can stand out from the competition).
Save layouts and make edits at any convenient time.
Download the finished animated banner in Smooth GIF format, which can easily be uploaded to Instagram.
In addition to the GIF banner, you can easily and simply create your video for the feed or Stories. The algorithm does not differ from the one described above, except that the file can be saved in MP4 format. Here is a vast playground for your creative imagination:
use a ready-made template or a new video clip with the necessary elements;

control the animation, calculate the time and set the style;

upload logos, use corporate colors and memorable visuals;

save ads in the right format and make the most of Instagram's advertising opportunities to promote your business.
You can read detailed information about creating ads for Instagram with BannerBoo here.
Add your site's URL to the ad
To track advertising traffic correctly and effectively, you need to add a UTM tag to the URL. Then you will understand how the visitors who came from Instagram through advertising publications acted.
On Instagram, any links to third-party resources do not work, except for one – indicated in the profile header. If your goal is to bring visitors to the site, indicate in the text where a person can find a link to go to the site.
Test, measure and optimize
If you're hoping that it's enough to simply run an ad and get great results, then we have some bad news for you. Instagram ads need to be moderated, optimized and improved. Every day.
First, you need to choose an ad tracking tool:
Power Editor (ideal for large advertising campaigns, if accurate tracking of indicators is needed);

Facebook business manager (effective if a whole team works on advertising – a multi-level access system and the ability to analyze data);

Facebook Ads Manager analytics (if you just started running ads, the data inside the system is quite enough).
Metrics for Instagram ad analytics will be available in Facebook Ads Manager shortly after publication. Data can be viewed at the campaign, ad group, and individual ad level.
The easiest way to track the effectiveness of advertising will be "Breakdown".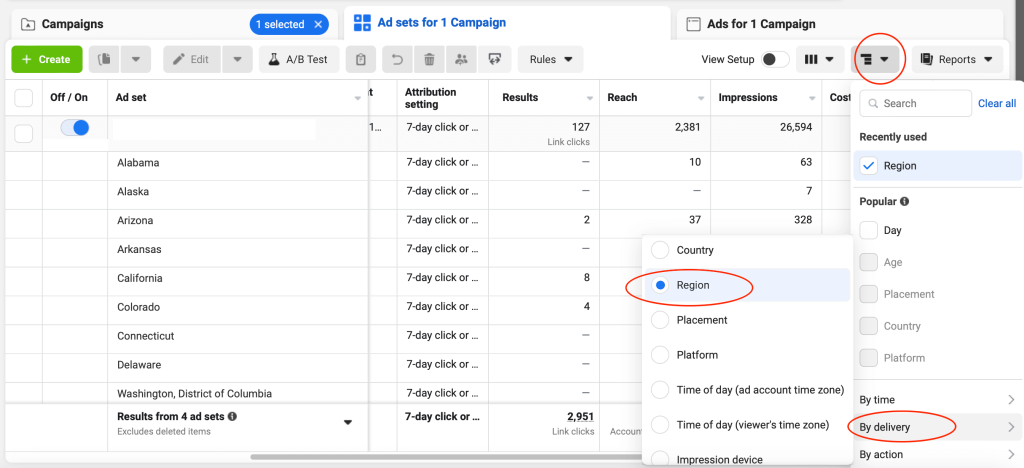 With the help of this tool, you can track the most relevant data: gender, age, country or city of residence, the device from which users viewed the advertisement. This data can influence the size and segmentation of the initial target audience. For example, if the ad is targeted at women aged 20-30, and the data shows that the most active part is 25-30 – turn off the inactive segments and narrow the audience.
You can also schedule reports in "Performance Columns". You can choose one of the established reporting columns, or create your own option. By the way, by default, a set of "Performance" columns is visible, which displays all the main and important indicators for analysis.

For example, if your goal is "Post Engagements," the results will show how many engagements you received and your overall reach. Be sure to monitor "Amount spent" and "Cost per result" to understand how your budget is distributed.
If you are satisfied with all the numbers, you can decide to increase the daily budget, thereby ensuring even more coverage. But if advertising is not working well, don't be afraid to disable it so as not to waste your advertising budget.
Tips and tricks for advertising on Instagram
And if everything is now clear to you in the technical setting, it is important to remember that advertising needs a little magic. After all, what simply does not "work" in one area shows excellent results in another. What depends on the success of advertising on Instagram?
The first and most important rule: choose your audience correctly.
If you understand exactly who it is, you will be able to build successful communication by writing announcements that will not only reflect the main issues, but also "speak" in a language understandable to the user. Answer just a few questions and your ad will hit the mark:
what problems does your product or service solve?

what does the target audience need and what does it want?

what emotions will your audience feel when using your product or service?

how to convey or explain the principle of work/usefulness?
A straightforward example: when someone purchases a lawnmower, they aren't just buying a set of specifications. They're investing in a well-manicured lawn, social responsibility, and status in the eyes of their neighbors. Craft your narrative in advertising to evoke emotions. Experiment and identify your target audience.
Second: do not forget about the value of the text.
Of course, it is better to see 100 times, but the text is important. Getting to know the company begins with the first two lines of the advertisement. Don't miss the chance to convey your importance in a few sentences, then scale it to 2,200 characters (that's the amount of text allowed on Instagram).
Third: engage the buyer in a dialogue.
In promotional posts, just like regular posts, you need to respond to comments, deal with objections, and respond to questions. The presence or absence of a response can directly affect the number of sales or conversions.
Fourth: don't be afraid to make mistakes.
Many advertisers make the audience too broad to reach "everyone". Segment and narrow your audience and show them different types of creative. Ineffective advertising is always easy to turn off, and it is also critical to understand who is not a customer, instead of trying to sell to those who are not interested at all.
*example of the Travel BannerBoo template
Summary
An advertising campaign on Instagram is a simple and clear way of communicating with the target audience of any business.
What is important to know when creating ads?
competitors (visit their sites, read what they offer and visit "Library of advertising" Facebook, to understand their advertising strategy);

advertising purpose (this plays a big role in how your ads are optimized, how you pay for them, and how you track them);

targeting (who are these people: where do they live, how old are they and what are they interested in);

the purpose of the ad message (what it should be to motivate your followers to interact with your ad);

results (ads need to be monitored, edited and constantly improved);

budgets (we recommend starting small, increasing activity in effective segments).
This information is quite enough to create an Instagram ad that will not only be effective for your business, but also useful for your target audience.