The year 2022 has made it even easier for companies to convince themselves that a business without a social network presence does not exist. With the help of a profile on Facebook or Instagram, millions of people work, meet, arrange meetings, communicate and simply live every day. And, of course, they make a decision to purchase goods or services. And the best way to influence potential customers' buying decisions is to advertise your business on Facebook or Instagram.
Are Facebook ads effective in 2022?
Effective, and even more. In 2022, Facebook is not only a social network but also a full-fledged sales channel. A thousand companies around the world have incorporated the platform into their marketing strategies and development plans. This is no longer just a "client-brand" interaction, it is an effective and efficient channel for reaching any audience and stimulating online sales.
According to www.statista.com more than 2.6 billion people use Facebook regularly, and almost 1.7 billion users spend time on the app every day. That is why the company developed and implemented a very simple and functional system for managing advertising activities – Facebook Ads Manager. Every marketer and business owner should be familiar with its basics.
Of course, your website or online store is the most stable sales channel. But it would be a mistake to develop only them in this changing world. Whatever the case, the company needs external resources so that it can reach its target audience. Facebook ads are highly effective at accomplishing these tasks.
Are Facebook ads still profitable in 2022?
If we take into account digital tools, Facebook advertising remains the most profitable advertising channel when it comes to contacting one representative of the target audience. But its cost may differ from the month, the day of the week, and even the hour of the day (and this is only part of the factors that affect the final bill).
Since Facebook advertising bids are an auction system, the following factors affect the cost:
the level of your set bid (which you are willing to pay for advertising);
selected bid strategy;
time (month of the year, day of the week and even a specific hour of the day can affect the cost, seasonality and holiday peaks can also be attributed here);
ad placement (whether it will be only Facebook, or maybe also Instagram and partner sites);
indicators of advertising effectiveness (level of interaction with content, conversions, and advertisement rating);
the size of the audience (the more specific your audience is, the more expensive it will be to contact them).
Based on these factors (and many more), the system calculates the weighted average cost of advertising that you will pay using the Facebook platform.
What is the most effective Facebook ad format in 2022?
In a world where the average Internet user interacts with hundreds of megabytes of information every minute, personalization comes to the fore. Of course, an advertisement that informs about the customer and his problem, and not about "all people", will be much more effective. And since Facebook has very detailed targeting capabilities, you have every chance of creating the perfect ad for the perfect group of users.
If you do not have a lot of information about buyers, then focus on the main criteria:
geography (place of residence): specific countries, states, regions, or provinces;
demographics (age, gender, education, work, language), which unites or distinguishes a group of people from others;
interests (hobbies and interests): what are the common features of each of them;
online behavior: devices, platforms, terms of purchase.
By the way, ideas for creating the first audience and personal advertising for it can be taken from your Google Analytics.
How to advertise on Facebook in 2022: the complete guide to getting your ads ready and running
Launching an ad is a complex, yet creative and exciting process. It has many nuances that must be remembered.
Then in turn:
1. Organize an advertising cabinet and a business manager for the company
Since the beginning of 2022, Facebook has been actively engaged in verifying advertising accounts. So, if you don't have any information filled in or you have a debt for payments, correct all these situations so you don't get banned.
You need to create a Business Manager for your business – an official company profile that has more credibility from Facebook, quality manager support, and allows you to work with several advertising accounts at the same time.
However, it is still possible to run advertising campaigns simply using the Facebook Ads Manager. To create it, you need a business page of the company, because advertising from personal profiles is prohibited.
Any social network user can create Facebook Ads Manager:
Click the "Go to Ads Manager" button.
Enter all the necessary information about the company, set up the account (correctly choose the time zone and currency of the account – it will not be possible to change these data in the future).
Set up the payment method (card details must be entered right away).
Save your changes and start using your ad account.
Further management of all advertising is done by the Facebook Ads Manager.
2. Choose a product or service for advertising
You probably have more than one type of product or service that you provide. If not, congratulations, you can skip this section. But if you have a catalog of goods and services, then, first of all, you need to highlight those that will be advertised first.
Advertisers often try to add information about all areas of the company's activities, all products from the catalog, and all possible contact numbers in one advertisement. But since the user has only 1-2 seconds to decide whether he is interested in the ad or not, the chances of success of such advertising are small.
That is why it is important to select a group of goods and services for which advertising campaigns will be set up. Describe their advantages, characteristics and think about which properties should be relied on to influence the purchase decision.
3. Choose the goal of the advertising campaign
What is the ultimate goal of an ad?
What should users do when they see an ad?
The answers to these questions directly affect the choice of the company's advertising target.
Facebook offers 11 marketing goals for businesses: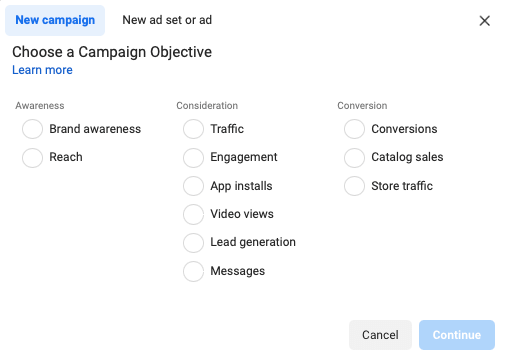 brand awareness (suitable for familiarizing a new audience with the brand or building loyalty);
reach (when you need to show ads to as many people as possible from the target audience);
traffic (attracts customers to your site, application or third-party web resource);
engagement (to increase the number of page subscriptions, likes, comments and audience engagement);
app installs (increases the number of application downloads);
video views (to attract customers to watch video content);
lead generation (attracting potential customers to the sales funnel);
messages (encouraging customers to contact Facebook Messenger);
conversions (encouraging customers to perform a certain action: signing, purchasing, filling out a form, etc.);
catalog sales (advertisement of product catalog in the Facebook store);
Store traffic (to attract customers to offline points).
Choose a goal that directly corresponds to the task of the advertising campaign. And remember that the goal of "brand awareness" advertising is not intended to bring sales, at the same time – you should not count on high rates of interaction with social media content if you choose the goal of "lead generation".
4. Create an advertising campaign structure
There are several formats on Facebook that form an advertising strategy:
Campaign – a set of advertisements that are united by one advertising goal (what is the goal of advertising?);
Ad set — all advertising creatives that are directed to one target audience (to whom do we show ads?);
Ad — in fact, only the visual and textual part (what formats of advertising do we show the audience?).
We recommend naming each element correctly and in detail so that in the future you have relevant data for proper analysis.
What should be the structure of the advertising campaign?
As a general rule, the simpler the better. For optimal results, we recommend creating two campaigns for each direction – one "cold" for finding potential customers, the other "hot" for retargeting. Each campaign should have between two and five ad sets.
A "cold" campaign aims to introduce a "cold" audience of people (who know nothing about your services and product) to your business. This means that both texts and creatives aim to meet and provide all the characteristics and needs. The so-called "hot", remarketing campaigns concern people who are already familiar with the site, social networks and are ready for the first or second purchase.
Both campaigns require a different approach. It is important that the ads are adapted to the needs and interests of the selected audience, then the effectiveness will be much higher.
What is the difference between an ad set and a campaign?
A campaign has a unique marketing objective and an ad set has a unique audience. Within a campaign, there can be any number of ad sets, each of which interacts with a specific audience. Each ad set is associated with only one ad campaign and is subject to one ad objective.
5. How to set up an audience on Facebook?
The next step is to select an audience for displaying ads. Audiences are customized for each ad set.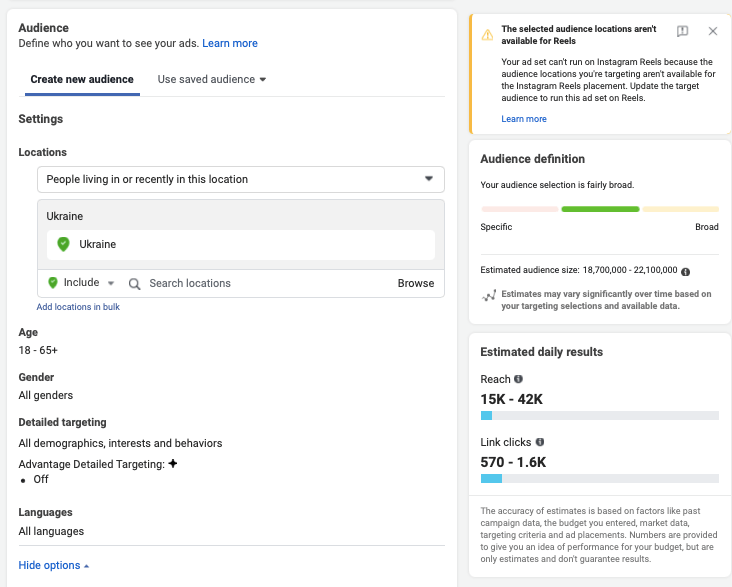 If you are new to paid advertising on Facebook, you have a lot of experimentation ahead of your interests, geolocation, demographics, etc. For your convenience, use the Estimated Audience Size indicator. The wider the audience, the cheaper advertising will be, but there will be more chances that it will turn out to be not exactly targeted. And vice versa — the more detailed analysis of the audience was carried out, the more personalized advertising can be created.
If you hesitate and can't choose between a broad or a narrow audience?
Think about the purpose of the ad:
you want to increase the number and quality of traffic – choose people who will definitely benefit from your product or service;
want to increase brand recognition – make the audience wide and do not lose the opportunity to experiment.
Facebook has very detailed targeting options:
geolocation of the user;
demographic data (age, gender, education, language, etc.);
position, education, place of work;
financial indicators of profit;
ethnic factors, political views;
online behavior, purchasing power;
interest, hobby, etc.
You also have the option to select specific audiences of people — those who:
have already interacted with your site;
subscribed to the e-mail newsletter or left a phone number;
installed an application or downloaded a video;
interacted with advertising or social networks.
As soon as you find an audience that will work effectively, keep it and actively use it in your advertising activities.
What is the optimal audience size for Facebook ads in 2022?
This factor often depends on the geolocation of your future buyers. For large cities or regions, this figure should be roughly 300–500 thousand; if it is a small city, then the size of 10-30 thousand will be considered normal. Experiment, Facebook has all the possibilities for it!
6. Choose an advertising format
Facebook's system is highly adaptive and evolves extremely quickly, responding to advertisers' requests. If in 2014 you only had access to "graphic layout" and "video", in 2022 you can use a whole list of formats that can be adjusted to the needs of any business.
Advertising format

Opportunities

Characteristics

Image ad

Simple graphics are a great way to get started with paid advertising. Experiment with design, text, and CTA (Call to Action). Yes, display ads can be simple, but that doesn't mean they have to be boring.

Title: 40 characters

Link description: 30 characters

Main text: 125 characters

What are the purposes of advertising: all except video views

Video announcement

Can appear in News Feed and Stories, or as In-stream in full videos on Facebook. A video can show a team or product in action. In addition, it can be a filmed video or a GIF animation to draw attention to your product.

Title: 40 characters

Link description: 30 characters

Main text: 125 characters

What are the purposes of advertising: all except catalog sales

Stories Ads

Vertical format specifically for mobile phones. This is a full-screen vertical video format that allows you to make the most of the smartphone's screen area.

Text: none

What are the purposes of advertising: All but interactions and store visits

Recommendation: Leave 250px of empty space on the layout at the top and bottom of the ad

Carousel Ads

Contains up to 10 images or videos to help showcase your product, service or product category. It is ideal when it is necessary to highlight the different advantages of one or different products or to create a large panorama. Each image or video has its own link, which is very effective.

Title: 40 characters

Link description: 20 characters

Main text: 125 characters

What are the purposes of advertising: all except video views

Advertising in Messenger

Many users use Facebook Messenger to communicate, so you can place a text and image ad there.

Title: 40 characters

Link description: none

Main text: 125 characters

What are the purposes of advertising: traffic, app installs, conversions, catalog sales, messages

Slideshow ads

The easiest way to create a short video clip, a collection of photos, text or video material. You create animations yourself, add effects and stickers. In addition, you can add text and music directly in Ads Manager.

Title: 25 characters

Link description: 30 characters

Main text: 125 characters

What are the purposes of advertising: all

Selection / Collections

Active only on mobile devices, it allows you to showcase up to five images or videos that customers can click on and buy a product or service. The Collection combines with Instant Experiences and makes shopping easy. By the way, it looks very creative.

Title: 40 characters

Link description: none

Main text: 125 characters

What are the purposes of advertising: traffic, conversions, catalog sales, visits to establishments

Instant Experience ads

These ads were previously called Canvas. It's a full-screen ad format that loads 15 times faster than a non-Facebook mobile website.

Text: blocks of text up to 500 words each

Button text: 30 characters

What are the purposes of advertising: all except lead generation

Lead generation

The format is available for mobile devices. Customers can easily provide their contact information without going to the site. It is suitable for collecting subscriptions to newsletters, for a trial version of a product, or for a test drive.

Title: 40 characters

Link description: 30 characters

Main text: 125 characters

What are the purposes of advertising: lead generation
7. Write texts and make ad creatives
When creating texts, images, or video series, consider the needs of your target audience in as much detail as you can.
For instance, if you sell women's dresses, the needs of young people are "trendiness, modernity, individuality", while the needs of the older generation are "practicality, environmental friendliness, fabric composition". Yes, even in these two options, the layouts and texts cannot be identical.
How to create a Facebook ad in minutes?
When we recommend creating personalized ads for your audience, we don't mean spending 24/7 creating advertisements. By using BannerBoo, you can easily create a cool layout and video or GIF banner within minutes.
What should be done?
Log in to bannerboo.com and enter your personal account.
Choose the required advertising format (we recommend paying attention to ready-made advertising templates: we have prepared many options of ready-made solutions for any business — for stories, feeds, square and vertical images that will be best displayed on mobile devices).
Think through and implement your creative idea.
Choose effects, animation, and place text blocks and stickers (but always remember: stylish design is concise and harmonious, not aggressive, moderately shimmering and flashing).
Place the necessary text, choose the font and style (write the minimum on the text layout itself, and put everything you need in the main text of the ad).
Add a logo, buttons, and interactive elements (so the design will become more interesting and interactive).
Save the layout.
Download an advertising banner in JPEG, PNG, or Smooth GIF format and get a ready-made active advertisement for interacting with your customers.
In addition to static layouts and GIF banners, you can create a video clip for the feed or Stories in the service. There is no difference in the algorithm, except you need to save the file as an MP4 file.
For your convenience and understanding, we have created a detailed guide for working with BannerBoo, which is available at this link.
8. Create a relationship between the Site and the Ads Manager
To link the site, visitor activity, social networks, and advertising events, you need to install "Pixel". This is a fragment of HTML code that should be placed on the site. This code collects data about page visitors and their activity, which can provide very useful information for launching effective advertising.
What happens: When the Pixel is installed, a user clicks on any ad, goes to the site, and the event is tracked on every page from then on.
How to install Facebook Pixel?
We recommend working in Business Manager.
What to do:
go to Business Manager company settings;
choose your company;
click "Data sources";
select "Pixels";
click the "Add" button and enter the name of the Pixel;
enter the URL of the site and click "Continue".
To add a Pixel to the site, you need a programmer and a code, which can be obtained through the "Install pixel" button.
9. Enter all data in Ads Manager
When everything is ready, it's time to transfer all the information to Ads Manager. Try to work directly there, and not through third-party applications. So you will always be informed about the performance of companies, financial operations and activity of the target audience.
To create a new campaign, ad set, or ad through Ads Manager, go to the tab for the type of ad you want to create and click the green "Create" button.

10. Set budgets for the advertising account
Facebook allows you to set a daily budget or a budget for the entire duration of the ad (lifetime budget).
What is the difference between them?
budget per day (the amount you are willing to pay for a day of advertising impressions).

The minimum daily budget for one ad set is $1; preferably, this amount should be at least twice the average cost per click (CPC).

budget for the entire advertising period.

Facebook will adjust costs for the duration you choose to run your ad.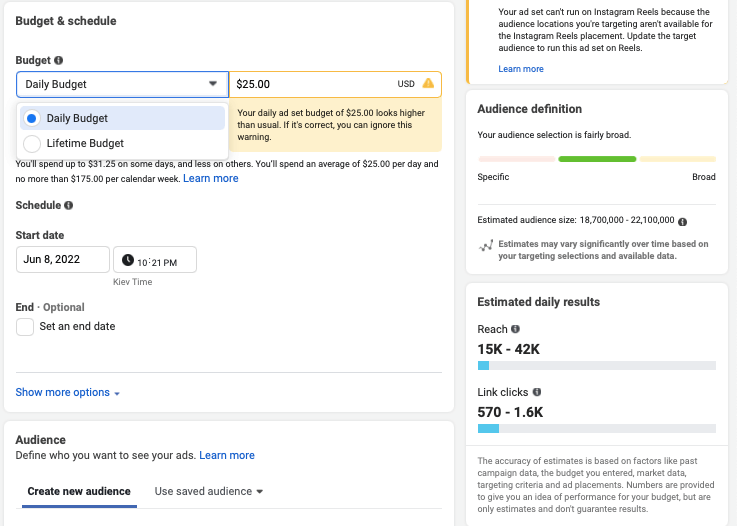 In addition, you can set the start and end date of the advertisement.
11. Launch advertising
After clicking the "Publish" button, the advertisement is moderated. If everything is fine, the ad will be launched within 3 to 24 hours. Ad publishing terms are determined by your ad activity, the quality of your ad account, and the "popularity" of your ad audience.
12. What performance indicators should be monitored?
It is not enough to simply advertise. It is necessary to monitor and measure the effectiveness of advertising campaigns in order to decide whether to continue working with this audience or to change plans and look for new sales markets.
What Facebook metrics should you track?
cost per click (CPC): how much it costs to click on an advertisement;
CPM: average cost per thousand ad impressions;
CPA: average cost per conversion (page view, registration, etc.);
views and the percentage of views of the video (views from 25% to 95% give an understanding of whether the content you create is relevant);
conversion rate: this indicator shows the percentage of people who click on an ad and then make a purchase;
return on ad spend (ROAS): defined as the revenue generated from advertising divided by the amount spent on advertising.
Constant analysis and monitoring of these indicators make it possible to evaluate the effectiveness of the advertising campaign.
How much does Facebook advertising cost each month?
To answer this question, AdEspresso analyzed ad spend and calculated the average cost per click for Facebook ads. They published the following data:
average cost per ad impression (per 1,000 people): $0.98
average price for reaching 1,000 people: $1.03
cost per completed lead generation form: $0.67
average cost per conversion: $0.25
price per click on the link: $0.16.
The graph shows the average cost of clicks on Facebook ads for different purposes during 2021 (according to adespresso.com).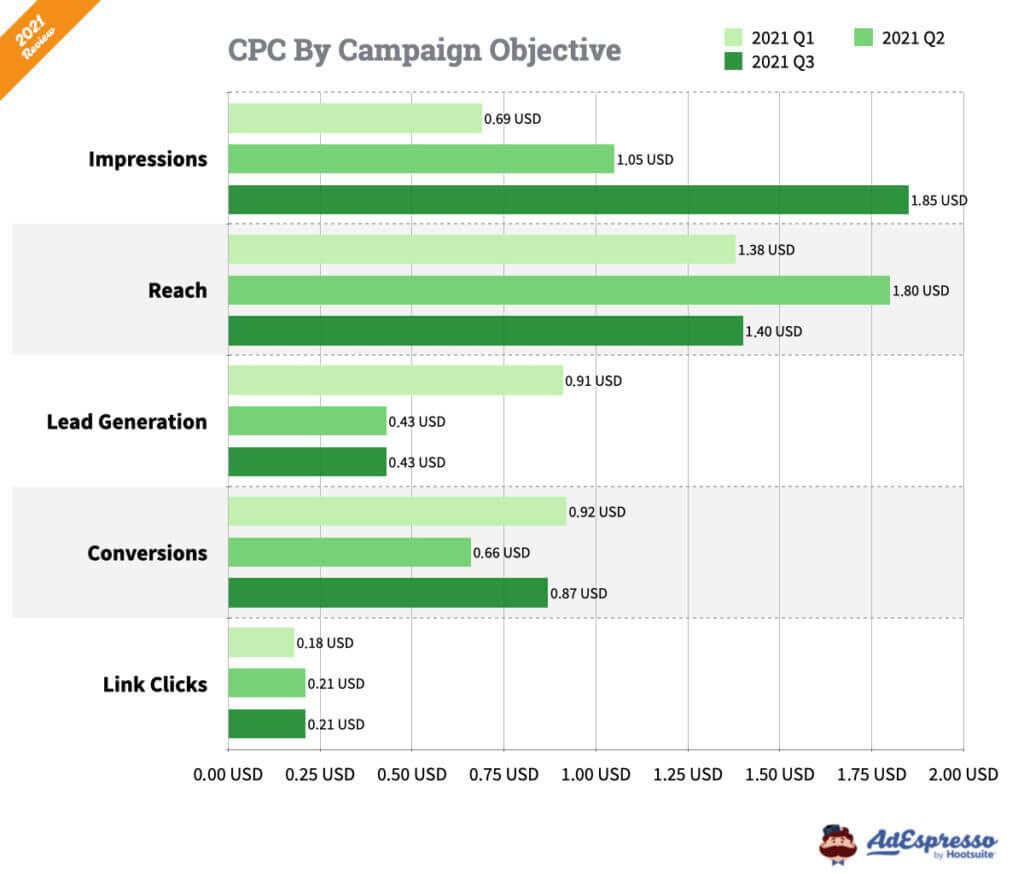 Please note: the obtained data is provided to guide you in the formation of actual advertising budgets for Facebook campaigns.
How to create a successful Facebook ad?
If you have carefully read the article, now you know exactly how to create an effective advertising campaign! However, here are a few more tips to help you improve efficiency and get the best results:
1. Choose the right campaign goal
We recommend using traffic and engagement first. This way you will collect the largest number of reactions to advertising, and the following companies will already be more personalized.
2. Avoid too narrow audiences
When you have a very niche audience (less than 5-10,000 people), it will be harder for Facebook's algorithms to find them. Such activities will be more expensive and less effective than activities for a general audience.
3. Try dynamic ads
In Ads Manager, create several different ads that allow Facebook to show them to different audiences, and test several creatives to choose the most effective. You can add up to 10 different ads and 5 variations of headlines and body text.
4. Focus on mobile devices
According to invideo.io, 98% of Facebook users use mobile devices. That is why advertising must be adapted to the fact that it will be viewed without sound, possibly with poor Internet and in a vertical format.
5. Don't forget about other channels besides advertising
After clicking an advertisement, a new user gets to the site or social network immediately. Actively lead a blog and SMM activities, write about topical content marketing topics and use advertising activities comprehensively.
6. Use remarketing
If the target audience responds to the ad — store data about it in remarketing audiences. Use them to re-advertise your company, products or services.
Conclusions
Although there is a lot of information about advertising activities on Facebook, this format remains one of the most effective, budget-friendly, and adaptive channels of communication with the target audience. Even when you don't fully understand who your customers are and what they are interested in.
Creating and launching an advertising campaign is a multi-stage and strategic process, because everything must be taken into account:
choose the right goal of the advertising campaign;
target the current target audience;
choose the right advertising formats;
write apt texts and create original creatives (BannerBoo)
choose budgets and don't forget to track key performance indicators.
Let's start Facebook advertising now!
Frequently asked questions
What is the best format for Facebook ads?
There is no clear answer. The best format is the one that your target audience responds to and interacts with the most positively.
How can I use Facebook in 2022?
As a full-fledged communication tool with potential customers. Read the detailed guide above.
How many ad sets should I have in a Facebook campaign?
One ad set = one ad target audience. We recommend at least 2 audiences: one "cold" based on interests, the second "hot" – remarketing category.
How to advertise on Facebook in 2022?
Just follow the 12-point plan described in this article and analyze the results.
How many ads can be placed in a Facebook ad campaign?
We recommend at least 2 ad options per audience. Why so?
First, men and women respond differently to promotional materials, so create different creatives right away.
Second, be sure to test the response to light and dark layouts in each group.
Will Facebook ads work in 2022?
If your target audience matches that of Facebook and you want to increase brand awareness, get traffic to your website, and increase the number of potential customers or sales, you should definitely try Facebook advertising.