Good news, friends!
We made a significant update of our banner maker service — https://bannerboo.com
The update focuses on the interface and on the functionality of the banner builder.
What we did:
1. Workspace interface re-design. (User's private area)
2. Workspace navigation optimization. Now you have quick access to all pages using the left menu.
3. "My Banners" page format change. Now you can see all campaign banners together.
4. "Templates" page with convenient navigation and templates selection.
5. "Support" page with tech support contacts.
6. "Profile" section with improved "Profile", "Subscribe", "Plans", "Payments", "Affiliate Program", "Affiliate Reports" pages.
7. New "Templates" tab in the banner editor.
8. Now you can choose a ready banner's size in the banner editor from the drop-down list.
9. New photo and vector clip-arts in a "Background" tab in the banner editor. New, improved color palette. Now you can change the color of the background while working.
10. New clip-arts in the "Objects" tab. Sections "Buttons", "Shapes", "Lines", "Icons" are updated.
Now let's begin with the user's workspace interface re-design.
User's workspace. «My Folders»
This is the new look of the main page of the user's workspace.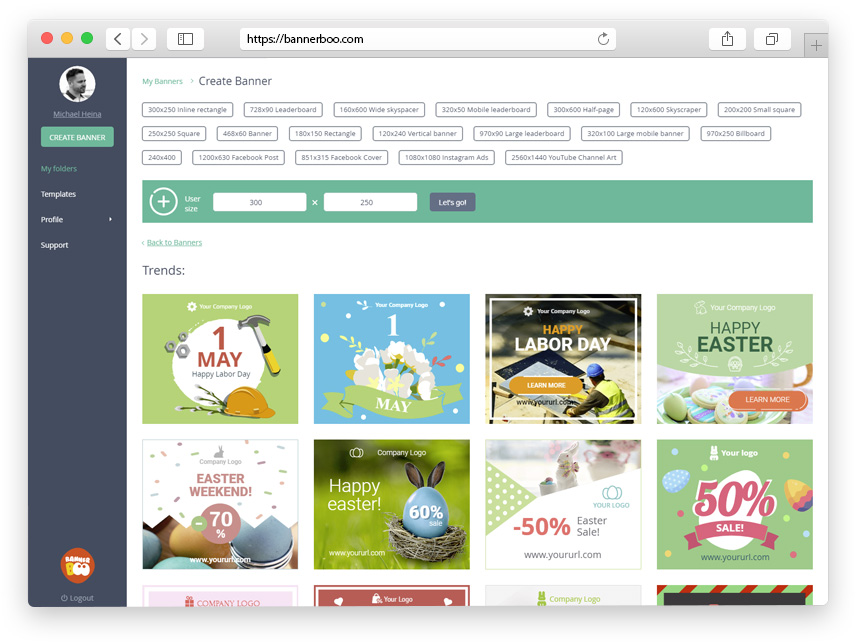 We changed the design to have fewer clicks while navigating the pages.
As a result, we moved all navigation to the left menu and upgraded the main page of the user's workspace. Now you can easily create a new banner or choose a ready professional banner template below.
"My Campaigns" is now called "My Folders". It is a more familiar name for an inexperienced user. You can rename the folders and group the creatives in them. You can also add searchable tags. ("Plus" Plan).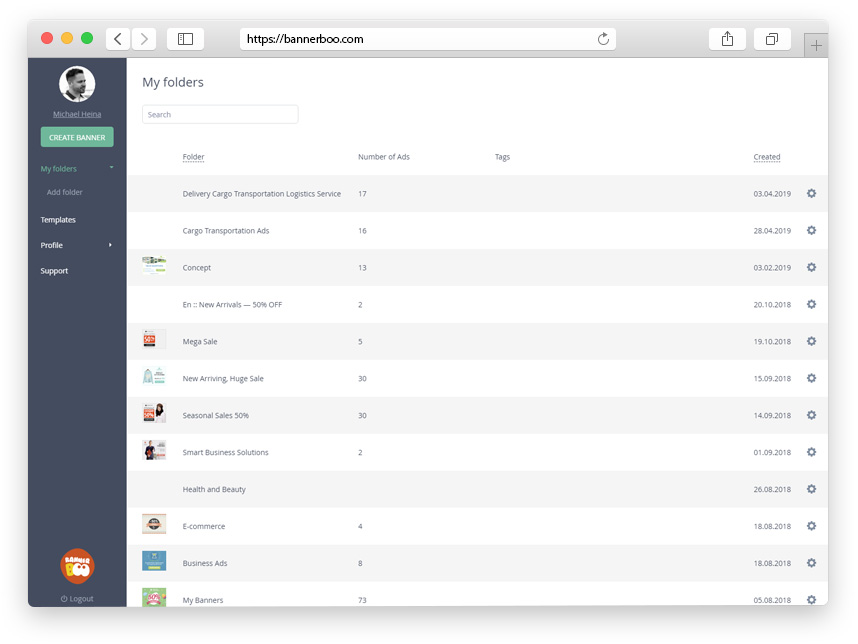 Сlick on the folder's name brings us to the ads list. We have changed the logic, and now we are showing all banners in one place, not as a list like it was earlier.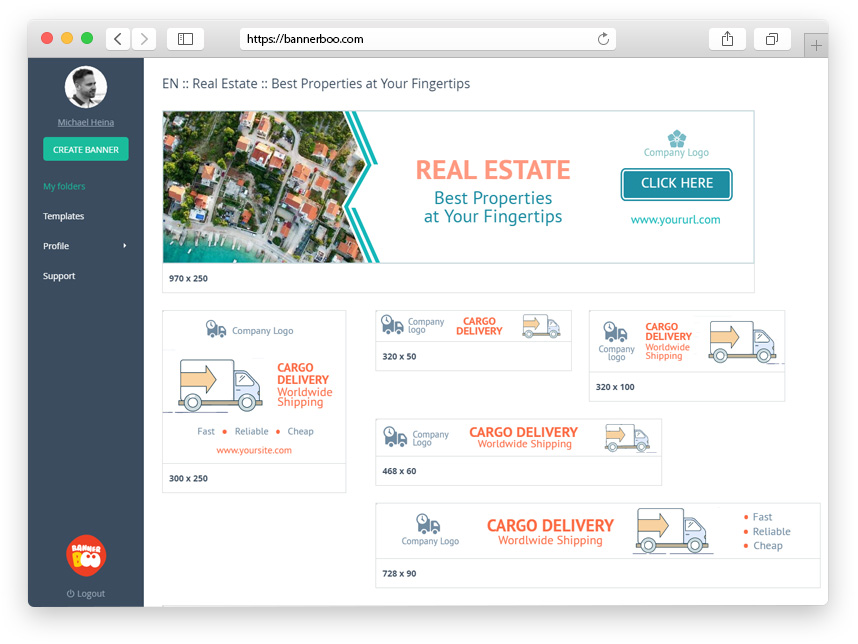 There are "View" and "Edit" buttons when hovering the mouse over an ad. You can also call the "Properties" menu by clicking on the gear icon.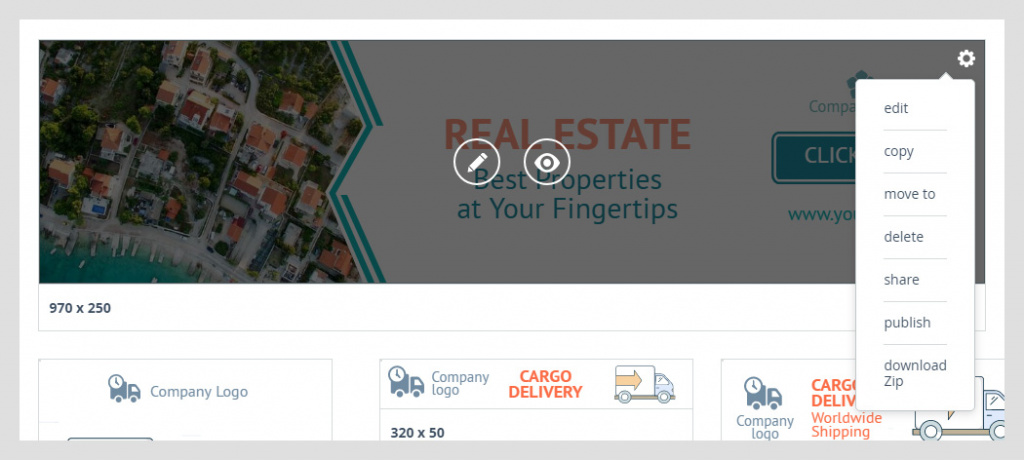 There is an access to the Templates page in the left menu inside the user's workspace: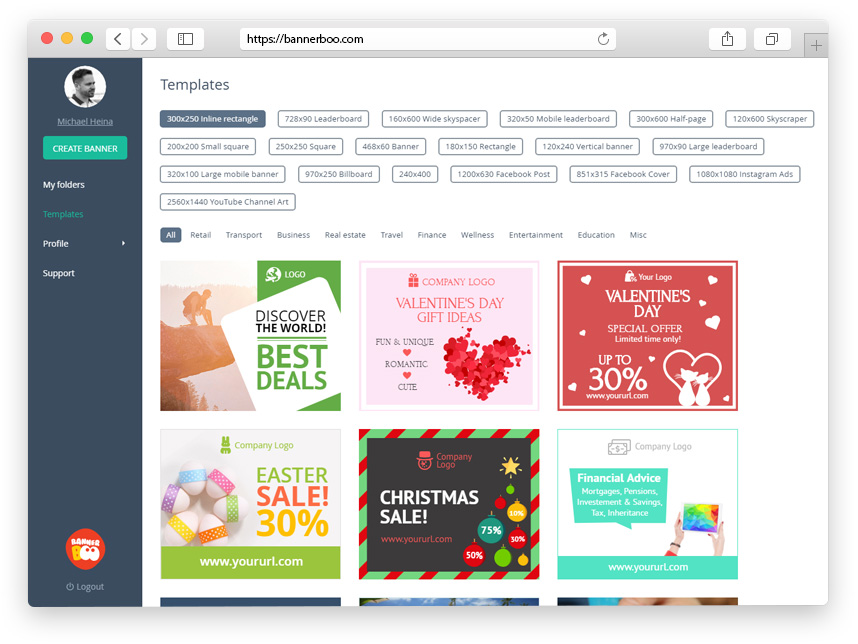 Few minor changes had been made to the User's Profile section. We put all profile pages in one place and revised the subscribe module.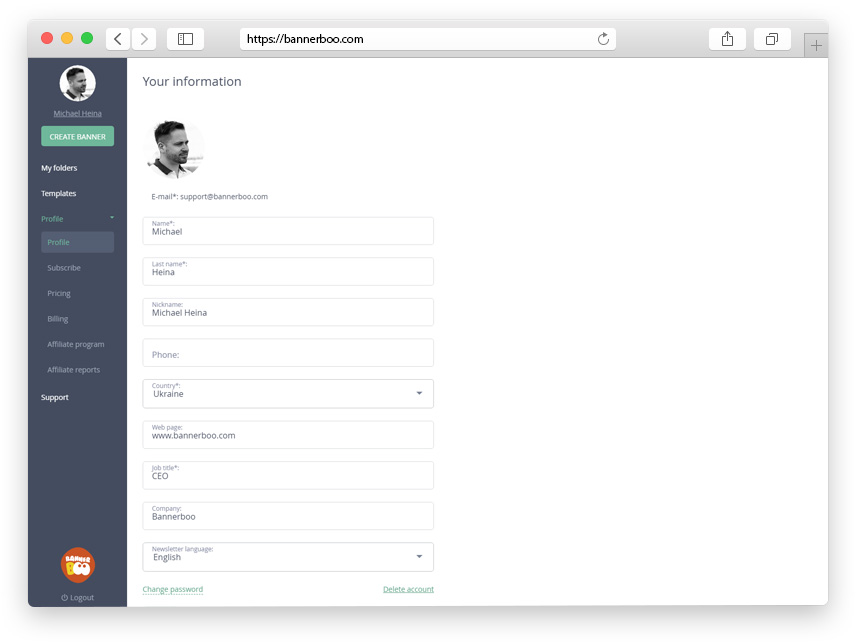 I'm not going to show you all "Profile" sections, I'll just briefly describe them.
Profile. You can change here your personal data and choose a language for your mailing list. You can also change the password or entirely delete your account.

Subscribe. Here you can subscribe or unsubscribe from the BannerBoo newsletter. We will not abuse your goodness and will post news and updates only a few times a month.

Plans. Bannerboo Premium Plans page with subscription info and with a possibility to renew a plan or move to a more professional tariff plan.

Payments. Payments history and recurring payments options.

Affiliate Program. Affiliate program terms and conditions, advertising campaigns materials.

Affiliate Reports. Affiliate program activities, amounts of earned money, payments.
"Support" section has quick access to the contact form. Our support team helps our customers to solve issues fast and effectively.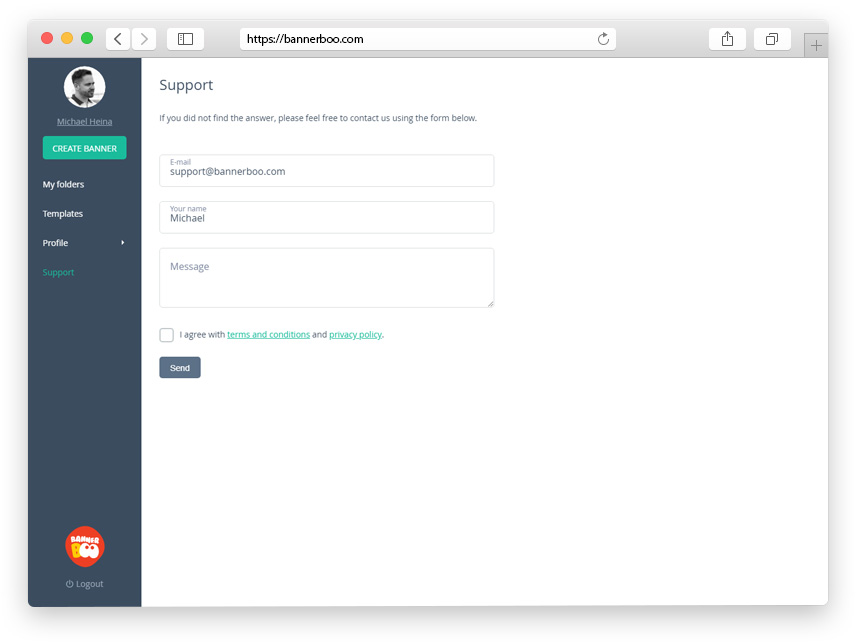 Banner Editor
"Settings" tab. Now you can choose a ready banner's size from the drop-down list. Changed the design and colors of the input fields.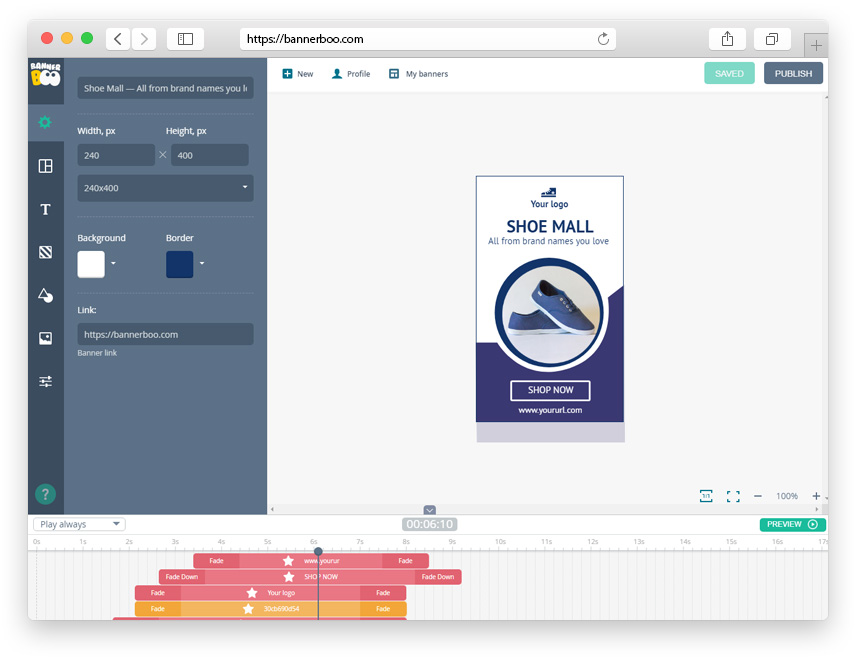 "Templates" tab. Now you can choose templates from the left panel — directly inside the editor. Change the size of the banner in the "Settings" panel and automatically get templates of the size you want.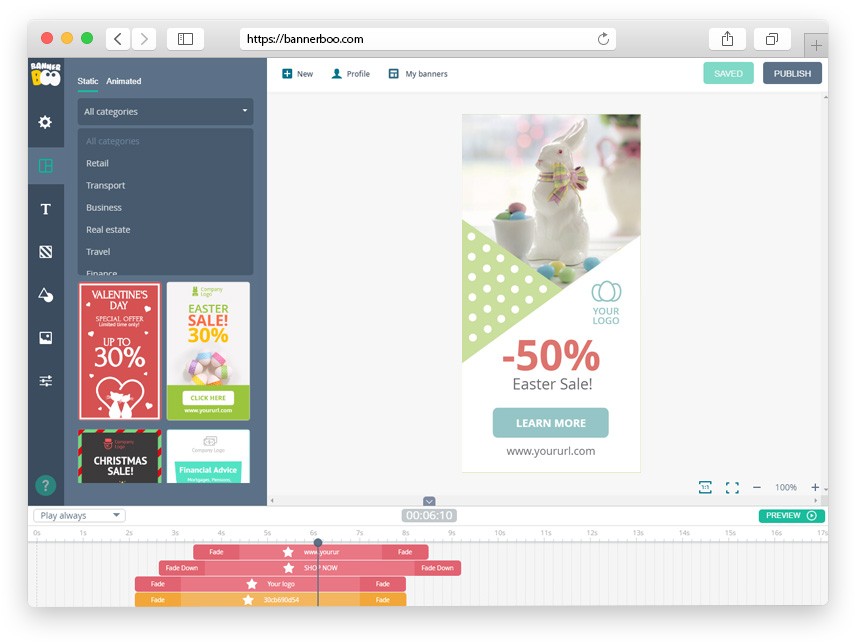 "Background" tab. Here you'll get an entirely updated color palette. Choose the color for your background or shape with ease. Also, we've added new ready photo- and vector (SVG) clip-arts. SVG backgrounds are great because you can change all colors inside them like it is shown on the screenshot below.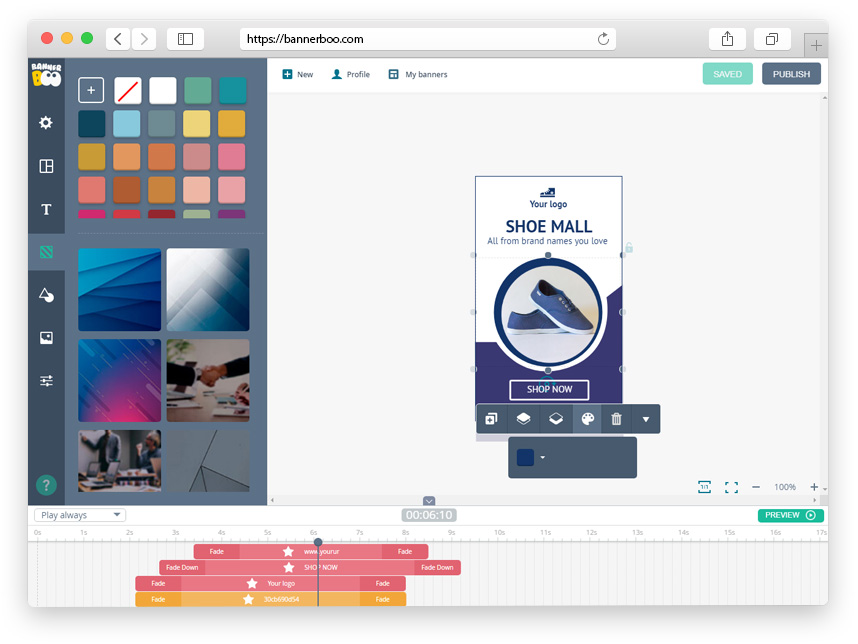 "Objects" tab, "Buttons" section». We updated button templates and added lots of new buttons. It's so easy to create a good looking Call-to-Action — choose your button style, apply the color — ready!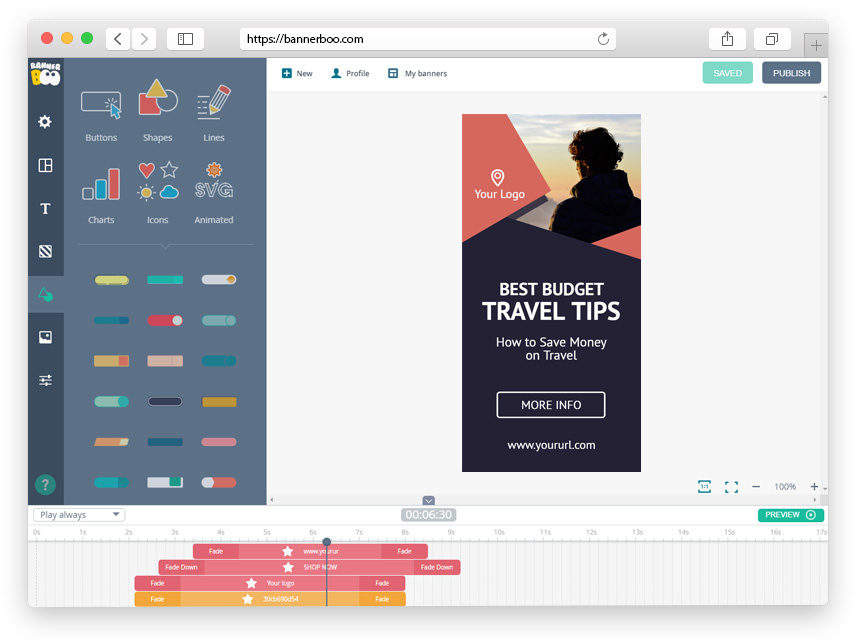 "Objects" tab, Lines section. Old lines are updated, new lines are added.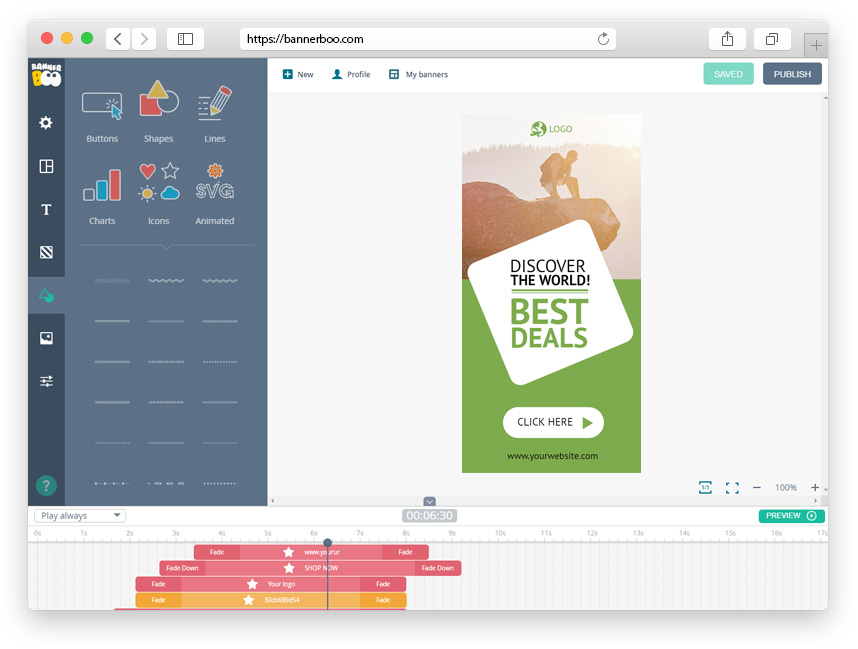 "Objects" tab, Icons section. New trendy outline icons are added.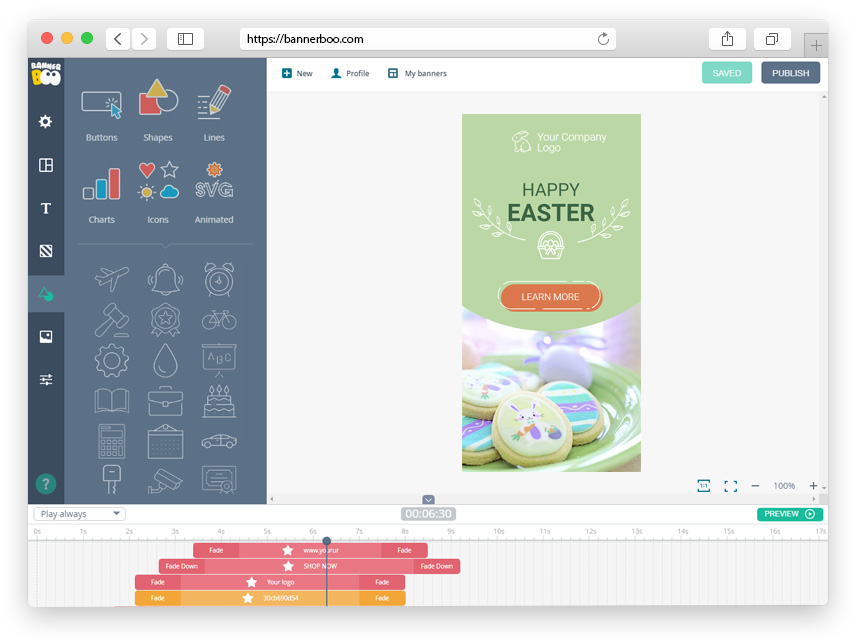 We keep working on the improvement of our service. If you have any questions, please contact me by e-mail [email protected]
Michael Heina, CEO of Bannerboo.com