Most Honest Black Friday by Boo the Banner Ghost
Everyone's screwing up on Black Friday, but not us. We are the best. No deceptive prices like AliExpress, re-glued stickers, disappointed buyers. We said about 40% discount — so be it.
Our Banner Boo is an honest ghost. He will not let you cheat. It was $14.99 for the first month of "Start" — it became $8.99. Almost free! And the $29.99 of the Plus plan turned into $17.99. It's not much, but there are no restrictions either — make banners around the clock, surf the expanses of pixels with a sharp-nosed mouse of your imagination.

Just take the BLACKFRIDAY2020 coupon and enter it when you buy a Premium Plan. You can even try with an annual payment. Let it be a surprise.
And that's not all. How often have you sat helplessly, painfully trying to strain the convolutions of the gray cells, trying to give birth to a creative message in creative agony, as I am doing now? Don't be fooled — almost all the time. No more! There are ready-made Black Friday banners, tortured by other guys, created by pixel-perfect maniacs, drawn with love. Click on the picture below and take it for yourself.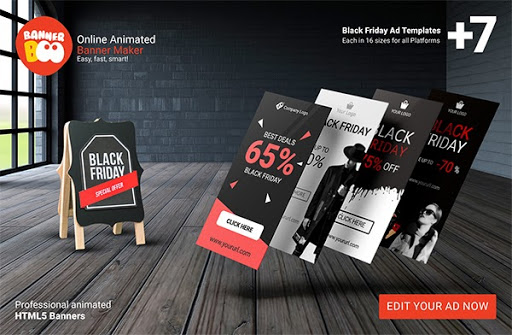 The first click — open the banner for editing, the second — change the logo, the third — put your text, the fourth — save the finished banner. With the fifth click, order a pizza and enjoy the quarantine, while the Black Friday ad campaign is already spinning like Leonardo da Vinci's Perpetuum Mobile.
Doubt is the lot of the weak and the helpless. Let's not be like them. Looking for ad creatives? Make them at BannerBoo. That's final.